Why I Envied Sample Pushers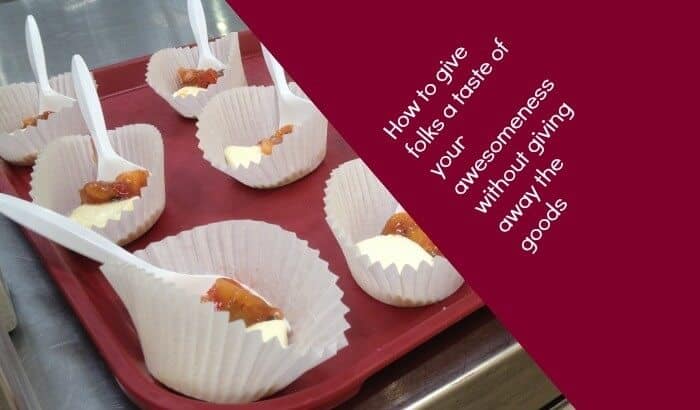 When I first started consulting I suffered from an extreme case of sample envy?every time I walked past the nice folks I secretly called "sample pushers" who stood in the aisles of grocery stores and offered free food. I'd walk past their kiosk and think "How great for the cookie company, they give out a sample and the people who like the cookie buy it. Why can't?I do that. Better yet,?HOW can I do that?"
If your'e asking yourself the same question, then this is going to be fun. I've compiled 40 simple tips that will help jump start your ability to connect with potential customers and build lasting, profitable relationships.
1. LeverageYour Network
Invite friends, family and personal contacts to join your mailing list. If you're just starting out – this is the perfect way to spread the word AND (sneaky, sneaky) get some friendly feedback on your marketing message.
2. Physical Sign Up Sheet
If you've got a brick and mortar businesses an in-store sign up sheet is a great strategy for gathering subscriber email addresses. Step out on a creative limb and
3. Face-to-Face Conversions
Making it a habit to invite people to sign up for your mailing list in person is another valuable grassroots tactic for building your email list.
4. Offer Incentives
For ideas, check out howHubspotcreates "got to have" free downloads.
5. Use Email?Marketing Tools
Email services such as MailChimp and Aweber make it easy to manage email lists and to create professional looking newsletters and sing-up forms. When choosing an email marketing provider, be sure that they integrate (play nice) with all of your website components. Some services may be cheaper or free, but they can be a bear to combine with your website or blog.
6. Promote Your List With Blogs
In order to promote opt-ins, include a call to action at the end of each blog post you publish and wherever else you can present it as a relevant source for more information. I use OptimizePress to do this. It's a plugin that allows me to insert opt-in forms throughout my blog content — here's one — go ahead – try it out.
[optin_box style="2″ alignment="center" email_field="email" email_default="Enter your email address" email_order="2″ integration_type="aweber" double_optin="Y" thank_you_page="https://diymarketers.com/use-5-questions-develop-marketing-message-usp-brand/" list="3698698″ name_field="name" name_default="Enter your first name" name_order="1″ name_required="Y"][optin_box_field name="headline"]Use These 5 Questions to Develop Your Marketing Message[/optin_box_field][optin_box_field name="paragraph"]PHA+RW50ZXIgeW91ciBuYW1lIGFuZCBlbWFpbCBhbmQgZ2V0IG15ICJub3Qtc28tc2VjcmV0LWFueW1vcmUiIGxpc3Qgb2YgNSBxdWVzdGlvbnMgdG8gZGV2ZWxvcCBhIGtpbGxlciBtYXJrZXRpbmcgbWVzc2FnZSBmb3IgV0hBVEVWRVIgeW91IHdhbnQ7IHZpZGVvcywgcHJvZHVjdHMsIHByb2dyYW1zLCBib29rcyAtIHdoYXRldmVyIHlvdSB3YW50IHRvIGRvIC0gdGhpcyB3aWxsIGNvdmVyIGl0LjwvcD4K[/optin_box_field][optin_box_field name="privacy"]We value your privacy and would never spam you[/optin_box_field][optin_box_field name="top_color"]undefined[/optin_box_field][optin_box_button type="0″ button_below="Y"]Get Instant Access![/optin_box_button] [/optin_box]
7. Measure Results
Analyze sign-up stats and email open rates to see if your efforts are having an impact.
8. Social Media Integration
Not everyone of your fans and followers on social media is signed up for your email list and vice versa.Sharing each of your?e-newsletters on social media is a great way to get them in front of a large audience and to convert your social following.
9. Social Call to Action
Aside from sharing individual newsletters on social media, promoting the list itself will boost sign ups. Twitter in particular is a good place to promote your list on a weekly basis.
10. Be Consistent
Sending out your email updates with a consistent frequency is key for maintaining subscribers. For instance if you have a "weekly" newsletter, sending 2-3 per week doesn't follow that rule and will most likely lead to lost subscribers.
11. Make Your Call to Action Prominent
The fitness blog FlexFitness Centeris an excellent example of this strategy with its large, prominent and creative call to action. BE SURE that your phone number is listed multiple times; both on your web site and on all of your printed materials.
12. Make Benefits Clear
Make it clear what information and news subscribers receive to let them know what your list has to offer.
13.Popups
While they can be annoying, popups are a powerful tool for encouraging subscriptions that can't be ignored. Free apps such as List Buildermake it simple to add this new layer of list promotion.
14. Hello Bar
If pop ups aren't your style, tools like Hello Barare a nice way to include a call to action on the pages of a blog.
15. Create an Attractive Landing Page
Your site or blog should feature a landing page dedicated to converting e-newsletter sign-ups. Make this page colorful and exciting with graphics, pictures and your company's branding. I use OptimizePress for my entire site and landing pages. It's a one-time fee and I can create a landing page that connects to my AWeber account in minutes — no joke.
16. Experiment with Color
Changing the style and color of your landing page design has an impact on email list conversions, as discussed byBlog Tyrant. For instance, change your sign-up button from red to blue and compare conversion rates to find the color scheme with the best ROI.
17. Social Media Sign Up Form
Adding a sign up form to your Facebook page is another strategy for leveraging social media. Services such as Constant Contact and Mail Chimp feature tools for setting this up.
18.Instagram
For businesses that use Instagram, posting image updates is a great way to?engage with your customers and your community
19. Social Profile Links
Create social profiles on the top 3-5 social networks that you use and that your customers use. Then be SURE to put the LINKS to these profiles on your web site, business cards, etc. DO NOT just put the images of the social networks — you can't click on the image of a business card. Seriously – I see this all the time.
19. Social Proof
Creating a page featuring positive subscriber feedback will demonstrate the benefits of your list.
20. Online Payment Forms
Gathering emails during the check out process can be a huge boost for e-commerce businesses looking to grow their list.
21. Online Listings
Online resources like Yelp give organizations the opportunity to update their listings, and in turn add a link to their e-newsletter sign up form.
22. Social Share Buttons
Add social share buttons to your emails in order to help them get discovered.
23. Forward to a Friend
Similar to the social share button strategy, adding a "Forward to a Friend" button will help you reach potential subscribers.
24. Printed Materials
In your brochures, flyers and other physical documents suggest your newsletter as a resource for finding more information.Don't have to spend a fortune on printed materials! Create them all online and then print them as you need them. Last year, I received a Canon MAXIFY printer and I can tell you it is CRAZY AWESOME – the quality is outstanding, the images and colors are bright, the ink lasts forever and I get high-end quality on a budget. Check it out here –
25. Print Advertising
Placing an ad in relevant print publications or local papers will raise awareness for your company and your list. This is an especially useful strategy for businesses interested in gathering?local subscribers. BEFORE you do print advertising, be sure that you've identified a VERY specific ideal customer who is struggling with a specific problem – then create a SPECIAL irresistible offer just for them.
26. Hold Contests
Use contests that require an email address for entry. These?tend to be very popular and can be run with a physical in-house sign up form or you can choose from countless online contest tools and services. Check out Heyo – they do super easy and effective Facebook contests.
27. Collect Business Cards
When you receive a business card, ask if it would be alright to add them to your list to receive company news. Then subscribe them to your list THAT DAY. Be sure to tell them that they will receive an email letting them know that they've been subscribed and to approve the subscription. This is called a double opt-in and in increases the likelihood that your email will be opened and read.
28. Utilize Your Own Card
Including Twitter handles and Facebook URLs on business cards is a great strategy for incorporating social media to your print materials. The same can be done with the URL for your landing page. PLEASE do not just put the Twitter, Facebook, LinkedIn logos on your card – you can't click on those! ?Use the LINKS.
29. Partnerships
Sharing subscribers with partners and friends at other businesses is a practice that benefits both parties.
?30. YouTube
If you have a company YouTube page you can add annotations to your videos linking to your landing page.
31. Deliver Quality Content
Once you build a list, you want to keep it. Offer relevant and well written content every time you send out your newsletter.
Check out some of these posts for great content marketing advice:
32. Avoid Excessive Promotion
While it's okay to inform people about special offers and product news, too much self promotion will make people lose interest. Smart Online Success suggests maintaining an 80/20 rule, with only 20% of your content being promotional.
33. Testimonials
Testimonials that vouch for your list will increase conversions on your opt-in forms.
34. Email Signature
Your email signature is another place that adding a link to your landing page can grow your list. Another really great tool is WiseStamp – I use that as my email signature. You can create personal or business email signature. And here's the best part – you only need to update the WiseStamp signature and it will update across all of your different applications.
35. Write a Great Headline
Take time crafting your landing page's headline as it is the first, and possibly last thing visitors will read before they choose between subscribing and leaving.
Here are the resources I use to create headlines?lines:
36. Limit Form Length – Just the email is best
Only ask for the information you absolutely need from potential subscribers. The longer the form, the lower your conversion rate will be.
37. Write Snappy Subject Lines
Emails with good subject lines are more likely to be forwarded, resulting in more opportunities to grow your email list.
Here are some of my favorite resources for great subject lines:
38. Include a Subscription Link to your newsletter
Add a subscription link to your newsletters so that when it's shared, viewers who aren't already subscribed know how they can.
39. Display Your Subscriber Count
Displaying your subscriber count is another form of social proof that will tempt people to follow suit. If you have a lot of subscribers — then show them off.
40.Be friendly and personal in your communication
Being personal in your emails will help people connect and build trust in your list, as discussed by Search Engine Journal. When you sit down to write an email to your list or subscribers, picture a SINGLE person, then write to THEM. Remember, you know it's going to a list, but your recipients are individuals, so write to a single person. Sign emails with your own name and use an informal style to sound more authentic. You can also create a digital image of your signature and use that in your emails.