Time — it's the?great equalizer. No matter who you are, how much money or influence you have — we all have the same amount. You have as much time as Oprah, as much time as Richard Branson as much time as a 5-year-old. The one thing that makes the difference is how you're going to use that time.
Too Much to Do — Not Enough Time (or Money)
Sometimes I think that this is a metaphor for a crazy business owner or entrepreneur. I'll give you a hint — you're the chicken.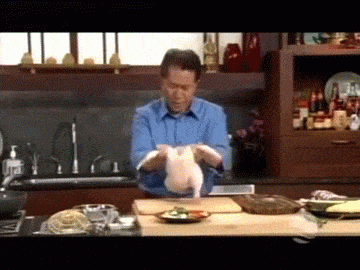 My Top Time Saving Tools This Week
You're in luck today because I'm going to share my top time-saving tools. Some of these are brand spankin' new and some have been around for a while but are new to ME — and they might be new to you too.
1. The Charlie App: Get to know a little something about the person you're meeting with
https://twitter.com/smdavisonline/status/722083200856489984
Have you ever rushed into a meeting, not having a chance to do any research on who exactly it is you'll be talking to? I know I have, and it almost always leads to an awkward, forehead-slapping "I should have known that" moment. Charlie is a free … Charlie app helps stop you from embarrassing yourself in a meeting – CNET
After I read this little article, I ran right over to Charlie.com?and got that puppy on my phone. Let me tell you — I love this thing. "Charlie" is like having an assistant in your pocket. About an hour before your meeting you get an email that looks something like this —
I will tell you that this is actually pretty accurate. But — I was still concerned about the accuracy, I just didn't believe it. Especially when I had a meeting with guest contributor Jeff Millett — this is what it said about Jeff —
Honestly – I thought it was completely wrong — after all, Jeff is an SEO guy and I didn't see what SEO has to do with Sign Language for Kids.
Well, you?know I had to ask ?– and guest WHAT — yep — indeed, this was a project that Jeff was a part of. Imagine my surprise.
Impressed with @AppCharlie – synchs with calendar to pull social/ web info as a primer for meetings. https://t.co/oaq0R1uT2m

— Matt @ PPR (@pprconsulting) April 13, 2016
Overall, I'd still be careful about assuming that what "Charlie" pulls is 100% accurate, even so, I'd highly recommend it as a quick easy way to get familiar with your next appointment and have something to talk about to warm up the conversation.
2. Toggl.com: Track your business and personal time at your desk or on the go
Most places now have some remote team members, and these are AWESOME tools — @Toggl is like a dataphile's dream come true! @kesbutters

— BlueRange Technology (@_BlueRangeTech) April 19, 2016
You know the chicken up there at the beginning of the post — yeah, that's how I've been feeling lately; like time was running away from me and I didn't know where it went. This is when I went BACK to Toggl. Believe me when I tell you that I have tried what feels like DOZENS of time trackers. In the end, I came back to Toggl.
I'm not the only one —
Manta (a small business resource loves it)
App of the Week @toggl: Easy Tracking of Billable Hours #smallbiz https://t.co/Fti0KtFatQ pic.twitter.com/pXU2cLW0Gm

— Manta (@Manta) April 19, 2016
Here's why YOU will love it:
It's FREE — yeah, that totally matters.
There's a mobile app (so that you can track EVERYTHING everywhere — even in the bathroom)
It's pretty. I know this may seem shallow, but I think if you're going to go through the drudgery of tracking every minute of your life, it should at least have a nice user interface.
The reporting is pretty darn good. I can track personal time, client time and projects. I'm using the free version and haven't come up against any limitations yet.
You've got to give this thing a try and let me know what YOU think.
3. Trello: It's like Legos for Projects (sort of)
https://www.youtube.com/watch?v=KfJ9uqZOzSw
This isn't a new tool — it's been around for a while. Trello is a basic project management tool. But it is SO MUCH MORE than that. I use it as a brainstorming space for ideas, content calendars and of course, projects.
https://twitter.com/DougJentzsch/status/722541570583433218
Why You'll LOVE it:
FREE — unless you want some additional features. But the free version will do the trick.
The mobile app is awesome.
Integrates with Toggl – and other time trackers so that you can track time spent on a project. This is by far one of my favorite features.
https://twitter.com/SecNewsBot/status/722538212745416704
4. Glip: It's a big company-like intranet for virtual teams
If you're a solo-preneur or small business owner who doesn't have a lot of employees, but has a lot of team members that you coordinate with on projects — this is an awesome tool for you.
Glip is brought to you by the folks over at RingCentral
RingCentral, a cloud communication solutions provider, announced it has acquired Glip, a company that develops cloud-based applications including messaging and collaboration. Glip also designs applications to enhance employee productivity with apps that … RingCentral buys Glip; integrates with Oracle Sales Cloud
While RingCentral is a great tool for larger businesses, they were really looking for a way to reach out to the small business owner.
Glip, a messaging tool that was launched in 2014, has today released a big update to its service that overhauls the interface and improves the service?s first-party productivity tools. Glip 2, which is launching today, brings a faster and easier to use … Glip aims to transform work chat by combining it with powerful productivity tools
I've recently seen a demo of this tool and can tell you that it is really, really interesting. The team at Glip told me that the goal was to meet customers where they worked. Their intention wasn't to drive them to a single platform, rather, it was to give them a single virtual office space where teams can communicate and collaborate.
Check out this quick video demo to get a feel for how it works.
5. CurationSuite:Not sure what to write — curate content, craft a story and drive traffic!
In the early days of blogging we used to do something called "round ups" which is nothing more than collecting the best articles on a topic and sharing them. This strategy is still a good one — whether you're creating a round up of articles, people or tools (like I'm doing here) — you're doing what's called CURATION.
See what Dell's Jennifer Statham, executive director of global marketing technology says about content curation:
Also, a content creation and curation suite will enable high-quality content to be effectively leveraged by employees and customers through the channels of their choice. Content will be generated as much by users as by company experts; library scientists will be employed to help manage and bring the content to life. (read more here:How Marketing Will Evolve Over The Next Six Years 04/18/2014)
The idea behind curation is that you troll the web looking for awesome stories and then cut and paste excerpts from these stories into your blog — building a story. Now there are tools out there that will help you do that such as Storify or Paper.li, but those all live on?their platform and not YOURS – so you don't get any delicious traffic juice from that.
Try
CurationSuite
instead. Here's a secret — I wrote THIS article using CurationSuite. It's a simple plugin that you install on your self-hosted WordPress Blog. Between their powerful Listening Engine (at an extra cost) you can start crafting powerful content, engaging and featuring other thought leaders, drive traffic and build your influence and authority.
Not gonna lie — it takes some time to learn how to curate content. It's easier said than done. As you will see in future posts — I've been practicing. But using a powerful tool like CurationSuite will save you a ton of time and money (in either writing content yourself or hiring writers) not to mention the frustration and hair-pulling of writer's block. I'm a fan.
I wanna know what YOU think
Check out these tools and let me know if they are as useful to you as they are to me — let me know what tools you count on to multiply yourself — I can't wait to hear and I'll create another list!