Twitter holds real value for your business and gaining followers has far more importance than just increasing a number. But if your Twitter account isn't follow-worthy, then the benefits you'll receive from it are minimal.
The good news, however, is that you don't have to be a celebrity to dramatically increase your visibility, and this article will give you a few strategies that will help.
All of the tips and strategies in this article aren't just follower-building strategies, they are best practices for Twitter in general. Obviously, if you follow best practices, you're going to get more, targeted and engaging followers.
Twitter is a Public Email List
Did you know how Twitter started? Jack Dorsey talked about his inspiration for Twitter in an NPR interview.
It turns out that Dorsey was looking for an easy way to share his experiences with friends without cluttering up their inbox. This way people who were interested in his adventures could see them whenever they wanted to.When you think about it that way, Twitter is a lot like an email list. Where the people who follow you are your subscribers.
Polish up Your Profile
Nobody wants to follow a faceless brand, so improving your profile includes using a headshot for your profile picture. There's no need to pose yourself in unusual ways – just a picture of your face looking straight into the lens will do. At the least, have a photo of your brand's logo if you don't use a mug shot of yourself. Next, make sure you have a solid bio that lets people know who you are and your interests.
@JayBaer gives some 7?specific stepson how to pull together a Twitter profile that gets followers:
1. Use your real name (and don't use underscore) I realize your real name may not be available, but try to get as close as possible. This isn't an AOL chat room circa 1997, this is business (at least partially).
2. Use a real picture (especially if it's a real name) Twitter is about human connections. Don't use a cartoon, a dog, a tree or any other animate or inanimate object for your profile picture. A simple headshot is great. Preferably with some interest. Make sure you're smiling. People don't want to follow @captainbadattitude
3. Treat your bio like SEO copy Each Twitterer has multiple spheres in which they operate, sometimes intersecting and overlapping. You want to belong to as many spheres as are practical and relevant to your interests and expertise. It's helpful if you define your spheres before jumping in, as it will make your following decisions and bio creation much easier.
4. Include a URL Even if you don't have a blog or a Web site, link to a more complete bio and profile of yourself on LinkedIn or elsewhere. @briansolis links to his Wikipedia page, which is useful.
5. Consider a custom background Custom Twitter backgrounds are inexpensive (or free), and can convey important details and contact information. Providers of free or low cost Twitter backgrounds include Twitterbacks, Twitbacks, and TwitterImage (used by me, @chrisbrogan, @problogger, @chrispirillo and others)
6. Don't protect your updates Seriously, what's the point of being on Twitter if people have to jump through hoops to follow you? It completely runs counter to the spirit of community. If you don't want people to see your tweets, maybe you should stick to LinkedIn and Facebook where your connections are typically your friends/associates in the real world.
7. Take it slow Certain Twitterers? following/followers ratio makes it seem like they are using Twitter inappropriately. When you are following 1,997 people, and have 57 following you back, it looks like you are randomly following as many as you can, hoping for follow backs. That's essentially follower spam? and it calls your motives into question. You'll get fewer followers, not more, with that approach.
Engage!
Let's be honest, there's not much sense in posting the same old tweet at the same old time of the day. That said, tweet on a variety of subjects, not just your personal thoughts at the moment. Search the web for interesting stories that relate to your business and/or personal philosophy and link to them. Don't hesitate to use videos and sound clips. The idea is to get the conversation started and engage with people. It's like a giant party and your goal is to have meaningful conversations with as many folks as possible.
It's hard to know what to say and how to say it. Here are some great tips from the folks at Buffer who asked their audience for their best tips on what to say on Twitter to get more followers:
Be Consistent
OK, time for a Captain Obvious moment: no one wants to follow someone who never tweets. Thus, the challenge is to be consistently active on twitter. There are as many recommendations on how many times to tweet as there are Twitter experts. Pick a consistency that's right for YOU.
Once again – @Buffer has published some research on how often to Tweet: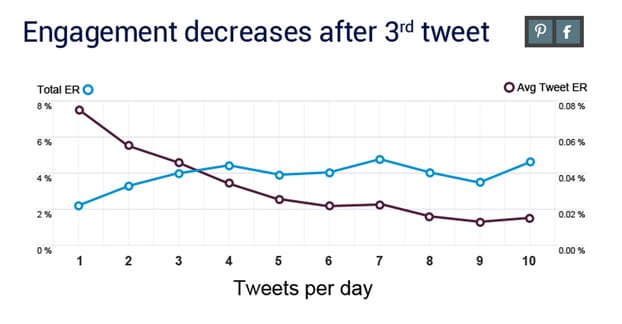 Who am I to argue with hard data. But my personal experience and that of other Twitter power users is that they post more often than that — especially if your followers also have lots of followers. If your Tweets are informative, interesting or fun, you will get on the radar of your target audience and get followers
Be Timely
Tweeting at the right time of the day is also important. There's obviously no sense in tweeting when everyone is asleep, but tweet before people go to work (pre-9 a.m.) and after they finish in the evening (around 6 p.m.). The idea is to Tweet when your audience is on Twitter.
Buffer has done a LOT – A LOT of research and here's what they found:
Participate in Tweet Chats
The fastest, funnest way to gain followers is by join a Tweet Chat in your industry or area of interest. Your first challenge is to find chats that you'll be interested in. I've made that easy for you by creating this calendar of the best small business, marketing and social media Tweet Chats.
Here's a quick tutorial on how to participate in my Tweet Chat — #BizapaloozaChat
Use Hashtags
Hashtags are a great way to connect to people with similar interests and increases your visibility. You've already seen how powerful they are for Tweet Chats. But that's not all, studies have consistently shown that tweets with hashtags get at least twice as much engagement as those that don't. You can use hashtags that are popular on Twitter; you can see these as trends on the left-hand side of your Twitter home page.
Tweets with hashtags receive two times more engagement than those without. And the more engagement with your tweets, the more visibility they get and the more clicks your links receive. But don't overdo it. Don't use any more than three hashtags per tweet, otherwise you risk affecting the readability of your updates.Be consistent by using the same set of hashtags over time to help better associate your audience with the subjects you tweet about and the topics your blog covers. via smartblogger.com
Promote!
Don't hesitate to promote your username at every available opportunity. Add a follow button to your website, link to your Twitter account in your email signature, and promote it on your business cards and signage at your business. Also, ask your employees and/or business partners to follow you and re-tweet your content. Or, you can even offer incentives such as a coupon code or offer if one of your tweets reaches a certain number of re-tweets. Another thing you can do is to find people you know by uploading your email contacts to Twitter. These are people who are likely to follow you back.
Follow More People
Research has shown that there's a definite correlation between the number of people you follow and the number of followers you have. But here's the important part; you have to follow relevant people. Follow people who are your customers, competitors, suppliers, experts and influencers, brands, etc. Anyone who is in your particular conversation should be someone you follow.
DO NOT buy followers. Remember having a lot of followers is only useful when?the people you are following and who are following you back are people with whom you can have conversations.
But I hear you — there has to be a better, easier way to grow your followers without BUYING followers. There is — I'm going to give you the skippy right here —
My secret Twitter growth tool — Don't Tell ANYONE
It's called Social Quant and I learned about it on — wait for it — a Tweet Chat — #ViralChat (Thursdays at 9pm ET), to be exact. This is where I met Mike Kawula (@MikeKawula) who shared some amazing tips on growing your following, engaging with them and ultimately generating traffic and sales.
https://www.youtube.com/watch?v=otDKwN-L5Cs
This tool will help you get more targeted, organic followers, but it's up to YOU to use the list that I've pulled together here to build on that following.
Twitter: The Shy Marketers Secret
If you are shy and struggle with approaching strangers to have a sales conversation, Twitter is the ideal top-of-the-funnel tool for you!
Start by using a tool like Social Quant to build a targeted follower base. Start segmenting your new followers into a Twitter list so that you can easily see and track valuable conversations.
SNEAKY TIP: I recently created a Twitter list called "Why don't we follow each other?" I found all of the people who I wanted to follow me — but who weren't YET following me and put them on this list. BOOM — we are now connected!
Here's a nice video that show's you how to build a Twitter List:
Here are a few more Twitter List strategy resources
How To Create a Twitter List – Business 2 Community: A basic article that goes over how to create a twitter list.
Use Twitter list tools like Hootsuite or Tweetdeck to import your Twitter lists into … The Complete Guide to Twitter for Your Content Strategy – Business 2 Community
Check out the5 Twitter List Secrets From the Pros – SocialTimesthat came out of the #TwitterSmarter tweet chat
What? You're still reading? Get on over to Twitter and start building relationships that lead to ROI!