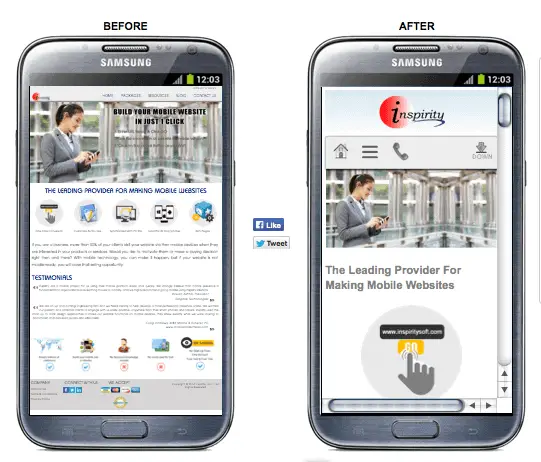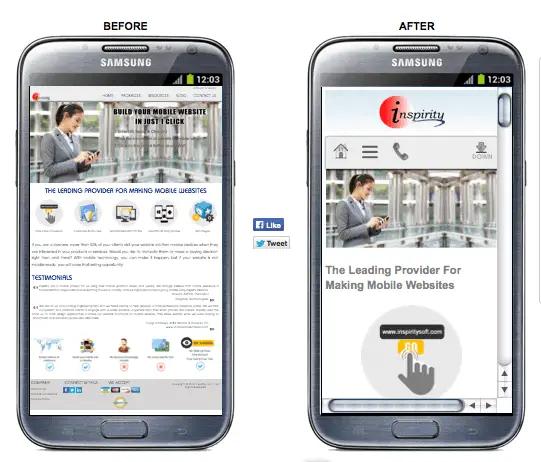 According toe-Marketer, [Tweet "there are 2.23 billion users of the mobile Internet and that number is expected to increase to 2.97 billion in 2017"]. In a world that craves ease and productivity, mobile satisfies that craving through its model of convenience. Individuals use their mobile devices to receive instant access to information whether it's to check reviews on products or services, shop online, or to research a store or company they are visiting. However, consumers become frustrated if they have a difficult time accessing information if a website is not mobile-friendly.
Studiesshow that 91%of small business websites are not optimized for mobile use. This is often because the website was built prior to the explosion of smartphones and the cost and work required to convert to be mobile friendly is prohibitive. While many small and medium-sized businesses understand that they need to have a modern Internet presence, they lack the resources to make it happen.
Can you be losing customers?
[Tweet "Does the lack of a mobile presence result in reduced business opportunities? "]There are many factors to consider. Is the existing website driving business? If the website is poorly built to begin with or is weak, having a mobile site may not have any impact. However, for companies who have invested in their site in any way, there is impact from the lack of a mobile presence.
Additionally, Google has begun to place a high emphasis on mobile when it comes to its search results. Websites that have a responsive design are ranking higher than those who simply have a traditional desktop design.
With most new website developments, going mobile is easy. Either mobility is custom-built by the programmer, or in most cases, the developer uses a standard plugin to make the conversion. Unfortunately, it is more difficult to install a plugin on many older sites. As we all know, designing a new website isn't a simple task. It is much more than hiring a designer/developer. It involves building a strategy, writing content and getting stakeholders to agree on direction. There is also an expense that comes with launching a new website. These obstacles often mean that businesses keep older, outdated websites longer than they would like.
Don't worry – you don't have to spend thousands on a new responsive web site
A product called Inspirity has recently entered the market as a simple alternative to web redesign. Based on a subscription model, Inspirity transforms a traditional website into a mobile-friendly site in minutes. Users enter their URL and the software converts it into a mobile site that is hosted by Inspirity. Website owners do not need to change website hosts or make any changes on the backend of their site. They pay a monthly fee and when people visit their site on a Smartphone or tablet, they get redirected to the mobile version.
Inspirity is a great solution for websites that aren?t ready for a total makeover, but want to compete on the web. Because it is designed for small and medium-sized businesses, the price point is low making the decision to use the service easy.
The fact is that the use of mobile devices from smartphones to tablets to wearable devices like smart watches will only increase. People will continue to consume more and more information on the go and businesses will need to adapt to their websites to the changing mediums. Whether it's a quick and easy solution like Inspirity or a full redesign, mobile-friendly websites are a business necessity.
Sponsored by20Lemons