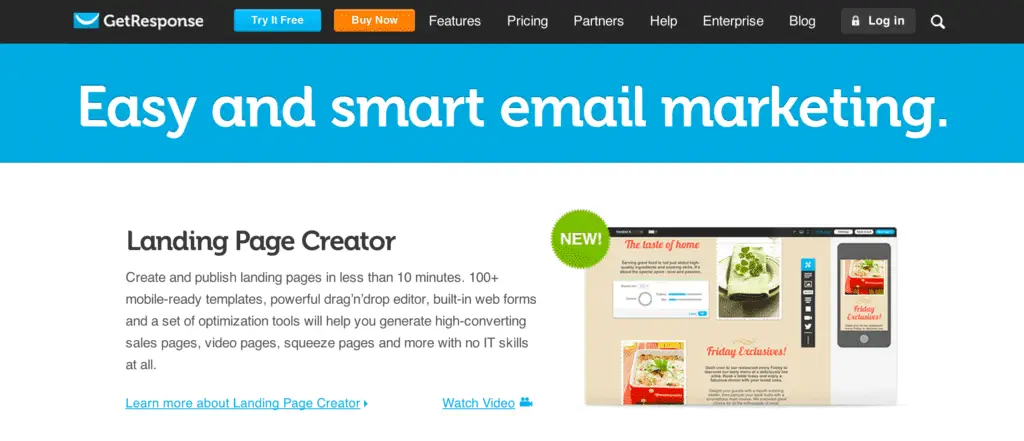 The following is a sponsored post by Get Response
In the next few days or about a week, you're going to see a brand new DIYMarketers web site design. I did it all myself, with a little design help and a LOT of coding by my brilliant web team.
This whole process has been a long ordeal I'd say nearly a year and a lot of meetings and strategies and issues with code and stuff. You'll laugh when I tell you that my original budget for this web site was $2500. After all, all I needed was a few landing pages. How did it get so complicated when it didn't have to be.
You don't need a fancy designer or a web team to start making money
The biggest obstacle and cause of overwhelm for most small business owners and entrepreneurs is transforming the millions (yeah, millions) of ideas they have into viable money-making products. And at the heart of it is — the web site or landing page.
Back in the day, you needed a web team, $5,000 and a few months of meetings to turn that idea into something that makes money, and by the time that happened well, the thrill has often fizzled out.
There are a lot of done-for-you lead page creators out there. In the beginning there was Unbounce, and Optimizely these were great choices for A/B testing, but you had to integrate it with your email marketing system. Then there was LeadPages; a really popular choice by six-figure marketers for pre-designed landing pages that are practically written for you but there isn't a lot of design flexibility there.
On my new site, I use OptimizePress. This is also a super affordable choice with design options and easy integration, but they don't have a lot of predesigned templates to choose from. They have a lot, but somehow, I'm always changing them around because they aren?t what I want or I'm creating something completely customized.
Get Response Offers Customizable Done-for You Landing Pages
What if I told you that you don't need a full-blown web site to launch your next product or service and you can still generate leads and sales?
You probably wouldn't believe me because just about every marketing expert is going to tell you that you need to invest thousands of dollars in technology and design. Not me. I'm going to tell you that you can.
I'm always talking about doing marketing and make more money and today, I'm going to show you one tool that will help you do just that.
The folks over at Get Response, one of the premier email marketing services out there for small business have come up with a new landing page creator that is so sweet, customizable and affordable that the only thing stopping you from launching that new product, service or promotion is your inability to come up with an offer!
9 Reasons Why I like Get Response
I have to admit that I didn't give Get Response a lot of consideration at the time I chose an email marketing system. I use aWeber because this has been the standard for years. But I have to admit that they haven?t kept up with the demands of small businesses. Get Response, on the other hand has been busy creating new features and function that, quite frankly have me considering a change.
Landing page in minutes:? By far the biggest need I have is to create a landing page with a lead capture form on the fly. Say you get asked to be a speaker and need a free gift download, you can have one ready in minutes.
Pre-designed and customizable:? Get Response has several hundred templates that are not only pre-designed but customizable with simple drag and drop features, so that you can make subtle tweaks.
Mobile responsive:? This is a HUGE feature that aWeber doesn't have and I need and want responsive and customizable landing pages. This makes it super easy to grow your list while you are on the go.
Great looking stock photos You will have access to 1000+ licensed and ready-to-use stock photos to choose from. This is a money-saver right here because decent stock photos can cost you serious cash!
Hosted or self hosting – ?This is a feature several options offer and it's a must. You can host your landing page on Get Response or on your own site – -you decide.
A/B Testing – You Analytical? marketing styles will love this because you can create plenty of versions of your page to test and choose which one converts better.
Easy and beautiful form integration You can create gorgeous forms that easily integrate into your landing page with NO HTML coding required. Believe me when I tell you this is a big deal. I've probably spent at least a couple thousand dollars twisting my HTML form code to make it work right.
Nurture the leads you get:? What good is a lead if you're not nurturing it and showing them more options and reasons to work with you? Get response makes this super easy because you're not jumping from one application to another.
Provide free downloads straight from the platform:? Usually, you have to upload your free gift to your site and then create a link to the download, Get Response makes this easy by giving you the option to deliver the content straight from the landing page.
How to decide which platform is right for you
Deciding on which email platform to use is a big decision. In a lot of ways it's like buying a house; there are trade-offs and whatever you choose, be ready to live with it for a really long time.
Any decision you make has to consider the following:
Get Response and its new landing page feature is a winner in all three of these areas.