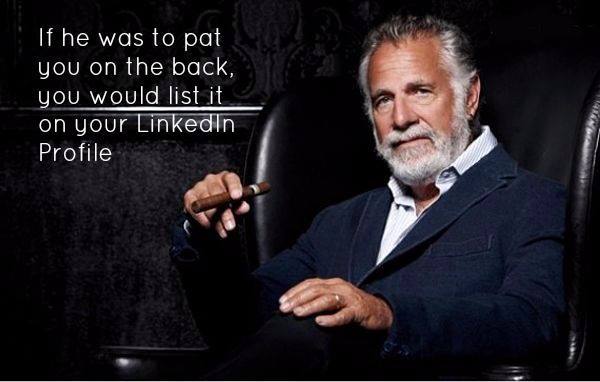 When I first started using LinkedIn back in 2004 or 2005 I used my profile as an onlineresume and my connections as a sort of database. But things have CHANGED! ?LinkedIn isn't just a database or an online resume — it's your first impression for any connection.
The Simple Skippy on Your LinkedIn Profile
Would you show up to a meeting in your pajamas? Of course not. Your LinkedIn profile is your first impression with anyone who wants to know who you are.
Your profile is how potential contacts are going to judge you and whether or not you are worth talking to. I hate to be that blunt — but that's how it goes. In a lot of ways, your LinkedIn profile is your professional website – so make it count.
Understanding how to use LinkedIn to get better marketing results starts by understanding how to use LinkedIn summaries to build visibility.
Using LinkedIn as a Marketing Tool
While LinkedIn has become one of the most powerful social media marketing tools going, LinkedIn started out as an online career destination. As a career resource, it is designed to profile people for hire, not companies, so rather than starting with a company profile for marketing purposes, you have to start with a personal profile.
Your personal LinkedIn profile is the foundation for all of your LinkedIn outreach. As an individual you can post articles, comment on others? activities, participate in groups, make recommendations, and build visibility. You participate in LinkedIn as an individual contributor and it's your personal profile that they will connect to and follow.
The Rules of Writing a Killer LinkedIn Summary
To build a solid and compelling LinkedIn summary, follow a few basic rules:
Be compelling and original You want to stand out from the crowd and engage visitors right away. That means opening your personal description with some panache. Rather than saying something like ?30 years as a CPA and corporate tax consultant? try something original and appealing, like ?On a mission to help clients hang on to their hard-earned money. Remember that the Summary statement is your opportunity to make a first impression and not only tell visitors who you are but why they want to connect with you.
Target your audience Be clear about your target audience by addressing them directly. What does your target audience want from you? What message is going to seduce more of the right kind of followers? For our accounting example, consider something like Certified accountant who has a track record of saving clients tens of thousands of dollars.
Be specific Creating a more narrow market focus will deliver better qualified sales leads. If you can be specific about your services and your value proposition, then you will attract better prospects. For example, consider the focus in this description: Financial professional specializing in technology start-ups, mergers and acquisitions, and IPO guidance. If you were a high-tech start-up this contact could be a resource.
Be succinct Remember that you have only a short time to grab someone's attention. Be brief and direct. Get to the point with the aid of bullets or a simple value statement that is easy to understand.
The Elements of a LinkedIn Summary
If you know how to use LinkedIn as a job search tool then you know the personal profile format is set up to look like a resume, outlining career experience and objectives. However, you can use the same format to build a solid marketing profile:
Start with a Killer Headline The headline has to fulfill a number of functions:
It needs to explain who you are and what you do.
It needs to offer a value proposition to convey why the readers should care.
It need to include keywords for searchability.
When thinking about how to use?LinkedIn headlines, try thinking like your best customer. What do they like about you and your service? If they were looking for you on the Web what keywords would they use? That will help you formulate a compelling and discoverable headline.
Use Keywords Be sure to use searchable keywords in your LinkedIn profile to promote SEO.
Make a list of three or four keywords in advance. Determine what keywords best describe your value and your experience, and be sure to think like a potential customer. Use commonly searched phrases such as ?sales professional, "account executive", etc. Also be sure to include areas of expertise, such as ?enterprise networking,? RN,? or CPA. If appropriate, include professional credentials as well, such as Cisco certified.
Use keywords in the summary and career experience sections. Be sure to use the same or similar keywords to promote searchability.
Also include geographic information, such as Seattle-based,? especially if you have a regional business. Even if you have a national or global business prospects tend to look for local resources first.
Write a Concise LinkedIn Summary Your summary should deliver enough detail to provide a sense of your expertise. The summary should be not just a boring biography but should deliver a sense of who you are and why people would want to connect with you.
Start by taking inventory of what you want to include. What are your accomplishments and what metrics do you use to show success? What are your values and your passions? Do you have any ?super powers? you want to boast about?
Draw from external accolades or recommendations and use facts and figures to back up your achievements.
What differentiates you from the crowd? Are you a fanatic about deadlines? Are you likable? Find something that makes your different and highlight it.
Bear in mind that you only have 2000 characters to tell your story so map it out in advance. Use a word processor to perfect your summary before you upload it. And remember to write in the first person addressing your audience.
Include a Photo Don't underestimate the power of a photo. A good LinkedIn photo conveys a sense of personal connection so even if you have never met the other party, they feel they know you. Be sure to choose a professional looking photo that conveys confidence (no selfies or vacation pictures, please).
Create a Specialty URL LinkedIn allows you to create a personalized URL address for your profile. Take advantage of it and choose something memorable that reflects your organization or your value proposition.
If you know how to use LinkedIn as a marketing tool you can generate new business that you won?t attract using other channels. The Web is the first resource many people use when searching for new resources or expertise, and with the help of LinkedIn yours will be one of the first profiles they see. If you can create a searchable, compelling LinkedIn profile then you have already started the task of closing your next customer.