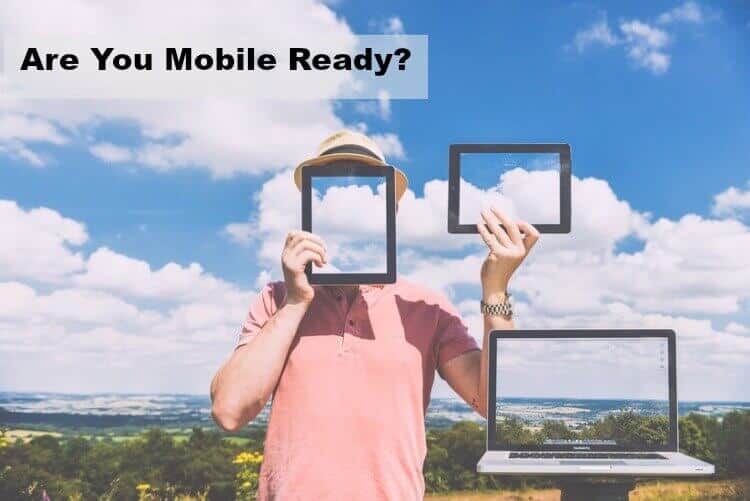 Are You Mobile-Ready? What You Need To Know To Tap Into the Incredibly Fast-Growing Mobile Market of Potential Customers
The smartest business owners and the most successful entrepreneurs are those with the ability to see which trends in their respective markets they need to pay close attention to and look at how these can affect how their businesses operate. If they can see a particular need that they can fulfill or a new way that they can make their clients? lives easier, it's usually a good idea to explore that to see how they can benefit from it (or ignore it at the cost of potential increases in mindshare and conversion).
If you're like most savvy entrepreneurs and we definitely think you are, cause hey, you're here reading this! you already know the importance of making sure your business has a web presence: It's one of the most cost-effective ways of marketing your business and keeping in touch with your clients. Of course, just like anything else, the technologies behind the medium is constantly changing, which has a direct effect on how consumers behave.
One trend everyone needs to pay attention to is this: more and more people are using their mobile devices as their primary means of accessing the internet, and that includes transactions and payments.
From the big screen to the small screen
According to Google Executive Jerry Dischler, searches from mobile devices now outnumber those from personal computers, and this is a trend that only looks to continue for the foreseeable future.
Another interesting fact to note is that on mobile, a properly-executed marketing campaign sees higher customer engagement and lower costs-per-redemption versus more conventional methods. If you do your homework, you can get a whole lot of bang-for-your-buck, marketing-wise.
The upsides to making sure your website is responsive and mobile-ready if it isn't already are clear. And if it is mobile-ready, you also need to make sure that its mobile experience is optimal.
We'll talk about both in turn, but before we get into that, some might be wondering?
Should I care?
Now some of you might think hang on minute, I've taken a look at my analytics, I know my audience, and they're mostly desktop and notebook users I've barely got any traffic from small-screen users why should I bother?
Fair question.
Let's say that you do cater primarily to a demographic that isn't really on mobile, and that you may not see an immediate return on any time and effort spent in ensuring that your website offers an optimal mobile experience. The fact still remains that this trend will only continue and that mobile-first users will keep on growing, and that presents ever-growing business opportunities that will reward those who prepare sooner rather than later.
If lost opportunities aren?t enough, the fact remains that Google has changed the way search works by rewarding results from websites that are mobile-friendly and penalizing results from pages that aren?t (even Bing is getting in on the act).
It's pretty clear: if you want to get or maintain your edge and relevance in search, you definitely need to pay attention!
Moving from your customer's desktops and getting into their pockets
The long and short of what a modern website should be nowadays is responsive. In essence, this means that your website should work well across different devices, with design considerations for differences in how people may need to interact with them depending on the screen size.
Here are three main ways you can get this done:
Use a responsive WordPress theme. This is one of the easiest and quickest ways to get it done. A search can net you a variety of themes to choose from both free and paid and setting it up is a fairly painless process.
Get your hands dirty. If you have experience tinkering with websites or if you're feeling adventurous, at the very least you can go the DIY route and code it yourself. A good place to start is with Google's own step-by-step guide to creating a responsive website. Another good read for brushing up on the subject is A List Apart?s feature on Responsive Web Design.
Hire someone to give you hand. If for any reason you would prefer to delegate this task to someone else, the option to hire an outside design team or a freelancer is always there, and services such as Upwork can help you find the right people to help you out while keeping costs reasonable.
TIP: You can use Google's Mobile Friendly-Test page to check if your website is mobile friendly or not.
3 things you need to think about in order to give your users a better mobile experience
All right, so your website is now mobile-ready, and it looks great on tablets and is just as nice on phones. But what if you really want to fine-tune things and take a good look at the all the little details? Here are a few things to consider in terms of optimizing your mobile viewing experience:
Make sure your website loads quickly. Tech writer and GigaOM founder Om Malik writes:


People are happy to wait about two seconds before getting frustrated with the page load. There is some latitude on mobile, but as LTE proliferates, people have less tolerance for slower page downloads.

In the age of on-demand content and in a world where technology and services increasingly cater toward instant gratification, slow means death. You only have a limited amount of time to engage users before they tune out.

Of course, factors affecting speed may vary depending on a users connection type and service quality, which is something that's out of your hands; but if you can do something to improve your sites performance for most devices and users in general, it definitely merits consideration.

Essentially, this means that you have to be judicious with the amount and quality of content you put on your website, especially on your home page. If your home page is image-heavy, consider paring it down to the essentials. If you have a lot of embedded media, ask yourself if it's really necessary to put those all on that one page on your home page, in particular.

Don't test your users patience. Fast is good, slow is bad.

TIP: You can use Web Page Test to examine your page load time and website performance.

Make sure your website is easy to use by design. It requires more effort and thoughtful consideration to ensure that your website is usable and easy-to-navigate on smaller screens than it does on larger ones. The less visual real estate you have, the less space you have to work with in placing content and navigation.Of course, we can go to great lengths just talking about what constitutes good design on mobile devices (or for anything), but for the purposes of this article, let's focus on just two basic-but-important details:

Pay attention to text size

. It's important that your text content be comfortably readable on all screen sizes, from desktops, to tablets, to phones. Very few people will have the patience to pinch-and-zoom around your page just to read what you have on it. This might seem like an obvious concept, but a surprising amount of websites take this for granted even those who already have responsive websites.

Make sure links stand out and are easily ?tapable?

. Links and navigational buttons should not only stand out as different from normal text, but they should have ample space around them to make them easily tapable. Imagine the frustration of any user trying to tap on a list of links or buttons that have been bunched together and getting sent to the wrong page, all because their fingers kept inadvertently tapping on the wrong link! This is a small-but-significant detail that can have a huge effect on how a user experiences your website on mobile.
Don't piss off your readers. You might think that this goes without saying, but it bears repeating nonetheless: make sure that the people who browse through your website have a good experience doing so, and use this principle to guide your design decisions accordingly.One of the most egregious offenses in mobile website design has to do with ads: particularly, the modal ad window and the interstitial page.A modal window is a block of content that appears on top of the page that you are currently trying to view, most of the time without being initiated by the user. There are a variety of reasons and situations where this element might be useful, but when it comes to mobile, this is generally just a bad idea.Considering that users? connection speeds vary depending on location and service provider, this affects not just how fast your page loads, but what loads when. Imagine loading a page on your phone or tablet, starting to scroll down, and a second later an ad pops up underneath your finger as you were trying to tap a link or scroll some more: not only does it interrupt what you were doing, but it also sends you somewhere else you had no intention of going to.Annoyed yet? Well, time to hit that back button and load the previous page along with the modal ad all over again. Of course, other users just don't bother going back to that page again ever.The interstitial page is something that loads before the page that you actually intend to go to, and this is usually used to display ads. In a sense, this can be worse the modal window, as it takes up the whole screen and tends to consume more bandwidth than is necessary or expected a particular pet peeve of those on limited data plans.

Here's the thing: there's nothing wrong with ads in and of themselves. Where things fall apart tend to be in the strategy and implementation, so if you are considering placing any ads or any elements that may be initiated without your users consent, ask yourself this question first: will this add to or be a positive experience for my user, or will it leave a bad impression?
TIP: Click here to read The Importance of Good Website Design Why It Matters, and How To Pull It Off, if you haven?t yet!
The Bottom Line
At the end of the day, the most successful entrepreneurs and business owners will be those who provide good experiences for their clients and those who constantly find new ways of doing so. This means staying on top of relevant trends that affect how you do business, where you do business, and understanding how all of these factors ultimately affect the relationship between yourself, your brand, and your customer it really is all about the experience and how you deliver it.