When it comes to flowers and gardening — I've got a black thumb for sure; especially with indoor flowers. But every summer, I get the bug and put out hanging baskets and containers to bring my outdoor "corner office" to life.
Everything looks amazing for the month of June and then, come July, it starts to wilt. Leaves wilt and start to turn brown and ultimately by August, what seemed like a beautiful container garden looks more like the Mohave desert. But this year, something amazing happened.
Just take a look at THIS!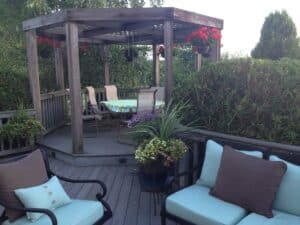 It's July 24 and LOOK — I have flowers. And can you see those geraniums — would you just look at them – big, overflowing baskets. What happened?! Well, there were a couple of things that went on here and as I was sitting outside on my patio, I realized that it was a wonderful collusion of nature and nurture that created this thriving patio garden(ok, maybe not thriving, but certainly nothing close to the Mohave Desert, can we agree on that/!)
Marketing Strategy = Container Gardening — WTF
What's even better is that as I thought about what happened this year that was different from previous years, it dawned on me that?this just might be a great practice for your marketing strategy as well. In fact, I've been practicing this strategy for the last year and I have to tell you — it's been very successful. So, let me share my observations and resulting habits and see if they help you grow your revenue garden like they did mine.
Even flowers love a good drip campaign
Here in Ohio, we've had just the most amazing balance of a heat, sun, rain, cool cycle. I mean it's almost like the tropics in that a day would start off cool and dewey, then warm up. We'd get a quick rain shower and then the sun would come out. This cycle has been repeating the entire summer (more or less). My flowers have responded with fervor. So, yeah — drip campaigns are a definite must. But here's the thing. I'm not just talking about watering regularly. I'm talking about the messaging cycle. There has to be a balance between informational emails, relationship building emails, emails with offers and so on. Your list is your garden, so make sure sure that when you drip on them, you drip the good stuff.
Pruning seems so wrong, but is so right
I have a hard time with pruning. I know, it's a good thing. But I've never really been diligent about it. This year was different. I told myself I would NOT be afraid to prune. I would get out there, and pull off all the dead stuff I see. Yes. I would be strong and merciless. No dead leaf or flower will be spared. What can I tell you, the results were astounding! ?Pruning works. You just KNOW that I'm going to get on you for this. When was the last time you pruned your customer list, your marketing activities, the stuff that you've been playing with, doing or trying that isn't yielding any results or fruit? In the same way that dead flowers or leaves continue to suck the life out of the strong living plant, these dead marketing activities and strategies are doing the same thing to your money, your time and your business. Prune away my friends — it's a good thing. Here are a few places to dig into first:
Step back and review your marketing goals. Make sure that you are clear on what you're selling and to whom.
Start tracking your time and daily activities (not forever, just enough to get an idea of where your valuable time is going). Make sure that your valuable time is being spent on those activities that generate revenue. If not — stop doing them. (Prune)
What about your clients? I know you have great clients are all of them profitable. Make sure that your pricing and offers are in order so that you aren't losing your shirt. This is a great time to renegotiate contracts and set pricing goals for next year.
"Seymour FEED ME!" Here's something else I've been doing this year, that I hadn't done in the past — FEEDING my flowers. I don't know why, but I always thought that rain and hose water should be enough. What was I thinking? ?Go ahead, nod your head – you're right. Now, what about your marketing and your business — have you been thinking that simply trolling social media or randomly meeting people is enough? I know it seems like it should be, it's more natural. But to grow a thriving client base you need more than that – you need FOOD in the form of new clients. And that means making "new relationships farming" a habit. My favorite tool for this activity is Nimble, especially of the bulk of your relationships come from connections you make on social media such as LinkedIn, Facebook or Twitter. There you have it — three simple habits you can incorporate into your daily business gardening routine. Let me know if you have as much success with your business garden as I did!
[optin_box style="12″ alignment="center" email_field="email" email_default="Enter your email address" email_order="2″ integration_type="aweber" double_optin="Y" thank_you_page="https://diymarketers.com/guide-to-marketing-style-file-download/" list="3374752″ name_field="name" name_default="Enter your first name" name_required="Y"][optin_box_field name="headline"]Here's a Guide to Help You Grow Your Client Garden[/optin_box_field][optin_box_field name="paragraph"]PHA+RW50ZXIgeW91ciBuYW1lIGFuZCBlbWFpbCBhbmQgZ2V0IHlvdXIgaGFuZHMgb24gdGhpcyBlYXN5LXRvLWZvbGxvdyBndWlkZSB0aGF0IHdpbGwgaGVscCB5b3UgY2hvb3NlIHRoZSBiZXN0IG1hcmtldGluZyBzdHJhdGVnaWVzIGZvciB5b3VyIHVuaXF1ZSBwZXJzb25hbGl0eSBzdHlsZS48L3A+Cg==[/optin_box_field][optin_box_field name="privacy"]We value your privacy and would never spam you[/optin_box_field][optin_box_field name="top_color"]undefined[/optin_box_field][optin_box_button type="0″ button_below="Y"]Get Instant Access![/optin_box_button] [/optin_box]