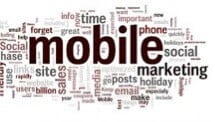 Consumers today are more mobile-reliant than ever before. Pew Internet tells us 91 percent of American adults own a cell phone, and 56 percent of those own a Smartphone. Mobility is now a fundamental part of our lives with users shopping online, perusing social media sites and checking emails from their mobile devices. The momentum continues to gain, making it more important than ever to take advantage of the fun and creative ways to promote small businesses and target current and potential customers via mobile devices. Here are five ways small businesses can mobilize their marketing efforts.
Make Sure Your Mobile Site is Discoverable
A lot of companies think search is search, no matter the physical location. But that's not the case. When people search on a mobile device, they do it in a different way than when they're on their PC at home. Small businesses often fail to optimize for mobile search. And even companies with mobile-friendly sites aren?t checking to see how they rank in relevant Google searches.
Place Business Information in a Prime Location
When people search on mobile, they're much more likely to search specific brands and exact names because they have an immediate destination in mind. On a desktop, people search categories and topics. The number one thing you can do is have your address and phone number on your website just remember smartphones can't recognize phone numbers that are embedded in an image.
Tailor Your Campaign to Mobile Users
Don't make your customer feel like Goldilocks trying Papa Bear?s porridge? create a campaign specific to mobile users that is just right. ?Mobile apps and mobile coupons are drivers when it comes to directing customers to your products and services. Have landing pages that are mobile specific and make sure to include a clickable link so users can easily contact your business.
Integrate Social Media into Your Mobile Marketing Strategy
Intensify your mobile marketing efforts with the value social media provides real-time engagement. The top activity of mobile users is accessing social media sites, so implement ways to use social media content for real-time marketing. Interact with your users on Facebook, Twitter and Instagram through sharing high-quality posts and images.
Text to Sell
While you diligently prepare your business for 2014, don't forget to take the time to create an opt-in program for the mobile phone that allows users to sign up for specials via text message. Tap into the on-the-move urgency of mobile users by offering specials that are time or quantity-limited deals to encourage visitors to follow through with their purchase. You can also use text the same way you use email marketing as a way to give previews of products or services you have yet to release.
Today's small business owner should look at mobile as not just an optimal strategy to consider, but also one that's critical to adopt to best reach prospects and current customers. Mobile device usage isn't going to decrease, so small businesses need to prepare to compete on the small screen or get left in the dust.
How have you mobilized your small business?
Photo via: verticalresponse.com