We all know that there are two ways to build a profitable business; sell more and spend less. I spend a lot of time talking about how to sell more. Today, I'm going to talk about a single change I made that helped me cut costs and save $300 per month!
In short, I decided to shift my business to the Zoho small business operating system, and I'm going to tell you all about it and answer all the questions everyone has asked me along the way.
What's Zoho?
In my opinion, Zoho is the best kept secret in business software. It's like Google and Microsoft for about half the price.
To make another analogy, Zoho is like the Legos for your business. You can use their apps individually and customize them to match your business.
Or, like those specific Lego sets, you can purchase these apps in use-case bundles for individual functions of your business.
No matter which you choose, after years of using individual apps and now nearly a year of using Zoho One for more than 90% of my business, I'm ready to share what I've learned.
Best in Class vs Centralized Software: Which is Best?
What is a Best in Class Software Stack
Let's get on the same page first. Best in class is typically a piece of software that is designed to do a specific job; online meetings, social media scheduling, email marketing.
Most of us have a software "stack" that looks something like this:
Zoom for meetings
Slack for team communication
MailChimp for Email
Keap for Marketing Automation
Evernote for Notes
Google for Storage and Collaborative Documents, Spreadsheetd, Slides, etc.
Kajabi for Online Courses
Buffer for Social Media
Jasper.ai for AI Content Marketing
Quickbooks for Invoicing and Accounting
Shopping Carts and Payment Gateways
SEMRush for SEO
SurferSEO for content writing
If you use several different types of software platforms to do a specific job — that's called best in class.
What is a Centralized Software Stack
If you worked at a larger company, there's a good chance that you worked on a "centralized software stack" — that would be your business operating system — like SAP for example. Or, if you were a small to mid-sized business, you probably worked on a centralized "Microsoft" type of system where all your apps were primarily Microsoft Apps.
The Myth of Low-Cost Small Business Apps
Now here's where it gets interesting.
Most best in class apps are priced very affordably; generally less than $50/month. But when you add them all up, you're spending hundreds of dollars each month. Personally, I was spending about $500 per month for my stack of marketing tools.
So, I asked myself "Is there a way to reduce any of these costs and streamline my workflows so that I can be more productive, get better analytics for my business?"
The answer is YES — and it involves finding a centralized software stack.
Zoho is the Best Choice for Solopreneurs, Entrepreneurs, Side-Hustlers and Small to Mid-Sized Businesses
If I told you there was a centralized software platform that only costs about $47/mo and includes absolutely every single app you would need to run your business; all in one place. Would you be interested?
Zoho is that platform.
I've been a fan of Zoho's small business eco system for just about a decade. And, for the life of me, I'm not sure why MORE of you entrepreneurs, side-hustlers, and small to mid-sized businesses aren't interested.
Zoho is the Best Kept Secret for Small Business Tools
A lot of you haven't heard of Zoho — that's because they don't do much marketing.
Some of you might be familiar with Zoho CRM because it's free for up to 3 users and it's usually the gateway app into the entire Zoho ecosystem.
But there is so much more to know about Zoho.
What makes Zoho a good choice for solopreneurs and small businesses?
Zoho is the most affordable, highest value, more bang-for-your-buck small business platform that no one knows about. It's the best kept secret for solopreneurs, side-hustlers, and small to bid-sized businesses.
Choosing affordable software is the most overwhelming aspect of running a small business. And Zoho literally eliminates all that guesswork because it's like purchasing a massive Lego collection that allows you to pick and choose the software apps you need when you need them without giving your budget a second thought.
How can Zoho help me as a startup?
All your data securely in one place
The biggest way the Zoho platform helps startups is by starting and keeping all of your business information securely in ONE place. Zoho has had an AI feature for more than 5 years called Zia.
Zia has amazing capabilities — but only if it has data to work with. So you'll want to have all your business data in one place, if you want to get good insights and recommendations.
Zoho is entrenched in small business
Zoho has traditionally been targeted toward small businesses. Many of their apps have a "forever free" option and are crazy affordable.
Zoho CRM is their flagship product and most of their 50+ million (it might even be 60 million) customers worldwide started their Zoho relationship with Zoho CRM.
In my honest opinion, even though it's free, Zoho CRM is still a bit complex and overkill for most startups.
In the last few years, Zoho has made a concerted effort to make adopting Zoho as your single small business operating platform a lot easier.
Zoho is doubling down on Solopreneurs
Zoho's leadership team believes that software is a critical utility for small businesses. In other words, you shouldn't even think about the price or whether you can afford it. In the same way that you wouldn't have a home without electricity, you shouldn't have price be a reason you don't have software.
In 2023, you're going to see even MORE solopreneur and startup-friendly apps hit the market. Currently, they are in what I call a soft launch.
Zoho Solo: Run your Business from Your Phone
Zoho Start: Register your business, EIN and more
Zoho Domains: Purchase your domain and set up your company email
Zoho Publish: Submit your business to directories and do reputation management
Zoho Voice: Set up your virtual phone system
How much does it cost to use Zoho's software?
Every Zoho App costs less then $50/mo
Zoho's flagship small business suite is called Zoho One. This bundle gives you access to over 50 apps for only $47/month/user. With Zoho One, you can replace your entire Google Workplace, Email Marketing and Marketing Automation, Meetings and Webinars, Online Courses, Websites, Bookkeeping and Invoicing, and so much more.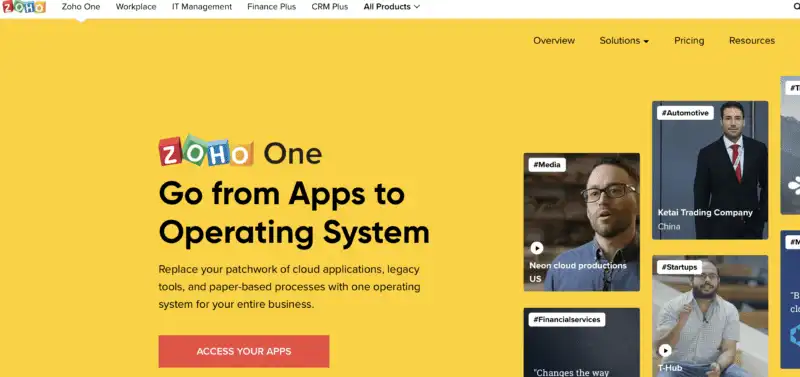 Zoho One - The Operating System for Business
Get an entire "enterprise quality" operating system at a small business price. 50+ small business apps -- all integrated -- all in one place and all at one insanely affordable price!
Automate Your Business
We earn a commission if you click this link and make a purchase at no additional cost to you.
If you're a startup, you can have all of this and many more apps I didn't even cover for under $100 per month. This is literally a 10X reduction in software cost!
Zoho also offers department or use-case specific bundles that you can choose such as Marketing Plus which contains everything you need to run your marketing for just $25/mo with the option to add on users and email capacity as your business grows.
A lot of Zoho apps also have a forever free option, so you can start with that to see how you like it before you buy it.
What kind of support does Zoho offer for setup and troubleshooting?
Zoho's customer support has come a LONG way over the last few years. With Zoho One, you get access to their Zoho Concierge service. Just schedule a call and they will help you choose the best app to start with and provide some basic guidance and training.
Every single app has its own support staff. All you need to do is send an email to support for the app you're using and they will respond within a few hours.
I switched my entire business to Zoho One at the start of 2023. The entire process took me about 20 man-hours and several dozen messages to a variety of support folks. They typically will answer with an email and a screencast to help you do something. But I've also had people give me the option to schedule a call where they literally walked me through any issues that I was having.
Can Zoho scale with my business as it grows?
YES. This is what makes Zoho such a wonderful choice for cost-conscious small business owners and entrepreneurs. And, this is the reason I recommend starting with Zoho One. You can start small and add apps as you go.
Not only that, but you can run your entire business from a single dashboard.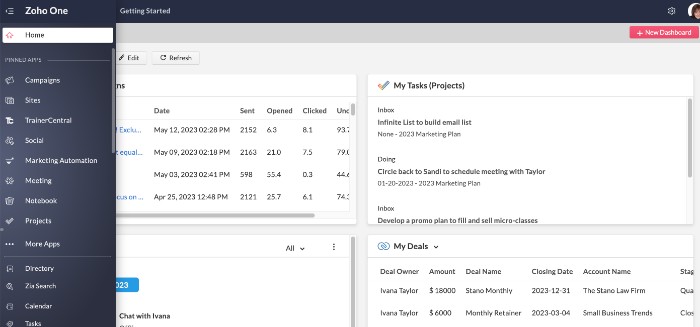 This is a shot of my dashboard. You can see that I'm using Zoho Campaigns for my emails, Zoho Sites has some custom product pages that are tied to my shopping carts and payment gateways (yup — that's in there too). You can see I have Zoho Social to manage my social media, Zoho meeting for webinars, and so on.
Everything is in one place – not even Google can do that.
How secure is my data on Zoho's platform?
If you're a freak about data and privacy — Zoho is a must have. Zoho has made data privacy a mission and their primary competitive advantage.
Zoho is a lot like Apple — it's vertically integrated and it's a closed system. That means that your data is yours. It doesn't get shared, and no third-party apps get into the platform.
Zoho's Ulaa Browser is Family and Business Friendly
You know the old saying — if it's free, you're the product. While Google's browser is the standard, let's face it, your results are still driven by ads and there's little to no privacy for your searches — remember, you're the product.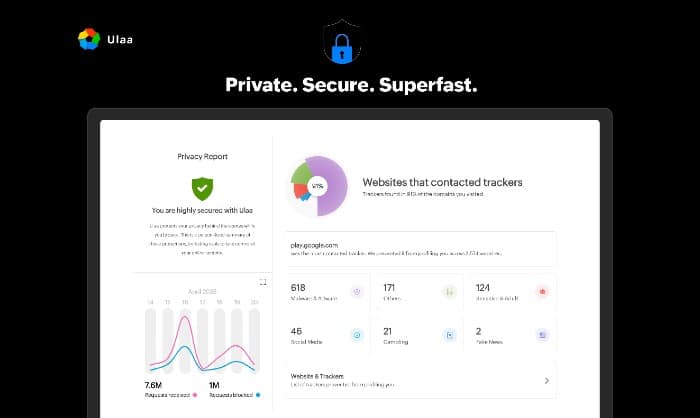 Another feature I love is that it offers a variety of browser experiences: Developer, Personal, and my favorite "kids" — so all the parental controls are taken care of and you don't have to worry about your kids seeing anything inappropriate while researching their homework.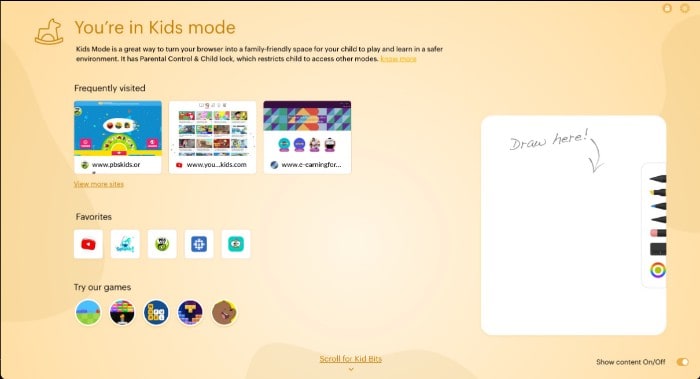 Ulaa uses Duck-Duck-Go as their preferred browser, so you know it's secure.
Again — Zoho isn't just committed to your data privacy, they are obsessed.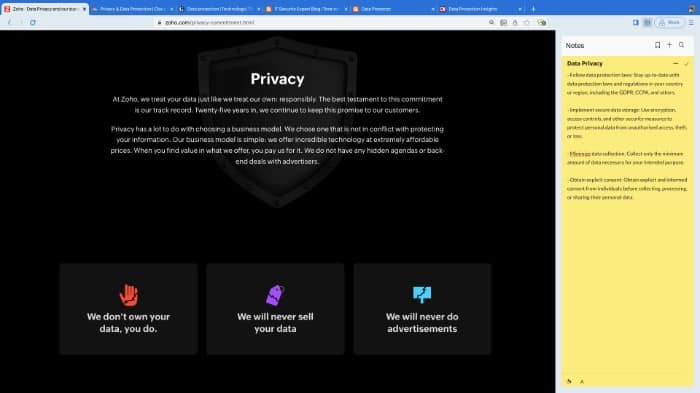 Does Zoho offer any mobile apps for managing my business on-the-go?
Of course! Every app you have has a mobile option.
Here's a screenshot of my Zoho One mobile app. I can literally see everything that's going on in my business in one place.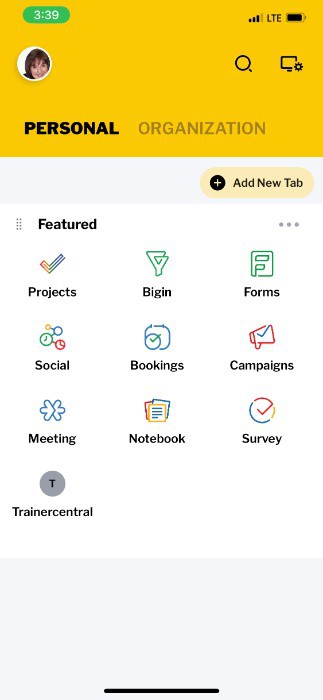 Not only that, but of you're a startup, they have a new mobile app coming out called Zoho Solo which will allow you to run your entire startup from your phone!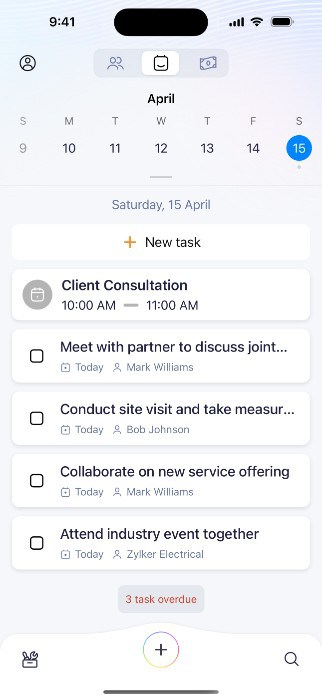 This is still in Beta, but it's going to be the best small business entry point for startups.
What specific tools and features does Zoho offer to help me run my business?
I'm not being facitious when I say this – but "all of them." If you are an online, local, brick-and-mortar, ecommerce business – everything you need will be here.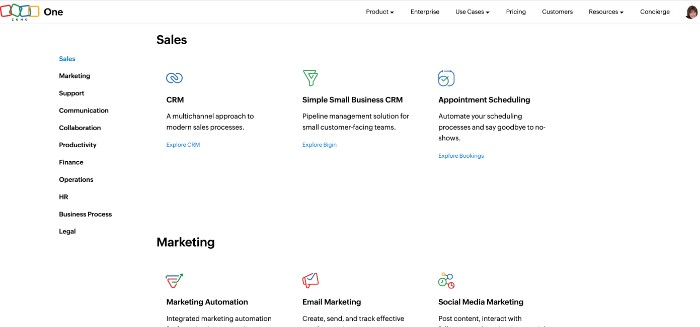 I've already talked about Zoho one — and you can see how extensive this is. And, if that's overkill for you – no worries. There are a variety of bundles.
The only thing I still use outside of Zoho are a few specific SEO tools.
Zoho Marketing Plus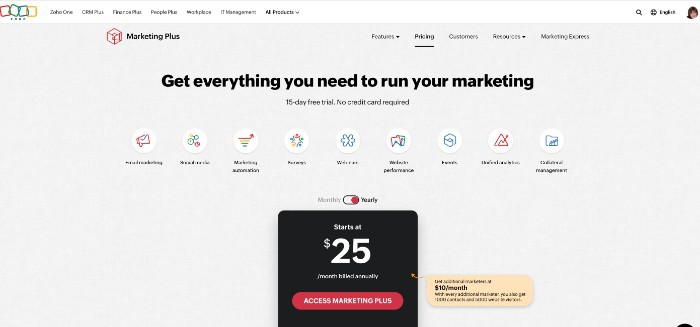 This is everything you need for running all of your marketing; host your marketing assets, run webinars, social media, and online events for about $25/mo.
Zoho People for HR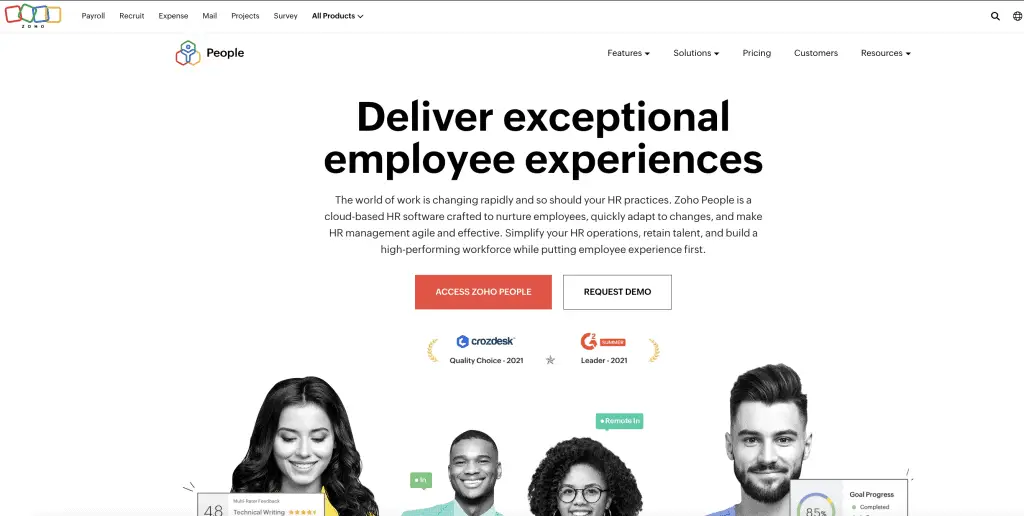 Zoho People is a comprehensive human resources management system designed specifically for small businesses.
You'll get a wide range of features and functionalities that streamline and automate various HR processes, making it easier for small businesses to manage their employees efficiently.
With Zoho People, you'll be able to handle tasks such as employee onboarding, attendance tracking, leave management, and performance appraisals.
This Zoho bundle of apps provides a centralized database for storing employee information, ensuring easy access to essential details and facilitating effective communication within the organization. Additionally, Zoho People offers robust reporting and analytics capabilities, so that you can generate insightful HR reports and gain valuable insights into your workforce.
Zoho CRM Plus

And, if sales is the primary focus of your business, you can use Zoho CRM Plus; a collection of apps.
Again, there are more than 50 apps, and my recommendation is to go with Zoho One – because you get all of these in one bundle. Just pace yourself.
Can I integrate Zoho with other tools and software I'm already using in my business?
Yes. Zoho does a great job of integrating with the most popular tools. I was able to easily import my email lists from both MailChimp and Kartra (that's a $300 monthly savings for me right there).
If you move to Zoho One, you'll also have access to Zoho Flow (a Zapier alternative) so that you can synchronize any apps you don't want to part with.
Does Zoho offer any educational resources or training for new users?
Of course there are help files and YouTube videos (these are the ones I use the most). But the best place for getting any help with the platform is by attending any of the dozens of live Meetups that Zoho has all over the world — and their annual conference; Zoholics.

What are the benefits of using Zoho One for my business?
Value! Let's just start with that. In 2023, most marketing software has changed their pricing in such a way that most people are getting hit with a 50% price increase in some cases. By switching to Zoho I've cut my software expenses by about $500 per month.
Core Values: Now I want to talk about CORE values. Zoho is privately owned. That means that they are committed to long term goals. Their mission is to have software be a non-issue for running your business. They do this by keeping the price as low as possible.
All your stuff in one place: As a small business, you don't have a tech team, you don't have time to waste evaluating dozens of software tools and their features and prices. With Zoho everything is in one place, in one dashboard.
But here's the best part. Zoho has had an AI (named Zia) for about five years (maybe more). With all your data inside of Zoho, you can have that "Star Trek" experience and just ask Zia anything about your business.
How does Zoho's marketing approach benefit me as a customer?
Zoho believes that the best marketing is a happy customer. In other words, they don't believe in
They don't do a lot of marketing. So, you never feel like you're being "sold."
At a conference a few years ago, one executive said that when they look at the expense of doing Google Ads vs an in-person meet-up where they can engage with users — they will choose the meet-up every time.
What does Zoho offer for Coaches and Consultants?
So what if you're not a "traditional" small business? If you're a coach or consultant, you've got some options with Zoho. As someone who does consulting and online publishing, I'm saving a ton of money and enjoying the simplicity of the Zoho platform.
Let me review the perfect Zoho stack for coaches and consultants.
The Whole Business or Just Marketing?
You actually have three strategic options; choose one app at a time, choose Zoho One, or Choose Marketing Plus.
I would NOT recommend that you start one app at a time, because ultimately you'll have to start paying for it and as you start adding apps, you'll end up paying more and more. If you want to start one app at a time and you're not sure where to go from there — choose Zoho One.
Choose Zoho One if:
You want to use Zoho's shopping cart or financial features
You engage with a internal and external team
You want to explore running your business on Zoho
You are using Wix or SquareSpace as your current website
Choose Marketing Plus if:
The bulk of your business revolves around all things marketing; events, emails, social media, webinars, etc.
You already have a website and/or a blog
You are firmly committed to other financial and bookkeeping platforms.
TrainerCentral for Your Online Courses and Memberships
Finally, I want to take a minute to introduce you to TrainerCentral, Zoho's online course and training platform.
This would be your alternative to Kajabi or Thinkific.
What I love about TrainerCentral
It's BEAUTIFUL! The design layout looks good with just about any design style you might choose. Here's a shot of my main TrainerCentral Portal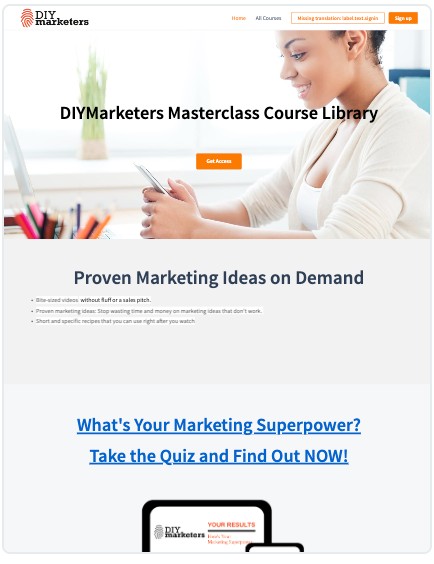 Insanely fast setup. Assuming my video and written content is ready, I can set up an entire course within about 30 minutes.
What's Clunky About TrainerCentral
Clunky for purchases. This is my biggest complaint about TrainerCentral. It's easy to set up the payment gateway, but there are way too many clicks for customers to make from decision to pay to access.
Missing "landing page" specific features. As much as I love the design and how easy it is to launch the site and the page, it's missing some basic feature/functions like being able to add buttons in multiple spots on the page. Another design feature that's missing is being able to add a purchase section and form on the page that allows the customer to purchase with as few clicks as possible.
The academy umbrella: TrainerCentral operates under two layers; the academy umbrella and the courses. This makes it rather clunky. Students register into your academy that houses all your courses and then they register into whatever course or course bundle you're selling.
What are You Waiting For
I'm going to wrap up with a single question — what are you waiting for? Honestly, I waited too long (5 years) to switch over to Zoho. If I had it to do all over again, I would have started my business inside the Zoho platform. I would have saved more than 6-figures in software costs.
Another shift that has happened to me in my business over the years, is that I care about who I give my money to and what they do with it.
I want to support a company that values their employees and loves their customers. Profits are important, but not at the expense of fleecing your customers.
Zoho matches my core values and after working with them for more than 5 years, I can honestly say they care about small business.