What are the qualifications for this "Best marketing books" list?
Before I jump into this list of best marketing books I feel like I need to explain what gets any of these books on my list. Here is a short list, sprinkled with a few dashes of personal preference:
Focus on small business.
Provides detailed marketing strategies that you can do yourself on a low budget.
Fast, fun and easy to read.
Incorporates a trend that you MUST pay attention to.
This is an important list and an important set of review criteria because I'm finding that things are changing so quickly that tools, strategies and tips you may have read about in the past have undergone a significant enough evolution to warrant a new focus on the topic.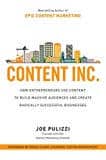 byJoe Pulizzi (@JoePulizzi)
One of my favorite quotes comes from Dan Kennedy "Most people sell things so they can have customers, we have customers so we can sell them things." ?The idea here is that you attract a loyal band of customers and sell them what they want. It's a simple idea, but it isn't always easy. That's why you need to grab yourself a copy of "Content Inc." and follow the six steps author (and content marketing expert) Joe Pullizzi outlines here.
Why you need to read this book? Because content marketing us a must.
This book is a must read because content marketing isn't going away. It's here to stay, it's evolving and if you still haven't figured it out, this book offers the steps and examples you'll need to get started.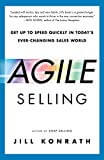 by Jill Konrath (@JillKonrath)
This latest book from Jill Konrath digs deeper into what goes into developing a successful salesperson; beyond selling skills, organizational skills and being able to get that meeting with a crazy-busy business owner. After some reflection, Konrath realized that there is a hidden skill that may overshadow the rest the ability to learn quickly and synthesize new information and figure out what's going on quickly. This book is ideal for new salespeople who haven?t quite figured out how to succeed, experienced salespeople who have a new position in a new company and/or a new industry and entrepreneurs who find themselves having a difficult time getting new customers.
Why you need to read this book: Because you have to learn fast!
Have you noticed how much new stuff there is to learn these days?! The pace of innovation, change and mastery has increased and this is the best book to teach yourself how to learn fast.
by Ryan Levesque
Author Ryan Levesque is best known for his survey-based sales funnel system. His philosophy is that you should never have to guess what people want. You should know exactly what they want. Not what they think they want, but what they are hungry for. Ask? is a detailed look at Leveque?s process. You'll get both Levesque?s personal story as well as a detailed methodology for putting this same process to work in your business.
Why you need to read this book: Because if you don't give your customers what they want – your competitor will.
by Adele Revella (@BuyerPersona)
You've probably heard all kinds of marketing experts and gurus talk about creating "buyer personas" so that you can be speaking your ideal customers' language.
Creating a buyer persona isn't just for fancy brands, it's one of the most effective ways to connect with your ideal customer and save a ton of time, money and effort in your marketing. But no one can really do it FOR you. This is why I think this book is so useful. This books is really comprehensive with a lot of pages devoted to observing, listening and interviewing your customers.
Why you need to read this book: Because if you're speaking to everyone, you're not selling to anyone.
by Ryan Deiss (@RyanDeiss)
Imagine "hiring" a sales and marketing person that works 24/7, doesn't take vacations and builds lasting profitable relationships with people who aren't even your customers yet — that is your marketing funnel. And if you haven't taken the time to map out a way for your customer to see you, get to know you, buy from you and then become a loyal fan, then this is the book you MUST read NOW so that you can put these processes in place for 2016.
Why you need to read this book: Because customers will buy from the companies and people that make it easy and effortless to buy from them.
Now it's YOUR turn — what books do YOU feel should be on this list? Do you have a MUST READ on you Kindle or nightstand? ?Tell us all about it!