Is your website friendly to people with disabilities? This is called web accessibility and you should make your website accessible; not just because it's the right thing to do, but because it will increase sales.
If you are in the retail industry, one of the laws you have to comply with is the disability act.
This act makes it illegal to discriminate against people with disabilities in public spaces such as accommodation facilities, recreational areas, service establishments, and sales and rental places.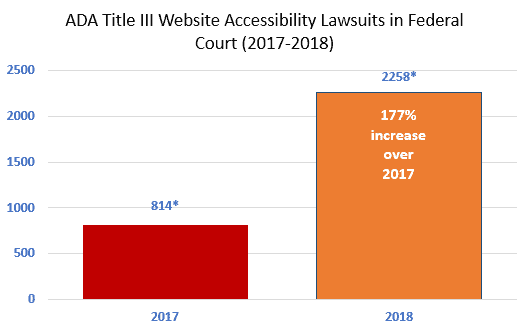 All business and public premises are covered under the disability act.
It is the responsibility of the retailer to ensure that all their clients are treated equally.
The web is no different. Online retailers and business owners, in fact, all web properties owe it to their disabled users to make their sites and content easy to consume by people with disabilities.
What is Web Accessibility
People living with disabilities should have equal opportunities to get information, shop, select their products, and purchase these products as everyone else would.
Currently, many sites and tools are developed with barriers that make them difficult or impossible for people with disabilities to use.
For e-commerce business owners, investing in web accessibility is one of the smartest ways to boost their online businesses.
Why You Should Invest In Web Accessibility
Every time web accessibility is discussed, people living with disabilities such as sight or hearing loss, inability to type or click come to mind.
Web accessibility mostly dwells on making websites accessible to disables individuals.
In the US alone, people living with vision impairment have at least $175 billion of disposable income. Blindness is just one of the many forms of disabilities.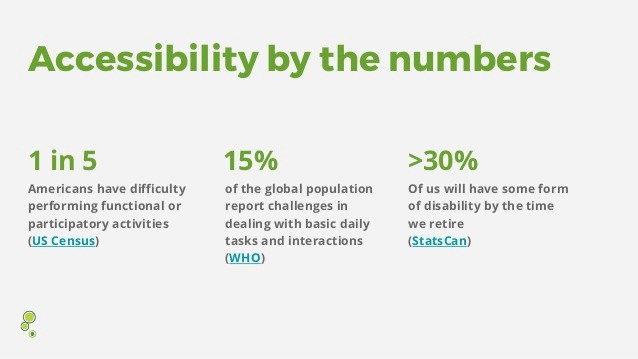 Failure to invest in web accessibility means that your business is losing out on at least 20% of potential online shoppers living with disabilities. 23% of Americans living with a disability do not go online because of web inaccessibility.
The disability spectrum includes the blind, deaf, learning disabled, autistic, physical disabilities, and even dyslexic people, among many others.
Just like everyone else, people living with disabilities have a substantial amount of money they are willing to spend in online shopping.
However, most websites do not offer the facilities that allow them to shop.
Let's look at the ways through which web accessibility can boost sales:
1- You Attract The People Living With Disability Market
The web is a significant mode of receiving information as well as providing information. Subsequently, it is crucial that the Web is available so as to give equal access and equal chance to individuals with disabilities.
This fundamental human right is perceived in the UN Convention on the Rights of Persons with Disabilities, which explicitly specifies the Internet and other open data and correspondences innovations (ICT).
People with disabilities will purchase if they can access your website. They do not have to go out to shop or rely on other people to help them buy online.
2- The Website Is More Appealing
Barrier-free online shopping is a great experience. Having a visually clean webpage makes it more pleasing to the eye, and people love to explore anything that appeals to their eyes.
Also, a clean website is more accessible. When you invest in web accessibility, not only do you improve the shopping experience of people living with disabilities, but also for people who are not disabled. Web accessibility makes it possible for all users to find and consume data with less effort.
accessiBe is a software you can use to make your website accessible. It makes use of artificial intelligence to improve your website's accessibility. accessiBe's key features include:
ALT tag building via image recognition software.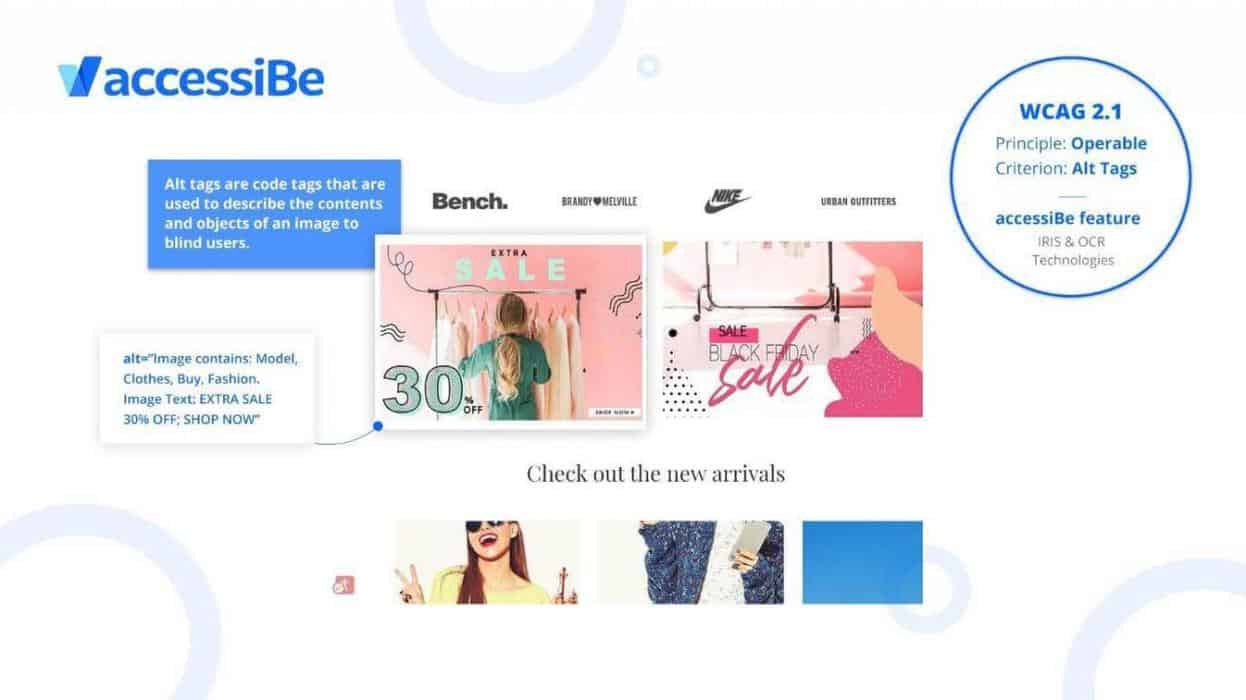 Adapting all content to screen readers.
Making forms accessible according to WCAG.
Enabling keyboard navigation.
Providing a built in dictionary to explain slang and expressions.
10 language options accessible from the interface.
3- Ability To Make Sales In More Environments And Settings
Today, more than 50% of all online shopping is done from a mobile device. Web page abandonment rates are mostly as a result of web inaccessibility.
Clients give up on sites they can't view comfortably on their handheld devices. When you incorporate web accessibility features in your e-commerce site, you improve the chances of making more sales from every internet user.
Make sure your website can be viewed and accessed by all shoppers from every type of environment or setting.
4- Ability To Retain Clients
With web accessibility features on your site, you will be able to maintain your clients regardless of any changing circumstances. The odds of developing disability increase as people grow older. This is a client base you can keep as clients with web accessibility.
People shopping from their homes spend more money than people visiting offline shops. Most people with disability cannot leave their houses. By bringing products and services to them online, you can tap into this pull of wealth.
5- Building Brand Loyalty And Building A Good Reputation
If your brand comes off as one that is socially responsible, it will draw more people to it. People like associating with brands that support the community. According to a 2019 survey, at least 55% of online consumers around the world do not mind paying more to a brand that has a positive environmental and social impact.
6- Selling Disability-Specific Products
When you invest in web accessibility, you can expand your niche and include disability-specific products in your line. Including goods and services that are appealing to people living with disabilities will improve the lives of your special niche clients and also boost sales.
Web accessibility will boost your website's user experience. With excellent user experience, business conversion rates go up.
Final Thoughts
In today's world, every business decision made should be the most inclusive one. Web accessibility is a win for the business and a win for every individual looking for a better shopping experience.