[feature_box style="20″ only_advanced="There%20are%20no%20title%20options%20for%20the%20choosen%20style" alignment="center"]
This post is one in a series of tips designed to guide small business owners through the challenges of today's startup environment and is sponsored by Canon MAXIFY the printer lineup designed to help small business owners increase productivity so that they can focus on everything else that matters. For more information about the Canon MAXIFY printer lineup visitCanon MAXIFY?
[/feature_box]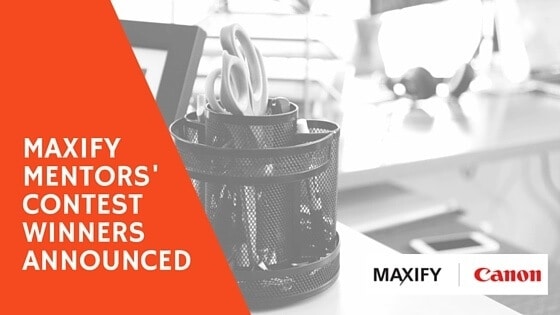 When a problem comes along
You must whip it
Before the cream sets out too long
You must whip it
When something's goin' wrong
You must whip it
I don't think this 80?s DEVO song was written about entrepreneurs, but whenever I'm feeling challenged, down or hopeless, this is the song I pluck out of my playlist of more than 5,000 songs. Why? Maybe it's because I'm an 80?s geek; maybe it's because DEVO is from Akron (where I currently live). No matter what the reason, it resonates with the entrepreneurial mindset I've earned over the last ten years of being on my own.
These Entrepreneurs Really Know How to Whip Up a Challenge
I think that's what makes this Canon Your?s to Make campaign so exciting. This is the one-year anniversary of Canon?s launch of the Canon MAXIFY line of printers for small business. One reason I'm so excited about participating is because Canon has been really committed to connecting and getting close to the lives of real entrepreneurs throughout their Yours to Make? campaign.
This year, the contest involved collecting real-world challenges from entrepreneurs in our communities.
You can always tell an entrepreneur by how they approach challenges. Instead of complaining, worrying or running away, they hunker down and find a way to overcome them.
Those are the qualities that I used to select my two top nominees from the hundreds that responded to the Canon MAXIFY contest we ran from July 15th until August 28th. First, let me say that it was one of the hardest things I've been asked to do; to read through hundreds of real small business challenges from the qualified small business owners who have been in business for less than five years and who had less than nine employees.
But in the end, there could be only two. And here are the two MAXIFY Mentor?s Contest nominees I've selected and why:
Nominee: Pat Altvater,?BizTV Shows

Knowing when to delegate and let go of minutia that I should no longer be doing #MAXIFYContest @DIYMarketers

? Pat Altvater (@pataltvater) August 19, 2015
Pat is a serial entrepreneur. She was originally a financial person and then purchased a Curve franchise. When that business started to tank, she knew she had to pivot and change. She's recently launched a new web TV business that allows LOCAL small business owners to create their own video channel. Pat is working on a licensing model to take this venture national. What was most compelling about this nominee is that Pat?s business is a startup while she is a season entrepreneur. Even with all of her experience, she struggles with having too much to do, too little time and still struggling with exactly what to delegate and what to hold on to. Nominee: Aziz Abdur-Ra?oof,?a2z Consultants
@DIYMarketers In sports-having a strong foundation is key to build upon a strong base! How can you shorten time it takes? #MAXIFYContest Aziz Abdur-Ra'oof (@ziz87) August 12, 2015
Aziz Abdur-Ra?oof is a true startup and represents the entrepreneurial trend we've seen over the last few years. He is a former Maryland football player and played wide receiver for the Kansas City Chiefs. This experience made a deep impression on him and sparked a desire to serve as a mentor for college athletes. He started ?a2z Consultants to focus his work towards High School students to prepare them for the next phase of their life.
What set Abdur-Ra?oof? apart from the hundreds of entrees was his persistence and enthusiasm for the MAXIFY Contest. He submitted multiple challenges and has been engaged in the MAXIFY conversation since last year.
In addition, I think his challenge is unique. How do you shorten the time to build excellence? ?This speaks to a very real challenge that small businesses face in having to get really good at new technologies, marketing strategies and tools.
And the winners are?.
These aren?t the only two nominees! ?Each of the other MAXIFY Mentors; Rhonda Abrams (@RhondaAbrams), Tim Berry (@TimBerry) and Brett Relander (@BrettRelander) ?had to go through this same challenge of choosing their nominees as well.
Here is a list the nominees by the other MAXIFY Mentors:
Rhonda Abrams
Brett Relander
Tim Berry
In the end, only ONE of these eight nominees has won a coveted private session with the Shark Tank Maven, Barbara Corcoran.
And now drumroll, please for the grand prize winner we have…Kaylene Mathews, entrepreneur extraordinaire of Be, Do, Achieve.Kaylene?s problem was one shared by every entrepreneur I've ever met,?which is making time to create a new product and content while stillmanaging dreaded administrative tasks?.
You can see Barbara Corcoran's Announcement here.
[feature_box style="25″ only_advanced="There%20are%20no%20title%20options%20for%20the%20choosen%20style" alignment="center"]
If you are a U.S.-based small business owner (1-9 employees) and have faced a unique business challenge, let us know!
Leave a comment and share your business challenge on this post using the hashtag #MAXIFYCONTEST and tag any of our mentors (@DIYMarketers. @RhondaAbrams, @BarbaraCorcoran, @BrettRelander) in order to qualify for our contest.
We'll also be rewarding select small business owners with a prize pack including the Canon MAXIFY MB5320 printer as well as other essentials to help you run your business more efficiently. So don't forget to leave a link to your website or social media pages that way we can see how well you're marketing your business and get in touch!
[/feature_box]
NO PURCHASE NECESSARY TO ENTER OR WIN. Open only to residents of the 48 contiguous United States and the District of Columbia, 21 and older. Entrant must be a small business owner where the business is five (5) years old or less and has no more than nine (9) employees. Void outside 48 contiguous U.S. and D.C., and where prohibited or restricted by law. To enter, post on Facebook or Twitter about a particularly difficult challenge you face as a small business owner using the hashtag #MAXIFYCONTEST and tag @brettrelander, @DIYMarketers,@Timberry@RhondaAbrams, or @BarbaraCorcoran. The Contest Period starts at 3:00 PM ET on July 15, 2015 and ends at 11:59 PM ET on August 31 Multiple entries are permitted during the Contest Period, however only one (1) Contest Entry per person will be eligible to become a Finalist (as defined in the Official Rules) There will be one (1) Grand Prize Winner and seven (7) Runners-up. See Official Rules for prize details. By entering, you represent and warrant that you own all right and title in the post content and any photo, and the post content and any photo do not violate the intellectual property rights or publicity rights of a third party. By entering, you release Sponsor, Facebook and Twitter from any liability associated with participating in the Contest and/or accepting any prize. Each Winner and Runners Up grants Sponsor the right to use his/her name and likeness for promotional purposes. Sponsor: Canon U.S.A., Inc., One Canon Park, Melville, NY 11747. Please visit the following link: http://shop.usa.canon.com/estore/marketing/maxify-resources/mentors-program-contest-terms.pdf for the full Official Rules.