Contests are a great way to get people engaged with your brand, and using contest software can help you create viral contests for anything from building an email list to driving traffic to a website, product or blog.
A lot of small businesses don't run contests because it seems like a lot of work and potentially some scary legal consequences if you don't do it well.
But here's the deal — you don't need to worry about this as much as you think you do because every contest software tool takes care of these things for you:
Today's contest software can help you generate leads with just a few clicks.
Your biggest challenge is going to be the best contest software tool for you that has the features that you want.
One of the great things about any contest platform is that many of them will create landing pages, provide Google Analytics, Facebook analytics and even collect leads without your doing much of anything.
What Type of Contests Can You Run With a Contest Software Tool?
Instagram hashtag contests
Online contests
Social media contests and social media giveaways (Facebook giveaway)
Instant win contest
Video contests
Photo contests
Key Features of Contest Software You Might Like
While most contest software platforms offer limited features in their free plan, there are some advanced features you might want that are included in the paid plans or premium plans:
WordPress plugin is a great feature if you want to run contests directly with your WordPress.
Some contest tools also provide the option of marketing automation integration.
Custom landing page design. If you don't want to run the contest from your WordPress, you might prefer to use custom CSS or a drag and drop builder to create landing pages.
The following features might also cost more: engaging forms, social sharing, email marketing, interactive content, adding entry methods, personality quiz, real time analytics, optimized templates, lead collection, or a social media management tool.
Best Low-Cost Contest Software for Small Business
Here is my list of contest software tools and why I think you'll like them:
KingSumo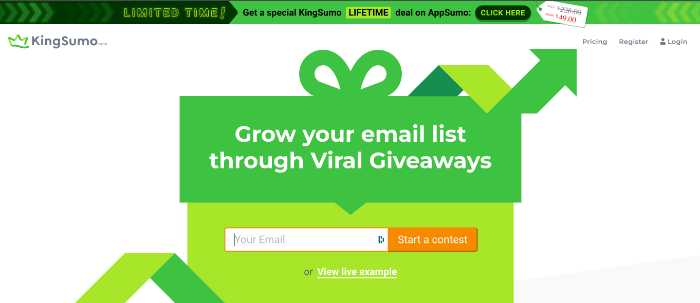 I use KingSumo , and I think that it is a great way to build your email list.
Best for:
Bloggers and online marketers who want to drive traffic and get social media engagement.
Low-tech and quick startup: KingSumo is really easy to use and it has some excellent features that make it stand out from the crowd.
KingSumo only supports a system where one person is randomly chosen to win. They don't have any features such as coupon codes, cash rewards, or point programs, etc.
KingSumo lets you give people bonus entries for doing things like sharing your giveaway on social media or referring their friends.
KingSumo Pricing:
I got KingSumo as a Lifetime Deal from Appsumo – and you can do the same — it's still being offered.
There is no free plan or basic plan. You simply get the $49 lifetime deal — that's it.
SweepWidget

SweepWidget packs a lot of punch for the price. There's a forever free option that provides just enough basic function to dip your toe into the contest water.
Pricing:
For just $29 per month, you can manage an entire brand and get access to dozens more features.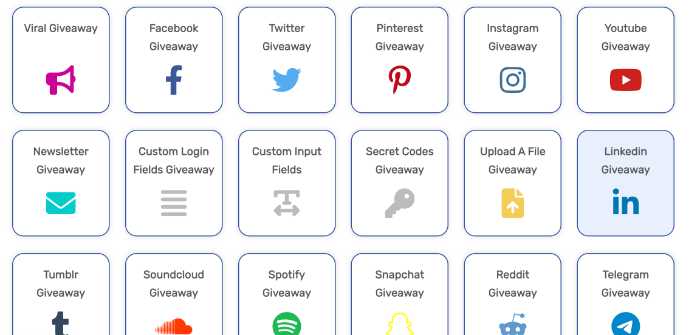 There are so many different types of contests and giveaway integrations across social platforms and newsletters that I couldn't even list them all.
Best for: 
Companies looking to run viral giveaways to grow their followers, emails lists, audience size, and leads.
Running contest on social platforms, blogs and newsletters
Gleam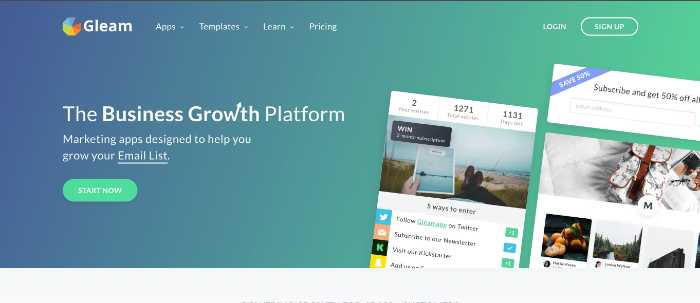 Gleam is a premium contest software tool for the business that needs more advanced features and contest options
In many ways, Gleam reminds me of Sumo.com – they provide a series of apps that enable you to run competitions (contests), track rewards, drive lead captures and a gallery for social media contests.

Best for:
I'd say that Gleam is best for marketing teams and agencies who are managing more clients. If you're more of a B2C business and you have a decent handle on running social contests such as hashtag contests, or photo contests, this would be a good tool for you.
Pricing:
Gleam runs a bit pricier than the alternatives. You can get a package with all four apps for $97/mo or you can get access to the competition app for $10/mo and the other apps for $29/mo
Rafflecopter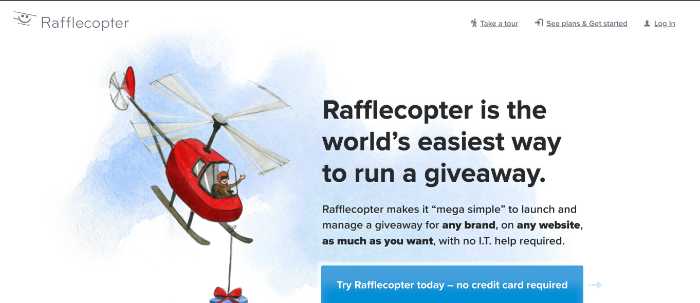 Rafflecopter is another popular contest software tool. One thing this tool does that no other contest tool does is speak several different languages.
You'll work on the platform, but then you will have to "embed" forms into your blog post or email. Now – this can be super valuable if that's what you want to do – but some solopreneurs might not like that.
Best for:
International companies and businesses that want to reach Spanish, Portugese, French, German and Italian audiences in addition to English speakers.
Companies that want customizable branding.
Pricing
Offers a decent free option to get you started. But you're going to want to upgrade to take advantage of email marketing integrations, branding options, surveys and polls.
Vyper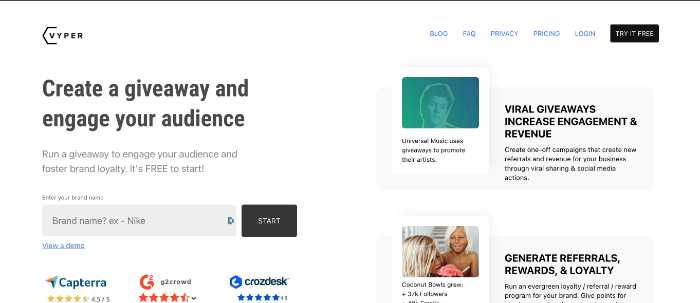 The first thing that grabbed my attention with Vyper's contest platform was that they ask you to enter tour brand name and website to create your contest.
At first I thought they were going to use my brand colors to customize the landing page and contest, but that didn't happen. But, if you are looking for more customized landing pages, this contest tool might be a good fit for you.
Best For:
Companies who want more customization and control to reach potential customers.
Shortstack

Shortstack runs just about any type of online contest you can imagine; hashtag giveaways, instant win contests, and even coupon distribution.
Best For:
More advanced contest and giveaway users who have large audiences.
Marketing agencies, ecommerce companies, restaurants and more B2C type businesses will get the most value.
This platform really does have it all. But it comes at a price.
Pricing:
There is a free trial, but pricing starts at $99/mo for up to 10,000 contest entries and 50,000 views.
What type of contests can be run with these tools
Content marketers who want to increase social media followers.
Brick and mortar businesses who want to expand their digital marketing
Consultants, freelancers and coaches who want to nurture leads.
Salespeople and business owners looking for qualified leads
Create Viral Giveaways and Contests
If you've been afraid to create viral giveaways and contests because you thought it would be complicated and technical (not to mention covering your legal bases) you don't have to worry any more.
Whether you're running a photo contest or video contest, gathering social media followers or expanding your marketing channels.
Every tool that I've covered has the key features you're looking for to get more leads, drive traffic, and increase your social media following and engagement.