This year I overhauled my website. In the process, I went looking for the best website builders for small business and this is what I found.
Entrepreneurs are the backbone of our economy. It is always inspiring when someone is brave enough to strike out on their own, despite the obvious challenges that await them.
However, there are plenty of obstacles in the path of small business owners. It is no easy feat to establish a name for yourself and find sure footing in the market – but then again, nothing worth doing is ever easy.
We would like to help where we can, and while we certainly cannot hope to give you a masterclass in economics and business management, we can at least point you in the direction of some great tools that will aid you in building your brand.
Maintaining an online presence is crucial in this day and age, but if you have never had any experience in building websites, it can be daunting to attempt to cultivate an online following. Luckily, we have just the solution – well, solutions, to be precise. All of the website builders we have gathered here are sure to aid you in your quest for success.
Best Website Builders for Small Business Reviews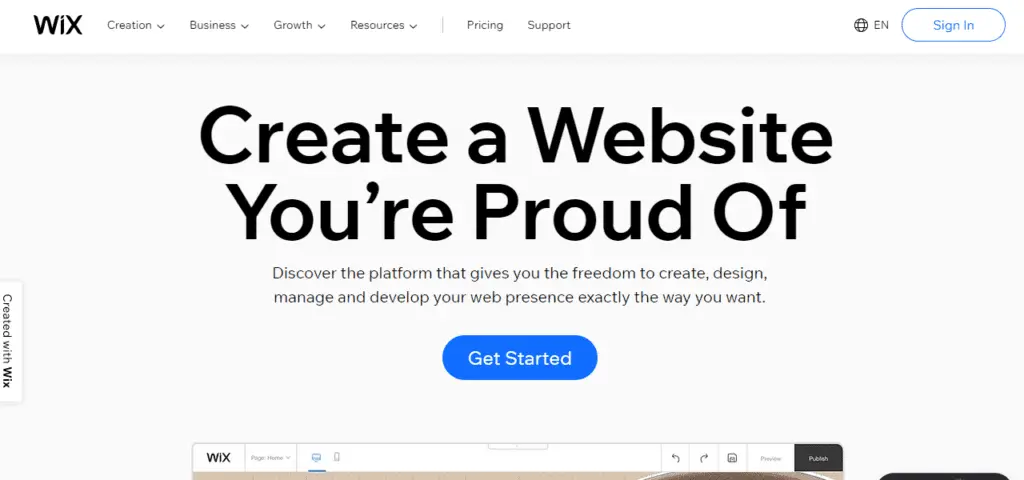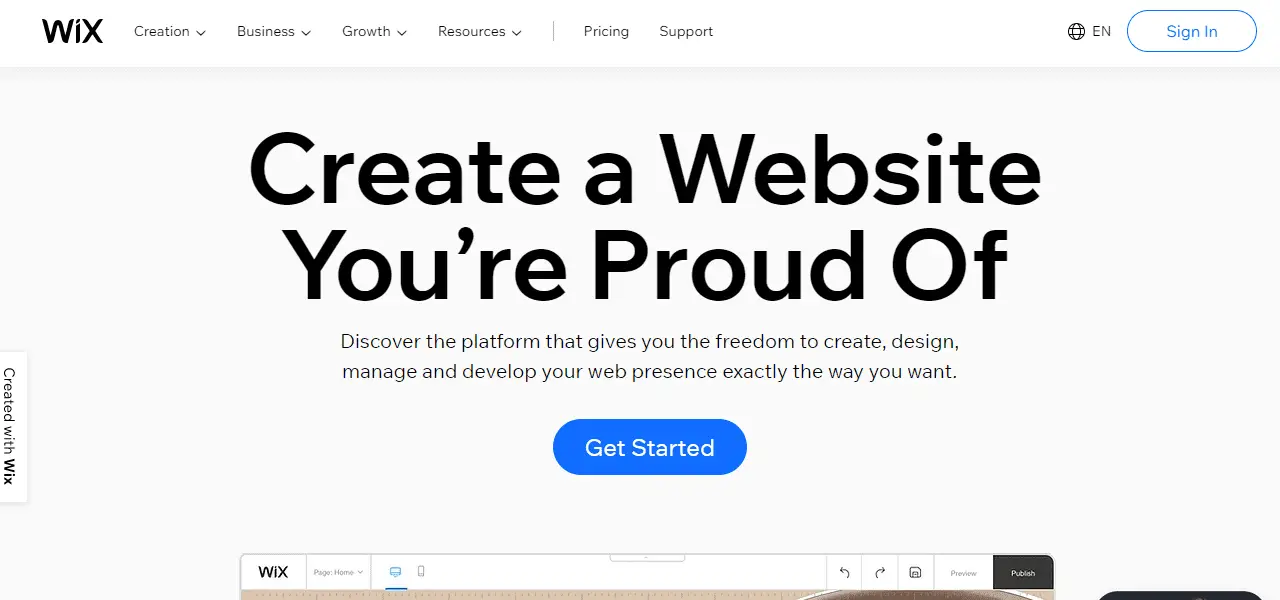 Wix is one of those names that essentially everyone has heard of at this point. The website building tool allows for endless creativity and agency in establishing your online presence thanks to a variety of features and functions.
From the get-go, Wix's biggest selling point is its price tag – or rather, its lack thereof. The majority of Wix's features and functions are free to use.
Those features include a plethora of customization options. You may already be acquainted with a website built on Wix, though you probably would not have known it. The only limit when it comes to Wix is your imagination – and your skills.
Longtime website builders will certainly have a much easier time coming to grips with Wix than newcomers. That being said, Wix is perfectly accommodating to fresh faces that are new to the website-building scene. Its numerous functions and applications are relatively easy to learn, but like anything, mastering this lovely tool will require time and patience.
With a paid plan, you get a free domain name too. When it comes to website builders for small businesses, it is difficult to recommend anything else before Wix, which is why it is first on our list.
Pros
Plenty of features and functions
Boundless potential
Free to use, with a premium offer available
Incredible depth
Optimized for mobile users
SEO capabilities
Cons
Takes a great deal of time and effort to truly master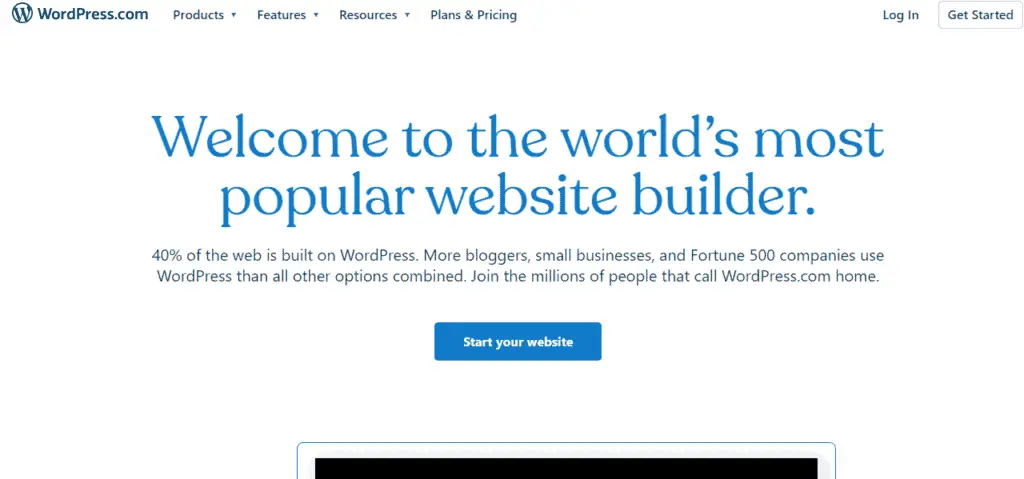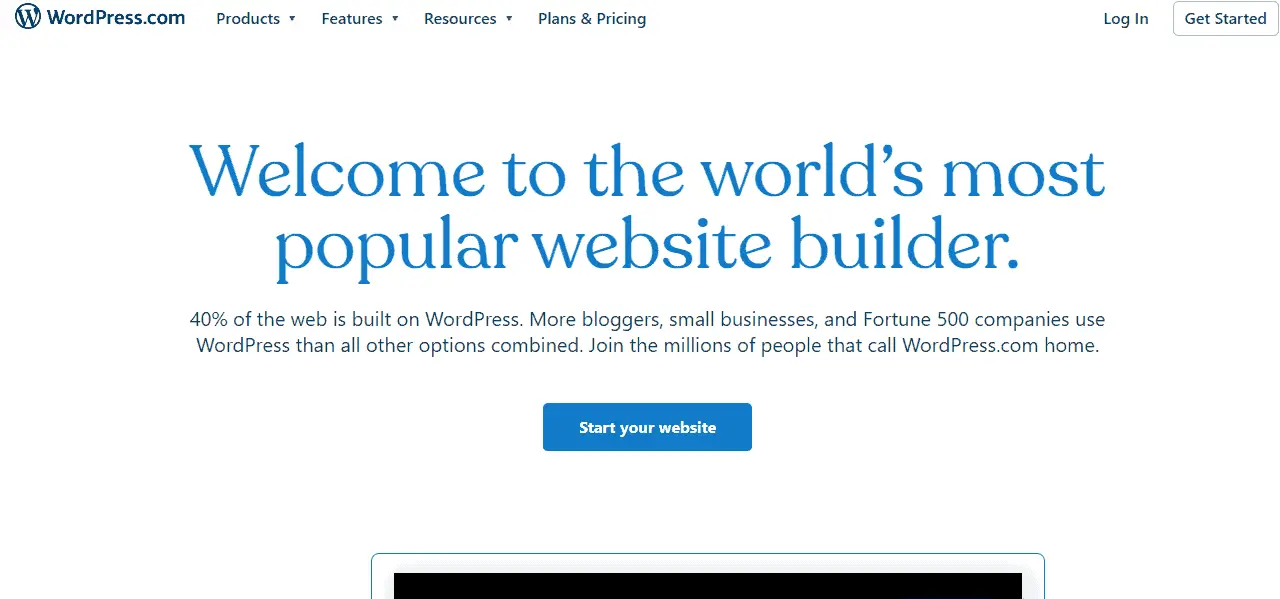 Much like Wix, there is a good chance you have already heard of WordPress. It started as a blog hosting service but has since evolved into a website building tool worthy of your attention. Let us see how well it holds up.
Compared to the likes of Wix, WordPress is far more digestible for first-time web-builders, but it sacrifices a lot of great features in the process. There is no doubt that WordPress is the simpler of the two – whether or not this is a good thing is up to you, though.
What features WordPress does offer are mostly well thought out and incorporated, as well as incredibly easy to learn and understand. WordPress uses a grid-based format that allows anyone to effortlessly put together a website in no time at all.
With all of that being said, WordPress still has a ways to go if it hopes to compete with the likes of Wix. However, for what it is (i.e., a simple website building tool), it still manages to succeed, and it is perfect for a first-timer who needs a website up and running quickly.
Pros
Simple to use
Grid-based design allows for easy building
Able to get a website up and running quickly
Perfect for blogs
Mobile apps available for both iOS and Android devices
Cons
Lack of features and functionality overall
Subscription-based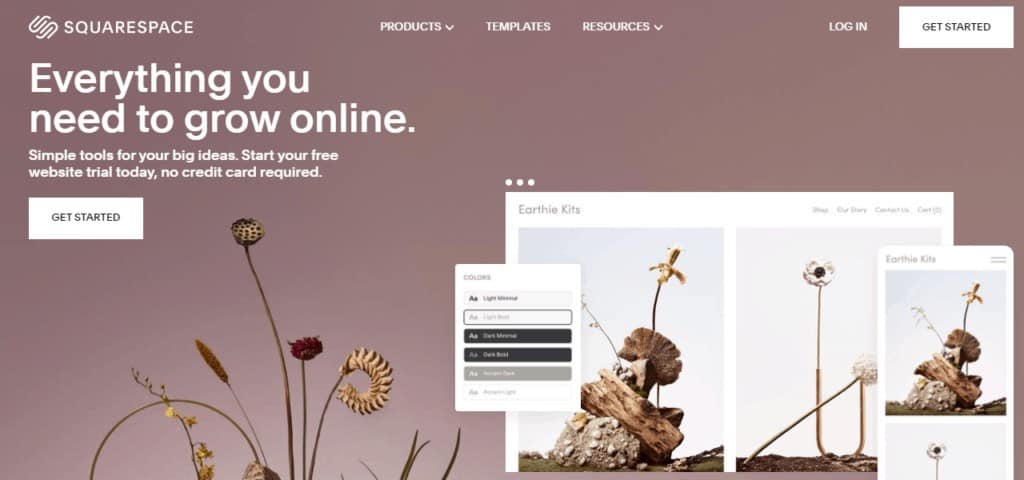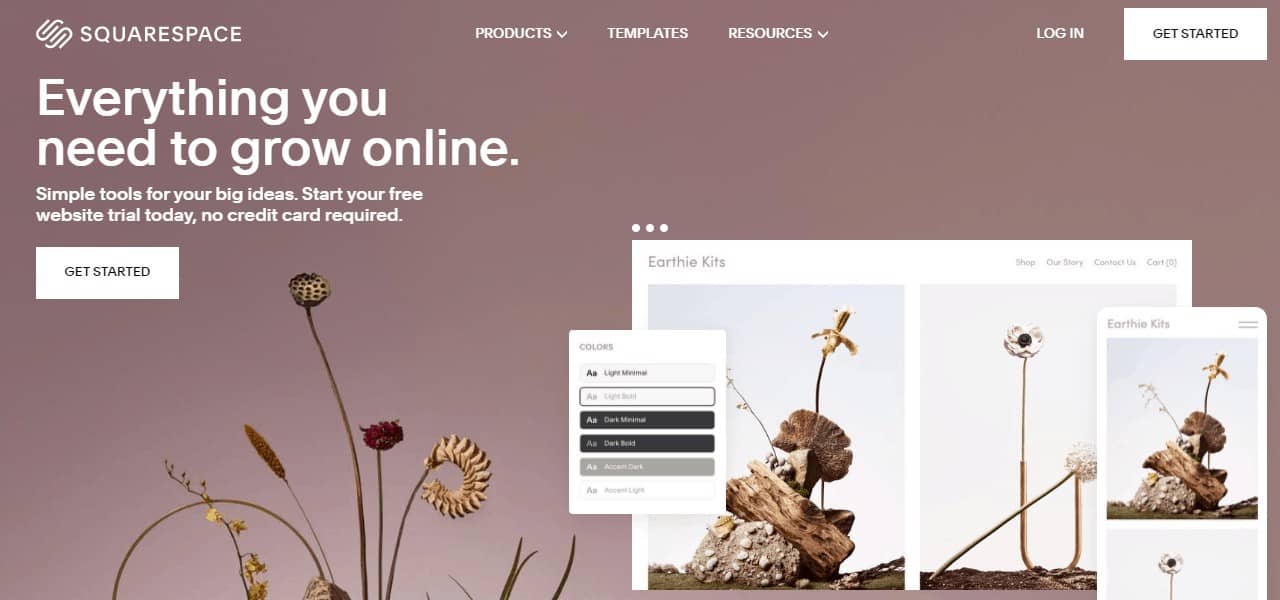 Somewhere between the sophisticated design sense of Wix and the simple functionality of WordPress lies Squarespace, yet another instantly recognizable brand. Squarespace doesn't boast as many features as Wix, but it presents itself in a clean, simple, sophisticated manner, which can make even the most amateur of websites seem professional.
Squarespace offers a free trial that lets you get acquainted with all of the tools, features, and functions on offer, which we highly recommend taking advantage of. That being said, Squarespace certainly does not boast as expansive an array of features as Wix, but it presents itself very well.
When using Squarespace, you will never get the sense that you are working at all. Thanks to its simple and intuitive tools, the entire experience can sometimes feel more like an art project than a business endeavor.
Squarespace offers thousands of different, sophisticated templates that are freely customizable to suit your needs. Other tools and functions exist, but for the most part, you will have to learn to get creative in making the most out of the minimal array of tools available to you.
Pros
Excellent presentation
Simple and easy to use
Intuitive interface
Thousands of website templates
Effortless integration of your own ideas into pre-existing templates
Robust, active community
Cons
Not many different tools
Subscription-based, though it offers a free trial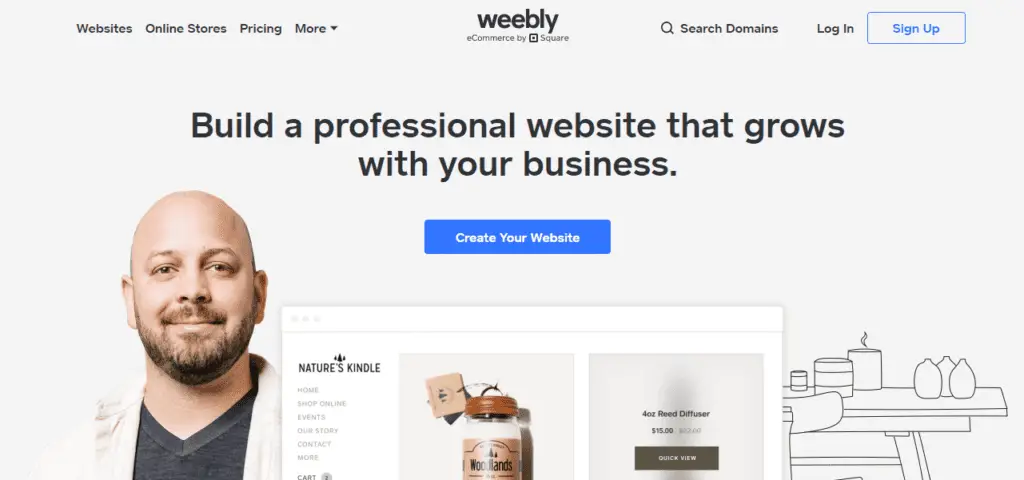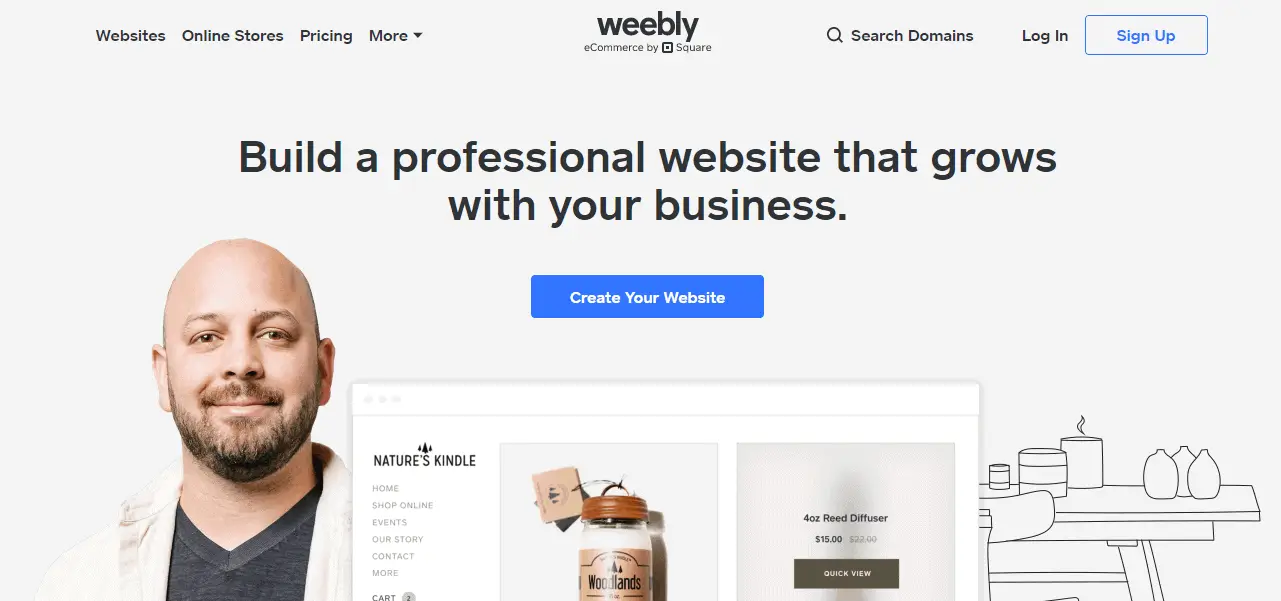 Weebly probably does not get the recognition it deserves. While it is clear that we think Wix should be your go-to website builder, Weebly succeeds in a lot of areas, and better yet, it is a free plan website.
Being free to use immediately sets Weebly above some other website builders. Not every feature and function that other programs offer will be available to you, but you will still be able to create a professional-looking website with the options that Weebly offers.
Weebly also offers an in-depth course on creating your own website and cultivating your online presence. Its community is also active, as well, meaning you will always find someone to answer any questions you may have.
Weebly's tools are not the most robust or complex by any means, but they are diverse and expansive enough to allow you a lot of freedom and creativity when you build your very first website.
Pros
Free website builder – great for small business owners
In-depth tutorial
Professional and neat presentation
Active community of fellow website builders
Decent array of tools
Cons
More advanced features are locked behind its premium paywall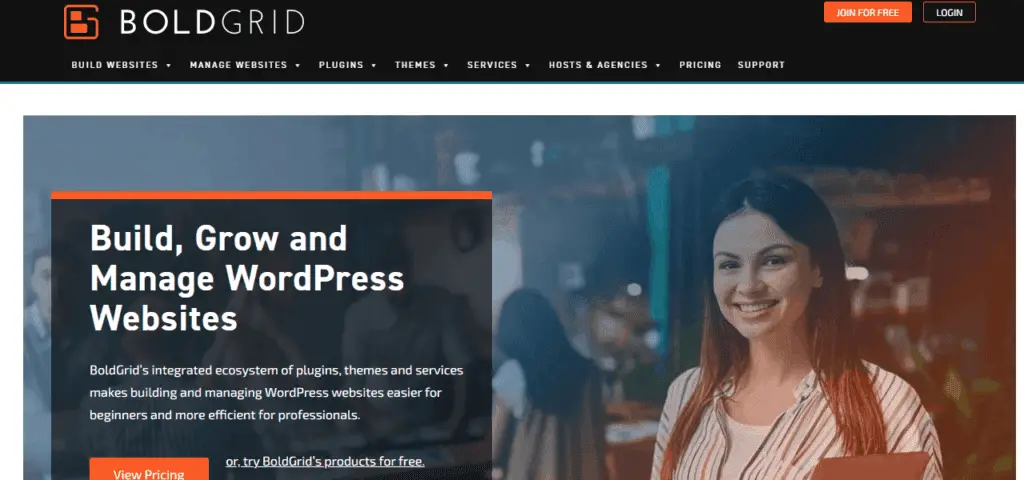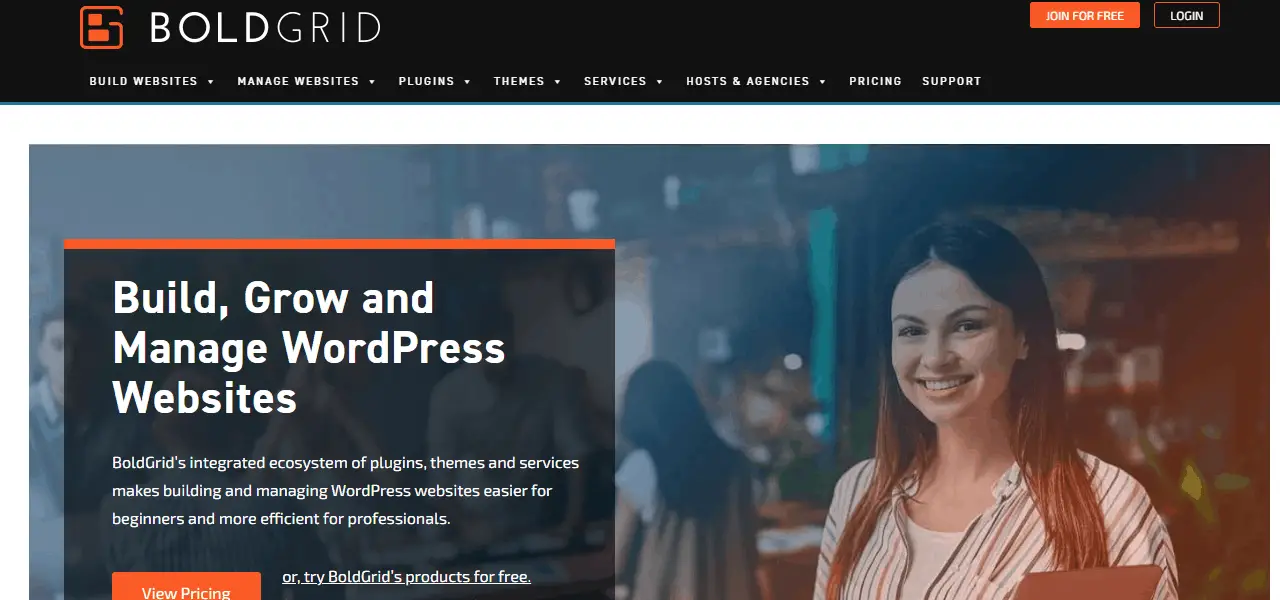 BoldGrid is not quite capable of standing on its own two feet as a website builder in its own right, but when paired with another service such as WordPress, it becomes incredibly powerful.
BoldGrid is a website management tool that helps its users keep track of everything on their WordPress website, as well as add additional layers of customization and editing.
The focus of BoldGrid is not to make the most impressive website imaginable. Rather, this tool is meant for cultivating your pre-existing website into what you want it to be. BoldGrid also allows for collaboration between more than two people at a time.
BoldGrid offers several different packages, each with its own benefits. Some of these can be quite expensive – especially if you are already paying for your WordPress account.
Pros
Great management tools
Excellent ease of use
Makes the process collaborative
Allows you to easily cultivate your website into what you want it to be
Works well with WordPress
SEO capabilities
Cons
Cannot stand on its own two feet
Expensive packages
Conclusion
Those are the best website builders for small businesses. We guarantee you that mastering any one of these great tools will pave your way to online success – and hopefully, that means success for your business, as well.