First, what are brand monitoring tools? When you think "brand monitoring" you probably think "I can't afford this" or I don't have a brand to monitor, I'm a small business. For small businesses and entrepreneurs, we're more used to the term social listening. And with more than 130 social media platforms out there, you're gonna need some tools.
Almost 61% of businesses now have a social listening system in place, and are monitoring for keyword mentions. (Social Media Today) 
More than 82% of businesses view social listening as a key planning element. (Social Media Today)
Brand Monitoring and Social Listening Offer a Goldmine of Opportunity
Brand monitoring and social listening can make or break your business! Both brand monitoring and social listening actually fall into the space of market research. And market research (or lack of) is the biggest cause of small business failure because when you don't know who your customer is or what matters to them, you won't create an offer that they want. And without an offer that they want — you aren't selling.
Brand monitoring and social listening is like running a 24/7 focus group with your customers, your competitor's customers and the industry as a whole.
In this blog post, I'm going to talk about how to monitor your brand, your industry, competition and look like you're reading your customers mind. I'll also share some brand monitoring tools and give you my recommendation for the one I think is best.
Short Summary
Brand monitoring is a powerful sales and marketing tactic.
Brand24 stands out for its easy-to-use dashboard, customizable searches, influencer identification & more.
Track engagement, sentiment & content to stay ahead of the competition with tools like Hootsuite & BuzzSumo.
Using Brand Monitoring as a Sales and Marketing Tactic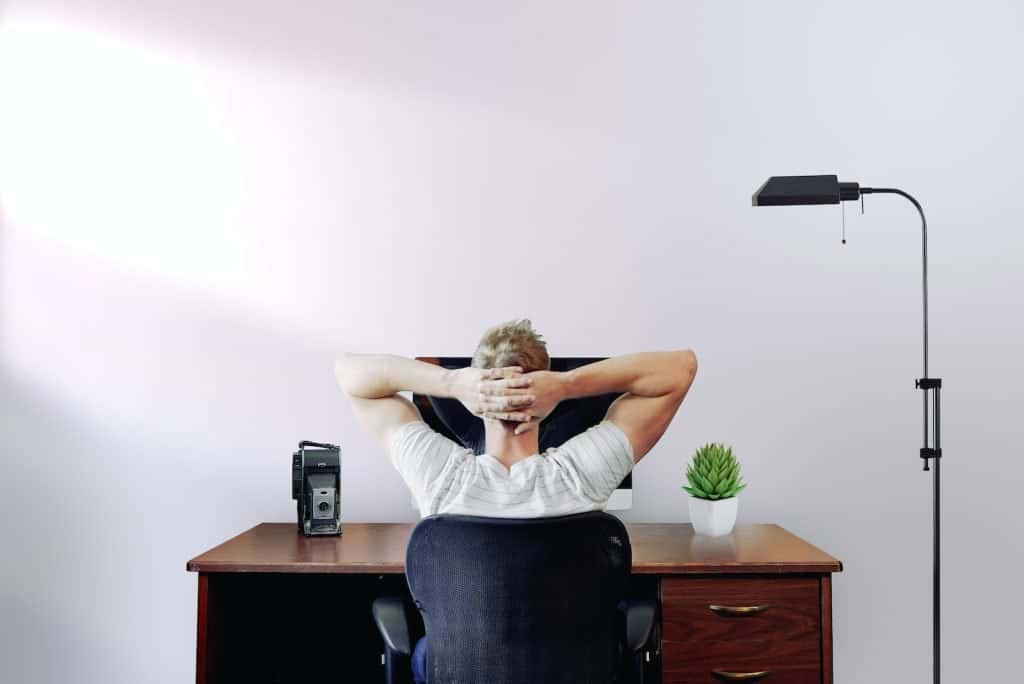 Brand monitoring is all about tracking online conversations about your company, your products, your industry and most importantly, your customer. Why? So that you can stop pushing annoying and irrelevant marketing and sales messages and look like you're tone deaf to your customers.
Here's a short list for you:
Tweaking PR and marketing campaigns
Getting a better grasp of the industry
Working with the right influencers
Getting to know your audience better
By keeping an eye on market trends and conducting market research, you can gain a better understanding of your business performance using historical data, which can help you refine your strategies and achieve your goals.
One of the most valuable aspects of brand monitoring is its ability to inform product development. As I mentioned before, brand monitoring tools are really an investment in market research and understanding what your customers need and want to achieve their desired outcome.
For example, a delivery company that consistently loses orders can use brand monitoring and social media listening to identify the issue and address it promptly, thereby safeguarding its reputation.
With the right brand monitoring tools, you can access powerful analytics, trends, and opportunities to spot industry trends and improve your brand's online presence.
Choosing the Right Brand Monitoring Tool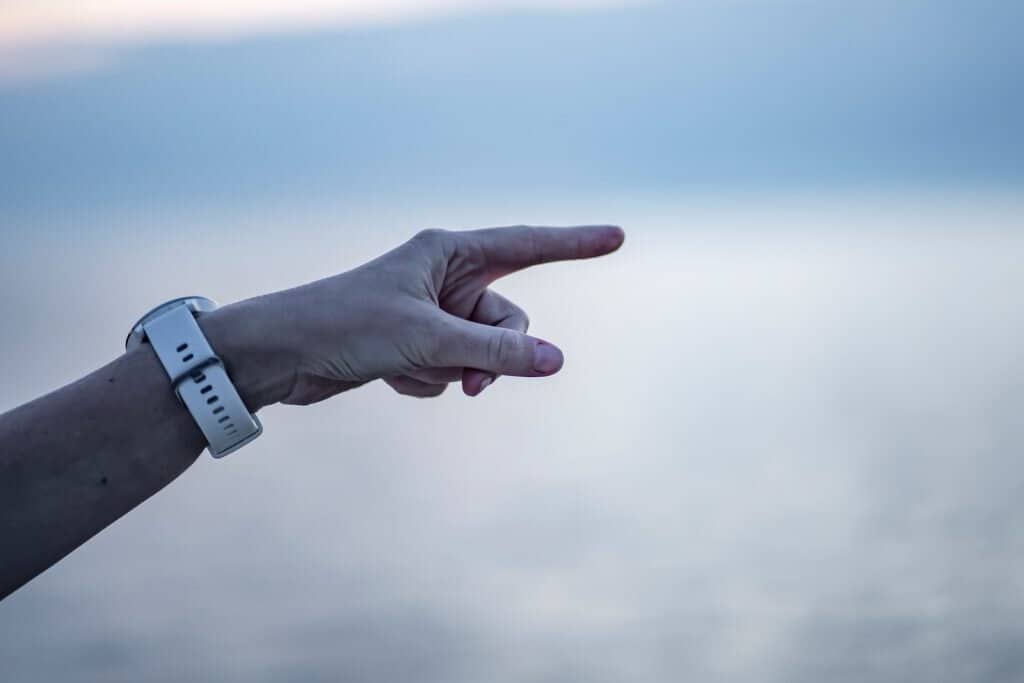 Selecting the perfect brand monitoring tool for your business depends on several factors, such as the social media platforms it covers, the features it offers, and whether it fits within your budget and offers a free trial. There are many great options to choose from, including Google Alerts, BuzzSumo, Meltwater, Semrush, Talkwalker, Social Searcher, Mention, Mentionlytics, Awario, Brandwatch, Keyhole, and Tweetdeck. Each tool comes with its own unique features and capabilities, so it's essential to research and compare them to find the one that best suits your needs.
One particularly popular and effective brand monitoring tool is Brand24. Users love it because it:
Tracks mentions across multiple channels in one easy-to-use dashboard
Allows for customized searches
Helps identify influencers
Measures the rate of engagement around topics or brands
Helps identify popular topics and themes for content
With so many powerful features at your fingertips, it's easy to see why Brand24 has become a go-to choice for businesses looking to up their brand monitoring game.
Leveraging Sentiment Analysis for Effective Brand Monitoring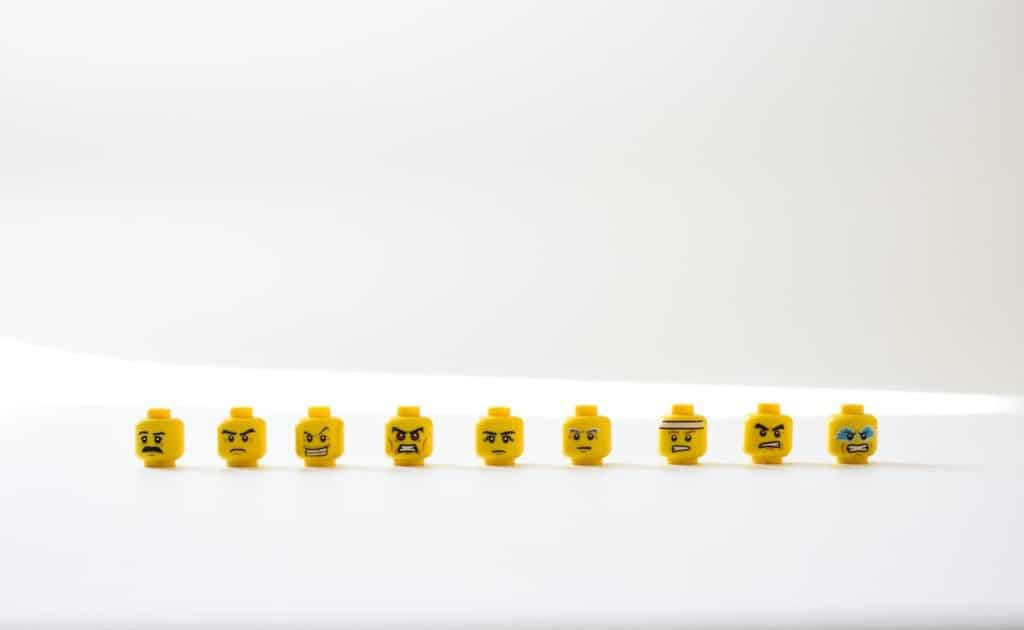 Sentiment analysis is a crucial component of effective brand monitoring. Thanks to the power of AI and natural language processing, some brand monitoring tools can actually determine whether data is positive, negative, or neutral, sentiment analysis helps businesses understand customer emotions and opinions. This valuable insight allows for:
More effective communication
Better decision-making
Improved customer experiences
Stronger relationships
Popular brand monitoring tools like Hootsuite, and Brand24 incorporate sentiment analysis to help you tap into the power of customer emotions and make informed decisions for your business. (We'll get into more details further down this post).
Tips for Successful Brand Monitoring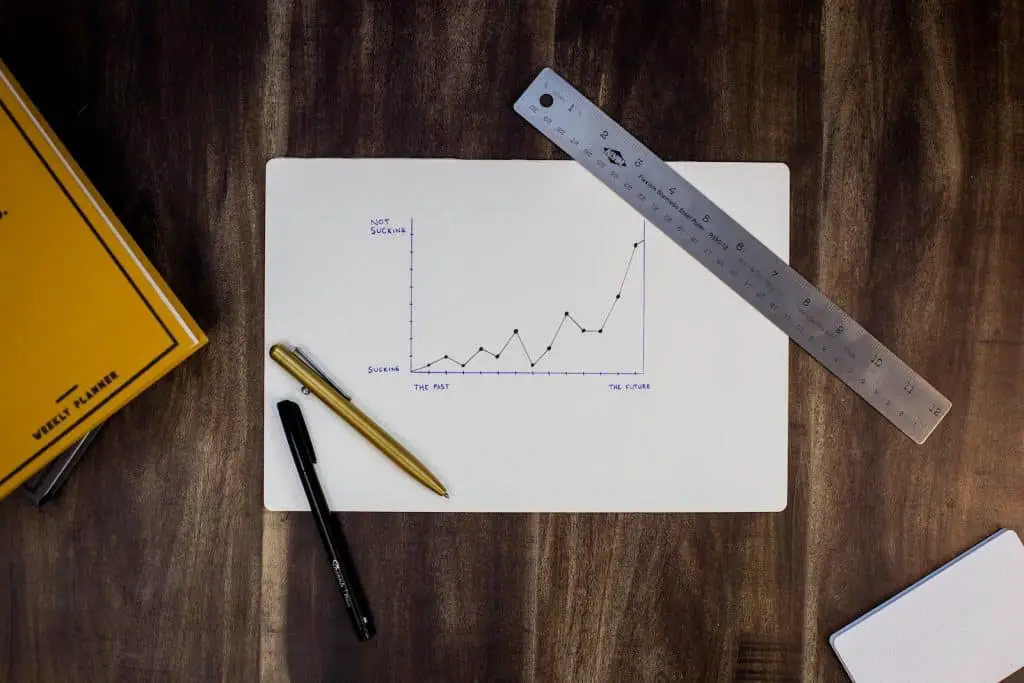 There are five basic elements to monitoring your brand:
Understanding customer needs
Selecting relevant keywords and hashtags
Monitoring multiple channels
Responding to feedback
Taking immediate action to address issues.
Now that you know these, you're well on the way to creating a brand monitoring and social listening plan so that will not only feed your market research, but will also generate sales.
In the next few sections, I'm going to take you step by step and when you're done, you'll have a powerful plan that you can use with your favorite brand monitoring tools.
Understand customer's questions and criteria for choosing your product
First you want to make sure that you understand how your customer thinks when it comes to buying what you're selling. Here's a list
Events that trigger them to go looking for your product
The features of a product
The cost of a product
The quality of a product
The reviews of a product
How they plan to use the product
How the product compares to other options
Your goal is to make sure you have very complete answers to all of these. Do not skimp, write them down, you're going to need them in the next section.
Choose the words, brands, companies, hashtags that you're going to track carefully
Now you're going to take what you wrote for those bullet points. and select the keywords, brands, companies, and hashtags that your customers, competitors, prospects might type into any social media channel. Because you're going to be tracking that.
This approach will enable you to gather valuable insights and identify potential opportunities for growth.
Monitor across social channels to see where you can compete
Monitoring multiple social channels is vital for identifying opportunities for competition and growth. Stay on top of mentions across various channels, like social media, blogs, forums, and websites, by using brand monitoring tools.
It's really challenging to do this with dozens of tabs open. Now, there are a lot of social media tools that combine all your social channels, and you can see all of these streams, but these social media tools are mostly for managing and scheduling multiple accounts. They aren't social listening or brand monitoring tools.
With your list of target phrases, keywords, brands, etc., you know what you're listening for and you can create searches in these social media channels or with your social medial management tools to monitor those conversations.
Respond to questions and feedback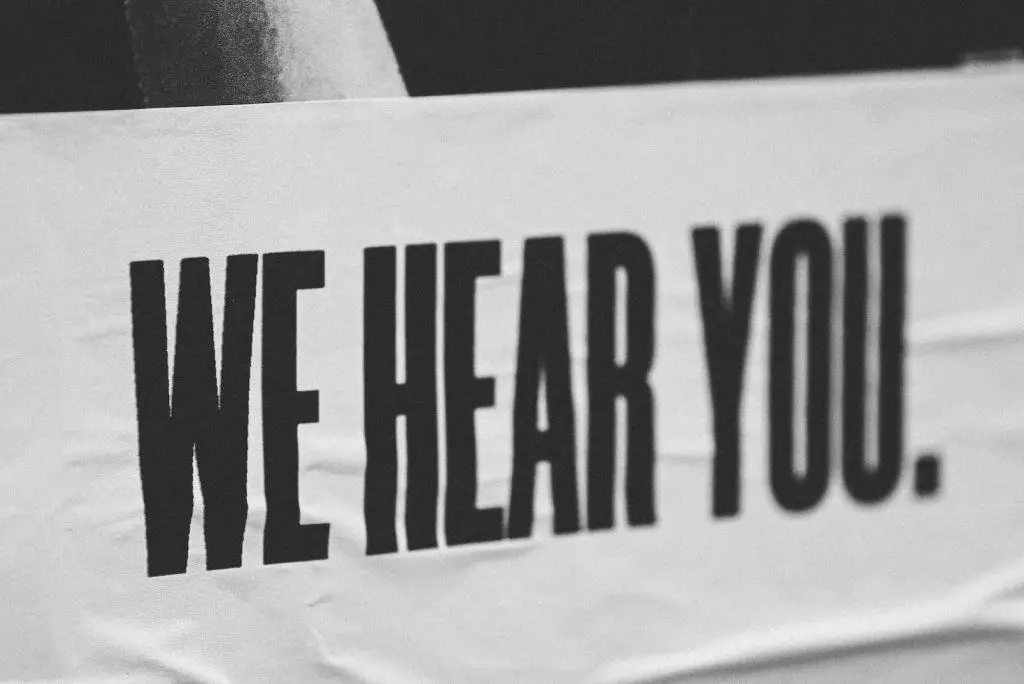 If your brand reputation is important to you, then you have to engage with your customers; answer their questions, provide any advice, and make sure that you ask for and reply to their feedback.
You'd be amazed at how many companies don't do this. "According to a report by Sprout Social, up to 90% of consumers have used social media in some way to communicate directly with a brand. The bad news is that brands reply to just 11% of these messages."
Can you smell the opportunity here? Just imagine if you were actually tracking and watching these conversations. You could step in and snatch that customer.
Most customers are being ignored and if you were to be the business that responded promptly to their inquiry and showed appreciation for their customer input, that type of attention is priceless and fosters stronger relationships.
Also remember that timely responses can help mitigate negative feedback and prevent it from escalating into a larger issue. By actively engaging with your customers and addressing their concerns, you can create a positive brand image and ensure the long-term success of your business.
Take immediate action
Talk is cheap. If you are monitoring your industry space, and you're engaging with customers, the next step is to take action.
Let's say that you noticed a customer asking a question about your product, a similar product, or a competing product. And, as the data shows, the other brands are ignoring their questions. But you are there, you answer and ultimately — you can literally ask for the sale.
Imagine the kind of impact you can have on customer's lives and on your bottom line!
By staying proactive and addressing problems as soon as they arise, your business can effectively manage its online reputation and ensure continued success.
Competitor Monitoring: Keeping an Eye on the Competition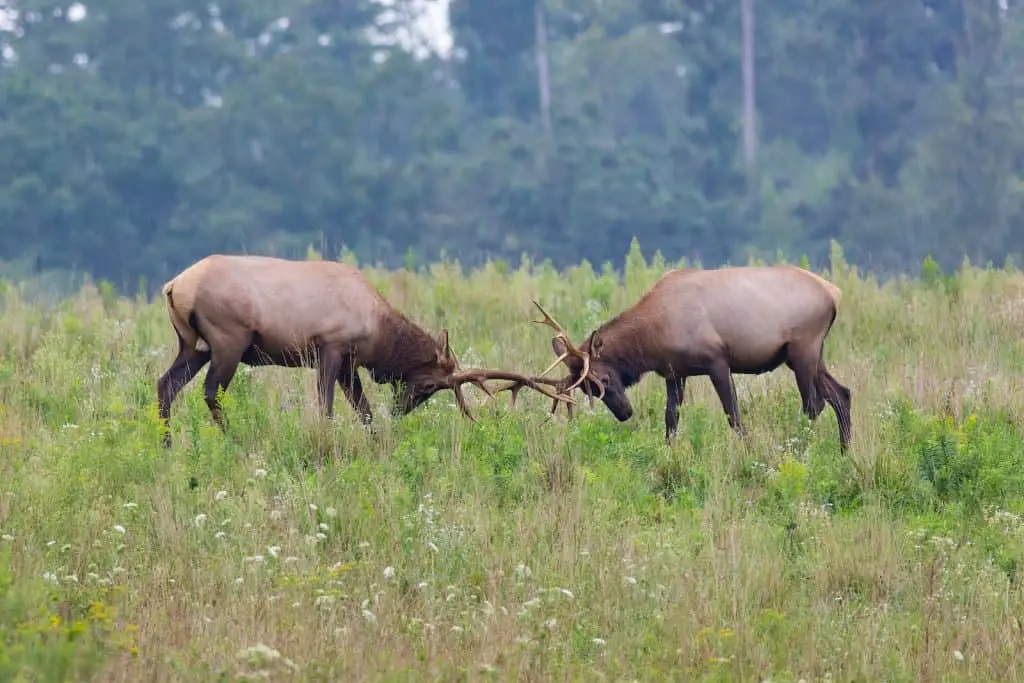 Keeping an eye on your competition is an integral part of successful brand monitoring. By staying informed about your competitors' activities, you can gain valuable insights and identify opportunities for growth.
In the following sections, we'll explore various aspects of competitor monitoring, including:
Benchmarking
Tracking mentions
Analyzing sentiment
Monitoring content
Identifying gaps
Learning from successes and failures
The best way to enhance your brand monitoring efforts, stay ahead of the competition and make sure that your business succeeds is to incorporate these brand monitoring strategies into your sales and marketing programs.
Benchmarking
While I'm generally not a big fan of comparing my business to others, benchmarking is a great way to set a baseline of performance and engagement around a topic or a brand.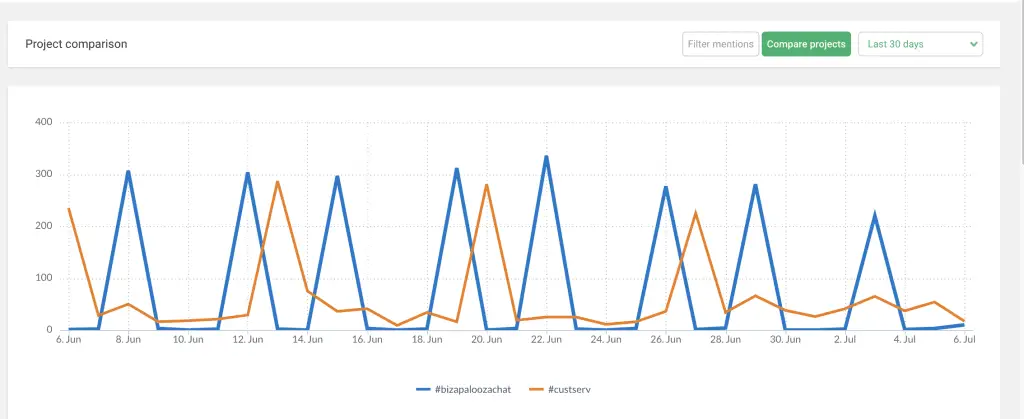 Benchmarking against your competitors is essential for setting realistic goals and measuring your progress. By comparing your business's products, services, or processes to those of another company or industry leader, you can identify areas where you excel and where improvements are needed.
Benchmarking provides valuable insights that can help you make informed decisions, set achievable goals, and track your progress over time. By regularly assessing your performance against your competitors, you can stay competitive and identify potential growth opportunities.
Track and respond to mentions
If you want to gather valuable insights and opportunities for engagement, then track and respond to competitor mentions in social posts.
Most social media management tools and social media scheduling tools will give you the ability to create custom searches for terms and will curate posts that you can track and respond to.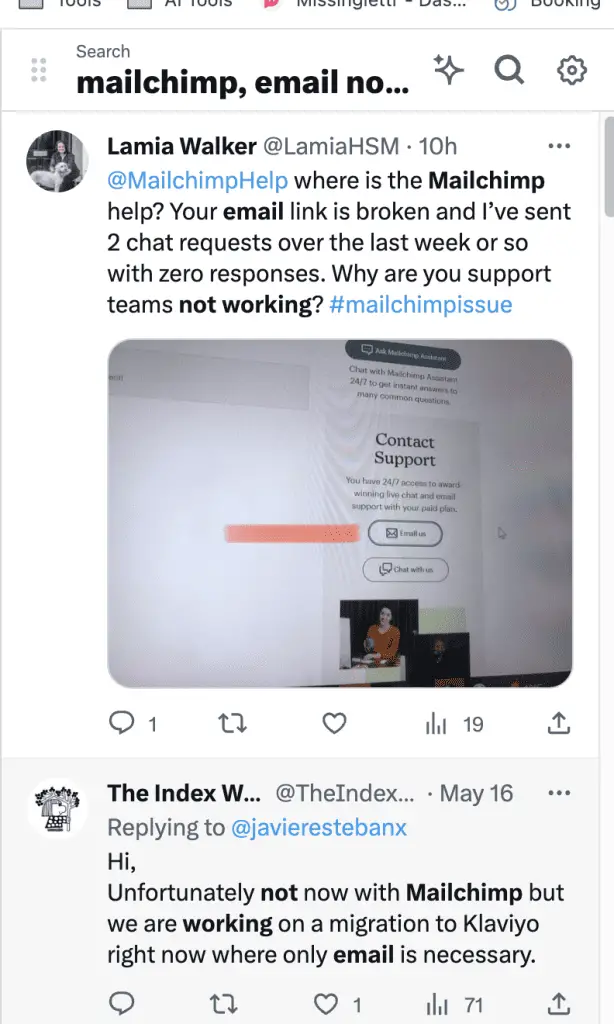 So, instead of chasing after cold leads, you can respond to competitor mentions, build relationships and foster communication with your target audience, and ultimately make a sale.
Analyze sentiment
Do you want to keep a close eye on your competitors and stay ahead of the game? One way to do this is by analyzing their customers' sentiments about their products, services, and marketing strategies. By understanding what your competitors are doing well or struggling with, you can make informed decisions about your own approach.
This is where sentiment analysis comes in handy. It allows you to uncover valuable insights into your competitors' brand reputation and customer satisfaction. Armed with this knowledge, you can refine your marketing strategies and capitalize on opportunities that your competitors might be missing out on.
So, if you want to drive your business forward, don't neglect the importance of regularly monitoring competitor sentiment and making data-driven decisions based on your findings.
Monitor content
Monitoring your social media content can bring several benefits to your business.
It helps you gain a deeper understanding of your audience, including their thoughts and feelings towards your brand, posts, and campaigns. Armed with this knowledge, you can adjust your communications and detect when customer preferences change.
Social media monitoring allows you to identify social media sentiment and gather customer feedback. This information is crucial for building brand credibility, responding quickly to customers, and adjusting marketing plans.
Improve customer satisfaction and loyalty by responding to customer questions as soon as possible.
Social media monitoring can provide you with insights into what your audience wants and needs, helping you optimize your products or services accordingly.
Staying inspired is easy with social media monitoring. By keeping track of relevant industry topics and trends, you can stay ahead of the curve and make informed decisions about your marketing strategy.
Social media monitoring tools can help you spot complaints in real-time and fix them before they cause damage to your company's reputation. Maintaining a positive brand image is crucial to any business's success.
In summary, monitoring your social media content brings several benefits to your marketing efforts, allowing you to stay ahead of your competition and maintain a positive brand image.
Popular Brand Monitoring Tools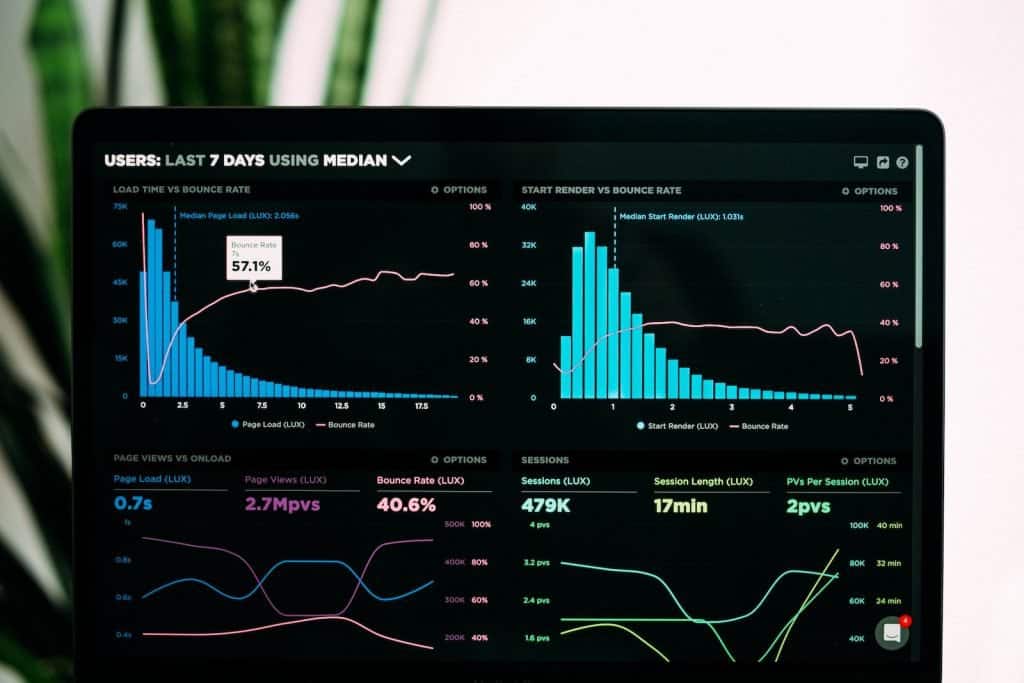 As we've discussed, brand monitoring is essential for the success of your business. While there are many great tools available to help you track mentions, analyze sentiment, and manage your social media presence, some popular options include Hootsuite and BuzzSumo. Both of these tools offer comprehensive features that make brand monitoring a breeze, allowing you to stay informed about your brand's online presence and make data-driven decisions.
Let's take a closer look at each of these popular brand monitoring tools and their unique offerings, especially when it comes to monitoring review sites.
Hootsuite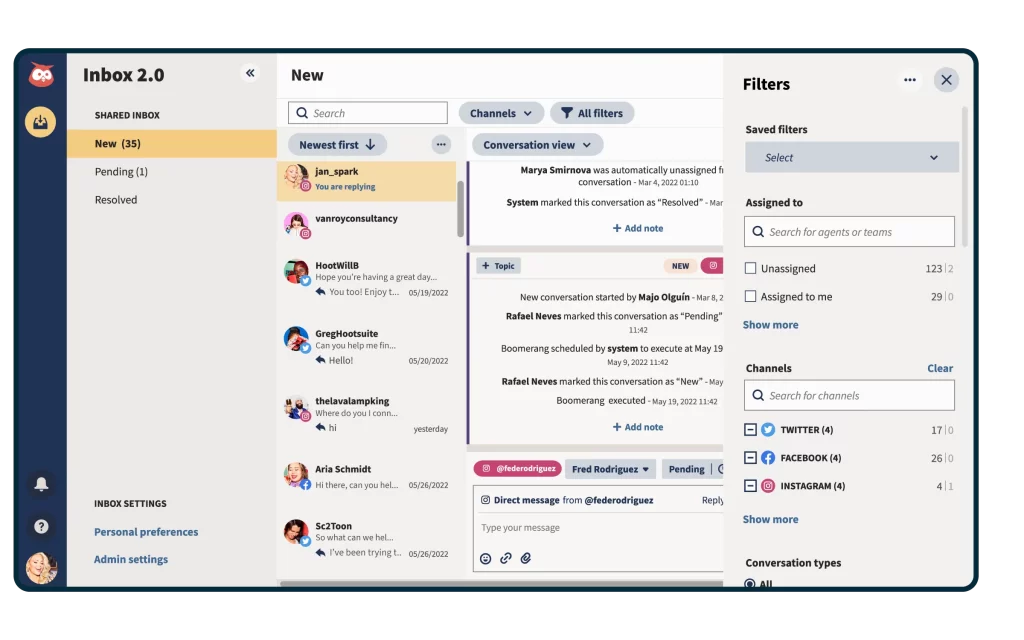 Hootsuite is a widely-used social media management tool that also offers brand monitoring features. It allows you to:
Schedule posts for multiple social networks
Track paid and organic content
Manage customer feedback
Gain real-time insights from social media to make smarter business decisions.
Hootsuite enables you to monitor mentions across various social media channels, such as:
Instagram
Twitter
LinkedIn
YouTube
All in one convenient dashboard. With plans starting at $19 per month, Hootsuite is an affordable and powerful solution for businesses looking to enhance their brand monitoring efforts.
BuzzSumo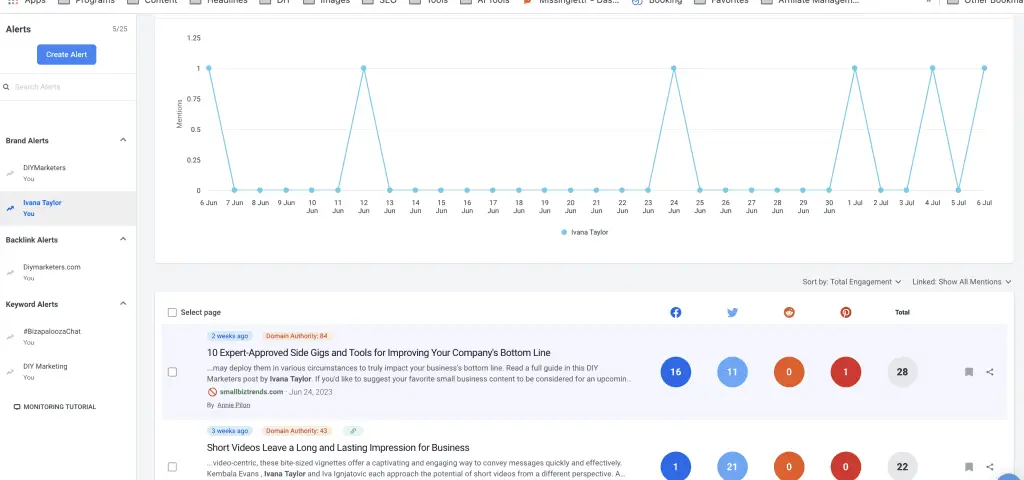 BuzzSumo is another popular brand monitoring tool that provides a comprehensive suite of features for tracking mentions, analyzing sentiment, and managing social media. With plans starting from $99 per month, BuzzSumo offers:
Content analysis
Influencer tracking
Social media alerts
And more.
The platform's user-friendly interface and powerful analytics tools make it easy to monitor your brand's online presence and gain actionable insights. BuzzSumo's 30-day free trial allows you to test out the platform's features and determine if it's the right fit for your brand monitoring needs.
Why Brand24 Is My Favorite Brand Monitoring Tool
Our Pick for Social Listening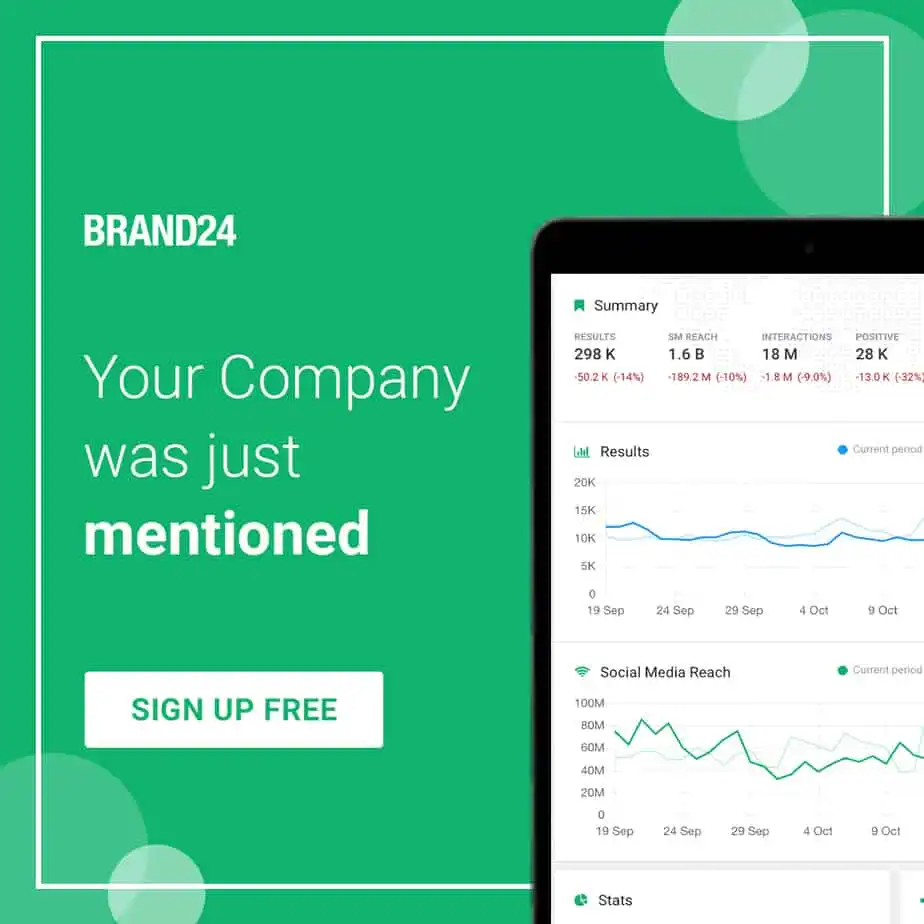 While Hootsuite and BuzzSumo are excellent brand monitoring tools, my personal favorite is Brand24. This powerful tool offers a comprehensive suite of features that make brand monitoring a breeze, including:
Tracking mentions across multiple channels
Customized searches
Influencer identification
Engagement measurement
Content topic identification
With its user-friendly interface and robust analytics capabilities, Brand24 is the ideal solution for businesses looking to stay informed about their brand's online presence and make data-driven decisions.
Let's explore some of the features that make Brand24 my go-to choice for brand monitoring.
Tracks mentions across multiple channels all in one dashboard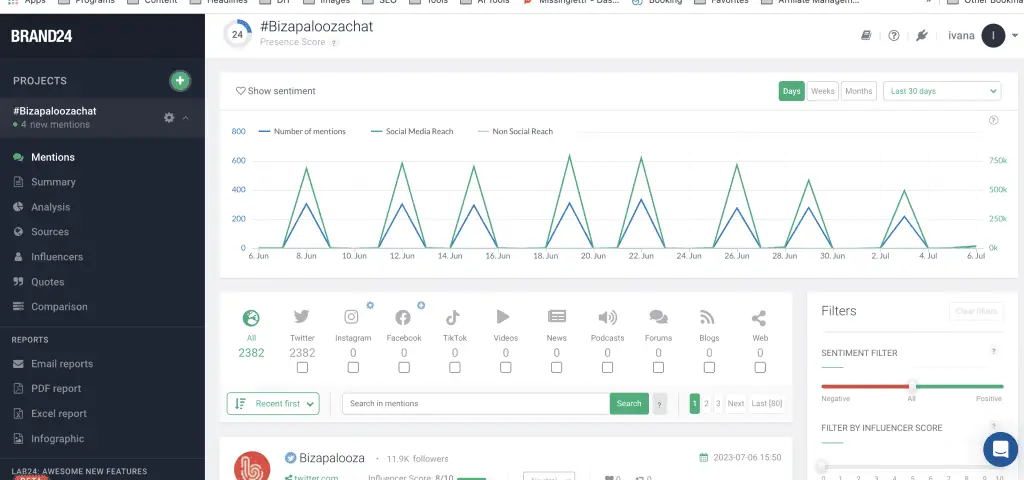 One of the standout features of Brand24 is its ability to track mentions across multiple channels, all in one convenient dashboard. This unified approach allows you to monitor and analyze conversations about your brand across various platforms, such as:
Social media
News sites
Blogs
Newsletters
Online forums
By consolidating all your mentions in one place, Brand24 makes it easy to respond to customer feedback, gauge sentiment, and monitor the effectiveness of your brand monitoring efforts. This comprehensive approach ensures that you never miss a crucial conversation about your brand.
Customized searches and tracking so you can hone in on customers and prospects
Brand24's customized searches and tracking capabilities allow you to:
Zero in on customers and prospects with ease
Use specific criteria to search for and monitor mentions of your brand, products, and services
Ensure that you're capturing the most relevant conversations and monitoring the most appropriate channels.
This targeted approach enables you to gather valuable insights and identify potential opportunities for growth. With Brand24's powerful search and tracking features, you can stay on top of the conversations that matter most to your business.
Identifies influencers so you can build relationships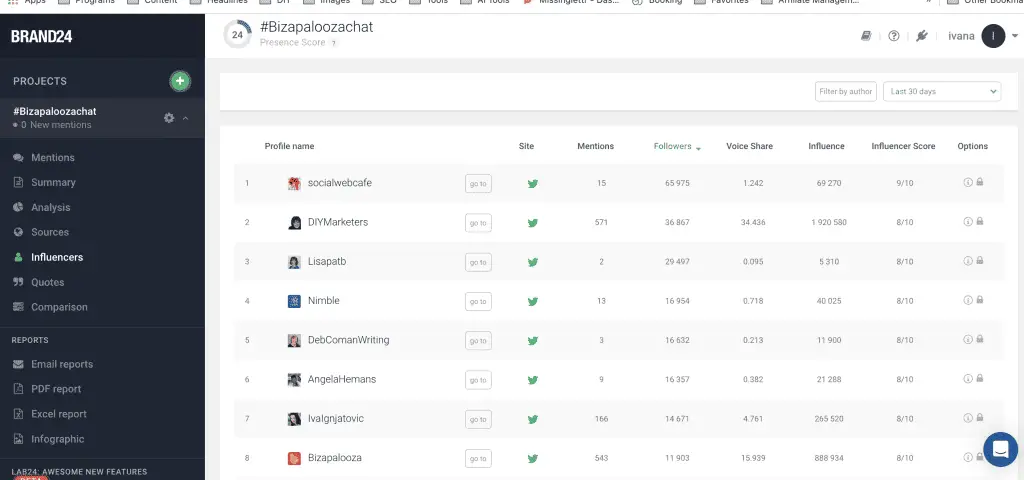 Building relationships with key influencers in your niche is essential for boosting your brand's visibility and credibility. Brand24's influencer identification feature uses proprietary algorithms to determine who has the most influence in conversations about your brand or industry, ranking them based on their impact.
By identifying and engaging with these influencers, you can expand your network, gain valuable insights into your target market, and create more effective marketing strategies. With Brand24's help, you can build lasting relationships with the influencers who matter most to your business.
You can measure velocity of engagement around a topic or brand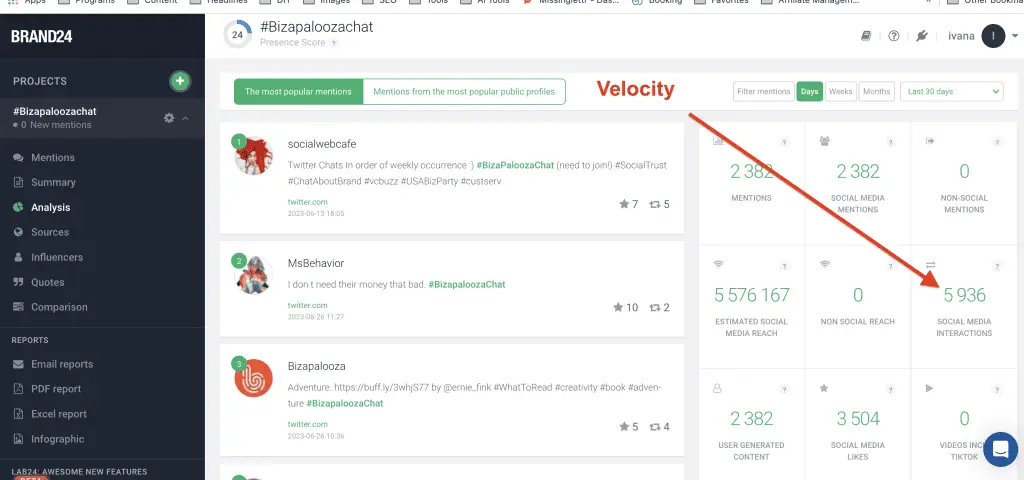 Measuring the velocity of engagement around a topic or brand is essential for understanding the effectiveness of your marketing efforts. Brand24's Presence Score allows you to gauge the speed at which people are discussing your brand or topic, as well as how quickly they're responding to it.
This metric can help you identify trends, uncover potential opportunities, and make data-driven decisions about your marketing strategies. By monitoring the velocity of engagement, you can ensure that your brand monitoring efforts are driving tangible results for your business.
Identifies popular topics and themes for your content
Creating engaging and relevant content is vital for attracting and retaining customers. With Brand24's powerful analytics tools, you can identify popular topics and themes that resonate with your audience, ensuring that your content is always on-trend and relevant.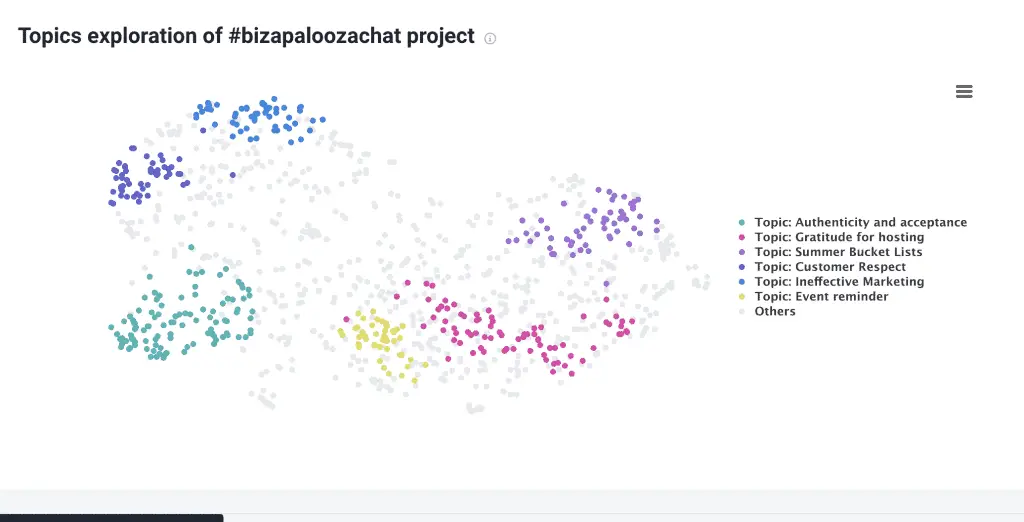 By staying informed about the latest industry trends and customer preferences, you can create content that stands out from the competition and drives engagement. With Brand24's help, you can ensure that your content strategy is always ahead of the curve.
Summary
In conclusion, brand monitoring is a crucial aspect of any successful business strategy. By tracking online conversations, managing your brand reputation, analyzing competitor activity, and leveraging sentiment analysis, you can make data-driven decisions that propel your business forward. With powerful tools like Hootsuite, BuzzSumo, and Brand24 at your disposal, you can stay on top of the conversations that matter most to your business and seize every opportunity for growth. Don't miss out on the incredible benefits that brand monitoring has to offer – start your brand monitoring journey today and watch your business thrive!
Frequently Asked Questions
What is the brand monitoring tool used for?
Brand monitoring is a powerful tool that helps you understand the overall sentiment of your brand by analyzing comments and gauging their positive, negative, or neutral sentiment.
It can help you identify potential issues with your brand, as well as opportunities to improve your reputation. It can also help you track the success of your marketing campaigns and measure the effectiveness of your customer service.
What are the monitoring tools?
Monitoring tools are designed to track the status of critical IT applications, networks, infrastructures, websites and more, quickly detecting problems and alerting respondents for resolution.
These tools are essential for ensuring the smooth running of IT systems and can help prevent costly downtime. They can also provide valuable insights into system performance and usage, allowing for more informed decisions to be made.
By monitoring the performance of IT systems.
What are the benefits of using brand monitoring for sales and marketing?
Brand monitoring provides businesses with invaluable insight to make informed decisions on their PR and marketing strategies, understand the industry, collaborate with influencers, and get to know their target audience.
It helps them to identify trends, measure the success of campaigns, and track the performance of competitors. It also allows them to respond quickly to customer feedback and build relationships with key stakeholders.
By monitoring their brand, businesses can gain a better understanding of their brand.
Why is sentiment analysis important for brand monitoring?
Sentiment analysis is an invaluable tool for brand monitoring as it helps businesses gain insights into customer emotions and opinions, enabling them to better understand their audience and make more informed decisions.
It can be used to track customer sentiment over time, identify trends in customer feedback, and measure the success of marketing campaigns. It can also be used to identify potential customer service issues and provide insights into customer preferences.
By leveraging sentiment analysis, businesses can improve their business.
How can competitor monitoring help my business?
Competitor monitoring can help you identify areas of opportunity to outpace your competitors and make strategic decisions for the success of your business.
By keeping an eye on your competitors, you can stay ahead of the curve and make sure you're not missing out on any opportunities. You can also use competitor monitoring to identify weaknesses in your competitors' strategies and capitalize on them.