Instead of spending more time and money on sales and marketing – build and keep loyal customers! This guide includes ignored tips and strategies your competition doesn't think are important.
I've noticed a disturbing trend among my small business owner community.
Most of you are obsessed with getting new customers. But you're ignoring the most basic customer retention strategy — great customer service.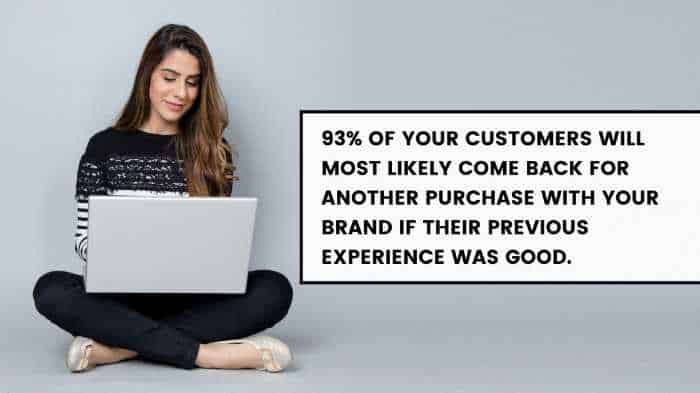 Building customer loyalty and going back to basics is your best marketing focus for 2022.
If you're looking for information on creating a customer loyalty program, I'm going to tell you to take a step back and think about customer retention and your existing customers.
In this article, I'm going to cover the most basic things you can do to increase customer loyalty, because happy customers are your biggest marketing asset.
What is Customer Loyalty
Loyal customers are repeat customers, you can count on their future purchase. Loyal customers purchase more than one product or service that you offer.
Customer loyalty is when a customer feels an emotional connection to your company, product or customer service.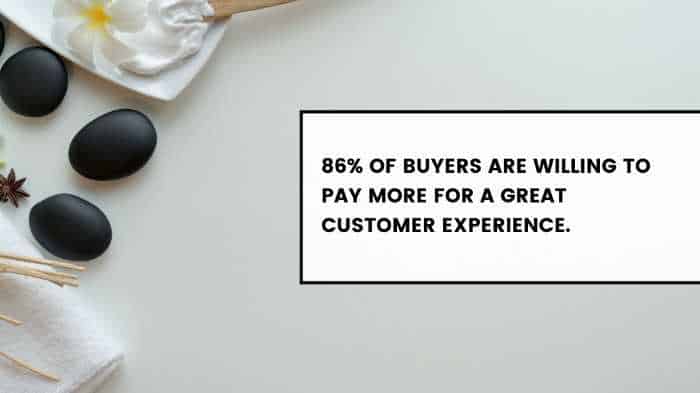 Let's dig into this definition of customer loyalty. What does it take for a customer to feel an emotional connection?
Most of us call it great customer service — but here's what that looks like:
A business or product that delivers on what they promise.
Business owners and their teams that do what they say and say what they do. They follow-up, they fix mistakes, they don't apologize, they fix the problem.
Customers are part of a community around a specific business.
The products or services a business offers reliably and consistently fill a need.
They can count on a predictable experience from a business.
Businesses that have customer loyalty, do things in ways that create an emotional connection with their customers.
Why is customer loyalty important?
Do you really need to ask?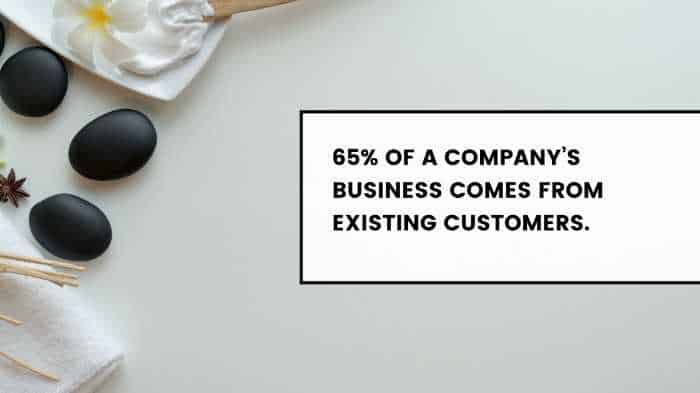 New customers are expensive: Loyal customers are repeat customers. Every loyal customer is one less customer you have to "buy" with your sales and marketing. This cuts your customer acquisition costs.
Happy customers are enthusiastic referrers. They can't wait to tell their friends and family about your business.
Existing customers easier to work with. You know them, they know you, they are already sold. So, all you need to do is the same thing you've always done.
The Loyalty Ladder
With limited resources, it's a good idea to focus on your most loyal customer base. Here's how to identify your most loyal customers so that you can get the most out of your customer loyalty program.
No Loyalty:
These are customers who are primarily interested in price.
Low-level:
These customers purchase out of convenience.
Lurking Loyalty:
These customers may not purchase as often as they could because of situational reasons (too busy, you don't have the product they want when they want it, they can't get an appointment when they want to.
Engaged Loyalty:
This is your goal. You are their preferred choice for the products and services you provide. You're like a destination business.
How to Measure Customer Loyalty
Customer Lifetime Value (CLV)
A great way to re-presence your gratitude for your customers is to look at customer lifetime value (CLV).
The CLV is a calculation of the total income a company may expect to receive from a typical client for as long as that person or account remains a client.
This is a critical calculation for any loyalty program. When you know what each customer is worth, you'll know how much you can afford to invest in a loyalty program to make them repeat customers.
Here's a free and unsexy Customer Lifetime Value Calculator
Net Promoter Score (NPS)
The Net Promoter Score (NPS) is a customer loyalty metric used to calculate the likelihood that a customer will promote your company to others. It's calculated by asking customers the following question: "On a scale of 0-10, how likely are you to recommend our company to a friend or colleague?" Respondents who give a score of 9 or 10 are considered promoters, while those who respond with 7 or 8 are passives, and anyone scoring 6 or below is considered a detractor. The NPS score is the percentage of promoters minus the percentage of detractors.
The Free and Forgotten Customer Loyalty Program
Maybe you're here thinking you need some fancy schmancy loyalty program. NO YOU DON'T.
If you're a small business (especially a local business), you have a tremendous competitive opportunity that you won't have for long – so you need to take advantage of it.
The name of this game is customer relationships that lead to repeat purchases.
This is the best customer loyalty strategy out there today! Your competitors are completely ignoring the basics because they are too busy whining about the state of business today.
Ask yourself, "What is my customer's experience with me, my business and my team?" If my mom were my customer, is this how I'd treat her?
I'm talking about the basics. These are the basics that build customer loyalty and brand loyalty. They don't require customer data. They eliminate dissatisfied customers, create a great customer experience and repeat business.
Answer the phone
This might seem obvious, but with so many businesses being short staffed, the customer calls end up in voicemail.
Call people back
The calls that end up in voicemail, often don't get returned. This is like literally throwing money away.
Close the loop
If you tell a customer that you'll do something, do it, follow-up and close the loop. When an existing customer calls you,
Be nice
Make sure that your employees are nice. Your existing customers GIVE YOU MONEY, respect that.
Create a VIP customer list
These are your most loyal customer, the customers who always call you, the customers who have prepaid anything, the 20% of customers that comprise 80% of your revenues.
3 of the BEST Customer Loyalty Programs for Small Business
Now, if you're focusing on doing the basics, you can also add these ideas as a way to SHOW your customers how much you care.
In my research, I noticed that a lot of businesses are using these customer loyalty tactics, BUT, they often land flat or fail or are ignored because they aren't doing the very basic behaviors that might actually improve customer loyalty.
Create a subscription or membership program
This is one of my all-time favorite programs that not only encourage customer loyalty, but give you a second source of income EVERY month!
Create a tiered loyalty program that includes a basic level, friend level, and VIP level. You'll have to work out the pricing levels based on your business. For the basic level you can offer discounts or you might include coupons only. The "friend" level might include free products and services along with the coupons. The VIP level would have all of the things in "friend" plus an invitation to some special VIP event — where they can bring friends who can also become members.
Shopify did a survey and found out what their customers really wanted from a loyalty program: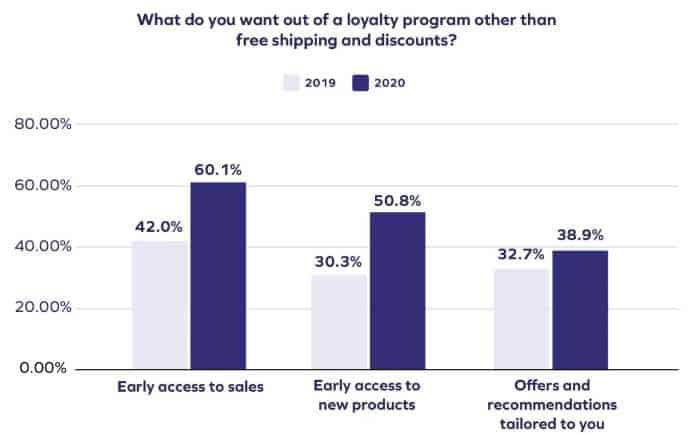 (source: Shopify)
Reward loyal customers with surprises: I love this type of loyalty program because it's totally at your discretion. Create a series of offers that include everything from discounts, to free products, gift cards, or even gag gifts. One local business created sealed envelopes that they give to their loyal customers with special "gifts" for their valuable customers (new customers, engaged customers) or depending on how much customer spend. Heck even lost customers!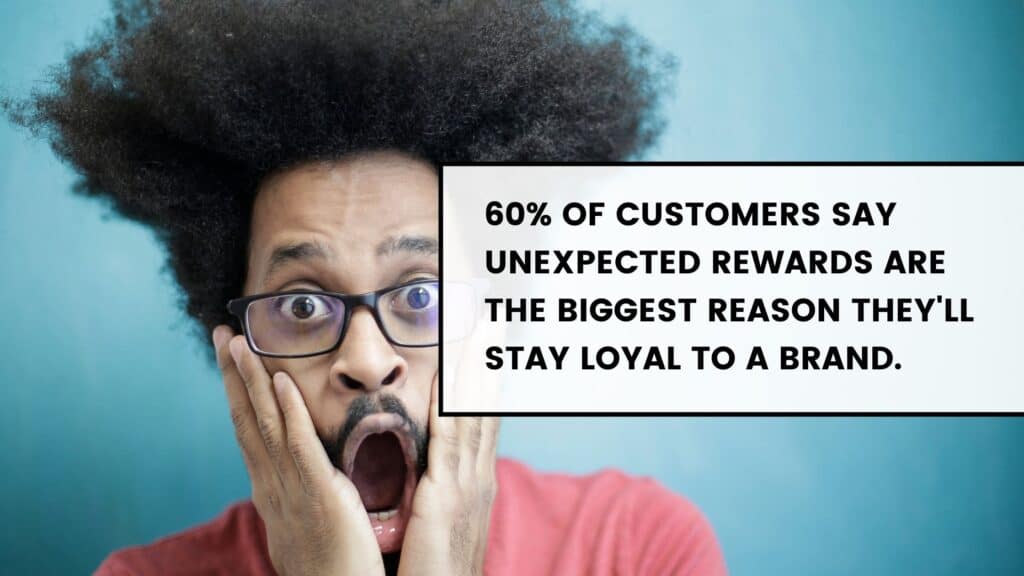 Run an insanely generous referral program: Remember that Customer Lifetime Value number? This is where it comes in super handy.
Want your best customers to bring you more satisfied customers? Give them a generous referral reward. If your average customer purchase is $100 and your average Customer Lifetime Value is something like $1000, then you can afford to be generous with your referrers. Heck, you can give your referrer $500 for every new customer — especially if you retain customers for more than a year! It's cheaper than advertising!
Summary: Re-Commit to Customer Loyalty
If you're too busy for marketing, or you're sick and tired of trying new sales and marketing tactics that fail time after time, DOUBLE DOWN on customer loyalty.
Take a fresh look at your customers' experience with you and make a commitment to excel at the small stuff.
It's not sexy to be dependable or to follow-up with customers, but it's the best investment of your time and energy.
Always remember, repeat customers and customer retention is the best and highest marketing strategy for your business.