Social media has become an integral part of our daily lives, with billions of people worldwide using it every day to connect with friends, family, and acquaintances.
But there are rumblings and complaints — mostly having to do with the fact that the main social channels like Facebook, Twitter, LinkedIn and others have been hijacked by ads and marketers. And people want more social, more privacy and less algorithms.
And this is what brings us to exploring some lesser known and more obscure social media channels.
Recently, a new approach to social media has emerged; one that seeks to solve the problems with centralized systems: Decentralization.
In this blog post, let's take a closer look at decentralization in social media, what it means, and how it will shape the future of the way we interact online. We will also discuss the potential end of the current era of big social media platforms with a focus on the benefits of community-led social networks. Finally, we will explore the possibility of a decentralized future for social media, where users have more control and enhanced privacy. If you're curious about the future of social media and would like to know more about the potential benefits and drawbacks, then keep reading.
What Does Decentralized Social Media Mean?
Decentralization in social media offers users a way to take back control of their data and content while still being able to engage with others online.
Let's talk about what's driving this move to decentralized social media.
It all starts with privacy. Today's social media tools are using custom (translated as secret) algorithms and technology to customize what posts you see and what ads you see.
While this can be helpful when it comes to curating your feed, we've also seen that it can lead to creating technology driven silos.
Users want the best of both worlds; they want to share what they want to share, and they want to see what they want to see. In other words, we want to control our social media experience.
And that's what this shift to decentralization offers.
What are some Pros and Cons of Decentralized Social Networks?
Decentralized networks offer a wide range of benefits compared to more conventional centralized networks, such as increased system reliability, improved security, and cost-efficiency. However, there are also some drawbacks to consider when using decentralized networks.
One of the main advantages of decentralized networks is that they are more secure than centralized networks. This is because data is distributed across multiple nodes in the network instead of being stored on a single server. This makes it much harder for hackers to access or manipulate data. Additionally, decentralized networks can be more cost-efficient since they don't require expensive hardware or software to maintain them.
On the other hand, there are some drawbacks to using decentralized networks. One issue is that they can be slower than centralized networks due to the increased number of nodes in the network.
Decentralized networks can be difficult to develop and maintain since they require specialized knowledge and expertise.
Finally, if one node in the network fails, it can cause downtime for the entire system which may lead to lost data or disruption of services.
The Role of Blockchain in Driving Decentralized Social Media
You keep hearing about blockchain technology and how it's the next big thing in the world of social media and online communities.
Just like when the internet started, blockchain is a new kind of technology that's part of the new Web 3.0 world that we'll need to learn about an understand. Let's get into that.
What is blockchain?
Blockchain technology is a distributed ledger system that records and stores data across a network of computers, eliminating the need for a centralized server or third-party provider.
What's a distributed ledger system?
A distributed ledger system is like a spreadsheet that is duplicated over a network of computers and then synchronized with information from thousands of other computers. This is what makes it decentralized. But even more importantly. no single computer (or company has control over the data. And that's what makes it transparent and secure.
How do Decentralized Social Media Platforms Work?
These new social media platforms are a hybrid of local software (that you download) and the internet (which is what keeps it constantly refreshing content).
The first thing you'll notice about these new decentralized social media platforms is that you have to download them as an app first so that no single organization or server hosts the platform. This makes them much more secure and resistant to censorship or manipulation.
Another way that these centralized networks work is that they give users full control over their personal information.
Why Are Decentralized Social Platforms Attracting Politically Driven Users?
Decentralized social media platforms are increasingly gaining traction among users who want to avoid traditional corporate-controlled networks such as Facebook and Twitter.
Early adopters of these platforms tend to be highly politically driven, because they view decentralized platforms as less restrictive and more secure for sharing content that may otherwise be censored or manipulated on centralized networks.
This is why it's important for businesses considering using a decentralized platform to research the platform you're considering, and make sure that it meets your brand goals and that your target audience is actively engaging with the platform.
The Best Decentralized Social Media for Small Business
In this section, I'm going to feature the best, safest, and least political decentralized social media platforms for you to explore. My main considerations in recommending these platform are ease of use and the communities you'll find there.
Tech and Artists Lead are the Early Adopters
One of the common threads to all of these decentralized platforms is that the early adopters are "creatives" — either technical creatives or artistic creatives.
The great thing about that is that the conversations are authentic and real.
As someone who was an early adopter to Twitter, I can tell you that the early world of Twitter; before the corporations, before the marketing and the push to selling was just so real, free and fun.
That's what you're going to find on these new platforms.
3 Rules of Engagement You Must Follow on Decentralized Social Media Platforms
When it comes to decentralized social media networks, it's all about having more control of your experience and connecting with people that share the same interests. That said, there are some rules you should follow to make sure everyone has a good time.
Do Not Sell – focus on learning and building relationships before attempting to sell your services or products.
Ask and Answer Questions Thoughtfully – it's important to ask meaningful questions and contribute thoughtful answers in order to create an active dialogue among participants.
Remain Respectful – remember to be respectful of others' ideas and opinions, even if you disagree, in order to foster an inclusive environment where everyone feels respected.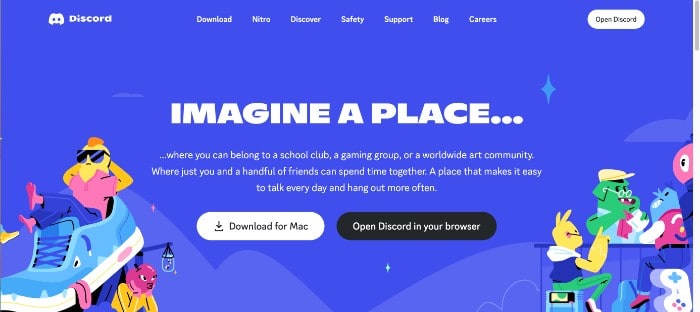 I'm listing Discord first because it's become more and more popular with software users, developers, community members, consultants, and agencies.
Originally, Discord was primarily the platform that gamers used to connect. The next audience to get into Discord is software companies and developers.
I've been a member of several Discord users groups and I've found them to be very helpful.
How easy is it to join Discord?
The first thing you'll notice about Discord is that it's a lot like Slack. Everything from joining to engaging is very similar.
Here's a step by step guide:
Download the Discord app on your device or access it online via https://discord.com/.
Create an account using your email address and username.
Set up your profile with a profile picture and display name of your choosing.
Browse through the various Discord servers by clicking on the 'Discover' tab at the top of the platform, or search for specific keywords using the search bar.
Join a server that you think is relevant to your interests by clicking on the 'Join' button on its page.
Introduce yourself in the chat and start engaging with other members of the community!
My thoughts on Discord
I was originally introduced to Discord by software companies who are running their development and community engagement on Discord channels. I'm currently a member of 7 software communities.
Most of the participants are users of the software who are engaging with the company developers directly about features, glitches, etc.
In early 2013, "only 30%" of Discord users used the service for anything other than gaming. Today, 78% of Discord users use the service for non-gaming purposes, 22% use it strictly for gaming.
Discord is the home of MidJourney
Discord is also the home of Midjourney — the AI graphics tool. So it's even has a software function.
How to Use Discord as an Entrepreneur
Start by searching and finding communities in your area of expertise and those where your customers might be hanging out.
I searched for entrepreneurs and marketers.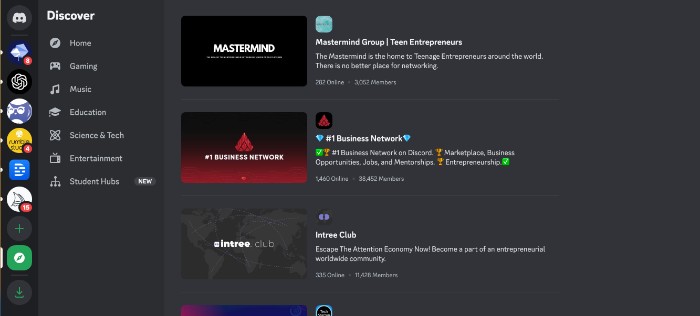 Discord gives you the ability to "browse" or peek inside these communities to check out the discussions before you join.
This is a great way to do some market research as well as start engaging with other folks who are just like you.
Pros and Cons
+ Similar to Slack so it's easy to use
+ Tons of decent sized communities and conversations
+ Limited to no selling or pitching
– Doesn't have as robust privacy as some members would like.
– Not a lot of "relationship" engagement. Mostly questions, answers, and technical conversations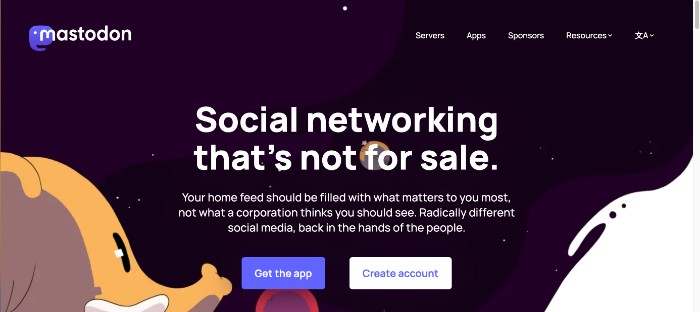 When Musk bought Twitter there was a lot of uncertainty about what would happen to this network. Droves of folks started looking for alternatives, and Mastodon got most of the chatter.
Folks had a love-hate relationship with Mastodon mostly because it wasn't very easy to use.
Mastodon has a diverse audience from all over the world. It's estimated that there are over 4 million users on the platform, with most of them coming from Europe and North America. The majority of Mastodon users are tech-savvy people who enjoy the freedom of expression and privacy that comes with using an open source platform.
Mastodon also offers features like audio, video, picture posts, polls, content warnings, custom emojis, thumbnail crop control and more. It's a great way for people to connect with each other without having to worry about censorship or data mining.
How to join Mastodon:
Go to Mastodon and select a server: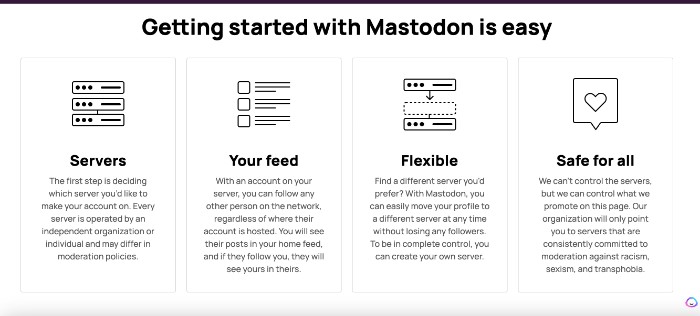 BE VERY aware of the ground rules. These server moderators are not kidding.
Personal story here: When I first joined Mastodon, I don't even remember what community I joined, but all I did was put in that I was the publisher of DIYMarketers.com and they said I was "selling" and I immediately got blocked.
Lesson learned, read the rules first.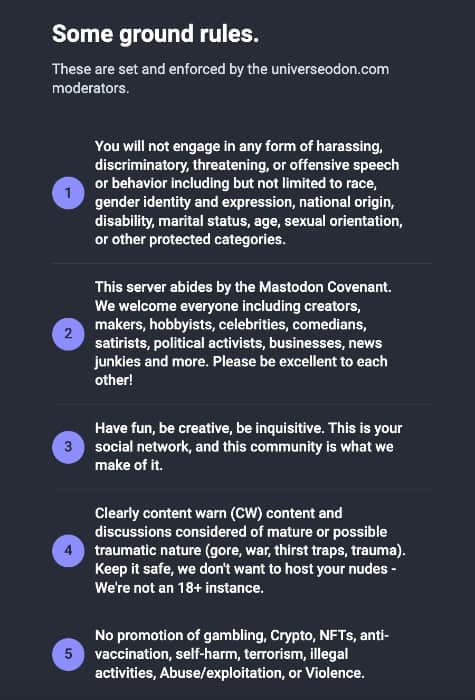 Create your account by filling out the form with a username, email address, and password.
Download the Mastodon app for either iOS or Android if you want to use your phone, or go to the website of the instance you chose in step one.
Verify your email address (this may be done automatically or have a link sent to your inbox).
Once you're logged in, customize your profile with a profile image, header image, bio and other information about yourself as you like!
Find people to follow and engage with.
Pros and Cons
+ Privacy and no algorithms. What you see is what you get, Your experience isn't regulated by the platform.
+ Community focused. Mastodon runs on private servers that are categorized by region, topic, or interest.
– Smaller communities. You're not going to get the same level of reach and diversity as you do on other platforms.
– Inconsistent rules of engagement: Because there are individual servers, what's appropriate for some may not be appropriate for others.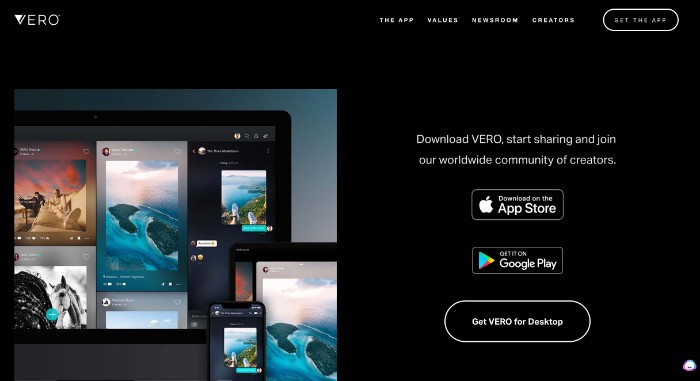 Vero is a relatively new social media platform that most resembles Instagram. Because of its strong visual design, it's not a surprise that a lot of the users are artists, specifically photographers.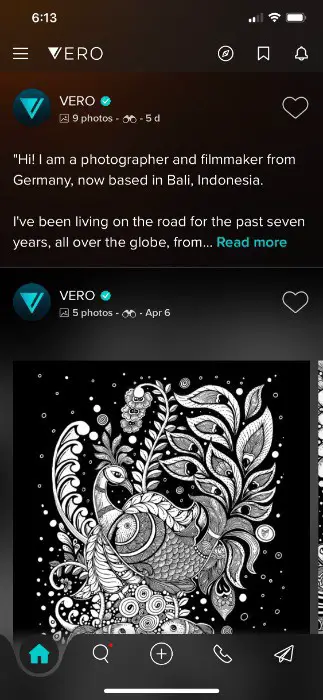 Signing up for Vero is easy and free! Here's a step by step guide to help you get started:
Download the official Vero app from your app store.
Open the app and click on "Sign Up".
Enter your details such as name, email address, and a password of your choice.
Agree to the Terms of Service and Privacy Policy.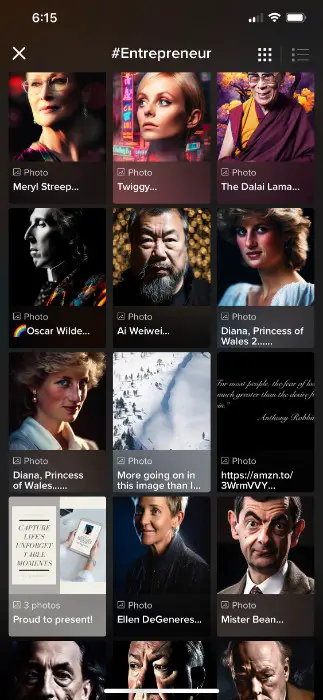 Pros and Cons
+ Great space for artists and photographers and people who serve them.
+ Chronological feed with no algorithms
+ Similar to Instagram, so there's nothing new to learn.
+ You can sort contacts into categories
– Not as many features as Instagram
– Difficult to delete your profile.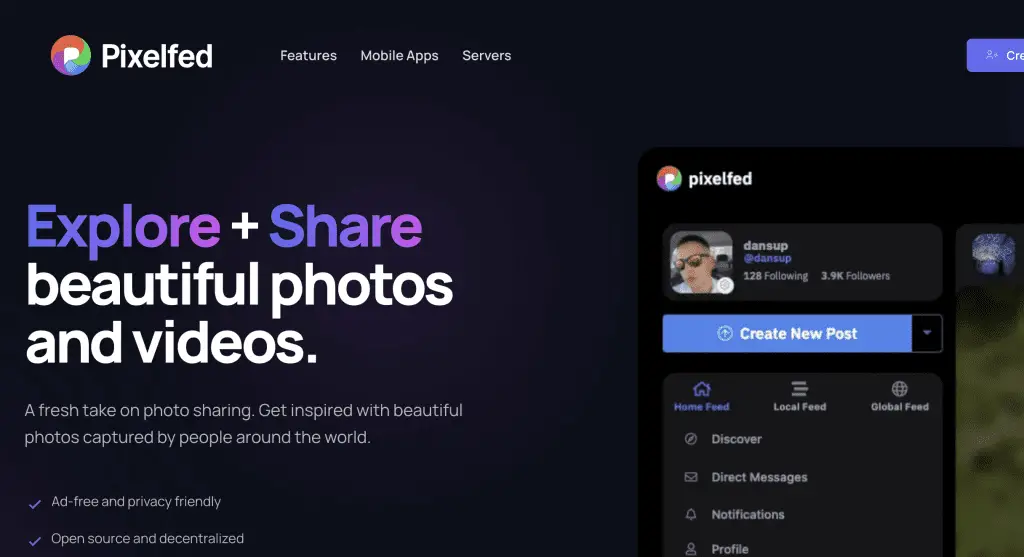 Pixelfeld is a decentralized Instagram alternative. It's perfect for those who want to share photos without worrying about their data being used or sold. It's also great for those who want to connect with people from all over the world in a safe environment.
Unlike other platforms, Pixelfeld does not require users to sign up with personal information or follow any specific rules; instead, it encourages users to explore and discover content in an unrestricted way. Additionally, since it is open source, users can customize their experience as they see fit.
Like Mastodon, you have to choose a server (or you can even start your own server).
Pros and Cons
+ Easy to register, follow and engage with other users.
+ Great interface — really does a great job of featuring images and creative posts.
– Platform is new, so there are glitches.
– Primarily populated by photographers and artists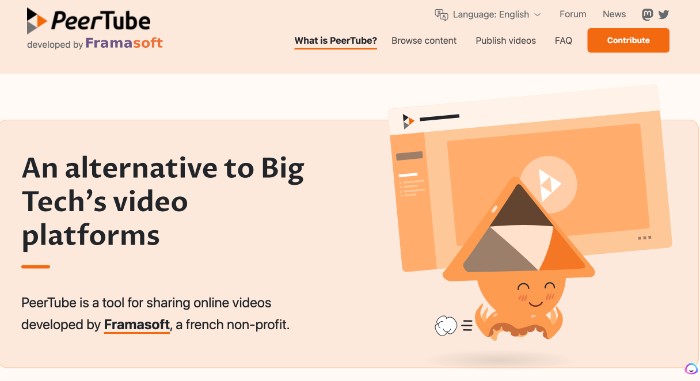 PeerTube offers an attractive alternative to YouTube for those who are looking for a more secure and private way of sharing videos online. PeerTube is maintained by Framasoft, a French non-profit organization.
Like Mastodon and many other decentralized social media platforms, PeerTube runs through a series of independent servers.
Pros and Cons
+ Multilingual support: PeerTube supports multiple languages, making it accessible to people from different countries and cultures.
+ Search tools: PeerTube provides search tools that allow users to easily find videos they are looking for.
– Limited monetization options: While there are some ways to monetize content on PeerTube, these options are limited compared to other platforms like YouTube
– Small user base: The user base of PeerTube is still relatively small compared to other platforms like YouTube, which can limit the reach of content creators using the platform.
Is a Decentralized Platform for You?
In 2022, the big conversation was Web 3.0 and the trend toward decentralized apps as an alternative platforms to Twitter, Facebook, LinkedIn.
This year, you can see that there are innovations in this space that are hitting the mainstream.
Let's face it, they are still a bit clunky, with user bases that are relatively small and only filled with early adopters.
But don't write these off just yet.
Take the time to explore these platforms and learn how to join and engage.
I would recommend you explore Discord first, it's the easiest to join, search, and engage on.
Whatever you do, please take the time to listen, get to know people and learn. Do not try to pitch or sell.