We did an email marketing survey to find out how consumers felt about the emails they got from businesses. Here are the results.
It can be tough to know customers want from your email marketing. We've been transitioning into Web 3.0 for the last year, and whatever you thought you knew about email may or may not be true.
Should you send long emails or short emails? What types of things do your customers want in exchange for their email?
Most businesses just send whatever email they feel like sending that day and hope for the best. But this isn't a very effective strategy because it's hard to know what your customers actually want.
We surveyed over 400 consumers to find out how many emails they were dealing with, what they liked to sign up for, what they opened and what they read.
Here's what we learned.
Email Marketing Survey Results
Email Inboxes are Overflowing
I thought it would be fun to see how many emails people had in their inboxes. I expected the results to be evenly divided across the categories. But I was wrong. Half of our respondents had more than 100 emails in their inbox!
That's a lot of email! I'm assuming that a lot of these emails are from businesses like yours and a lot of these emails are getting ignored.
What kind of emails to send to your customers?
Send Shorter Emails
The survey found that most people (86%) prefer short emails, while 14% prefer long emails.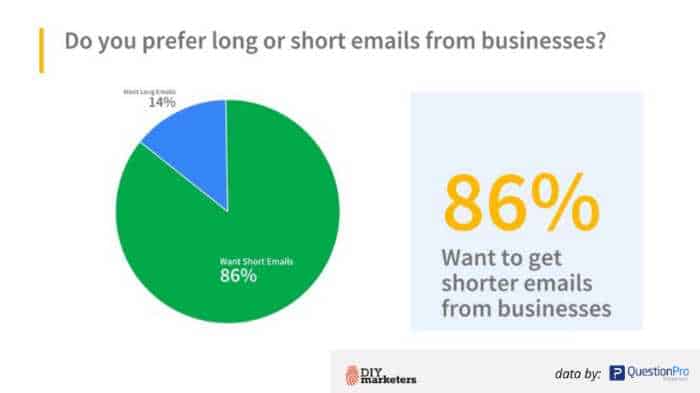 40% of all emails are opened on mobile. When you consider how many emails are opened on mobile, you can see why it's so important for emails to be short, sweet, and get to the point.
So, what to put into the emails? What do your customers want from you?
Send Promos, Discounts, Savings and Timely Information
We're always talking about lead magnets as a way to build an email list. So, I asked our consumer panel what they are happy to subscribe to.
Not surprisingly, consumers want deals. promotions and discounts — and not newsletters or courses.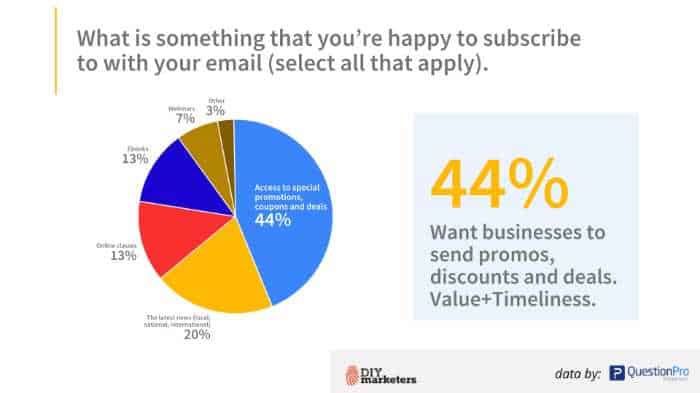 Of course, that doesn't mean that offering a course or an ebook isn't worth doing, just know that if your customers are going to open an email, they want to know about a promotion, deal, or discount.
You Can Stop Flooding Them With Email
Years ago, the going advice on email was to email anywhere from daily to a few times a week.
You do you.
But the average consumer receives too many irrelevant emails.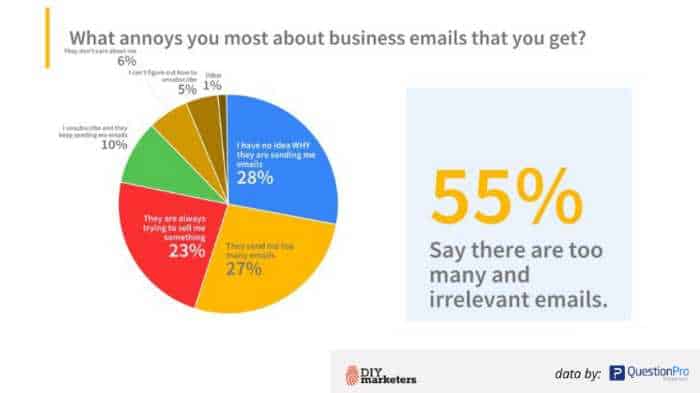 Email Updates for Web 3.0
We are transitioning into Web 3.0 which is focused on consumer privacy and security. When Apple launched its iOS update 14.5, 88% of users literally opted out of being tracked. This means that businesses will NO LONGER know whether or not these people opened an email or not.
Open rates are irrelevant and the number you see is WRONG.
This is a big reason why I ran this short survey — because I wanted to understand how people felt about email. What will they sign up for, what will they open and what will they read?
Write shorter emails with a clickable link
OK, so open rates are irrelevant, but click rates are still good. Consumers are telling you that they want you to send them deals and promos in a shorter email with a link.
Engage with people who want to hear from you
Finally, you don't have to engage with everyone all the time. The key to email success is creating interest-based segments and engaging with people the way they want to be engaged with.
You're going to need a better email marketing system
I don't know which email marketing tool you're using, but you're going to need a an email marketing software that goes beyond sending mass emails to everyone.
Here are a few features to pay attention to:
Tagging based on clicks: Make sure that your email software offers a tagging feature. This way when someone clicks on a link they are interested in, they are funneled into an appropriate sequence of emails that match that interest.
Automations and funnel sequences: Your email software should have the ability to create sequences based on those actions.
It should look something like this.
Know your audience and adjust accordingly
One way to get to know your audience is to run a survey just like I did here. Many email marketing systems offer a survey feature, so when you run a survey, their answers and preferences will be attached to their email record.
But if they don't, you can use any third party survey tool. I used QuestionPro, which is my favorite.
In fact, you can take these same questions that I asked and run that survey with your list to find out what type of information they want to receive.
Make sure to ask some basic demographic questions so that you can better understand their preferences and behaviors.
In this example from my consumer survey, I segmented my list based on men and women:
First, I wanted to see if there was a difference with how men and women managed their email — and there was.
When it comes to overflowing inboxes, women are more likely to have an inbox with more than 100 emails to deal with.
That's a lot of clutter. So if you have a lot of women clients and customers, be mindful of that.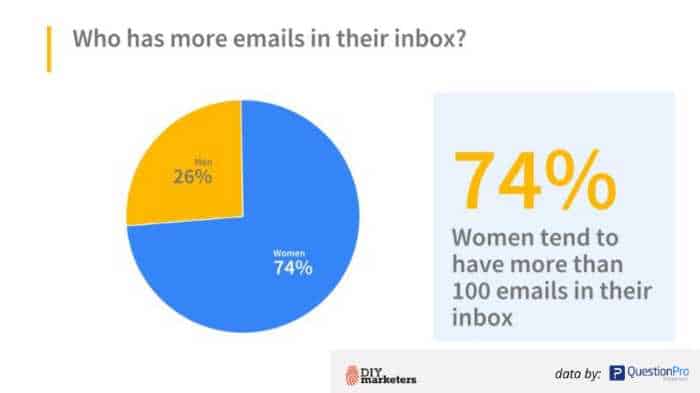 My consumer survey says that women are significantly more annoyed by irrelevant emails. So, if you have an audience or customer base that's mostly women — respect their preference.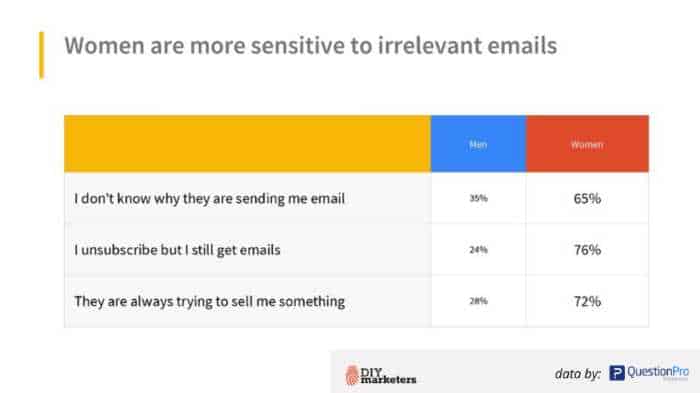 Here's What to Do Next
Look, the foundations of email marketing have NOT changed. Instead of thinking of your email marketing list as an "email list", think of it as a "buyers list".
A buyer's list contains prospects; people who want what you have, who can afford what you have and who want to hear from you.
This is what you should do next.
Clean your email list. This means removing any dead emails.
Identify your most engaged users and segment your list. The best way to do this is to send them a quiz or survey asking relevant questions about their interests or preferences.
Start sending emails BY SEGMENT. You might send segment specific newsletters, announcements and promotions.
Send shorter emails that contain links that go back to your website; this could be a relevant article or product.
Start offering special deals and offers based on your segments.
In the end, you'll end up with a smaller, but more engaged email list. And that's ultimately what you want; a list of buyers, not tryers.