It's time to upgrade to GA4; Google Analytics (Universal Analytics) new and improved platform. Here's everything you need to know in plain English.
Have you seen or heard all the chatter around the new and improved Google Analytics? If you're like me, and barely understand Google Analytics let alone a whole new platform, this will get you started.
On the more positive side of things, if you've always been confused by Google Analytics, this is your opportunity to learn the new platform from the ground up!
What does GA4 mean?
GA4 is the acronym for Google Analytics 4. I keep wanting to call it G4A instead of GA4 — so it helps to remember that it stands for Google Analytics 4 and move on.
Do I have to use GA4?
Yes. If you have a website and you want to collect visitor data so that you can understand what's working and what's not — you have to upgrade.
What is Google Analytics 4?
Google Analytics 4 (aka GA4) is the new massive upgrade of Google Analytics (aka Universal Analytics). It's so massive, that it's its very own installation and will completely replace Google Analytics. In other words, if you were to start your website today, you would install GA4 instead of Google Analytics. And if you already have Google Analytics installed, you will have to move your website property to the new GA4 from UA. See what I did there? Get used to these acronyms because that's what you're going to see everywhere
Basic Differences between Google Analytics (Universal Analytics) and GA4
While Google Analytics gathers a lot of information, it hasn't really kept up with how people actually engage with websites and it doesn't give web site owners a true picture of what's happening and why.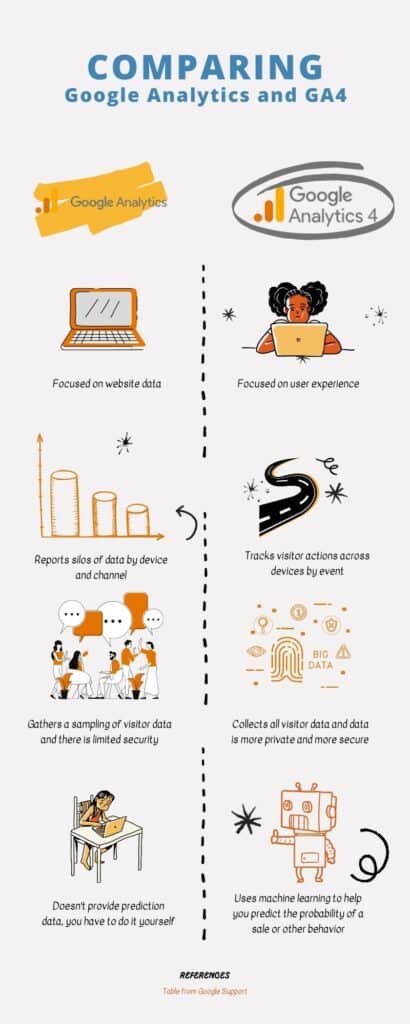 Focused on the user and their journey
The biggest development is that GA4 shows aims to show you exactly how visitors engage with your site; where they land, where they go, what they do and more.
Detailed engagement statistics
While email marketing systems and video platforms could tell you which customers clicked on your link, and video platforms can tell you which customers watched a video and how long they watched, and heat maps tell you how much they scrolled.
Now, you'll get all the information in one platform.
Driven by machine learning
While Universal Analytics (UA, Google Analytics) was driven by data and sampling, GA4 is driven by machine learning for its data collection.
Upgrading to GA4 from Universal Analytics
In this section I'm going to answer some of the most basic questions around upgrading to GA4
RESOURCES: How to Upgrade to GA4
Should I upgrade to GA4?
YES! You should upgrade to GA4 as soon as possible.
Why should I upgrade to GA4 right now?
Start collecting historical data. If you wait to update to GA4 until the last minute (July 2023), you will start from zero — you won't have ANY historical data from your website.
Here are the details:
Google has put forward a timeline to sunset its predecessor, Universal Analytics from July 2023.
This means that starting on July 2023, the old Google Analytics will NO LONGER collect any of your website data.
Familiarize yourself with the platform. The GA4 will bring a whole new layout and data insights. So, you want to make sure that you learn your way around the new format.
Is GA4 Free?
Yes. GA4 is free to use. I will tell you, however, that I was only able to upgrade myself — to a point.
I ended up finding a Google Analytics expert to help me install the Google Tag Manager as well as other details and goals so that you are gathering exactly the data you want to collect. This is a great investment.
Don't Wait to Upgrade
If you're a solopreneur, the thought of upgrading to GA4 might be daunting. If you don't feel comfortable with the technology, you can hire a Google Analytics expert or web developer who will make sure that everything is implemented properly.