What does it take to get foot traffic in your store? It takes a lot of creativity. But you're up for it! Use this updated list of practical, proven and low-cost marketing ideas that will drive customers (safely) to your store.
What is foot traffic?
Foot traffic is the number of people that come to your store. Retailers use the phrase "foot traffic" to describe customers who walk in a store and buy products rather than those who drive up and back their car windows.
Why foot traffic is important
Foot traffic is important to retail success because more customers ultimately equals more sales.
"According to foot-traffic analytics firm Placer.ai, visits to indoor malls went up 3.2% compared to the same month in 2019. While this uptick can be attributed to the coming holiday season, it is a reason for optimism when it comes to in-person shopping.
22% of our survey participants said they did their shopping mostly in-store and another 4% reported shopping in-store only in the past month." Source: Creatopy)
How to Measure Foot Traffic – Collect Customer Data
Tracking foot traffic is so much easier than in the past. You don't have to stand at your door and count people coming in (although, you can if you want to). Today, it's easy to track foot traffic. There are several free tools you can use that will measure foot traffic to your retail store. Here is a short list from FitSmallBusiness.com.
Placer.ai (free): This free tool gives foot traffic counts and other limited data for any existing business, venue, shopping mall, or casino. More advanced reports can be purchased.
AreaVibes (free): This beautifully designed site doesn't give foot traffic counts, but it does provide other valuable geographic lifestyle and demographic data for free, including insights into community population, amenities, and walkability.
LocationOne (free): Using the free "Property Search" tool, you cannot only access available commercial properties but download reports outlining everything from foot traffic in the immediate area to category spending within a multi-mile radius.
Measuring foot traffic and identifying traffic patterns is important if you want to drive traffic in store.
Foot Traffic Measurement Tools
Don't stress if you don't know how to count visitors; you won't have to stand at the door and manually count people going in and out. Fortunately, there are several fantastic tools available to assist you in calculating foot traffic and collecting information about the consumers who visit your physical location.
Now, let's look at how to measure the number of people who visit your store.
Video Cameras
A simple solution is to install video video cameras to track how many people come into the store.
Shoppe Watch is an AI-powered solution that uses video footage to not only count the number of people who visit your store but also provides information about their gender, age, and how long they stay.
WiFi Counters
If you have a WiFi network set up in your store, you can use it to get insights into Keep's WiFi counting solution is a great example of how you can use this technology to get information about your store's foot traffic.
Beacons
Another way to get information about foot traffic patterns is to use beacons. Beacons are small, wireless devices that communicate with smartphones and other devices nearby.
When a customer enters the store, their Keep's beacon solution uses beacons to collect information about the shoppers who visit your store and sends it to a dashboard where you can see how many people came in, how long they stayed, and what products they were interested in.
ShopperTrak 
Sensormatic's ShopperTrak product is a people-counting and conversion-tracking system. It can tell you things like how many people visit your store, how they move around, and what you can do to improve their experience while inside.
Dor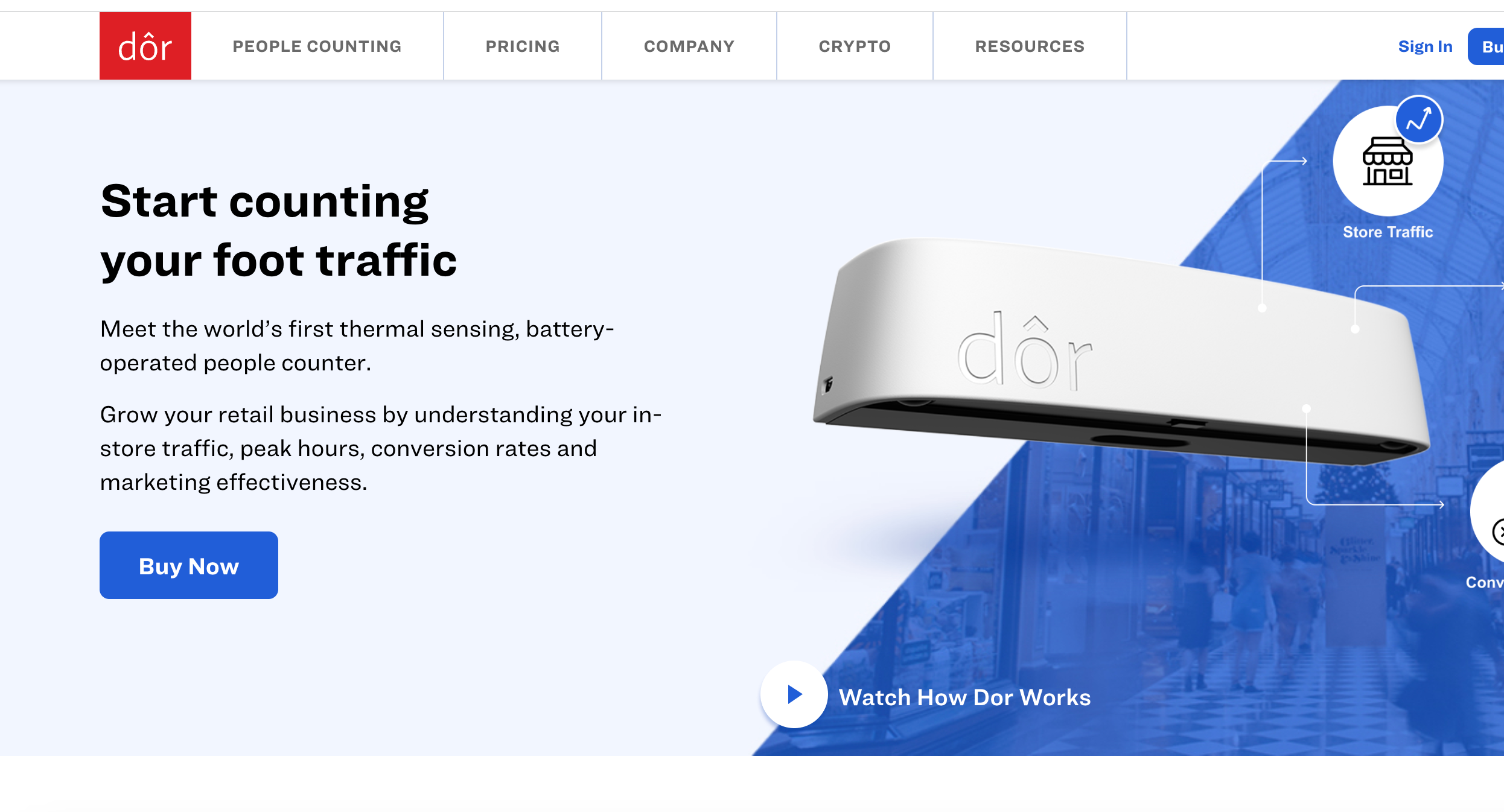 Dor's thermal-sensing people-counter is battery operated and can help you track how many people visit your store. You can use this information to figure out how to schedule your employees, and also see if your marketing campaigns are working. All you have to do is stick it above the entrance of your store and it will count the people who come into the store.
The good news is that these tools aren't just for places with high foot traffic.
Foot Traffic Trends and Ideas
With 40% of US shoppers saying they don't enjoy shopping in physical stores as much as pre-pandemic, it's time to redefine the shopping experience — beyond an online store; not just for local stores, but for a variety of other brick and mortar locations and businesses.
Retail store foot traffic is all about distribution
If you've been counting on retail foot traffic to increase sales, you'll need to expand your marketing efforts. Store front foot traffic data is really about connecting your product with the customer.
Distribution (or Place) is the part of the marketing mix that deals with putting your product or service within arm's reach of your customer.
Retail Foot Traffic Statistics
There's a lot of good news for small businesses and local businesses when it comes to foot traffic. Recent studies of retail businesses have found:
In this section, let's take a look at some creative ways to attract customers that will take your brick and mortar location to the next level.
Think Beyond "More Foot Traffic"
You don't just want to increase foot traffic, you want to increase buyers! So, your goal is to increase foot traffic of people who will buy and not just walk around your store.
In the past, we thought that if you increase foot traffic you'll increase sales. Anyone who has been tracking foot traffic and not seeing sales go up – knows there's more to it than that.
How to Increase Foot Traffic For Retail Stores and Restaurants
Increasing foot traffic — especially retail store foot traffic, can seem daunting. It requires a lot of creativity and out-of-the-box thinking.
1. Focus on a "Customer – Problem – Offer" to Drive Customer Traffic
In order to make any of these ideas work, you need three things; a very specific customer with a specific problem (need) that your offer (product or service) solves.
This is important because you want to engage with your customers online and have those specific customers drive higher foot traffic and increase your foot traffic numbers with paying customers.
Here's how to do that:
Select a very specific, loyal and profitable customer. Sit down and think about who your most loyal customers. They will also be your most profitable. These are the people who purchase more than one product or service, more often. These are also people who drive referrals and new customers to your business.
Find their painful problem and solve it. With these people in mind, identify the problem you solve for them and the big reason they prefer you (at any price). I recommend simply asking a question like any of these: Why do you love shopping here? What is it that you can get here that you can't get anywhere else? These kinds of questions will help you turn up the volume on what matters most to them.
Create an offer around the solution. Your next step is to craft an offer that gives your loyal (and profitable) customers more of what they want and less of what they don't. Your offer isn't just a solution, it's something that builds brand awareness, turns your sales floor into a unique customer experience, increase your customer base of target customers, build customer loyalty and encourage customers to refer you.
2. Integrate your online and offline marketing
Until the pandemic, most local businesses kept their online and offline marketing somewhat separate. Restaurants and retailers would use ads and coupons to drive in store traffic. Then they would use social media and email to update audiences and boost foot traffic even more.
Today, local businesses like restaurants and retail stores are getting more foot traffic from customers by creating a cohesive strategy that includes both online shopping and offline ideas to increase store traffic.
3. Take it on the road
If your customers can't come to you, take your brick and mortar store to them. This will allow you to provide an in store experience safely. Restaurants are doing that with food trucks, and you can do the same if you're a retailer or even a B2B business.
4. Take it outside
Restaurants learned this strategy early on. But other brick and mortar stores and retailers can do the same. Take advantage of
5. Adjust your store layout feature your online presence
Shift the purpose of your physical store from a retail space to an entertainment space. The biggest complaint from local business is that customers come in to browse but buy online. Make this work for you! Instead of fighting online sales, become an online retailer with a physical store. Make your physical store an experience and include links to your online store (Amazon.com) where customers can purchase have have products delivered to their door.
6. Take it online
If your business is brick and mortar but you don't want to take it on the road or outside, look at how successful retailers like Warby Parker are taking their stores
7. Host in store events
Get customers in the door by hosting special events that are unique to your business.
8. Create a loyalty program
Keep customers coming back with a loyalty program that rewards them for their purchases.
9. Offer exclusive deals and discounts
Give customers a reason to come in to your store by offering exclusive deals and discounts only available in store.
10. Get creative with store hours
Change your store hours to attract different types of customers.
11. Make your store an experience
Go beyond just selling products and create an experience that engages customers and encourages them to stay longer.
12. Piggyback on major events in your area
Is there a major event happening in your town or city that you can tie your business to? For example, if there's a big festival or parade coming up, get a booth
13. Give discounts and deals for first-time shoppers
Get customers to come back again by offering them a discount or deal on their first purchase.
14. Offer promotions through email marketing
Send out email updates with exclusive offers, deals, discounts and coupons that can only be redeemed.
15. Send gift certificates in the mail
Want to increase customer engagement and fill your store with buyers? Send your repeat customers a LETTER and include a substantial gift certificate ($25 or $50) you won't be sorry! This will drive foot traffic and fill your store with customers eager to buy.
16. Get your customers to invite their friends via social media
Another way to drive in store traffic is to run a "Bring a friend" campaign on social media. This is ideal if you have a retail store. Give an INSANELY generous discount or add-on offer (of a loss leader) if your customer and a friend come in together.
Here are some great referral tips and tools for brick and mortar retailers:
Have an idea for your referral program. Will you be rewarding customers with cash or freebies? Will you offer rewards for every single referral? It helps to have a general idea in mind to guide your marketing campaign.
Select refer-a-friend campaign rewards that best motivate your customers to share your brand. (We'll dive into the best campaign incentive ideas and why they work below. )
Make sure your refer-a-friend campaign is easy to find. Customers should be able to refer their friends in as few clicks or taps as possible.
Know when to ask customers to refer a friend. (The best time to ask is usually when customers are happiest.)
Design the referral experience. Let customers choose from a variety of marketing channels and give them a unique referral link they can easily share.
Promote your program, and encourage viral sharing, by integrating social media into your campaign.
Use referral marketing software (such as Referral Rock software!) to track your referral progress and conversion rates.
17. Get your store featured on local blogs or social media
The most effective ways to create buzz and attract consumers to your new business are through social media and word-of-mouth marketing.
Here's an example of a hyper-niched local business in my town that went viral thanks to a local travel blogger's TikTok.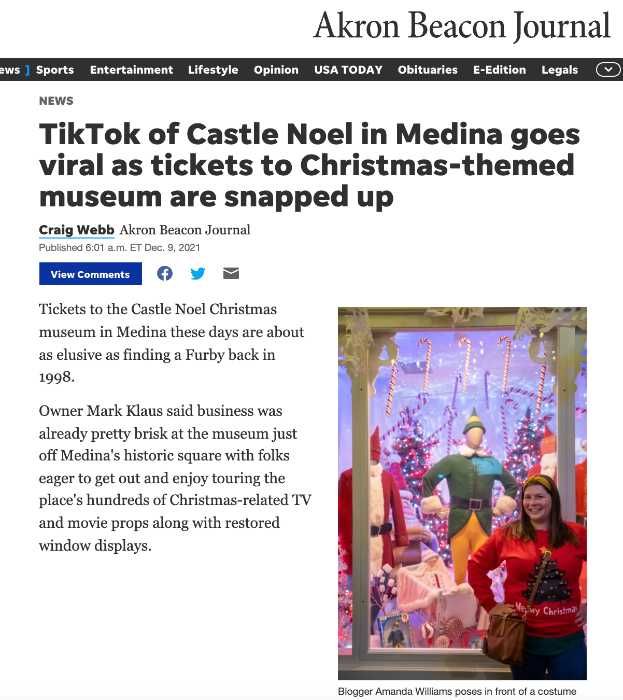 18. Promote daily deals on all your sales channels and through other local businesses
If you're hosting in-store events or sales, get the word out by offering discounts and deals on social media channels like Facebook. You can also get promotional support from other local businesses that want to get more customers coming in during your sale or event.
19. Get creative with your window displays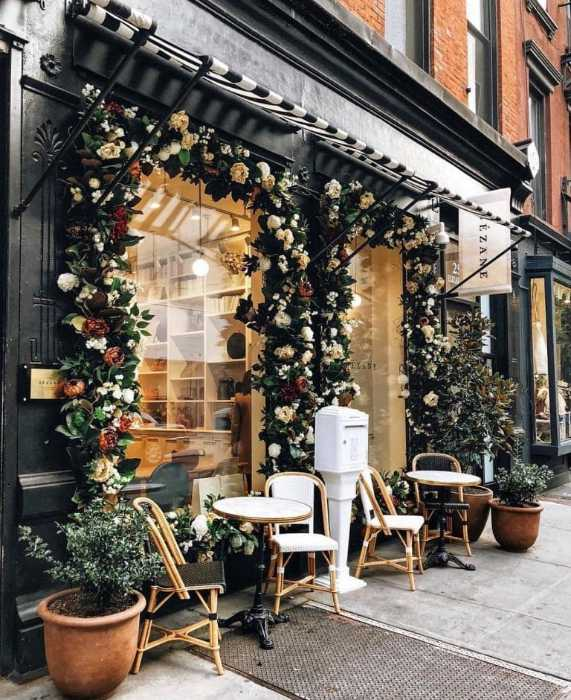 Want to get real customer engagement from your local community? Take your window display OUTSIDE. This retailer tool advantage of a high foot traffic area by inviting passers buy to sit down and stare inside their store!
20. Make sure your employees are knowledgeable and passionate about the products they're selling.
Your competitors (especially the big box stores) have been cutting costs by reducing the number of people (and quality people) on the sales floor. The biggest in store promotions you can do is by providing excellent customer service and a killer in store experience.
21. Cross-promote with other businesses in your area.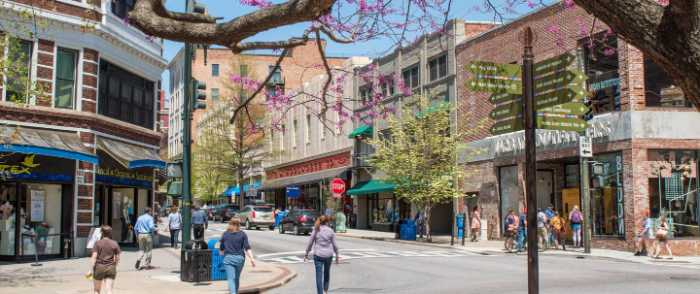 Look for other small businesses in your neighborhood who sell to the same target customer demographics as you do. If you're lucky enough to have a local business with a complementary product — even better.
Create a partnership that includes recommending each other's retail location to your target audience. Co-brand window displays. Feature each other on your social media channel, and encourage store visits.
You can offer a "foot traffic coupon" to your local partners that they can share with their customers.
22. Get involved in local festivals or parades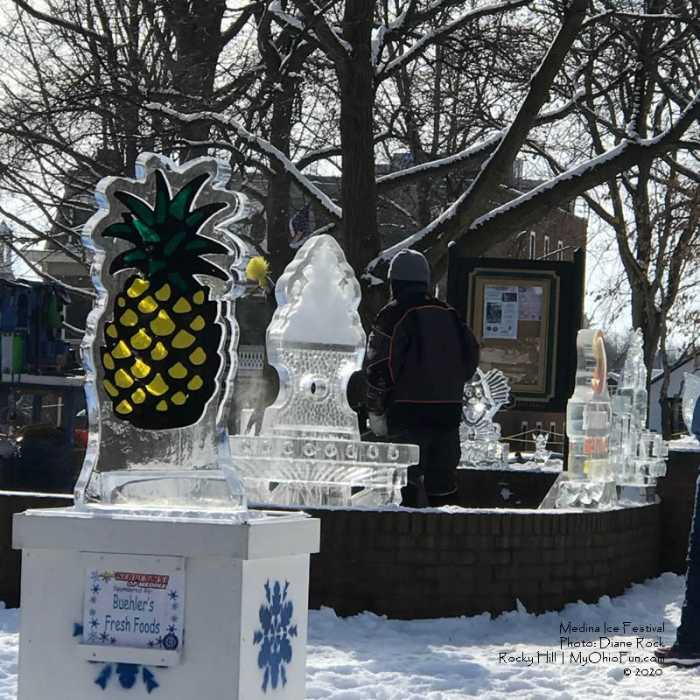 Our town has dozens of events and parades that increase retail foot traffic and drive customers and loyal customers to the store.
22. Offer a membership or rewards program
Why should Costco have all the fun? How would you like to get paid twice each month? That's what a membership or rewards program can do for you. Here's how that works:
Create three levels of membership for your customers. A basic level that includes coupons and discounts only. An intermediate level that includes discounts and one free item, a VIP level that includes discounts, free items (buy one/get one) AND a VIP event where they can bring a friend.
Identify your TOP customers (based on your customer data) and propose that they purchase a membership. Also be sure to generously reward your customers for referring friends.
Host a VIP customer event where they get to bring a friend and that friend gets to purchase a membership.
You'll get paid once each time for each membership that a customer purchases. Then, they will pay you AGAIN as they start using their membership benefits.
Not only that, they get to share the customer experience with their friends and on social media.
23. Get great reviews online and bring them to the front of your store for all customers to see
What's the best online presence you can have? Great reviews — that's what.
First, you have to make getting great reviews a priority and that means having knowledgeable, happy, well paid employees.
Next – make it insanely easy for your customers to leave a positive review. You can create QR codes at tables, for example.
Want to get even more creative? Assuming you have employees with personality, you can provide a great experience, take selfies or have employees take pictures of guests and ask them to post it to Facebook along with a review and a special offer for anyone who leaves a comment.
24. Get buy-one-get-one deals when they leave the store
Want to REALLY up the customer experience? Give your customers a free gift or two so they can share with a friend. This will definitely build loyal customers.
25. Get involved in community initiatives like cleaning up litter or planting trees
Another way to increase foot traffic is to participate in your local community. Make your brick and mortar store a headquarters for community initiatives. This will bring people in store and serve as one of your more subtle sales channels.
26. Speed up the shopping experience
Every retail store wants a line of potential customers outside their store. The one time that isn't good is when they have to wait in line to buy.
Look for ways to speed up in store check out experience. Buy online and pick up in store.
27. Get a mascot for your store
Lots of local businesses create a great in store experience because they use their pet as a mascot. You don't have to have a pet in your store. You can create your own mascot. Mascots are an ideal way to feature the heritage of your brand.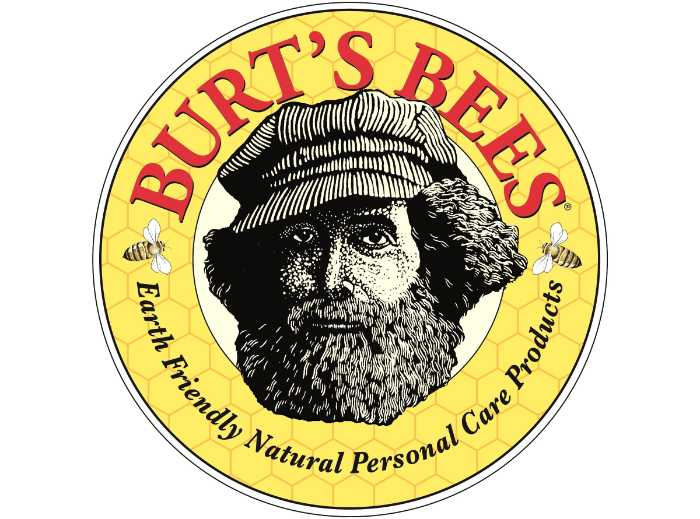 28. Team up with other businesses in your area to do a "shop crawl"
One of the great things about running a Main Street business is the camaraderie that develops between the businesses.
When your town is having an event or parade, create an experience for customers by hosting a "shop crawl". You can print up a simple "passport" that rewards customers with a t-shirt or discount for visiting your businesses.
29. Open a pop-up store in a trendy neighborhood for a limited time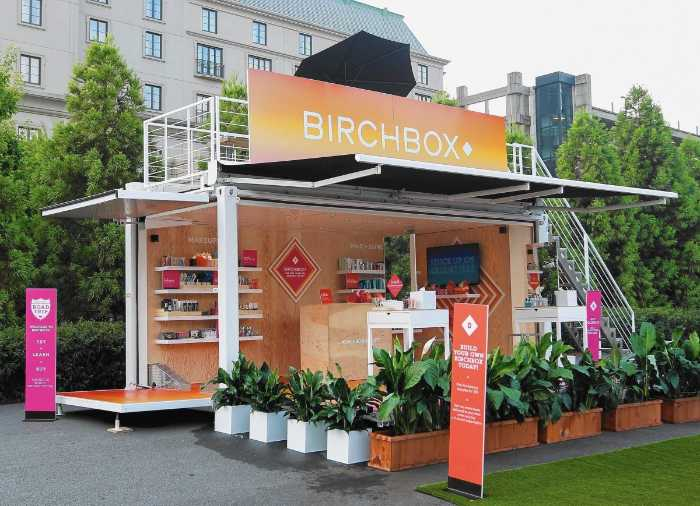 If you are a restaurant or retailer with a unique product and only one location, expand your territory and open physical locations with a kiosk or pop up store (or truck) and visit regional neighborhoods or shopping centers with your best products.
This is a great way to go beyond your existing customers and encourage a store visit and create a real life experience of local search.
Want to take your partnership strategy to the next level? Find local stores or another retail business that wants to expand their retail locations and invite them to your neighborhood.
Foot Traffic Examples: How a Restaurant Drove Foot Traffic Without Advertising
The other day I was listening to the "How I Built This" podcast with the founder of the 5 Guys Burger Chain, Jerry Murrell. Here is his secret — deliver the best product, service, and experience for your customer.
He observed that a local restaurant had no marketing, no signs, no NOTHING and yet had a line of rabid fans outside their door. WHY? Because the food was so good that people talked about it and frequented the restaurant.
He decided to do the same; best meat, best fries and best oil. Yes, it cost more than a fast food burger, but people loved it, found it and the chain grew.
Never underestimate the power of over delivering on quality to drive more traffic back to your business. Take a deep look inside the products and services you offer and uncover one or two things that you can over deliver on; what can you do to knock it out of the park?
Your customers will reward you by showing up, sharing with friends and ultimately creating a line outside your door.
30. Send Marketing Email Coupons
Customers LOVE getting relevant emails that contain coupons and specials that remind them to come back to your store. 
Don't be afraid to send weekly or daily email specials because your special might be just what they are looking for.
31. Run a Promotional Event
Did you just get a shipment of a cool new product?  Tell your customers about it and run a sort of "Blue Light Special". Think of this as an advertising expense.  You can sell a fixed amount of product or service at a deep discount for a limited period of time, give existing customers the opportunity to try it and like it and share it, then come back for more — even at a higher price.
32. Support, Sponsor, or Host Charity Events
Charity events are a great way to build goodwill among your community and increase foot traffic to your store.
Look through your local paper or check your local city's community Facebook pages to find out if there are any upcoming events in your area and see if you can support, sponsor or host a charity event for a cause you really care about.
33. Google Ads
If you have a brick and mortar location, consider running Google AdWords campaigns to target local searches.
You can use keywords such as "restaurant" or "retail store", or even "local pizza place" and "pizza delivery" to reach customers searching locally.
Targeting these keywords will bring you potential customers who are actively seeking your type of business.
34. Run Flash Sales
Flash sales are a great way to generate buzz around your brand. They also help you test different items and prices before going live with them.
To set up a flash sale, create a landing page where you list all of your products and services and include a countdown timer.
When the timer is done counting down, start selling!
35. Google My Business
Make sure that your Google My Business listing is complete including photos, reviews, hours of operation, directions, phone number, website address and other important information.
Your customers are on autopilot and aren't aware of the variety of products and services that you provide, so make sure to add any new products and services that you're offering — including any specials to your Google My Business listing.
Add a map to your listing so that customers can easily find your store.
Use the Google My Business dashboard to monitor how well your listing is performing and make changes when necessary.
Conclusion
There are many ways to get foot traffic into your store, and the ones we've listed here are just a few of the most popular. Each of these methods has its own set of benefits, so it's important to choose the one that will work best for you and your business. If you're not sure which method is right for you, talk to a foot traffic expert who can help you get started.