Are you looking for an effective, low-cost marketing tool to help grow your small business? If so, a Gumroad review may be just what you need.
With the increasing popularity of online shopping and ecommerce platforms, it can be difficult to decide which one is right for your needs.
In this article you'll get a basic Gumroad review that will discuss its history, features & benefits, types of products you can sell on it and who should use it as well as compare it with other popular options such as Shopify , Etsy and Kajabi .
So if you're curious about how Gumroad stacks up against these competitors then read on.
How I found Gumroad
It all started when a team I worked with was looking for an easy way to upload some videos so they could sell access to the library. We didn't want to "gum up" their existing website, and we didn't want to pay a hefty monthly fee either.
Someone mentioned Gumroad as an option and I had to check it out.
Soon after that, I was doing some research on AI prompt engineering and noticed that many prompt engineers were posting their prompt libraries on…Gumroad!
Hmmm – there's something happening here and I wanted to tell you all about it in this Gumroad review. So let's see if it's right for you.
Gumroad Overview
Gumroad is an online platform that enables users to easily sell digital products, such as ebooks, music, videos, and software. Founded in 2011 by Sahil Lavingia, Gumroad was created with the goal of helping creators make money from their work without having to go through a middleman or deal with complicated coding.
One of the things I love about their positioning in the marketplace is that their goal is to get you to selling ANYTHING! Their home page says it all — get from zero to $1! I love that.
Features I love
Easy to get started: 
Gumroad offers a user-friendly interface, making it simple for anyone to create a Gumroad account and begin selling their digital products or services.
There is no need for coding knowledge or technical skills; all that is required is signing up, creating the product page, uploading files, setting prices and discounts (if desired), then sharing the link with potential customers through email or social media platforms such as Facebook or Twitter.
Low-cost
One of the main advantages of using Gumroad is its low cost. The basic plan costs just $10 per month, making it one of the most affordable options available for selling digital products or services.
Customizable storefronts:
Gumroad also allows you to customize your storefront with images, videos and HTML code. This allows you to create a more personalized experience for customers, which can help increase sales and improve customer loyalty.
Easy to understand analytics
Gumroad provides analytics so that you can track the performance of your store and make changes if you want to. The analytics are easy to understand and can help you identify which products or services are most popular with your customers.
Secure payments: 
Gumroad's payment processing system is secure, so you don't have to worry about the safety of your customer's information.  While you can use a variety of payment platforms like PayPal, you don't have to.  You can also use their own native payment platform as well. 
Pay what it's worth option
Some people really like the "pay what it's worth" option.  I'm not one of them because if I can get something for free, I will.  At the same time, this option makes it easy to give people a sample of your digital product. 
Key Takeaway: Gumroad is an ideal platform for small businesses looking to quickly launch their own store, as it offers a range of features and benefits at an affordable cost: no transaction fees, user-friendly interface, analytics tracking, customizable checkout pages, integration with payment processors.
Library
Gumroad is all about community, they recognize that sellers are buyers and vice-versa. So they give you a library where you have everything you've bought in one place.
Here's what mine looks like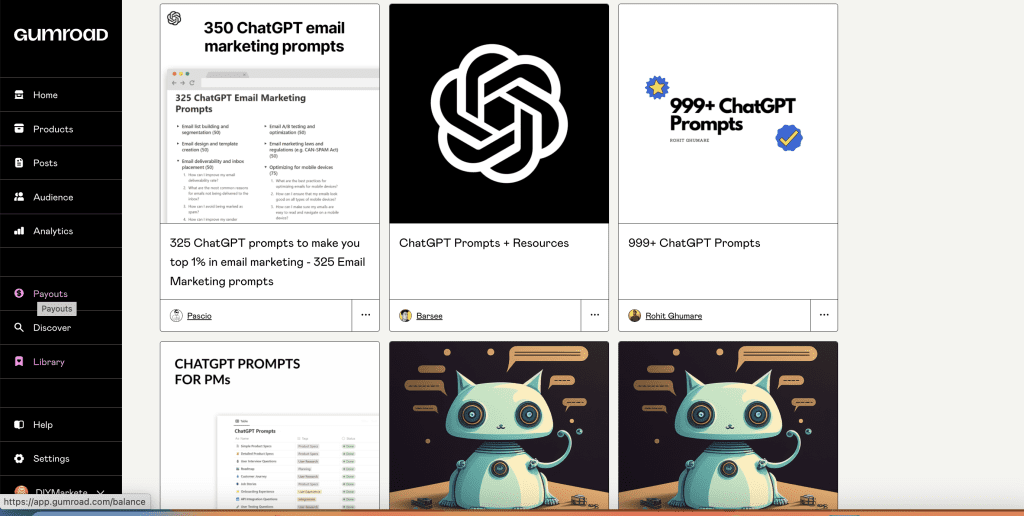 Email marketing
Yes, you can do email marketing from Gumroad. But again, this is really low-tech, low-level. I'd say it's just enough email marketing to get you started. Don't look for extreme bells and whistles here.
Analytics
There is a decent analytics dashboard.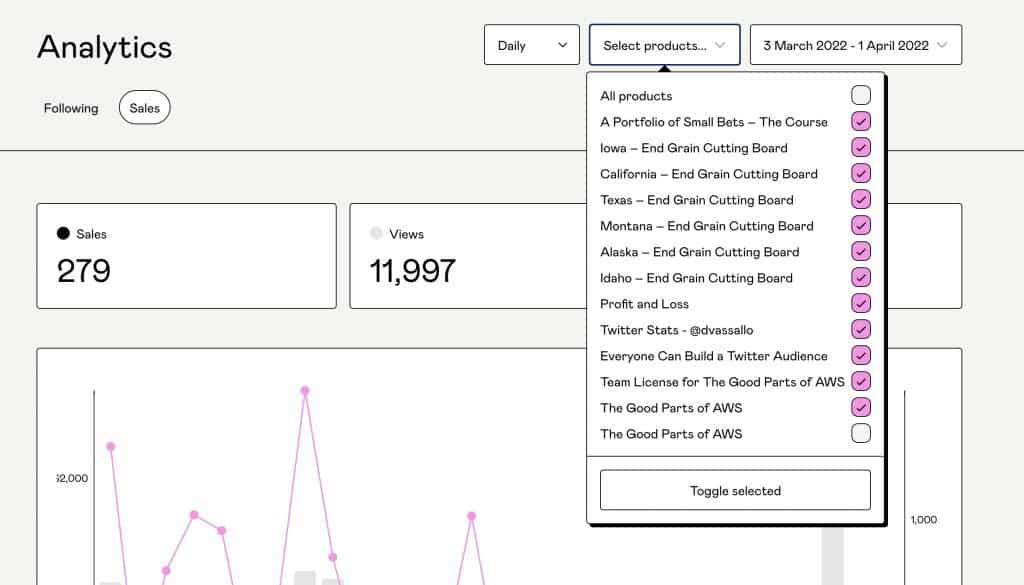 One thing I love about this dashboard is that it gives you everything you need, and nothing you don't. You'll see you sales trends, by products. and there's also a great "referrer" section where you can track referrals.
Products You Can Sell on Gumroad
Gumroad is ideal for digital products and even lead magnets.  Here are just a few things I've purchased on Gumroad:
Articles and Guides
Checklists
Notes — such as AI prompts
ecourses
Subscriptions
It's a great way for small businesses and entrepreneurs to reach out to potential customers without having to invest in expensive marketing campaigns or storefronts. With Gumroad, you can easily set up your own store and start selling digital goods such as ebooks, music, videos, software programs, artwork, photos and more.
How to Set Up Your Gumroad Account
The first step in setting up your store on Gumroad is creating an account with the website. Once you have created an account with them, you will be able to access all of the features available on the site including product creation tools and payment processing options.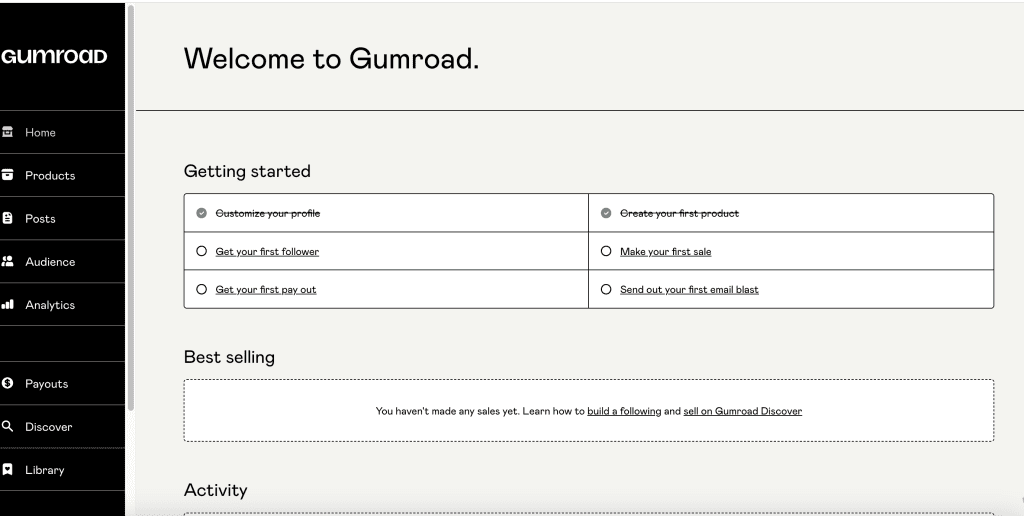 After you register, you're greeted with this simple checklist to help you start your store.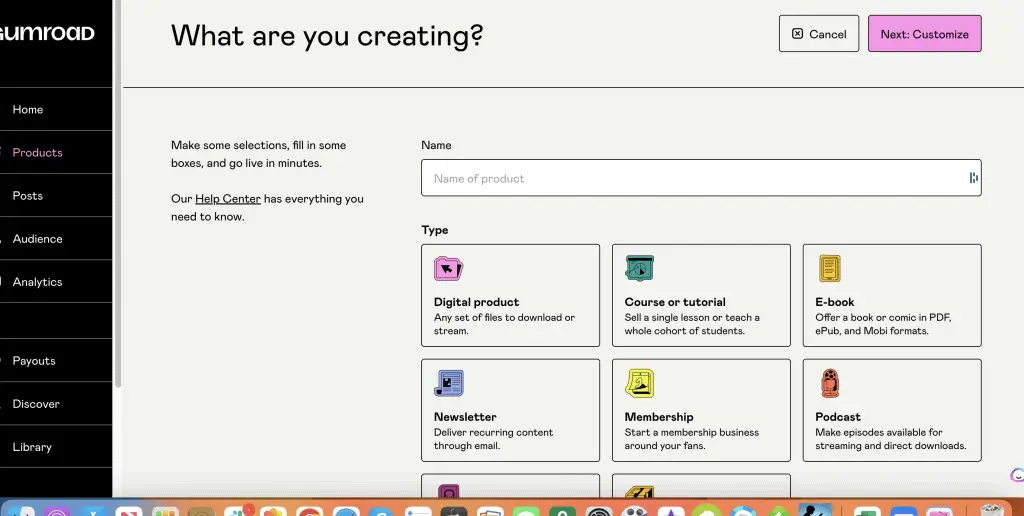 Just click on "new product" and select from the product type list.
This list includes:
Any digital product
Course or tutorial
eBook
Membership
Newsletter
Podcast
Audio book
Physical products
NOTE HERE: Yes! You can sell physical products, but I'm not recommending Gumroad for that in this review. I think you can do much better with other platforms like Shopify, Etsy, and Amazon.
You can also customize your store by adding images and descriptions of each product you are offering for sale.
Upload Your Products
When it comes to what types of products you can sell on Gumroad there really isn't any limit as long as they are digital goods that can be downloaded or streamed online after purchase.
Some popular items include ebooks (such as novels or non-fiction books), music albums/singles/EPs (MP3 files), video tutorials (HD quality video files), software programs (Windows/Mac compatible applications) artworks (photos & illustrations) templates & themes (for websites & blogs). 
Key Takeaway: Gumroad is an online platform that enables creators to sell digital products directly to customers. It offers a wide range of products, from ebooks and music albums to software programs and artwork. It also has subscription services available for those who want recurring revenue streams.
Who Is Gumroad Best For?
Gumroad is a great platform for entrepreneurs, creators, and small businesses who want to start selling their products online. It's an easy-to-use ecommerce solution that allows you to quickly set up shop and start selling digital or physical goods.
Even established digital content creators can use Gumroad to test out new content ideas.  Since you can set up a new product to sell in just minutes, it's a great way to test out what's most likely to work online. 
Gumroad also makes it easy to track sales performance by providing detailed analytics on customer purchases. This way you can see which products are performing well and adjust your marketing strategy accordingly.
Gumroad has a built-in affiliate program so you can reward people for promoting your business through word of mouth or social media campaigns.
Another great feature of Gumroad is its flexibility when it comes to pricing models; you have the option of setting fixed prices for each item or offering discounts based on volume purchases (e.g., buy two get one free). You also have control over how much shipping costs will be charged per order as well as whether taxes should be included in the price or not.
Finally, Gumroad supports multiple currencies so customers from around the world can purchase items from your store without worrying about exchange rates affecting their orders.
Gumroad is a great option for entrepreneurs and creators looking to quickly get their products out into the world, but it's important to compare it against other e-commerce platforms such as Shopify before making a decision.
Key Takeaway: Gumroad is an ideal ecommerce solution for small businesses, offering easy setup and payment options, detailed analytics, flexible pricing models, and support for multiple currencies.
Gumroad vs Shopify
Overall, if you want to sell digital products, choose Gumroad. If you are selling physical products choose Shopify.
Shopify was originally built for selling physical products and has a robust inventory management system. Gumroad is targetted toward startup content creators who might want to test a digital product first without building out an entire site.
Key Takeaway: Gumroad is a great platform for small businesses to start selling digital downloads due to its low cost structure and user-friendly interface. It also supports physical goods, subscription services, detailed analytics, and no transaction fees when selling digital products.
Gumroad vs Etsy
Etsy started out as an "artists" or "crafters" market, but has expanded into the digital product space as well.  Just like with Shopify, Etsy has more features targeted toward physical products.  And, it may take a little extra time to create your Etsy store.  
Gumroad is quicker and easier to set up.  But, because it's relatively new, it doesn't have the syndicated size of community.  In other words, people are more likely to have an Etsy app on their phone and search there. While you'll generally have to build your own traffic for Gumroad. 
Gumroad vs Kajabi
I think Gumroad is a terrific competitor to Kajabi because of how easy it is to set up and get started.  However, it's not an online product marketing machine like Kajabi is. 
Kajabi focuses more on helping entrepreneurs create courses and membership sites rather than just simple stores where people buy one-off products. This means that Kajabi is geared towards those who want to teach others something rather than just selling stuff. So if your goal is building a course or membership site then Kajabi would be the better choice here.
Since its focus is different from Gumroad's main purpose, you won't find the same level of customization options within Kajabi's dashboard which might make it difficult for someone who wants a highly customized experience.
Who Is Gumroad Best For?:
Newbies: If you're just starting out and don't know the first thing about selling digital content, Gumroad is a great place to start. It's easy to set up, you don't have to deal with complicated shopping carts, and it will help you flush out ideas.
Coaches, consultants, and cource creators: Even if you're already selling online content, Gumroad prides itself on helping you test out new content. 
Authors: If you've been writing short books, ebooks, and guides, you can leverage the Gumroad community to start making money on your content while flushing out new ideas. 
Developers: This might be unusual, but I've seen a few technical people selling code, AI prompts, and a variety of developer products that they wouldn't be able to sell elsewhere. 
Key Takeaway: Gumroad is a great choice for small businesses who want to quickly set up an online store without coding knowledge, as it offers low fees and powerful marketing tools. It also allows for custom product page designs and real-time sales tracking. However, if you're looking to create courses or membership sites then Kajabi would be the better option.
Gumroad Pricing:
Gumroad charges a 10% fee on every sale. This does not include credit card processing or PayPal fees. There are no monthly payments or other hidden charges.
Free products have no fee.
If you wish to see the exact fees taken out on every sale, you can export a CSV of your sales, giving a full breakdown of every sale.
Key Takeaway: Gumroad and Kajabi are both great options for entrepreneurs to start selling digital products online quickly. However, it is important to consider which one is right for your specific needs best overall as each has its own advantages depending on what type of business model you're running: • Gumroad offers free plans with no monthly fees but transaction costs. • Kajabi charges a flat rate starting at $119month with no additional transaction fees or setup costs. • Gumroad supports subscription services while Kajabi does not.
FAQs in Relation to Gumroad Review
Is it safe to buy from Gumroad?
Gumroad is a secure platform for purchasing digital products. All payments are processed securely through Stripe, and all personal information is encrypted using industry-standard SSL technology. Gumroad also has several features in place to protect buyers from fraud, such as requiring two-factor authentication and offering buyer protection if an item purchased does not match the seller's description. As long as you take the necessary precautions when making purchases online, buying from Gumroad should be safe.
Why do people use Gumroad?
Gumroad is a popular platform for small businesses to market their products and services. It offers an easy-to-use interface, allowing users to quickly create digital storefronts with no coding knowledge required.
Gumroad provides low cost marketing tools such as analytics tracking, email campaigns, and custom product pages that help small business owners maximize their reach and revenue potential. Furthermore, the platform also offers tips and strategies on how to effectively promote products or services online in order to drive more sales. With its combination of affordability and powerful features, it's no wonder why so many people use Gumroad for their small business needs.
How much do people make on Gumroad?
Gumroad is a platform that allows creators to sell digital products, such as ebooks, music, videos and software. The amount of money people make on Gumroad depends on the price they set for their product and how many sales they generate. Generally speaking, sellers can expect to earn anywhere from 10-90% of the total revenue generated from each sale.
Gumroad also offers various promotional tools which can help increase sales and boost earnings potential. Ultimately, it's up to each individual seller to determine how much money they make through Gumroad by setting prices accordingly and leveraging available marketing strategies.
Do you have to pay for Gumroad?
Gumroad does not require payment for its services. It offers a free plan that allows users to sell digital products such as ebooks, music, videos and software with no transaction fees. However, the free plan has limited features compared to the paid plans which offer more customization options and advanced features like analytics and customer support.
Conclusion
In conclusion, Gumroad is a great platform for small businesses looking to create and sell digital products with minimal effort. It offers an array of features and benefits that make it easy to use and cost-effective. With its wide range of product offerings, pricing plans, and integrations with other platforms like Shopify, Etsy, and Kajabi; it's no wonder why so many people are giving Gumroad rave reviews. If you're in the market for a low-cost marketing tool or strategy for your small business then be sure to check out what Gumroad has to offer.