Let's talk about high converting lead magnets! You always hear how the best way to grow your email list and generate new clients is by offering a high converting lead magnet.
But what KIND of lead magnet delivers the most value to your prospects and the most prospects for you?
I was curious about that too, so I asked the community and here's what they said.
But first a few basics.
What is a Lead Magnet?
A lead magnet is something of value that you provide your audience in exchange for their email address and/or other contact information.
Some of the most popular lead magnets include:
Checklists
Ebooks
Webinars
Quizzes and Surveys
Reports
Contest
Calculators
Software or tools
Templates
Informational Videos
Courses
So how do they work? Here are a few examples.
Organize Third-Party Webinars
My most successful lead magnet to date has been hosting webinars for a third party that targets the same customer base as me. These webinars have helped me get my feet wet as a speaker and coach, as well as hear what my customers' pain points are first-hand. Plus, I book a lot of introductory calls following the sessions. 
In fact, in 2022, I booked over 30 calls with pre-qualified leads that I was able to establish an ongoing business relationship with. Those relationships have then, in turn, led to referrals, testimonials, and, roughly 15% of the time, become my direct clients. I realize those numbers might seem small to some of you, but remember, these people come in at the middle of my funnel because they already feel they know me, so I don't have to convert them from cold to warm. Additionally, 30 calls equate to potentially two to three qualified leads a month for my business, which is more than enough to keep my consulting pipeline full.
Amy Zwagerman, Founder & CMO, The Launch Box
Offer an Opt-in Free Toolkit 
Offering a free trial allows potential new customers to understand more about your offering. Discount incentives are always a great way to push people toward conversion. However, offering varying percentages each time you engage leads can lower your product's perceived value and impact your profit margins. But a free trial is a hands-on experience of how your software solution can help prospects overcome their challenge. 
We aim to change how marketers and business owners view out-of-home advertising. And letting folks test-drive our products is an effective means of turning qualified leads into new customers fast. Because our opt-in free toolkit specifically targets brands looking to scale awareness quickly, we see a 50% to 75% conversion rate, depending on the time of year.
Chris Gadek, VP of Growth, AdQuick
Provide a Retirement Calculator
We are financial advisors specializing in retirement planning, and our most successful lead magnet is our retirement calculator. The most common question we get asked by our clients is, "How much do I need to save to retire comfortably?" 
This led us to create a calculator on our website to tell visitors how much they need to save for their retirement. The calculator is one of the most popular pages on our website and is frequently shared on social media. The conversion rate of our calculator is 3.7%, supplying us with over 100 new leads a week.
Shawn Plummer, CEO, The Annuity Expert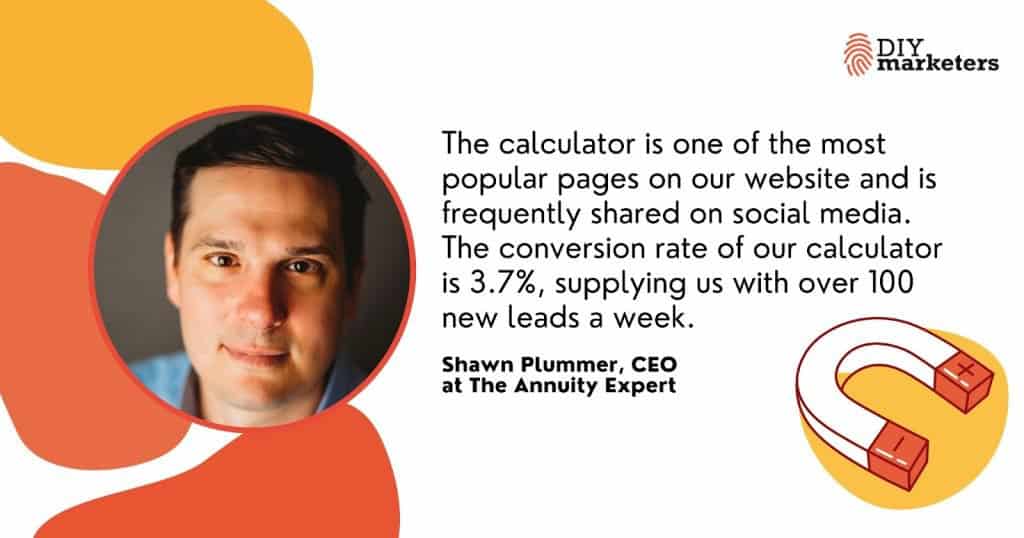 Give a Free Template
For me, a successful lead magnet gets you the right leads and moves them to the next step in your sales and marketing funnel. By that definition, my free privacy policy legal template is by far the most successful lead magnet I've ever offered. 
My business sells legal templates, and we discovered that once an online business owner found their "legal" solution, they tended to stick with it. With that in mind, back in 2019, I decided to start offering my privacy policy as a lead magnet rather than a paid product. We made the decision because it is the starting template for all online businesses and because it would knock down an obvious objection-a concern that my customers couldn't possibly "DIY" the legal stuff. 
Over the years, we've added tens of thousands of leads, with our landing page consistently converting at above 60% (even to cold traffic). But just as importantly, the privacy policy has moved people to buy, with those leads being worth approximately $12 to my business.
Bobby Klinck, Founder, BobbyKlinck.com
Email a Complimentary E-Book
The most successful lead magnet that I use is a complimentary e-book that page visitors can get when they sign up for their email on my landing page. The e-book provides valuable information on earning as a freelancer and blogger and learning about digital marketing.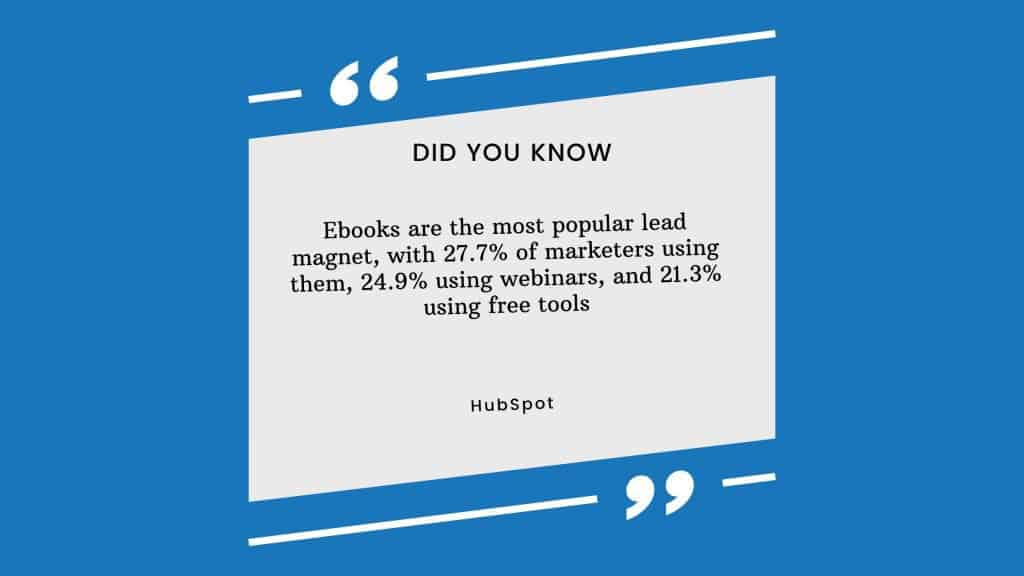 The idea behind it is that it is completely related to the product and service that I offer, and should be something that your target audience would be interested in. As for the success statistics, it's hard to provide a specific number as it is confidential, but it does generate a high number of leads.
Georgi Todorov, Founder, ThriveMyWay
Sell a $1 Trial Close
I worked over a decade to promote a SaaS subscription service, and the most successful lead magnet was the $1 sign-up trial close. I sliced and diced the offer in so many ways, from offering free t-shirts to percent- or dollar-off deals, and the best way to increase conversion rates for new customer acquisition was to just beg that our product was worth a buck. 
By offering a $1 trial, I was able to get customers to test the service before committing to a full purchase, which helped us to build trust and confidence in the product. Overall, our product had a 95% customer retention rate, so I knew they would likely continue using it. 
By lowering the barrier to entry, I saw a 3x lift in conversion rate, as a free trial did not always lead to a paying customer. The only downside was managing refer-a-friend and incentivized-based traffic that was paid a high commission on those $1 trials to avoid abuse of the offer. Overall, we had to pause the campaign to build filters to control duplicate accounts.
Brian Hawkins, Marketing Manager, GhostBed
Create an Informational TikTok Video
My most successful lead magnet was never intended to be a lead magnet. I was in a content creation funk and decided to create a TikTok video demonstrating my social media marketing strategy, which uses the Know Like Trust framework. 
In the 90-second video, I showed people my content plan and walked them through step-by-step how it works. Surprisingly, this video went viral, surpassing 100K views instantly, and the number one comment was: Where can we download this template! 
So, I took my actual marketing strategy document, made it into a PDF, connected it to my email marketing software, threw up a quick landing page, and added it to the link in my bio. It was downloaded far more often than my "original" purpose-built lead magnet (doubled the size of my email list, adding 1,000+ new subscribers), and converted into half a dozen paying coaching clients, too.
Jyll Saskin Gales, Marketing Coach, Jyll.ca
Generate a Free, Relevant Guide
Our most successful lead magnet was a guide about where to get advertising on the Internet for free. The main reason we came up with it was, having done some keyword research, we found terms associated with things like "free directories," "free advertising," get a lot of searches and were very low competition. 
Social media research proved to us that if something is free and relevant, it will get shared a lot. People are generally quite helpful to friends and colleagues to start a new business, so if they see something they think will help them, they will share it and do our advertising for us. 
Right now, this harvests 6-10 business owner emails each week, and we follow up with a sequence all about how to start your marketing, which slowly moves them down the funnel to eventually becoming a sale.
Shane McEvoy, MD, Flycast Media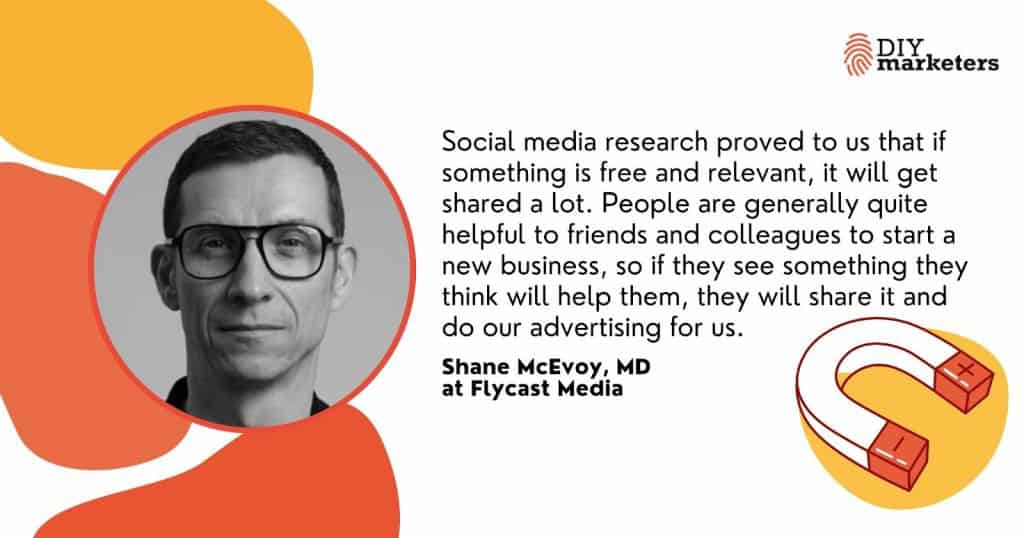 Run an Educational Email Campaign
At United Medical Education, we specialize in medical emergency certifications like BLS (Basic Life Support). While we service thousands of everyday people who want to get certified in a life-saving skill, our primary customer base is nurses and medical personnel who need to update their certifications. 
My most successful lead magnet has been an email campaign I run specifically designed for medical personnel who work in hospitals. This email campaign is designed to make recertification super easy, and it offers our curriculum as a free resource for studying for the exams. 
Last year I had a 52% conversion rate through these email campaigns, which includes anyone that received one deciding to renew their certification within the year. This number is huge for us, and I discovered that by making the process as easy as possible and including all of the curriculum, the medical personnel I target have been quick to respond.
Brian Clark, CEO & Marketing Director, United Medical Education
Gather Email Addresses Through Relevant Surveys
We've recently launched a survey discussing the state of localization as a service for the previous year. It's a rundown of different aspects of localization that we pooled from our proprietary data for our target audience. 
The survey has only been up for a week now, but it's already netted several dozen email addresses. We're projecting at least a hundred leads by the end of January. Since these are highly qualified leads we're talking about, we expect to breach the 2.2% conversion rate we've been stuck on for some time.
Goran Luledzija, CEO, Localizely
Link a Checklist in Your Bio
White papers are our most effective lead magnet. As an agency that helps businesses set up and manage their Google Business Profile, we provide great resources for how they can have their website rank high for localized searches in Google, Bing, and Yahoo. 
Our current lead magnet is a free DIY Google Business Profile checklist for business owners, which they can use in going over their local search campaigns. This offers valuable insights and data for busy entrepreneurs or marketing executives that want to have visibility on the local search engine. We offer this lead magnet on our Twitter bio and this brings us a 48% conversion rate from the leads we generate.
Garrett Smith, Head of Local SEO, GMB Gorilla
Personalize Lead Results With a Quiz
Lead magnet quizzes are interactive, engaging, and give great insights into potential clients. I created and launched my quiz with Interact last month, which was easier and more fun than expected. 
My current conversion rate is an astounding 44%, up from 5% from my previous lead magnet, a workbook. In addition, the quiz segments my audience and allows me to provide them with personalized insights and action steps to support them in making a successful career change. I love how it has allowed me to build trusting relationships with my subscribers in such a short amount of time.
Theresa White, Founder & Career Clarity Coach, Career Bloom
Add an Exit-Intent Popup 
By a huge margin, the most effective lead magnet we have made has been adding an exit-intent popup. This is a popup that is triggered by on-site behavior that signals that a user is about to leave the site, such as the cursor moving to the extreme top or side of the screen. 
We are a content marketing agency and have long offered a free blog post sample, but when we added that offer to the exit-intent popup to build our email list, our conversion rate skyrocketed. We went from one or two sample requests per week to four or five on average. We achieved this with a free plugin called Poptin, and it is still working really well months after implementation.
Alexander Lindley, Founder, Law Firm Content Pros
Incite a Movement
Our most successful lead magnet has been our Tru Earth®
Movement, #truEarthMovement. The idea for the lead magnet came from wanting to create a truly unique and powerful way of engaging our customers. 
We tried to turn it into more than just another product launch or promotion— we wanted to create a meaningful movement around sustainability and making a positive impact on our planet. 
The success stats have been incredible! The conversion rate tripled from the previous year, and we saw an increase in new customers; we collected more than 100,000+ customers in 29 countries in the first year of this campaign! And as a community, we have eliminated 839,594 laundry jugs from entering landfills by advocating a switch to our product. 
Ryan Mckenzie, Co-Founder & CMO, Tru Earth
Send Free Video Proposal-Analyses
My most winning lead magnet has been sending free screen-shared video analyses tailored to my potential clients' needs. Before I came up with this idea, my team and I tested a few different ideas (checklists, guides, etc.), that we thought might work, but we were not getting the results we wanted. 
What really worked was the idea of personalized video analyses with already results-driven solutions. It was a lot of work to create something tailored for each individual, but we think it really paid off! Doing research into what people wanted and needed was essential to achieving success. We generated a host of new leads through this magnet alone, with a conversion rate of up to 20%. 
Remember, your lead magnet aim should be showing your prospects that partnering with you means real growth! With a video proposal, give them an in-depth look at how they'll benefit—don't just tell, prove it. Through careful analysis and tailored solutions, demonstrate why they should work with you, not with others.
Maria Harutyunyan, Co-Founder, Loopex Digital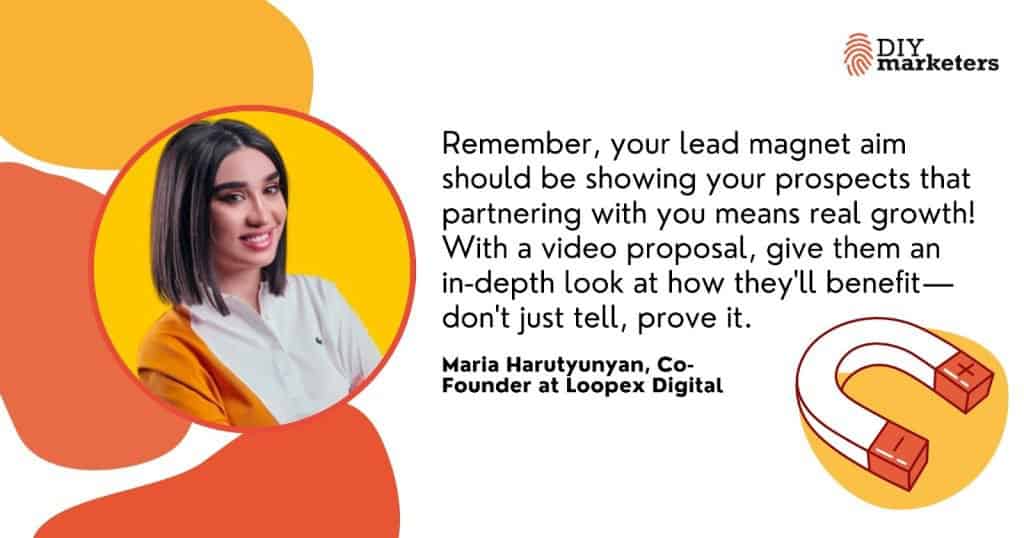 Show a Behind-the-Scenes Look 
Our best lead magnet was showing customers a behind-the-scenes look at how our products are made. We saw a 23% increase in conversions from this lead magnet. This approach allowed customers to see the care and attention that goes into creating our products, as well as the people behind the product, putting a human face to our brand. 
The behind-the-scenes look also helps customers better understand the value and quality of our products, as well as appreciate the craftsmanship that goes into creating them. It also provided a unique and interesting perspective that helped to differentiate us from our competitors. Our behind-the-scenes look was done in a short video, but you could also use still images showing the process of creation from start to finish.
Tom Golubovich, Head of Marketing, Ninja Transfers
TL:DR Summary
If you haven't guessed, there's no silver bullet answer to the best high converting lead magnet for you and your business. The truth of the matter is that you're just going to have to try several different ones.
You can take a look at these ideas, see which ones you might want to try and simply ask your audience. You can pick one you're excited about and give it a try. But don't give up if your results aren't what you expected. You may have to optimize the way you deliver your lead magnet, you may have to adjust your copy. All in all, it's an iterative process. Don't give up!