If you're looking for how to do influencer marketing on a budget, you're going to want to keep reading. Because influencer marketing is something every business can do, no matter how small.  The first thing you have to do is decide to explore the strategy.
The next step is to realize that influencer marketing is something that takes time. #BizapaloozaChat guest, Michaela Underdahl is the social media muscle behind the successful Nimble Social CRM platform.  Founder and CEO. Jon Ferrara developed and marketed Nimble to build business relationships.  It only made sense to market the platform using its purpose and capabilities in helping people connect and work together.
I wanted to get the "boots-on-the-ground" perspective and insights about how to do influencer marketing from the ground up. Thankfully, Michaela, who has taken over this process and codified it for Nimble was happy to share her experience.  And today, she's going to share it with you.
You'll want to watch the video for full details, but here is the short skippy:
Research and Get Familiar With Your Space
The first step is to get familiar with the companies, experts, people and conversations in your space.  That takes two things (luckily, both are relatively free) –time and listening.
Underdahl recommends starting your process by setting up a simple spreadsheet where you can add companies, influencer names, and information, keywords, etc.  Think of the spreadsheet as your sandbox.
Start gathering names, keywords, and hashtags that influencers would use in their conversations.
Think of influencer marketing as the equivalent of walking into a party or a networking event where you're simply mingling around and listening to groups of conversations where you can potentially drop in.
Start with Google, then move over to free or nearly free platforms like HootSuite and Brand24 where you can enter those industry names and keywords. Another great resource is BuzzSumo. Out of these three, the most popular is HootSuite (almost every expert in the business will tell you to use that one).  The two I use most often are BuzzSumo and Brand24.  Both of these are paid services, but here's my sneaky tip — each offers a free trial and a monthly plan.  So schedule your research time and give yourself a solid month to pull this section together.  That is money well spent.  Let me tell you WHY I recommend you invest in these two tools.
[box] Make a list of all the tools you want to use, get yourself ready to work and then take advantage of the free trial and if you need it, only sign up for a month.  This way you get all the benefits of a high-end paid tool without the monthly expense.[/box]
How to use BuzzSumo to find influencers for your small business: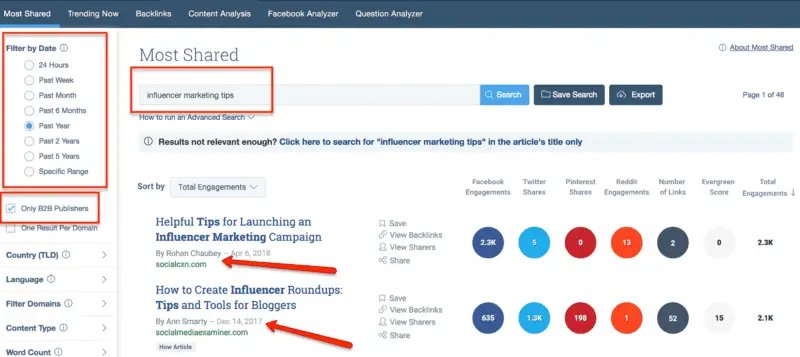 First go over to the "Most Shared" tab and you'll see a search box.  Inside the search box, you can enter the brainstormed list you created from your industry.  This list can contain simple industry words such as "small business, social listening, accounting, restaurants, real estate, etc.
[perfectpullquote align="left" bordertop="false" cite="" link="" color="" class="" size=""]As a shortcut, have some questions ready and reach out to the journalist and ask who some of their favorite resources are.[/perfectpullquote]
You want to start with relatively general words, just to get a flavor for what the most popular content is.  You'll notice in this example, I've used the term "influencer marketing tips" and then I selected the time frame of the last year and finally I added another filter (which is a new feature) called "only B2B publishers".  This gives me the most shared content from my target audience on a topic I'm interested in.
The other key piece of information that I'm going to use is the author's name and the publication.  Journalists do a ton of research and are often familiar with a lot of the experts in their field.  For every article that gets printed, thousands of words and resources end up on the "editing floor".
You can also use BuzzSumo to find influencers and blogs on your topic or keyword.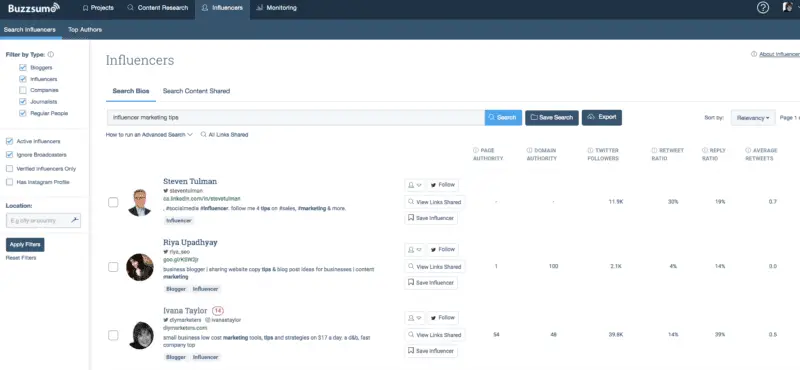 Simply click on the influencers tab and enter your keyword or topic phrase in the search bar.  Again, I stayed with "influencer marketing tips".  In the right-hand sidebar, select the types of influencers you want.  You'll notice that I selected Bloggers and "regular people" rather than companies.  This is because I would be looking for people to follow and connect with who talk about that topic.
In our interview, Michaela Underdahl mentioned that choosing and engaging with influencers isn't just about the number of followers they have.  You want to consider other attributes as well.  BuzzSumo pulls out some of those attributes; page and domain authority (this is a score from 1-100 that tells you how likely the site is to rank on search engines.) in other words, influencers with higher authority sites are a great resource for content.  BuzzSumo will also tell you how many Twitter followers someone has, but what's more important is their "reply ratio" — that tells you that the influencer is actually responding and talking with their community.  Another interesting number is the average retweet measure.  This tells you how often their content is shared.
Michaela recommends that you know exactly what you want from your influencers, and BuzzSumo will not only help you find influencers, you can use this tool to help you decide exactly HOW they can help you.
How to use Brand24 to find conversations for your influencer marketing
Yes, HootSuite is free and it's a very powerful social listening tool.  But if you're on a mission to jump into key conversations, Brand24 is a wonderful social listening tool.  Let me give you a brief overview of how to use this tool.
How to Reach Out to Influencers and Start a Conversation
One point that Michaela Underdahl keeps repeating in our interview is the need to take your time and move these relationships slowly.
By this point in the process, you've focused on your industry, your industry keywords, and the influencers who are central to the conversations your interested in.  You've also created spreadsheets that contain the influencers you want to reach out to and what their strengths are and what you want to ask them for.
The other important element that you have by this point are structures that you can use to actually listen to the conversations that the influencers are involved in.
Your first step has to be to start engaging by sharing their content and commenting on their content.  If they are promoting webinars, share those webinars.  If they've written a book, maybe you can head out to Amazon and purchase a Kindle version of the book.  Want to really get their attention, review their book on Amazon.  Your goal here should be to get on their radar so that they can see you engaging with them and recognize your name.
DO NOT just reach out and ask for something.  This absolutely doesn't work — especially if what you'd like is for them to engage with you and your business for free.
Be respectful of their time.  Influencers are in the business of creating content.  This is how they make money.  When you ask them for something, you are taking time away from how they make money.  So first seek to give them something that is important to them.  If you've done this properly, you will see them mentioning you effortlessly.
This article is a real example.  When I first discovered BuzzSumo, I was so blown away by how powerful the platform was, that I've referred it to others.  As a thank you, the BuzzSumo team has given me a license for a basic plan.  This allows me to continue learning the power of the platform and sharing it like I did here.  While I do pay for Nimble and Brand24, I have a slight discount and they've given me access to several advanced tools.  Again, these are nice ways of thanking an influencer for their sharing an honest opinion of the benefits the tool offers.
Have an Ongoing Plan and Strategy for Your Influencer Marketing Campaigns
Finally, once you've invested your valuable time and effort researching, listening, connecting and engaging with influencers, do not stop.  Michaela mentions that it's difficult to manage more than 150 relationships.  You'll need to do at least that many relationships in your influencer marketing campaign.  So, you'll need a powerful CRM tool for yourself and your team that will "nudge" you to connect and engage with the people you've tagged.
Just as with any personal relationship, the key to success is to always be asking yourself, "What can I do for the people who support me and my brand?"
Happy influencer marketing!