If you're looking to 10x your productivity, and actually make more money, you'll want to hire a virtual team.
I've been working from home for more than 20 years and have been managing an international virtual team since 2001. So, it's not surprising that the recent shift to remote work has big and small businesses asking me for my best tips on how to hire and manage a virtual team.
Rather than keep repeating myself, I'm going to share my tips for hiring and managing a virtual team — even if you've never done it before.
What is a Virtual Team?
A virtual team consists of a group of geographically dispersed team of people who work from different locations. These are also called remote teams.
Remote team members can be located anywhere in the world or they can be in the same city.
How are Virtual Teams Different from Traditional Teams?
The biggest difference between virtual teams and traditional teams is that virtual teams are geographically dispersed while traditional teams tend to be working from the same location.
In contrast, traditional teams work for the same organization and in the same office or facility. They might be next door to each other or miles away as long as everyone is located in the same general location.
However, even if some members of a team are remote, they may still work together as a cohesive unit with individual tasks that work towards a common goal.
The Best Model for Virtual Teamwork
Successful virtual teams are like successful families and companies. They need a shared culture with shared values and a commitment to a goal.
There are really two goals for most remote teams; the project goal, and the goal of successfully working together to complete the project.
Here are seven characteristics of successful work teams that incorporate both goal and team performance: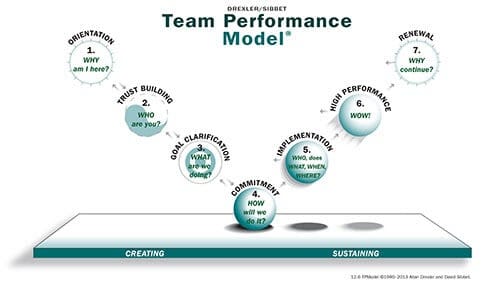 You know why you are there
When you're asked to be part of a team, the goal is for you to feel a sense of unity with the team. If you or your team members sense disorientation or confusion, it's time to step back and review why you are all there.
Shared responsibility and reliability
You can trust the other people on the team to do what they say when they say. If you find yourself covering up for non-performance, then it's time to come together and have an orientation conversation.
Goals are clear and understood
What are we all doing and what does success look like? If you sense scepticism around the team, apathy or competition. It's time to get together and re-state the goal or adjust the goal.
Shared Commitment
This phase is all about HOW the goal will be accomplished, what is the strategy, the tasks, the assignments. If you get push-back or resistance, you need to dig deeper around what the challenges are and brainstorm around what's missing and how to access more resources.
Implementation
This stage is all about production; who does what and when. A great way to manage this is to give each process an owner and empower the owner the make adjustments to move forward. If there is conflict or confusion, you may need to move back to the commitment stage and redefine roles and responsibilities.
High Performance
With practice and open communication, you will be in high performance. You'll notice that meetings don't take as long. Your group will be well practiced in having open communication and be able to adjust on the fly.
Renewal
At this stage, you are celebrating success and taking the lessons you've learned on to a new project.
(Source: Drexler-Sibbet Model)
How to Hire a Virtual Team Member
Most people have a general idea of what they want help with and jump straight to looking for someone. This is a mistake.
Break down your project into smaller tasks
The first thing you need to do is clearly understand exactly what you need to do, what someone else can do and what only YOU can do.
Identify "hidden" requirements
There are also "hidden" requirements that you have that aren't immediately apparent.
The best way to uncover those hidden requirements is to go through the process yourself so that you can deal with important decisions before you hire someone. This will nip any potential misunderstandings or problems in the bud.
Write out the exact tasks that you need and want done. Keep it simple at first. So that the person isn't overwhelmed and so you can make adjustments.
Highlight the specific skills you are looking for – something like getting things done on time, using a particular software,
Do the process yourself – and find the best way to do it then document it on paper.
Screencast yourself doing the process and talk your way through it – talk about what you're thinking and why you are doing what you are doing. This puts the person inside your head and way of thinking and making decisions
Choose how you will communicate — email, text, some type of instant message
Have the person complete a portion of the task and create an opportunity to get together to answer any questions and make adjustments.
Review the process and make sure that everything is working as planned.
Break down your tasks
Once you've broken down your project into tasks, you'll immediately notice that there are two types of tasks; thinking and doing.
Doing tasks include things like data entry, social media scheduling of pre-written posts, data analysis.
Thinking tasks include things like writing social media posts. If you have a "doing task" where language skills are not as important, then you can hire someone from anywhere in the world — as long as they have the skills. For thinking tasks, such as writing and sometimes even website development and work – it's best to work with someone with whom you can easily communicate.
Set your budget
Consider your budget very carefully. Don't just opt for the cheapest rates. Take a look at the rates for the tasks that you have and choose something more in the middle.
Consider your software
What software will you be using? This is critical because Upwork is filled with people who are experts in different software. And, the software they list in their profile will tell you a lot about their level of expertise.
Choose geography
Where do you want this person to be located? Don't just default to your own country or time zone. Think about how you work, what types of tasks this person will be working on and your team requirements.
For example, if you have data entry work, you might choose someone in a time zone 12 hours ahead. This way, they work while you sleep!
Match language skill level to tasks
Does your team member have to be a native speaker or fluent in English? You wouldn't want to miss out on a brilliant web developer because they weren't a native English speaker.
Where to find and hire remote workers
Upwork and Fiverr are two of the most popular platforms for remote workers.
Fiverr is a great choice if you have a single, simple project with a start and finish that will take less than a week.
For more in-depth or longer-term projects, I recommend Upwork.
Regardless which freelancer platform you are using, the process is the same.
Search on the broadest terms to see what you get
Pay attention to the different skill sets or rates: You'll find that some rates are insanely low and others are 10x or 20x higher than the lowest rate. Typically, the quality of work for those that are at the highest level isn't going to be 20x better than the lowest. Start with a rate that is somewhere in the middle and select people to interview inside that range.
Filter by ratings
The best filters to use are, customer ratings and the last time they were active on Upwork — this will tell you if they are responsive.
Read the profile
Think about the project you're hiring for and with that in mind, read the profile. Did they mention the software that you'll be using? If so, that's a good sign. If you're hiring someone to write articles, or websites, make sure that they've included examples of their work.
Trust your gut
As you're reading, you'll get an immediate sense of whether or not this person may be a good fit. If you're left wanting to learn more, save the profile and come back to it.
How to Manage Your Remote Team
Before you can start managing your virtual team, you have to be clear about your expectations.
Sit with yourself and write your expectations down
Start by asking yourself what your expectations are in terms of deadlines and how to manage them.
How do you want to receive feedback about your projects and assignments. For example, do you typically know exactly what you want and you want your requests implemented exactly or are you open to input?
Ask team members how they want to be managed
Next, you want to ask team members how they like to be managed or communicated with. The positive side of that is that you might learn something new to add to your set of management skills.
How to Keep Virtual Teams Engaged
The best way to maintain engagement with a virtual or remote team is to be in communication regularly.
Meet regularly
How often you meet depends on your business and the projects you are working on. It's common to meet weekly just to check in, review deadlines, resources and clarify any questions.
Acknowledge great work regularly
You can never hand out too much praise. If you've hired each team member for a specific skill, and they consistently deliver — then tell them how much you appreciate it.
If and when a team member goes above and beyond — acknowledge the effort and tell them how much you appreciate it.
Make it a regular point to praise every member of your team for something during every meeting or transaction.
Ask for feedback, advice and ways to improve the process
Don't be shy or stubborn about asking and receiving feedback.
One of the great things about hiring other experts as team members is that they can offer important feedback that will help you improve the process.
Benefits of Remote Teams
Small business owners with no staff stand to gain the biggest benefits from working with virtual teams.
Take on new business
The biggest benefit is having the ability to take on new business and new projects that go beyond your personal skill set.
When you hire a full-time employee, you're confined to their specific skill set. Asking someone to go beyond that skill set will sacrifice quality and productivity.
Flexibility
Working with a virtual team, you can add or remove resources to maximize your profitability.
Expertise on demand
Finally, virtual teams give you the ability to add add and leverage expertise on demand and on a budget.
Disadvantages of Virtual Teams
As much as I love working with virtual teams, there are some disadvantages of virtual teams that you'll have to manage for and prepare for.
Collaboration and communication tools
When you're working with team members around the world and across time zones, collaboration can be a real challenge. This is where using collaboration and communication tools like Slack or Asana can be a huge help.
Parallel teams
Another challenge is having multiple people working on similar projects. To manage virtual team effectiveness, you have to be the one to organize projects into workflows that are visible to team members and remote workers wherever they are.
Task vs time control
Remote workers thrive on being task focused rather than time or place focused. If you make your tasks and quality expectations clear, you'll be amazed at how productive your virtual team will be.
Providing feedback
Virtual team members are hungry for feedback. Since you aren't face-to-face every day, it's a great idea to have regular meetings with the entire team as well as with individuals on your team to provide feedback. This will take some time at first, but after a few meetings, you'll be on a roll and may only require a regular group meeting.
Types of Virtual Teams
If you want a successful virtual team, then you need to understand why type of virtual team you're dealing with. No matter what type of virtual team you're managing, it's smart to think of them as a multi-functional work team because there's a good chance
Product development teams (content development teams): These are the teams that work together to create products. These are great for projects where you need work done at every step of the product development cycle.
Account management teams: With these virtual teams, you put a single account manager in charge of an account and all the decision making is left up to them. This is a great choice when
Content Teams: These are the teams that work together to create content for your products. Content teams work well when you're working on a larger project where everything from product idea creation to distribution is all within one team.
Social Media Teams: These virtual teams work to create, manage and distribute content across social media channels. This is a great choice when you have many different types of audiences that want the same content in different formats.
Project Management Teams: These are the virtual teams you put together to manage projects from beginning to end. The key here is planning ahead so you know
Service teams: These are the virtual teams that manage your customer service departments. They should also manage all the different channels to make sure customers are getting the best possible experience across all their touchpoints.
Functional Teams: These would be your accounting, finance, marketing and sales teams. Most of these work together in harmony on a day-to-day basis.
Virtual Team Building Activities
Just because everyone is remote and you're on a Zoom call, doesn't mean you can't run some simple virtual team building activities.
Here is a list of some simple virtual team building ideas you can run online for some virtual meeting fun:
Team Mandala:This is for new teams. Ask everyone to draw a circle and divide it into four equal parts. Ask the team to DRAW a picture (no words allowed) in each section that illustrates the following: A source of personal pride, a gift I bring to the team, a frustration with the team, my goal for the team.
Icebreaker questions: Start your team meeting with an Icebreaker question. You can assign a team member to bring an ice breaker question to each meeting.
Icebreaker questions: Start your team meeting with an Icebreaker question. You can assign a team member to bring an ice breaker question to each meeting.
Virtual Team Bingo: Create a simple team building Bingo card with fun descriptors in the boxes. A fun thing to do is put typical phrases you guys use — and everyone someone says a phrase you mark it on the box.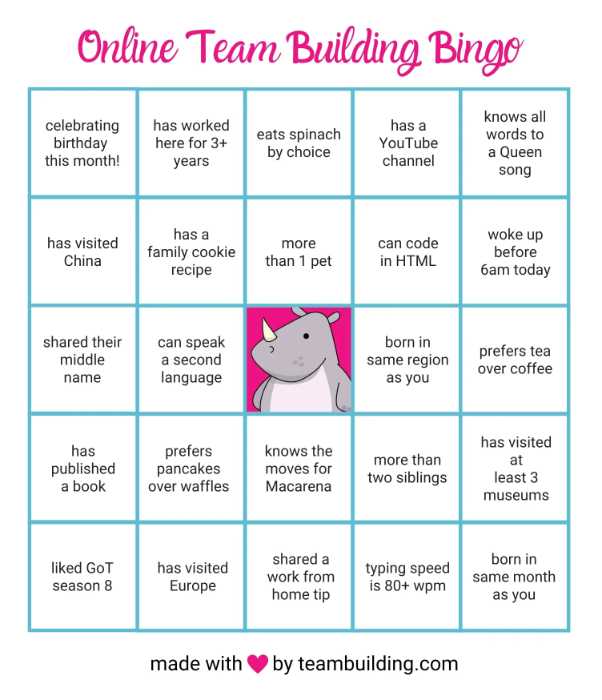 What are you waiting for?
If you haven't tried working with remote teams, this is your opportunity. Use these tips to hire, manage and engage virtual teams in your business and see how far it can take you — without sacrificing quality, productivity or adding unnecessary risk.