If you've done a Google search on "How to repurpose content" you walked away feeling overwhelmed. You understand that you need to repurpose content, but you don't know where to start.
This is for you! When you're done with this article, you'll be repurposing content like a pro.
What is Content Repurposing?
Content repurposing is taking a piece of content that you have already created and using it in different ways. This could include taking an original blog post and, as a social media post, or even turning it into a video.
By repurposing your content, you can make sure that you are always delivering fresh content to your audience. The good news is that you might only need to make a few tweaks to your original post and be on your way.
Cool! But where do I even begin?
In this article, I'm going to share a few more instructions about easiest ways to repurpose content that you can do on your own, or that you can outsource.
Is repurposing content right for ME?
Most marketers (especially content marketers) will tell you that anyone can repurpose content. But not everyone should repurpose content.
Repurposing content is ideal for you if:
You've chosen content marketing as your focus marketing strategy.
You LOVE educating your audience and helping them choose the best product or service to solve their problem.
You are a consultant or subject matter expert who is very knowledgable about a specific industry or solving a specific problem.
You enjoy sharing your knowledge across different channels.
Repurposing content vs recycling content
The main difference between recycling and repurposing content is that recycling content means using the same content in multiple places, while repurposing content means taking one piece of content and turning it into multiple pieces of content.
The role of content repurposing in your content marketing strategy
Here's the thing — if you're practicing a content marketing strategy, then every piece of content that you create has a purpose. Hence, it's critical to have a repurposing content plan as a part of your content calendar.
The who reasoning behind repurposing content is to give you and your business visibility across a variety of channels that can include:
A guest post on another blog
Social media posts across channels
A YouTube video
Think of content repurposing as the process of sowing the seeds of your brand throughout your field.
Why is repurposing content beneficial for SEO (Search Engines)?
If you're a solopreneur, content repurposing can be especially beneficial for your SEO. When you recycle content, you're not only providing new content for your audience, but you're also giving Google new content to index. This can help to improve your rankings in search results pages.
As always stay on top of your keyword research and identify those keywords that you want to generate the most organic search traffic to your web page.
Content repurposing can also help to improve your click-through rate (CTR). If you're ranking on the first page of Google for a certain keyword, but your CTR is low, it's likely that your title or meta description isn't compelling enough. By repurposing your content and using a different title or meta description, you can improve your CTR and get more people to click through to your website.
How to choose what content to repurpose
Great! You're excited about repurposing content — but where do you start? Here is how to get the most from your repurposing efforts.
Know Your Purpose
No pun intended here, but you have to know your purpose for the content to repurpose content.
Start with the end in mind
What is your call to action? What are you selling and how does your content move your audience toward your call to action.
Take a moment to write down what you want your existing audience or new audience to do:
Call you
Schedule an appointment
Visit a specific page
Give you their email for a download
Create a map for your customer to follow
Your next step is to sit down and create a path that you want your audience to follow from they time they find you, to their getting to know you better, choose you and ultimately buy from you.
With that map in hand, you can take your existing content and place it into the appropriate location in the map.
Research Your Competitors
I like to keep this simple. The name of this game is to take a peek at your competitor's content strategy.
Search your keyword phrases and notice where your competitors have the most content.
Do you see mostly video content or written content?
Do the same thing on social media. Where do your competitors place their high quality content? Are they most active on LinkedIn, Twitter or Facebook?
Wherever you notice that your competition LEAST active, that's where you have the opportunity to place your existing content.
Repurpose all new evergreen content
One strategy is to decide to repurpose all new blog content. The best type of blog content to repurpose is anything that's evergreen content.
This way you won't get overwhelmed with old blog posts that may not do anything to contribute to your strategy.
Repurpose your best blog posts
Another good strategy is to find out which posts get the most traffic and repurpose those.
Start by heading over to Google Analytics, finding your best blog posts and creating at least one additional piece of content.
Here's an example where I added a video version of one of my most popular articles about BNI.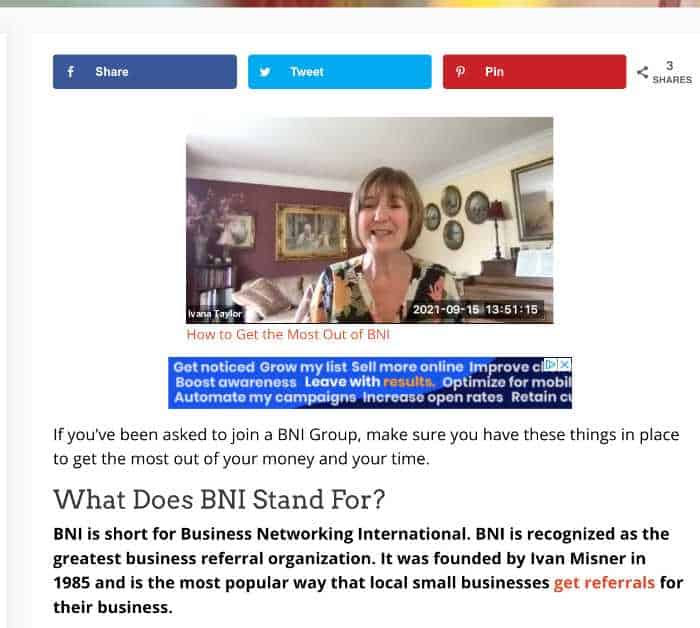 A sneaky trick you can do is to check the comments, feedback and questions you've gotten on these posts and include a response in your repurposed content.
Use Buzzsumo to identify socially popular topics
BuzzSumo is one of my favorite tools to track content. You can use BuzzSumo to check the popularity of your existing content.
Where BuzzSumo shines is in measuring the engagement of your content.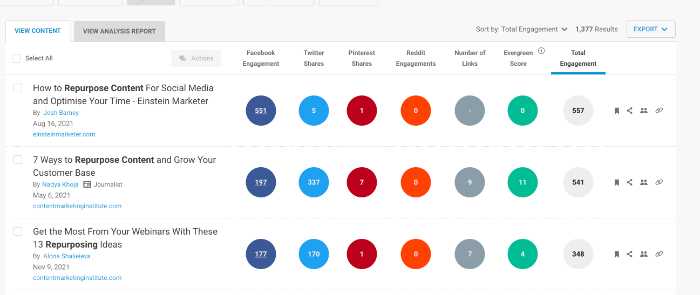 Here, you can see the level of sharing and engagement across a variety of platforms.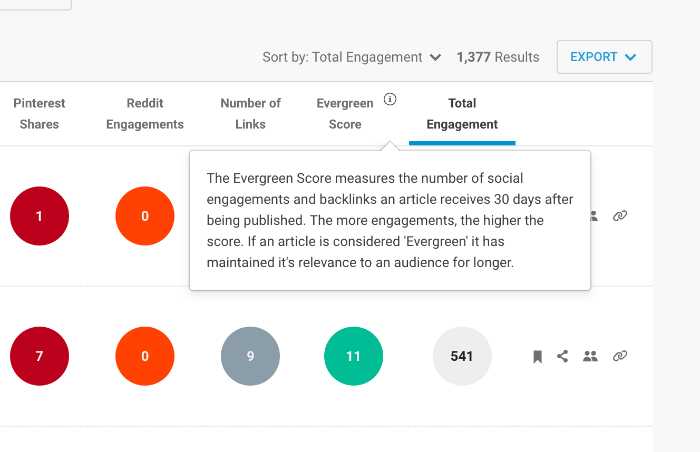 BuzzSumo also has an "Evergreen" score. This not only measures engagement, it also layers on the number of backlinks that the blog received.
Here are some ideas on how to repurpose content:
Content Creation Process
I think the biggest challenge with repurposed content is that there are so many options to choose from.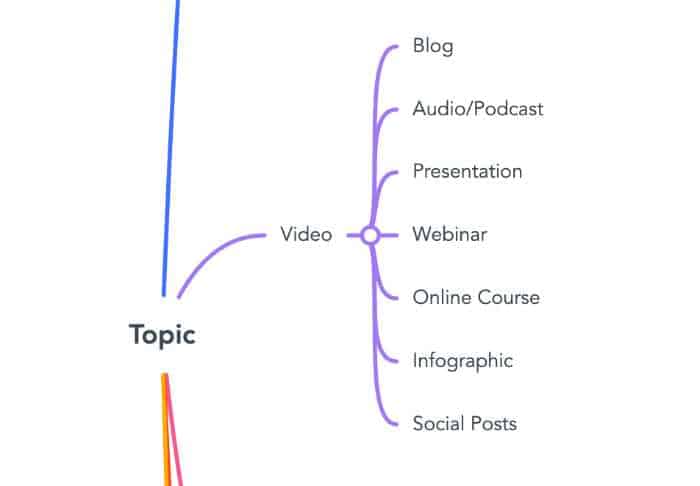 The obvious process is to give you a giant list, and I'll do that here. But I'm also offering you a link to a Mindmeister Mindmap that you can edit for free.
Step 1: Start with a core piece of content
You're going to want an "inspiration piece" of content to repurpose. Typically, this can be a blog post, or even a guest post from your own blog; it can be a webinar, a presentation you've done before, a video or even a social media question or answer.
Don't overthink this. In fact, you might just start with a popular piece of existing blog content and go from there.
Step 2: Evaluate the content to figure out the best way to repurpose it.
Most of the time you're going to be working with a piece of blog content. And the type of blog content you have will determine your repurposing content strategy.
Here are some basic repurposing ideas for typical types of blog content:
Listicle – create an infographic, top 10 video or TikTok
Comparison – create a comparison infographic, do a video review
How-to – create a process infographic, do a video/screenshare demo video.
Step 3: Look for other content formats that would be a good fit.
Look, you're already in the process of creating content. Why not get the most out of the process.
If you're working with time sensitive content, see if you can convert it to evergreen content.
Here's a list of ways to repurpose a few of the most popular types of content. Because blog posts are the most popular type of content, I'm giving you ideas on how to repurpose blog posts.
So, you can choose one blog post based on your keyword research and see which of these ideas would work best for you.
Create an infographic from a survey, quiz or process.
Turn a video into a new blog post.
Turn your blog post into a video.
Create a podcast episode from your blog post.
Create an eBook from your blog post.
Create a webinar from your blog post.
Create an email course from several blog posts on the same topic.
Break your blog post down into smaller posts for social media.
Create a case study from your blog post.
Create a cheat sheet from your blog post.
Turn your blog post into a quiz.
Rewrite your blog post for a new audience.
Repurpose your blog post into a sales pitch or proposal.
Repurpose your blog articles into an advertisement.
Create a Pinterest graphic from your blog post.
Create a YouTube video from your blog post.
Create a Facebook Live video from your blog post.
Create an Instagram post from your blog post
Create a Twitter post from your blog post
Repurpose your blog post into a live workshop or teleseminar.
Pull out quotes from your blog post and create graphics.
Turn your blog post into a quiz or worksheet.
Turn the results of a quiz into a blog post.
Turn the results of a quiz into an infographic.
Create a meme from your blog post.
Create a GIF from your blog post.
Create a physical product from your blog post.
Create an online course from your blog post.
Repurpose your blog post into a book.
Repurpose an ebook into a series of blog posts.
Choose an article or video and pull quotes to create Twitter posts.
Convert an article into a series of guest posts.
Turn quotes from podcast episodes into blog graphics.
Convert a series of blog posts into online courses
Convert videos into audio blogs.
Create videos of blog articles and post them on your YouTube Channel
Rewrite your blog posts and turn them into medium articles.
Transcribe a video script and turn it into a blog article or social media posts.
Do This Today
These are just a few examples of repurposing content. Take a few minutes today and go through your inventory, then literally pick an article or presentation and see if you can create at least three new pieces of content from it.