Writing and self-publishing a book is 80% marketing and 20% getting it done.While other author sites and resources put the focus on writing, editing, producing and selling your book, this guide will focus on using your book as a DIY marketing tool to build your brand and make more money for your business.
This guide is following a "marketing first" approach to self-publishing a book.  
Introduction
You're going to "begin with the end in mind" and "sharpen the saw" before you invest time, money and effort into anything that doesn't generate profitable clients and opportunities, increased visibility, and unbridled enthusiasm about your business.
Use this article as your trusted guide and introduction to the self-publishing world.  I've done a ton of research for you and have included names and links to the most trusted resources for experts, like you, who are considering self-publishing a book.
The key to this guide is to use the time that you are preparing to write and writing your book to also start priming your marketing pump,
The launch and marketing portion of publishing a book can get overwhelming if you don't start gathering contacts and information early, keeping your audience and community informed and then simply scheduling appearances once the book is ready to go.
Marketing Benefits of Self-Publishing a Book
Here are the top 5 reasons writing a book can help your business:
The book will serve those ideal customers who cannot afford to work with you directly.
The book will grab your ideal customer, educate them, create positive word of mouth and generate high-revenue clients, speaking, coaching or consulting for your business.
You'll be able to convert the book into other types of content from which you can generate revenue such as coaching programs, workshops or clients for a software or service.
You're looking to generate new opportunities from a new audience you've not worked with before
You're looking for a way to share your war stories or life stories with others
Create Your Book Marketing Plan
Think of writing and self-publishing your book as a product development project.  That will require a simple business plan or marketing plan outline.
The first part of this marketing plan is your vision and mission for the project.
Marketing Plan for Writing A Book
Define Your Audience and the Problem You're Solving
How is Your Book Uniquely Solving This Problem
What Other Resources Will You Include With the Book
What Marketing Strategy Will You Choose to Promote Your Book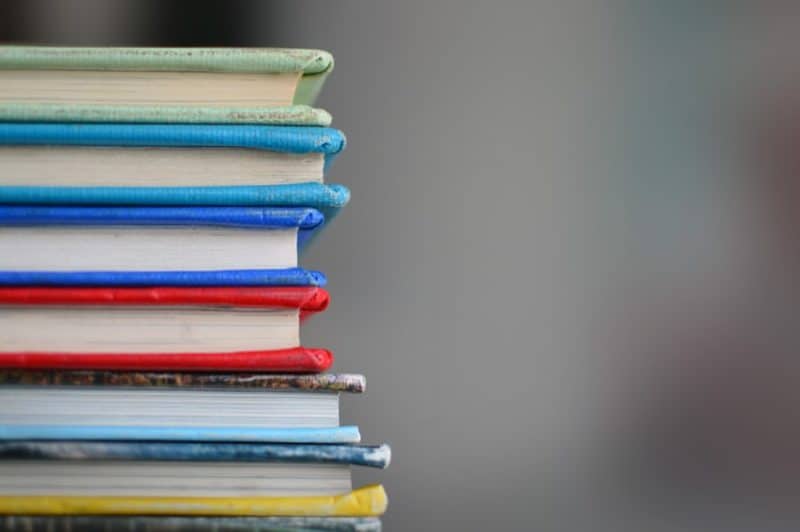 [optin-monster-shortcode id="rbmksumo33arysuomul1″]
The key to the marketing of your book is actually working your marketing plan alongside your writing, editing and designing of the book.
For example, you'll need to build a community of people who will read, review and post about your book, so it's a good idea to start solidifying those relationships, make a list of who will get an early copy of the book and keep those people updated about your progress.
Pricing Your Book For Profit
As an indie author you can price your book however you like! But, the time to think about how you will price your book is before you write it.
Your book has a "job to do" and that is to make you more money by building your brand and attracting highly profitable clients. Ultimately, your book is a promotional marketing asset that will do your credibility building and selling for you.
Get more ideas on how to make money from your book
Start with your financial goals. First decide whether you want to make as much money as possible or reach as many people as possible.
While these may seem similar, they are not.  Also, think about your overall objective..  For example, do you want the book to drive more paid speaking engagements, more clients or to build your brand?
Do a thorough competitive analysis to see where your book needs to be. While your book may be a unique take on a topic, don't forget to research the similar books that are out there.
The easy way to do this is to go over to Amazon and search on the keyword phrase that best represents your topic.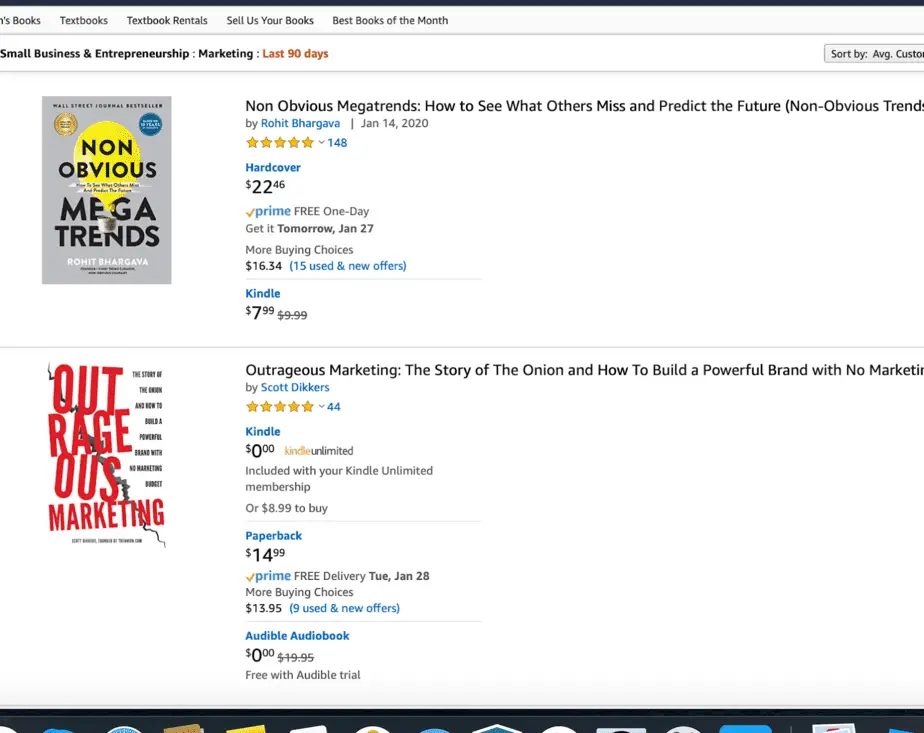 You'll see a list of popular books and prices.
Put yourself in your reader's shoes and search all different topics and books. Make some general notes about each book and note the price.
You'll want to price similarly to the alternative books.  If you price too low, the audience might think there's not enough meat in the book. But if you price too high, your potential readers may pass over the book altogether.
Best price point for most Amazon ebooks is between
Between $0.99 and $2.98, they pay the Author a 35% royalty
Between $2.99 and $9.99, they pay the Author a 70% royalty
$10 and over, they pay the Author a 35% royalty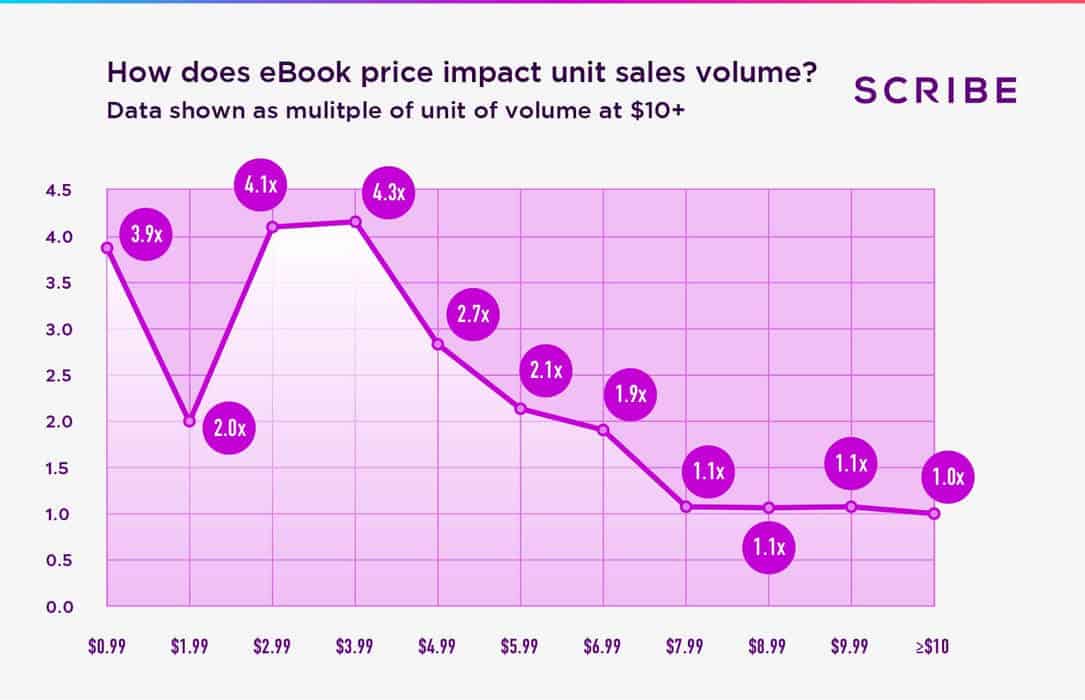 (source: Scribe)
Don't forget about the marketing costs you have to cover such as graphic design, editing, your website, emails, images, advertising, any other help that you need.
Finally, you're required to sell the book for the same price at all retailers. That means, you can't charge less for the book on iBooks and more on Amazon. All retailers get the same price no matter what your royalty.
Here are a couple book pricing calculators you can use to help you:
Research Resources and Information About Self-Publishing
Collect information for Copyright, ISBN. Kindle (Barnes and Noble, etc)
Research editors and designers
Credible resources to read, follow and engage with to learn about the self-publishing industry
Most Trusted Resources and Experts on Self-Publishing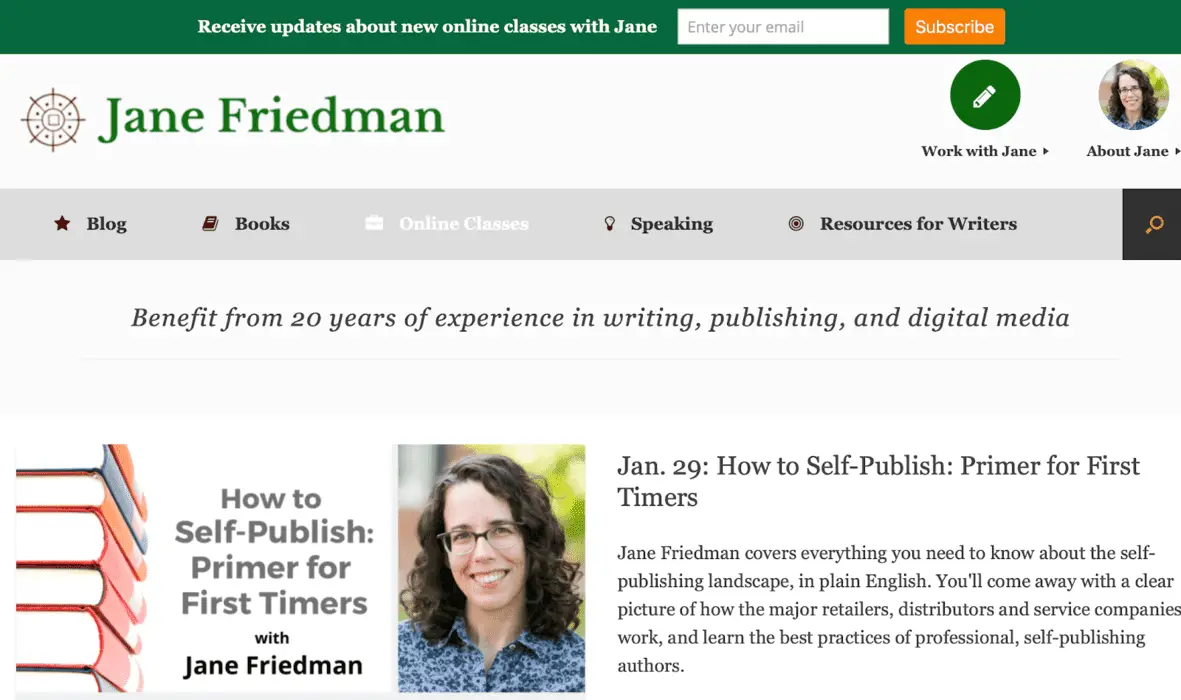 Friedman has 20 years of experience in the publishing industry, with expertise in business strategy for authors and publishers. She's the editor of The Hot Sheet, the essential industry newsletter for authors, and has previously worked for F+W Media and the Virginia Quarterly Review. In 2019, Jane was awarded Publishing Commentator of the Year by Digital Book World.
You can tell that Friedman has earned her stripes in the publishing world.  Her explanations and advice are even-handed and written with the inexperienced sel-publisher in mind.
What I love the most is that she pulls no punches and shares insider tips and service providers freely.
Jane Friedman's Resource Recommendations: This list has been updated for 2020 and has been carefully curated.  Definitely start your research here.

Here is a list of articles and resources you may want to start with:
Do not skimp on this phase of your self-publishing journey.  Make sure you understand exactly what you're going to do and how you're going to use your self-published book as a marketing tool.
Choose a Self-Publishing Option
With the big decisions made, you're ready to make a decision on which of three self-publishing options you're going to choose.
The self publishing process has evolved over the years to include three levels of independent publishing:
DIY Self-Publishing:
Pros: You get to control every element of the process; and you get to keep all the royalties from book sales.
Cons: You can lose a lot of time and money if you've never been through the process before.
Full Service Self-Publishing
Pros: You don't have to be familiar with the self-publishing industry.  Just write the check and they will do the rest. Great choice if you have more money than time.
Cons: Lots of companies to choose from and some can take advantage of your inexperience. Cost for a good full-service self-publishing company can run as high as $20,000.
Examples of good assisted services include Matador, Radius Book Group, Scribe Media, and Girl Friday Productions.
For information and reviews of full service self-publishing companies:
Hybrid:
Pros: You get to be "published" by a reputable publishing house. They will produce and print your book as well as do some marketing. They share the risk for the success of the book.
Cons: You pay for all of the costs to produce the book and the hybrid publisher (or co-publisher) gets a cut of the royalties.
Read more about hybrid publishers
Building Interest and Engagement
Your book marketing plan should start before you even start writing your book.  Don't miss out on a great opportunity to engage your community and build relationships with fans who will ultimately buy your book.
Another benefit of building up a fan base is that it will keep you on track and moving through the writing process.  Almost every author wants to quit because the process can be gruelling. So, having a community who is involved in your process will not only give you a support group, but will keep you motivated.
As soon as you start writing you can start sharing and engaging.  People will want to know how you're doing and it will keep you on schedule.
Julia McCoy, CEO of Express Writers has written several books.  She provides a great example of pre-marketing a book.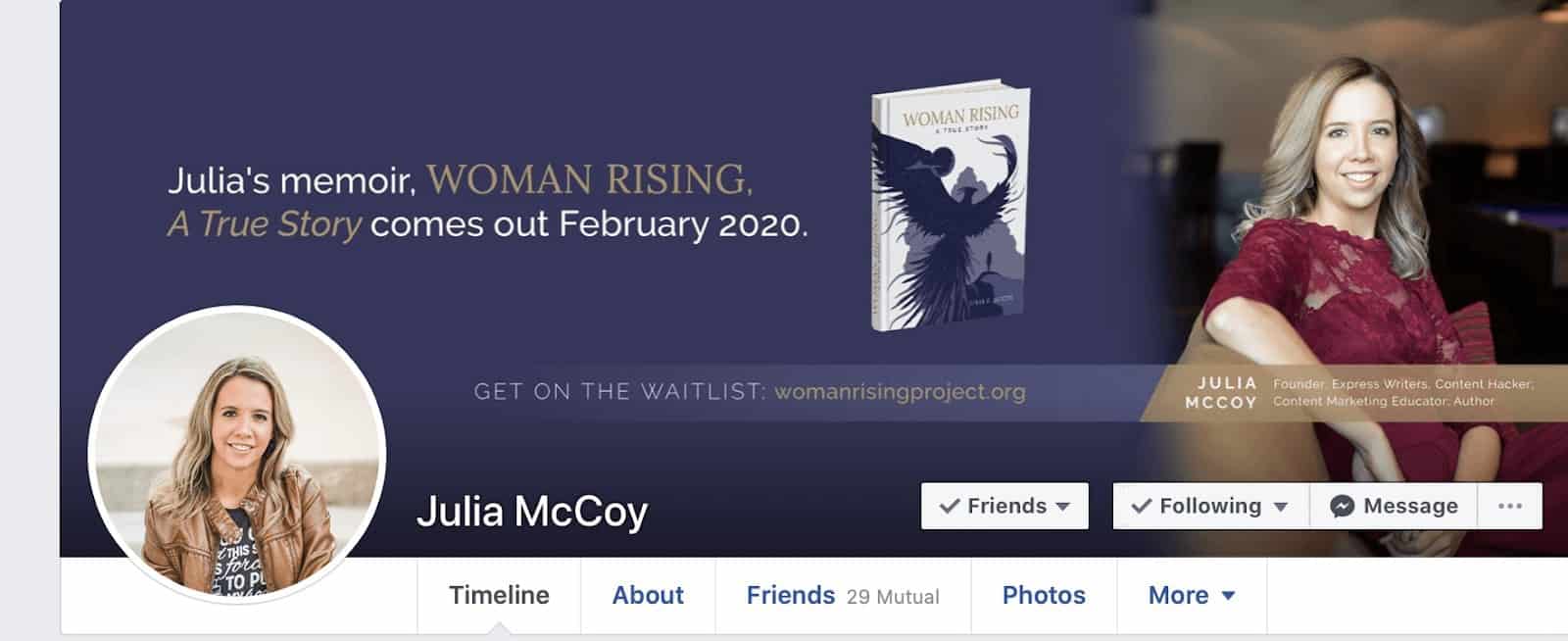 Notice that her personal Facebook page has a promotional image and a call to action for her latest book.
She's been notifying people about the progress of her book over the last year on her personal Facebook page.  She's shared her ups and downs, asked advice and engaged with her audience.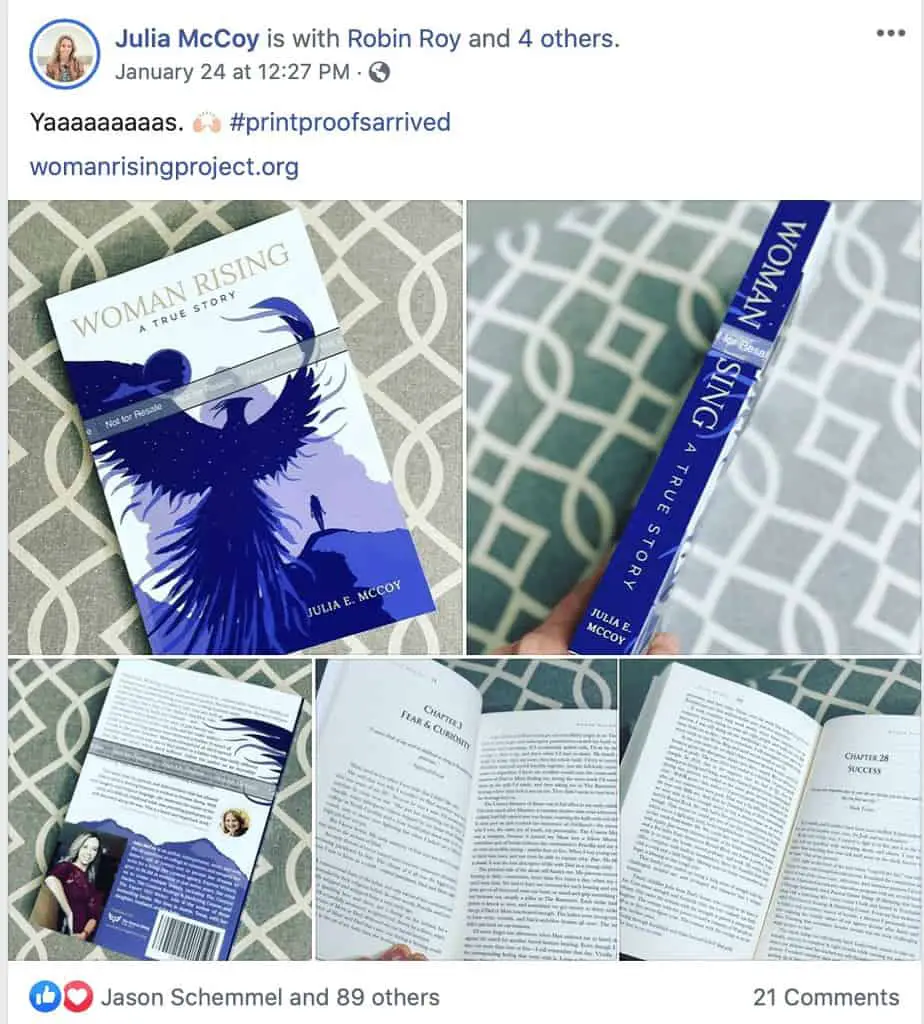 In this video, she talks about some of her challenges and shares some good news.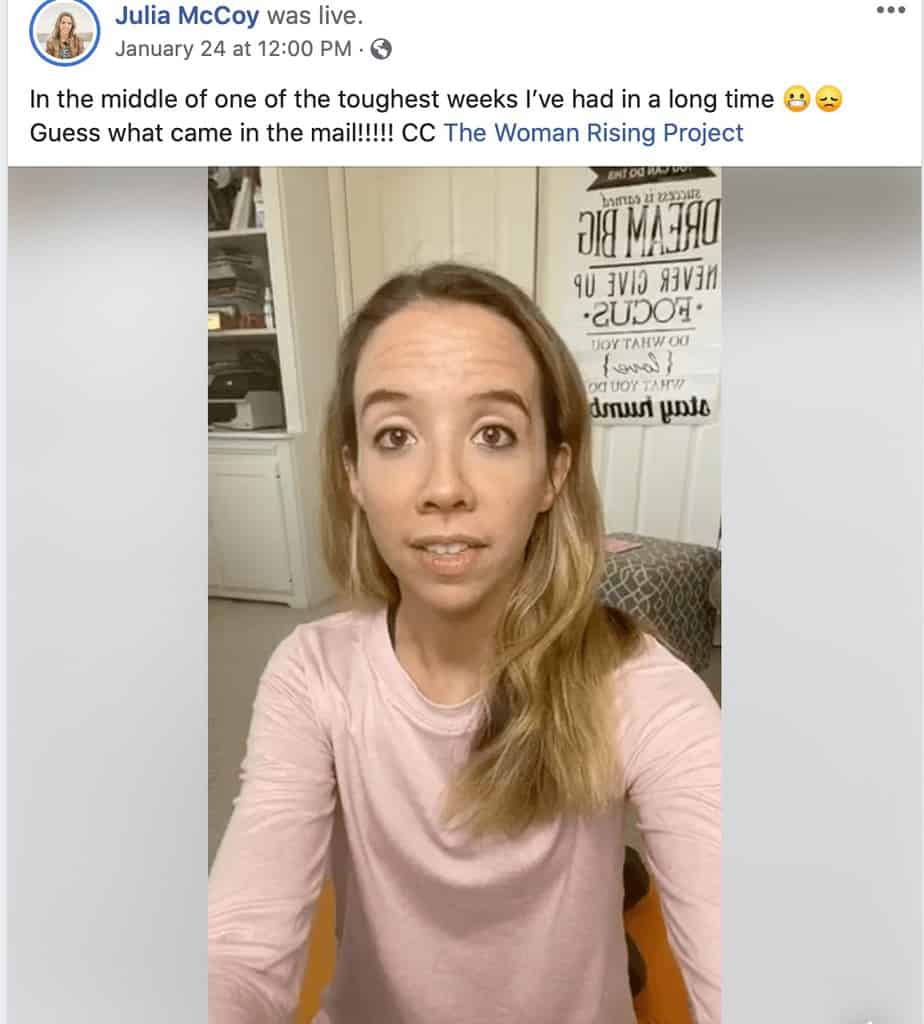 But here's the really great result of her pre-publish marketing efforts — her community sharing her book — BEFORE IT'S PUBLISHED.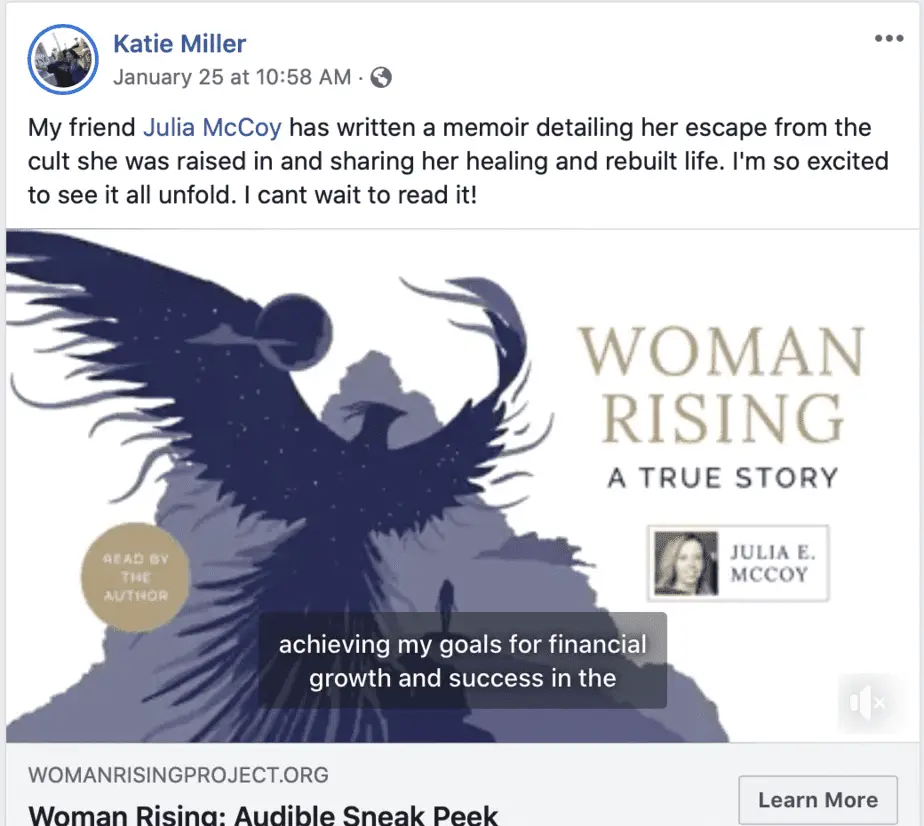 Another big benefit of including your audience in your writer's journey is the ability to ask for and get help!
I'll cover a lot of resources here to get you started, but getting recommendations from your friends and colleagues is truly priceless.
How to Start Writing Your Book
It can be overwhelming to think about writing an entire book on your own. As with most big projects, your best bet is to break everything into much smaller parts and work on it every day.
Writing Your Book Yourself
Several authors use this method to get their book written:
Create a 2-3 sentence description of your book.
Brainstorm a list of questions your book will answer.
Turn your questions into chapters.
Write out short 500-word answers to those chapters.
Each day build on a chapter from the day before.
Regardless of whether you will write your book yourself or use a ghostwriter, having this type of outline will be immeasurably helpful and keep your whole team focused on the scope of the book.
Using a Ghostwriter
If you're feeling stuck or can't seem to move forward, you can use a ghostwriter to write your book.
What is a ghostwriter?
A ghostwriter is a freelance writer who specializes in writing books for other people.
How much does it cost to hire a ghostwriter?
You will definitely need to have more money than time to hire a ghostwriter. Like any professional, expect to pay between $60-$100 per hour for a decent ghostwriter. To put it another way, for a typical book of about 250 pages, expect to pay no less than $5,000 for a ghostwriter with little experience.  The more experienced and popular writers can command rates as high as $100,000 or more.
Remember, you can also do a hybrid of DIY and a ghostwriter.  The more you have flushed out and completed, the less work there is to do for the writer and the more you'll get for your money.
The ghostwriting process
Finding a ghostwriter has as much to do with chemistry as skill.  Because you want this person to write in your voice, it's very important that the two of you have good chemistry.
Any professional writer is going to need some guidelines and specifications.
Make a wish list: Before you begin your search, make a list of what you're looking for.  Imagine that you've found the perfect person to complete the perfect project and describe it on this list.
Find a ghostwriter: Ghostwriters are not always easy to find.  Reedsy is one of the most trusted ghostwriter marketplaces that you can check out.  Another great resources is to go to your network of professionals and experts and ask for referrals.  If you have people in your network who have written a book and hired an editor, ask to speak to their editor and shee who they might recommend.
Read samples of their work: WIth a list of recommended writers, ask for and take time to read their work before you schedule a meeting with them.
Create a list of questions: Create a list of questions that you want to ask and ask each writer the same questions.  This will give you an easy way to compare one writer over another.
Have a chat with several ghostwriters: Remember, this is about finding someone who writes like you and thinks like you.  So make sure you speak with the person directly. Be sure to have your project laid out and ask for a proposal.
Review proposals: Review each of the proposals and if you have more questions, this is the time to get those answered.
Choose a ghostwriter: By this stage, you should have a good idea of which ghostwriter will work best with your project,
Get interviewed: The ghostwriter will interview you.  This would take place over a few days and those interviews will be recorded and transcribed. From those interviews, the ghostwriter will pull together a book outline which you can revise.
Phase 2 Interviews: The next phase is a deeper dive into the outline with more interviews from which the writer will create an expanded outline of 15-50 pages.
Book Draft: This is when the writer goes away and starts writing the book.  Ultimately they will come back with a working draft of the book. For a basic book, this can take about three months.
Editing and publishing: After the final draft is complete, the manuscript goes through editing and publishing. That's a whole post in itself, so I'll stop there.
Revisions by author: This is the fun part.  It's where you get to make the book truly your own.  You can add stores or specific elements that will put your personal touch on the book.
Editing Your Book
At this point you will have a completed draft of the final book product that you can now take to an editor.
Do not skip the step of hiring an editor!
Here are the three biggest reasons you'll need a professional editor:
You'll learn the ropes through their experience:

 Nothing can replace the experience of working hand-in-hand with a professional.  An experienced professional editor will take you through the process.

Create a professional product:

Once you've written your book, or as you're writing your book, you'll need an extra pair of eyes to make sure that your writing is correct and professional.  If you're writing your book to build your personal brand, you don't want to skip this step.

Test for clarity:

 A professional editor can help you assure that your content is clearly communicated for your audience.
Where to find an editor for your book?
You can find affordable editors on the Freelance Writer's Den job board, social media groups for self-publishers, and online platforms like Upwork, or Reedsy.
There are three basic categories or types of book editing:
Developmental editing: big picture, content editing, macro editing
Copyediting: micro editing, grammar editing, flow and structure editing
Proofreading: consistency check, format and layout
How much does it cost to hire an editor?
Your best resource for book editing rates is the Editorial Freelancers Association rates page. This will give you a basic benchmark for rates. The rates listed are self-reported by the organization's members who take a rates survey.  The rates are broken up into categories for type of work that include everything from different types of editing to fact checking, indexing, etc.
For instance, the EFA lists basic copyediting of 5–10 pages per hour at a cost of $30–$40 per hour.
Here are some more book editing cost ideas as laid out in The Write Life, a great resource for self-published authors:
For a 70,000-word book, your editing costs could be:
Developmental editing: $.08 per word, or $5,600 total
Basic copyediting: $.018 per word, or $1,260 total
Proofreading: $.0113, or $791 total
It's easy to extrapolate from this what your total expected editing cost could be. Fantasy, sci-fi, and epic novel writers should be forewarned.
For a 120,000-word book, your editing costs could be:
Developmental editing: $.08 per word, or $9,600 total
Basic copyediting: $.018 per word, or $2,160 total
Proofreading: $.0113, or $1,356 total
How to Craft a Book Title That People Want to Read
The title, cover and back cover and table of contents are the top three things that most influence a reader about your book.
A good book title can mean the difference between a flop and a best seller.
There are dozens of examples of books that started out with one title and dismal sales and finished with another title and flourishing sales.  Here are just a few:
Casanova and His Loves sold 8,000 but Casanova, History's Greatest Lover sold more than 22,000.
The Mystery of the Iron Mask sold a respectable 11,000 a year but when changed to The Mystery of the Man in the Iron Mask, over 30,000 were sold that year.
Here are a few tips and tricks on crafting the perfect book title that sells your expertise:
Be specific: You're not Stephen King or Brian Tracy (at least not yet), so it's a good idea to use your topic keyword in the title.  In other words, tell your audience exactly what the book is about.  Here are a few examples of best selling titles:
Fanocracy: Turning Fans into Customers and Customers

 into Fans by David Meerman Scott

Non Obvious Megatrends: How to See What Others Miss and Predict the Future

by Rohit Bhargava

Do It! Speaking: 77 Instant-Action Ideas to Market, Monetize, and Maximize Your Expertise

 by David Newman
Notice how all of these book titles are descriptive enough to give you a good idea of what the book is about.
Keep them short: The basic formula is a one-three word title with an expanded description. So, when I say keep it short, I mean keep them short enough so that you can get the whole title into a social media post such as a Tweet.
Make it easy to remember: Since a lot of your marketing and promotion will be word-of-mouth, you want to make your book title relatively easy to remember.
Play around with common phrases: A fun place to start with common phrases is an idiom dictionary. Explore existing phrases and play around with changing them around just enough to create a fun and memorable book title. Also consider common quotes or sayings.
Tease the audience: Play around with the idea of grabbing the audience's attention with your title.  One of my favorite examples is a Ryan Holiday book called Trust Me, I'm Lying: Confessions of a Media Manipulator.  The "Trust me, I'm Lying" part of the title combines two opposites while "confessions of a media manipulator" begs a ton of questions like; what are you going to confess? How did you manipulate the media? Did I fall for it? I want to know more!
When you're ready to play around with some titles, check out the Reedsy, book title generator.
Design the Cover for Your Book
Next to having a killer title, the next most important element of your book is the cover design.
Don't underestimate how critical it is to hire a professional to design your book cover. At the same time, you don't have to spend a small fortune on a book cover.
The best way to save yourself some money on book cover design is to do some preparation work ahead of time.
Create a "Book Cover Inspiration" folder.

 When you hire a book cover designer, they will ask you for "inspiration" photos or ideas.  So, you might as well start with that in mind.

Research book covers

. Head over to bookstores or Amazon and review other books in your genre.  Snap pictures of images that capture your attention and make notes on what you like; typography, colors, images, etc.

Brainstorm your own ideas based on your research

. What emotions or ideas do you want your book to convey? Search images and typography that best match your ideas. Save these images to your inspiration folder.

Enroll a few friends

 who have read your book and grab some of their ideas.  You can ask simple questions like "After reading the book, what images come to mind? What colors come to mind?

What text do you want on the cover?

 Play around with different text you want on the cover.  There will be the title, the author — and what else?
Check out these additional book cover design resources
Launch Your Self-Published Book Project
If you've been cultivating a community all the way down the line, then launching your book will be a natural extension of the process.
Create a website for your book
Your book will need an online place to live.  You can create a website dedicated to your book or, you can add a book section to your existing site. Which you choose will depend on your personal brand and your marketing strategy.
Whichever option you choose, make sure that your website design is focused on your overall marketing goal and features your book in a way that achieves your marketing goals.
If you are a thought leader and you want your book(s) to support your speaking and consulting, you should create a books category on your personally branded website.
Mike Michalowicz started out as an entrepreneur, wrote one book, and then another and another.  Today, his business is all about writing and speaking.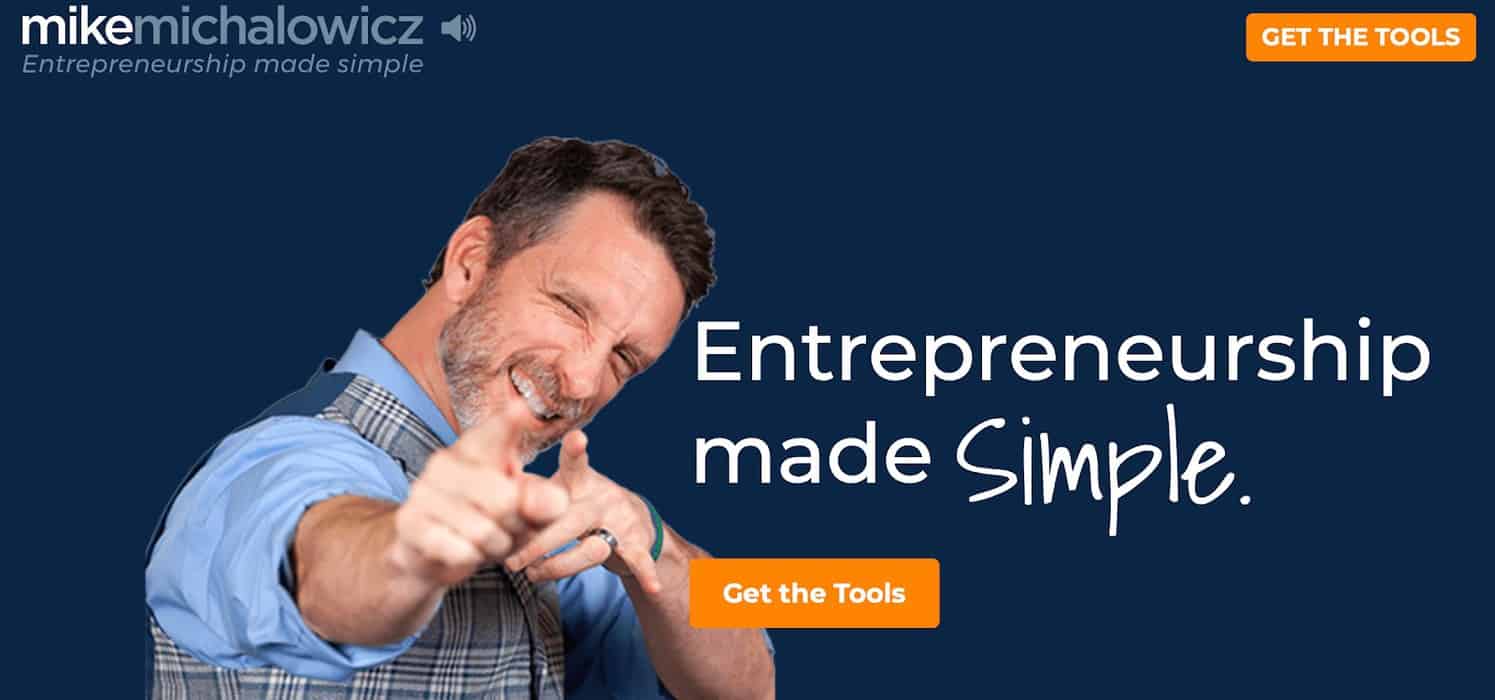 And his website is primarily dedicated to his books and tools for scrappy entrepreneurs.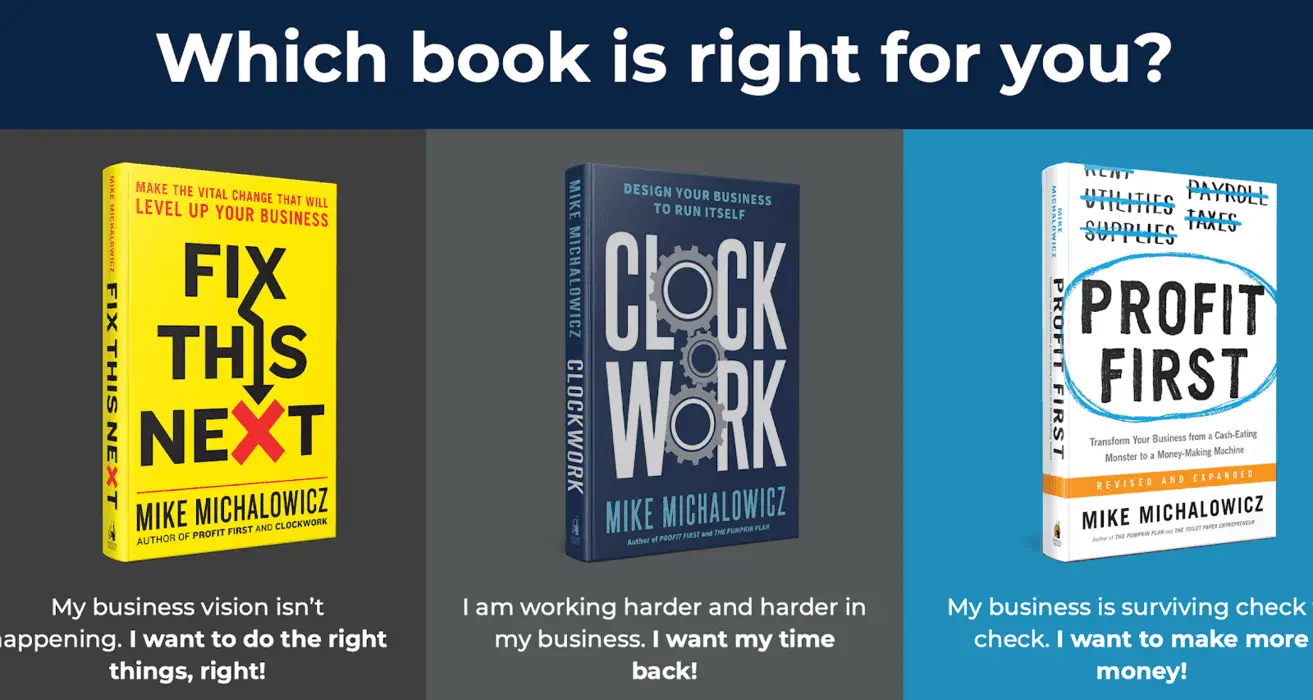 Barry Moltz is a small business expert and consultant.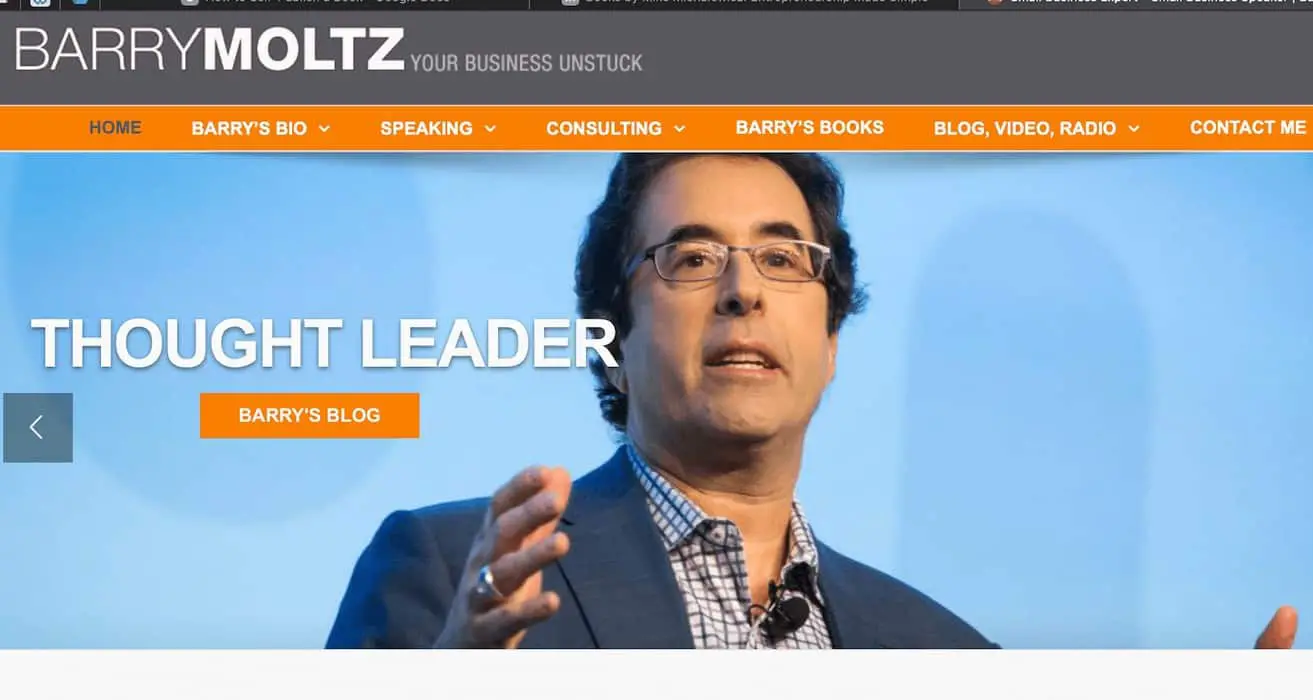 On the other hand, Julia McCoy, CEO of Express Writers has created dedicated websites for several of her books.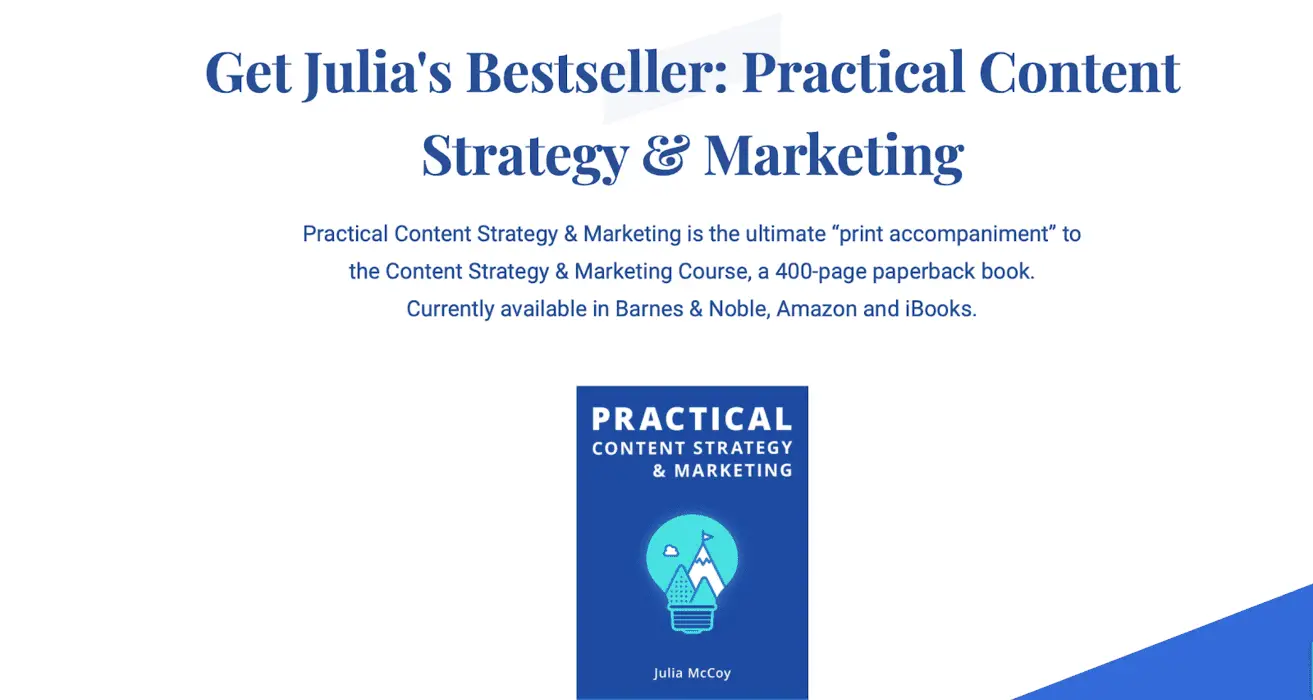 For Practical Content Strategy and Marketing she's created an entire content writing course for content marketers with the book as a foundation.
For her latest book, a memoir based on her personal experiences growing up, also has its own dedicated website.
This is a good choice because this book is on a completely different topic than she's written about in the past.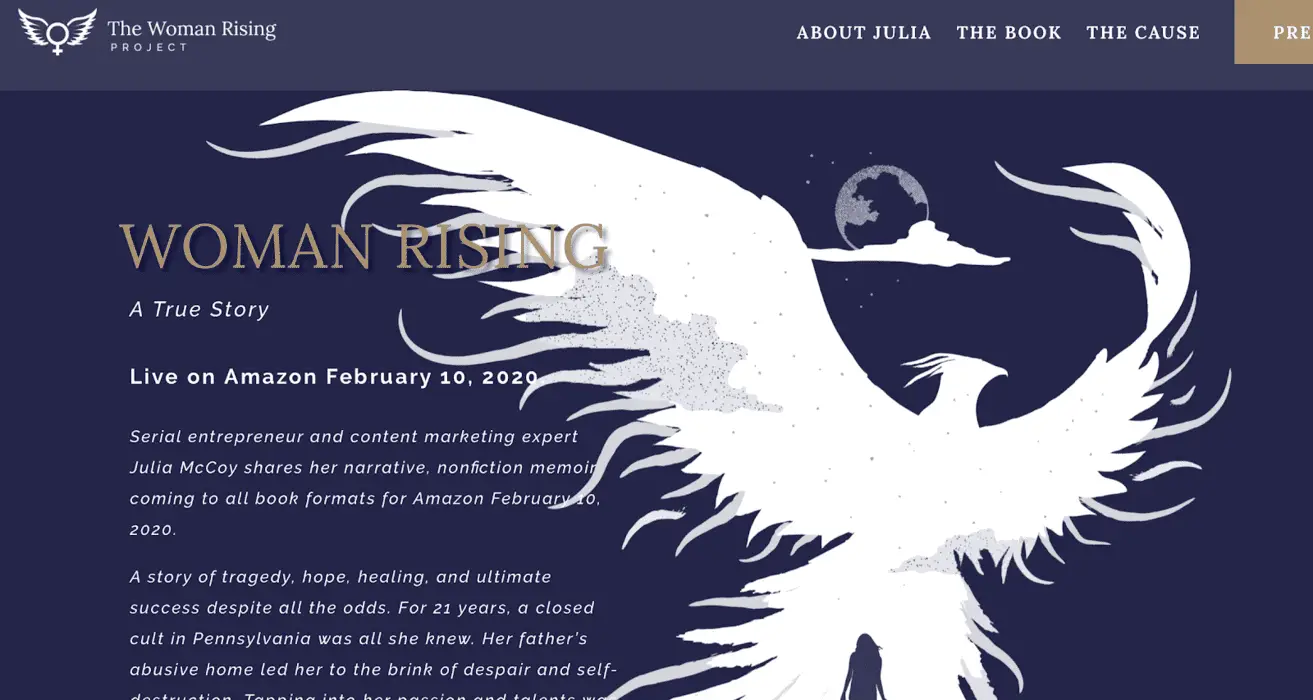 Offer Free Chapters and Tools
Depending on the topic of your book, it's a good idea to provide a free chapter or two for download.
If your book discusses a process or business model that you use in your consulting, consider adding tools or worksheets for download.  Some authors make the tools open to the public while others put them behind a password which they share inside the book itself.
Leverage Amazon Tools and Resources
Make the most of Amazon's book promotional tools and programs
KDP Select:  If you want to get Amazon's highest royalty rate of 70%, then it's a good idea to enroll into KDP select.  The enrollment period is 90 days where you give Amazon exclusive distribution rights. You can re-enroll if you like, and you might want to because it gives your book the opportunity to be part of the Kindle Unlimited program.
Amazon Author Central: When you set up an Author Central account, you can have your own page on Amazon, with your biography, photos, videos, events, and details of every book you have published. This page also attaches to the sales pages of all the books you are selling on Amazon. You can personalize the contents of your page and even share its URL on your social media sites and in your email signature to drive more traffic to it.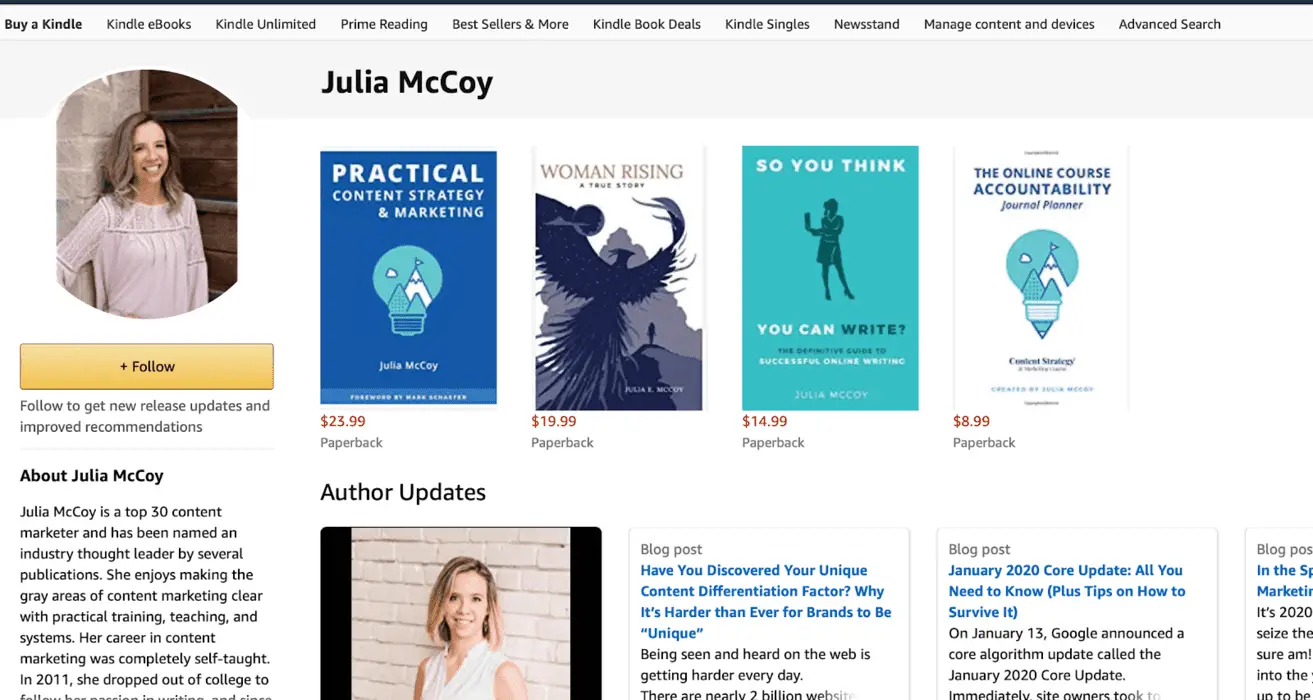 Expanded Distribution Program: This program offers you the ability to make your print books available at various online retailers and physical bookstores, libraries, and academic institutions in the United States. If you enroll into this program, your book will be listed in the catalogs of distributors and can be ordered by sellers and libraries connected to the distributors' ordering system.
Also
Check out Goodreads' network of over 65 million members. Goodreads is a useful promotional platform. You can create your own profile page to share about yourself and your books, seek reviews, organize book giveaways, host discussions regarding your books, add your books to the appropriate lists on Listopia where they can be seen and voted for by your target audience, and more!
Develop a Media Kit Both Online and Offline
Your book will need a media kit which you can post online and also distribute to influencers, bloggers and book reviewers.
Think of your book media kit as a shortcut to a great review. Most writers and bloggers who review books have dozens of books piled high and creating a media kit that makes your book easier to write about will increase your chances of a great review.
What to include in a media kit for your book
Author Bio, contact information and links to social media channels
Book summary that includes a breakdown of chapters
Interview questions
Images or link to downloadable images such as book pictures, author heashots, etc.
Book website or URL
Press release
Excerpt from other book reviews
Get reviews
You're going to want to frontload the launch of your book with early book reviews and testimonials.
The best and fastest way to get reviews is to send early drafts (those are called galleys) to those media people, bloggers, friends and influencers in your space.  This gives them the time to read the book and to perhaps write an early review or do some social media posts or video reviews.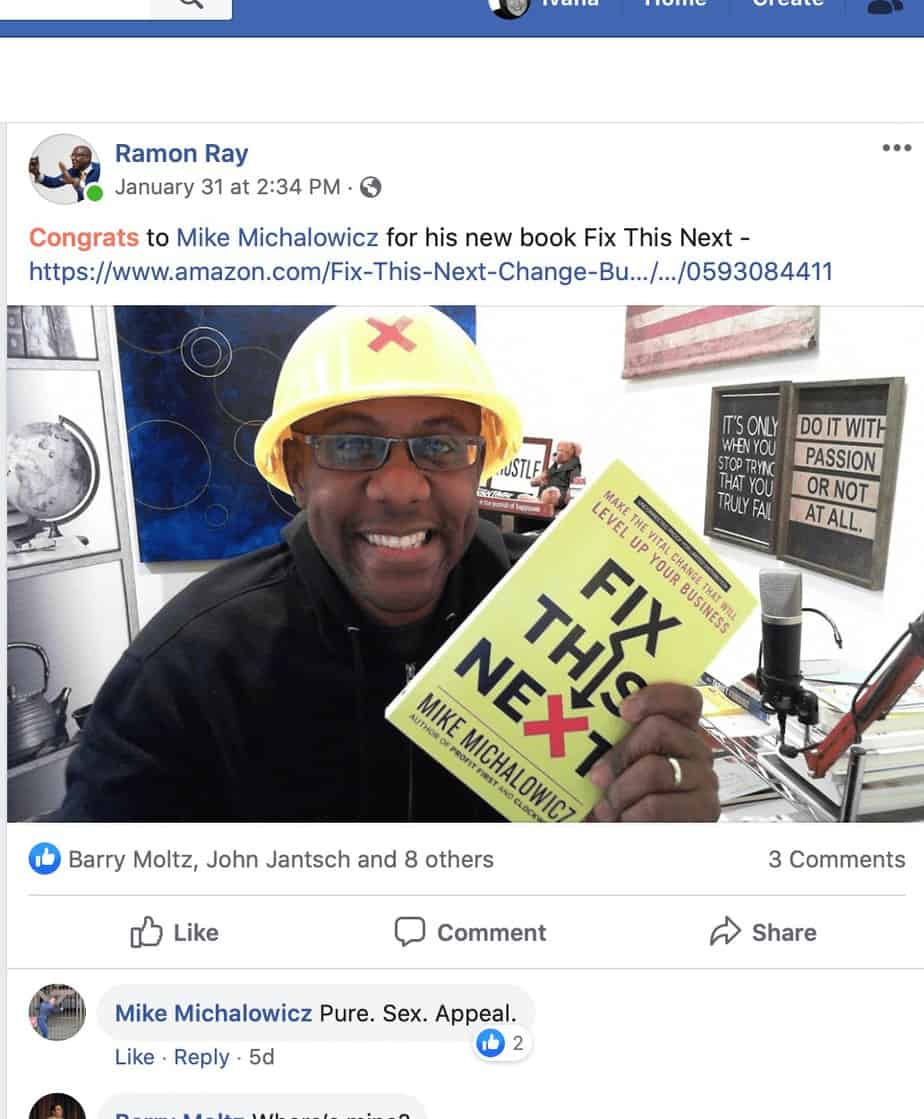 You can also get reviews from Online Book Club.
Engage on Social
This is a constant and when you are promoting your book (and yourself), you have to be on social.All. The. Time.
It will feel like you are overdoing it, but Facebook, Twitter, LinkedIn and Instagram streams move fast — so you don't want to miss it.
Do Virtual Book Tours on Podcasts, Webinars, etc.
Because you've been on social media and sharing your author and book-writing journey, you will have had time to meet and plan an appearance on as many podcasts and interviews as possible.
Don't be shy.  Participate in Twitter Chats, reach out to hosts of podcasts and make yourself available for Facebook or LinkedIn LIVE interviews.
Take the time to make your book content relevant to each audience that you speak to.
Engage with Your Email List
How to build an email list around your new book:
Offer a giveaway: Offering something for free is a simple way to get a lot of people interested (and potentially join your list). You can provide a free chapter or templates or worksheets.
Advertise on Facebook: You can design and serve ads to a targeted audience so that they sign up to your mailing list.
Blogging: If you post good content on a regular basis, you can build a blog readership to whom you can advertise your next book. This is more relevant for non-fiction.
How to keep your email subscribers engaged:
The key to keeping your subscribers engaged is to share things that they won't see anywhere.
Your emails don't have to be long, they just have to be useful and something that your subscribers look forward to.
What to write in your emails:
Writing updates – what you're writing/reading/researching
Special offers – book bundles, free promos, price reductions
Links to interesting articles which you have spotted online
News about your everyday life – nothing too personal, but used well, this can help to strengthen your relationship with your readers
Extracts from your books and short-stories
Informal surveys – What challenges are you having on the topic? What resonated with you in the book?
Read more about email marketing for authors here:
Online advertising
Don't discount paid advertising for marketing your self-published book.  Depending on the topic for your book, paid advertising can be a terrific strategy.
There are two advertising goals that you can have, and you'll need a landing page for both instances.
The first advertising goal is to build your email list.  In that case, you'll need a landing page with your free download or whatever you're using to entice people to give you their email.
The second advertising goal is to actually sell books.  In that case, you'll want to direct people to a sales page; this can be on your own site or to an Amazon page.
Facebook advertising for authors:
Check out these additional resources
Conclusion
As you can see by this guide, self-publishing a book isn't as much about being an author or an expert, it's about being a marketer.
Once you accept that writing a book is a marketing activity, you'll be ready to invest the kind of thinking, planning and strategizing to make sure that the time and effort that you've invested in the process pay off,