Imagine revolutionizing your marketing efforts with the power of AI. Enter Jasper.ai campaigns, the game-changer that's transforming the way businesses create marketing strategies. Get ready for a deep dive into this innovative tool and discover how it can supercharge your marketing efforts.
Short Summary
Harness the power of AI to create winning Jasper.ai campaigns tailored to fit your brand's identity, voice and style.
Generative AI enables you to generate unique content that drives results & preserves a unified brand voice across platforms.
Easily collaborate remotely with APIs & extensions for seamless integration into existing workflows!
Unveiling Jasper.ai Campaigns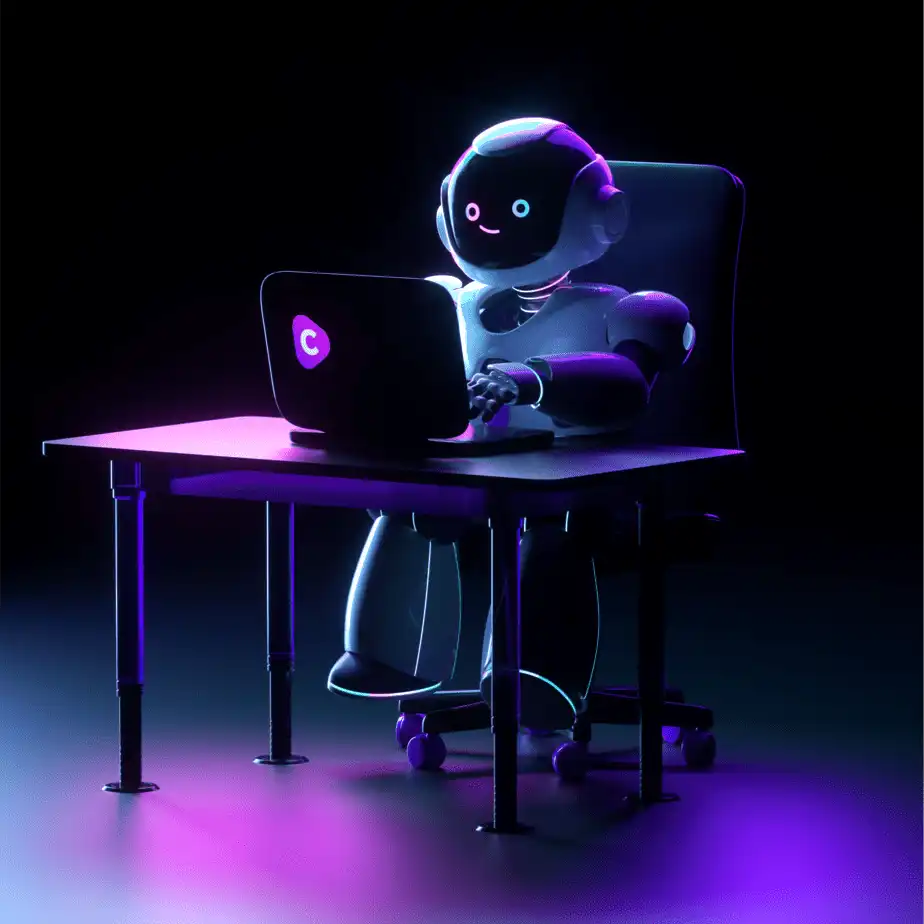 Jasper – Your AI Writer
Jasper.ai is a powerful tool that can help entrepreneurs create high-quality content quickly and efficiently. Its advanced AI technology, customizable interface, high-quality content, affordability, and templates make it the best AI writing tool for entrepreneurs.
Meet Jasper
We earn a commission if you click this link and make a purchase at no additional cost to you.
Let's dive into the features and capabilities of Jasper Campaigns. When you log into Jasper, you'll land on the dashboard. There are so many great features here that empower marketers! We're going to focus on the campaigns feature.
First, you'll land on the dashboard.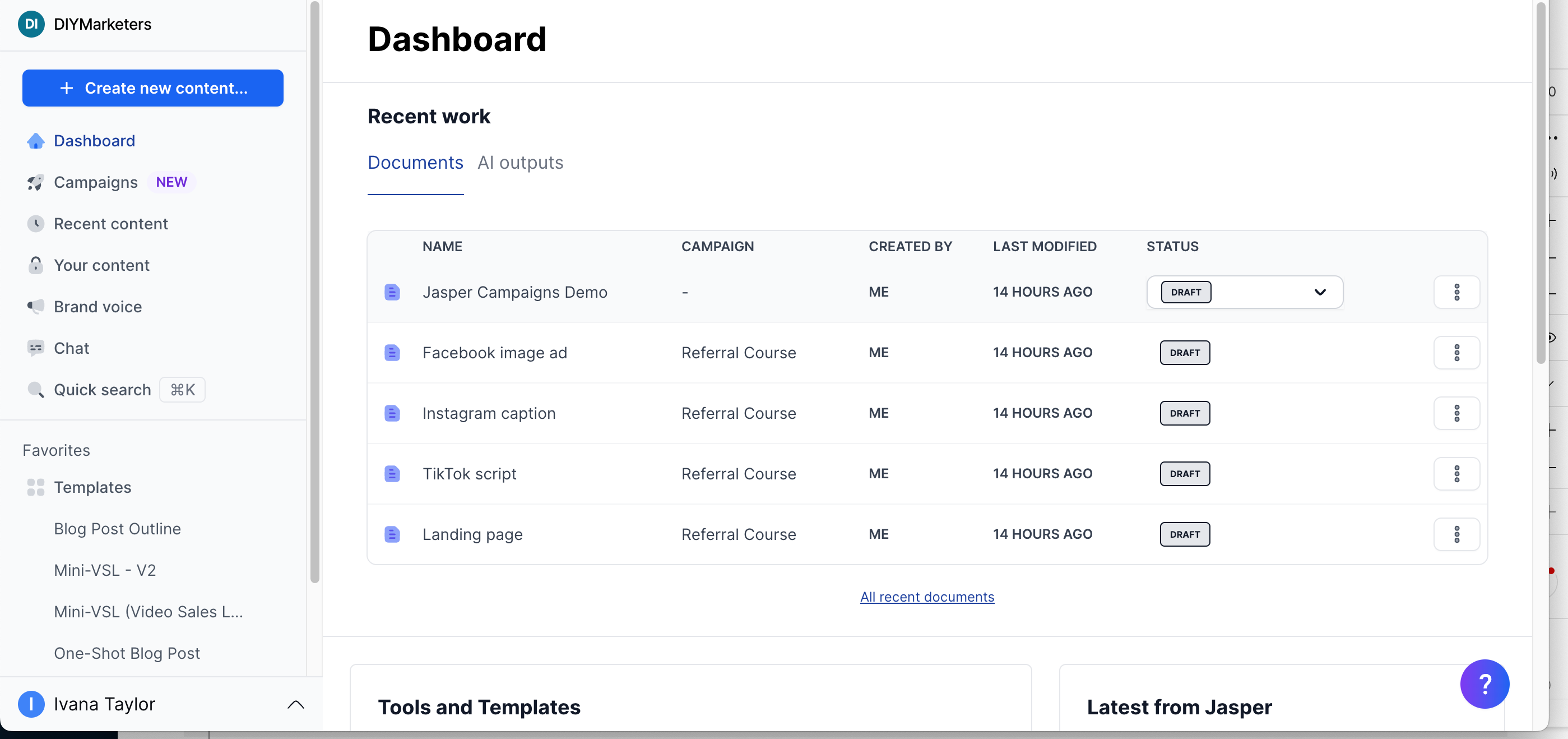 To illustrate its effectiveness, let's explore an example campaign created for promoting Jasper as an affiliate. By leveraging Jasper Campaigns, you can effortlessly generate content for various channels, including TikTok, promotional emails, tweets, and newsletters.
The process begins by requesting content for your campaign. In this case, we requested a TikTok script, a Jasper promotional email sequence, tweet ideas, and a newsletter. Once you've provided the necessary inputs, Jasper gets to work.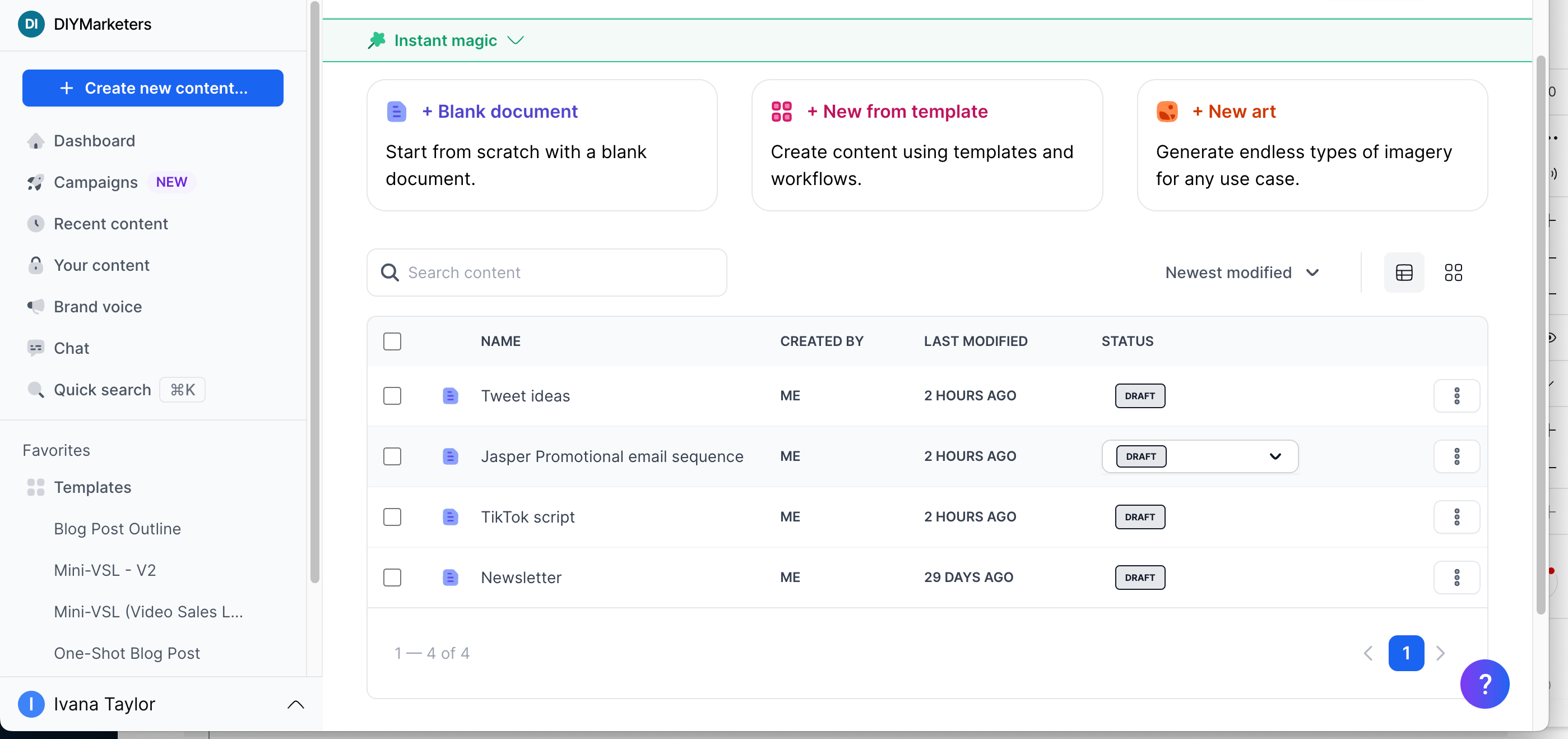 Let's examine the results. The TikTok script generated by Jasper's AI is a great starting point. It may require some editing to align with your unique style and approach. Similarly, the promotional email sequence provides a solid foundation, although you'll want to personalize it to reflect your own unified brand voice and messaging.
When it comes to tweet ideas, Jasper delivers a range of suggestions. While they may be a bit long and require editing, they serve as a valuable starting point for crafting impactful social media content. The newsletter content is another excellent resource, with minimal editing required to adapt it to your specific needs.
Creating Your Own Jasper Campaign
Now, let's explore how you can create your own marketing campaign using Jasper. Suppose you want to promote your new referral course. Jasper allows you to select a voice, enabling you to customize the content according to your brand's unique tone and style. Additionally, you can upload a document of your choice to serve as the basis for generating content.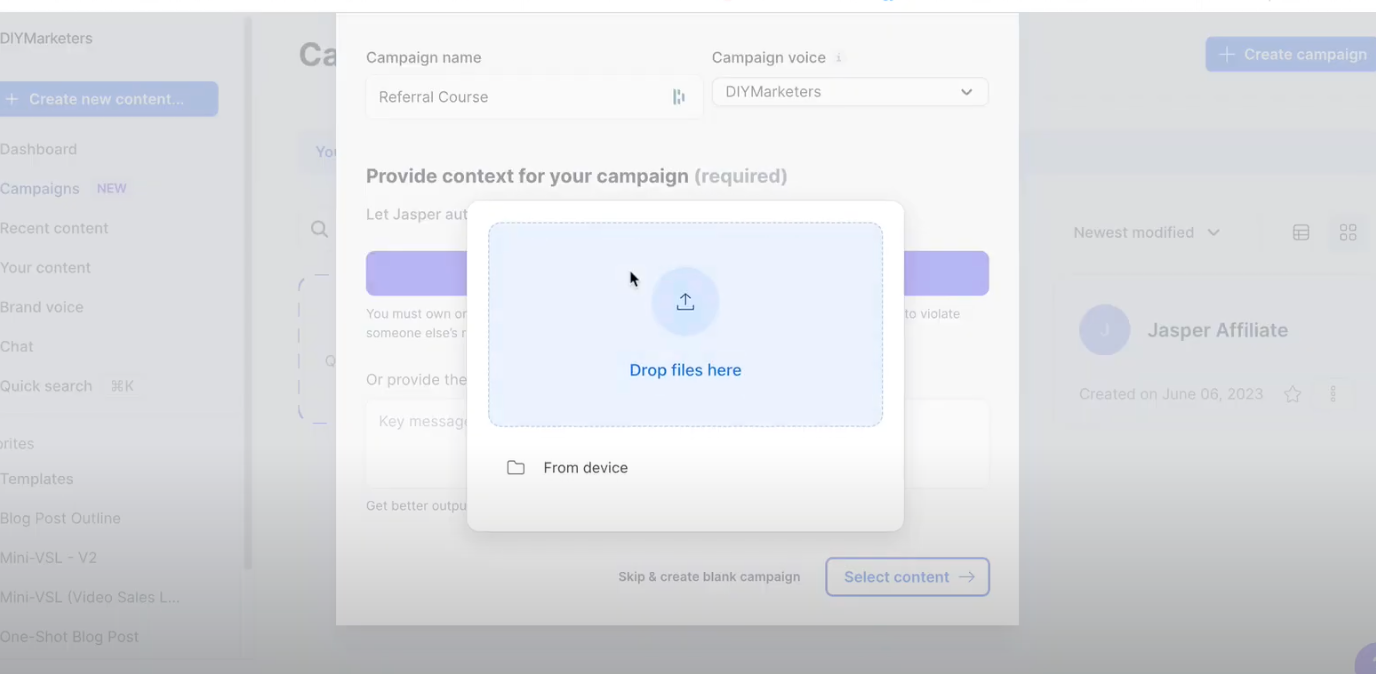 For example, you could upload an email swipe file containing promotional information about your referral course. Jasper will analyze the document and generate drafts for various marketing assets based on your selections. You can choose from a wide array of options, such as Facebook ads, landing pages, promotional email sequences, TikTok scripts, LinkedIn posts, frequently asked questions, blog ideas, and more.
With a few clicks, Jasper gets to work, rapidly generating drafts for your chosen assets. Within minutes, you'll have a wealth of content to work with, providing you with a head start on your campaign. While the drafts may require some fine-tuning and customization, they provide a solid foundation to build upon, saving you countless hours of effort.
Leveraging Jasper Campaigns for Success
Jasper Campaigns is a remarkable tool that empowers content marketers and entrepreneurs to achieve remarkable results with minimal effort.
This is a whole new level of generative ai because you can streamline your content creation process, repurpose content across multiple channels, and maintain organization and consistency throughout your marketing strategy and campaigns.
Remember, while Jasper Campaigns accelerates content generation, it doesn't replace your creativity and expertise. It serves as a powerful tool, providing a springboard for your ideas and allowing you to focus your efforts on refining and personalizing the generated content to align withyour unique brand voice and messaging.
Here's how to get the most out of Jasper Campaign.
Make it your own: While Jasper generates drafts, it's crucial to add your personal touch. Edit the content to align with your brand voice, values, and target audience. Tailor the messages to resonate with your specific goals and objectives.
Optimize for each channel: Remember that different channels have their own unique requirements and best practices. Customize the generated content to suit the platform you're using. Shorten tweets, tailor emails, and optimize landing pages to maximize their impact on each respective channel.
Supplement with your own assets: Jasper Campaigns can work wonders with the content you provide. If you have existing case studies, testimonials, videos, or other relevant assets, upload them to Jasper and request specific content based on those materials. This way, you can incorporate your real-life experiences and achievements into the campaign.
Experiment and iterate: Treat Jasper Campaigns as a starting point rather than a final product. Use the generated drafts as inspiration and building blocks to create even more impactful content. Test different variations, headlines, and calls-to-action to optimize your campaigns further.
Maintain brand consistency: While Jasper enables you to create content across multiple channels, it's essential to maintain a consistent brand image and messaging. Ensure that your campaigns align with your overall brand strategy and reinforce your brand's core values and positioning.
Generative AI for Marketing
Generative AI uses neural networks to create unique content by identifying patterns in existing data. This technology enables Jasper.ai to generate marketing strategies and content tailored to your brand, ensuring your campaigns are always fresh, engaging, and on-brand.
Say goodbye to generic content and hello to personalized, creative marketing assets that drive results with consistently high quality content as you create online.
Asset Creation Made Easy
Jasper.ai simplifies the process of creating marketing assets, from emails to blog articles and social media posts. The platform understands your brand's identity, message, and target audience, and uses this information to produce assets that hit the mark every time.
Plus, you can review and tweak the generated content before using it for your campaigns, ensuring everything aligns perfectly with your brand.
Maximizing Your Brand Identity with Jasper Campaigns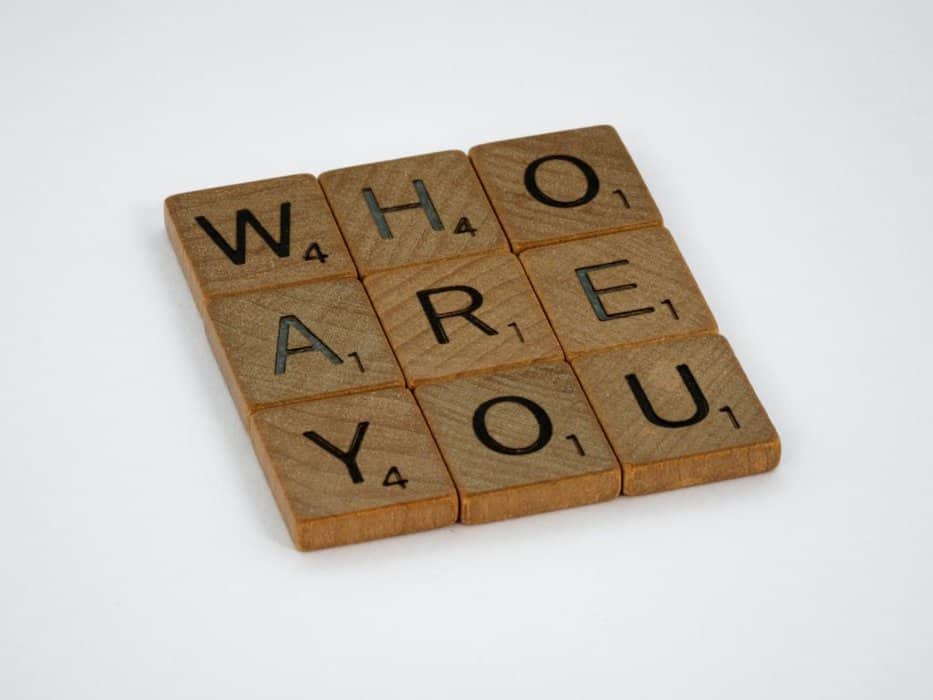 Maintaining a consistent brand voice is essential for successful marketing campaigns, and this is where Jasper shines. The platform helps marketers create content that's true to their brand identity while giving them the flexibility to collaborate asynchronously. By maintaining control over your brand's unique voice, Jasper.ai ensures that it is preserved across all marketing channels, resulting in a unified brand voice and powerful brand identity.
By offering a straightforward platform for creating content quickly and efficiently, Jasper.ai enables marketing teams to collaborate seamlessly without having to be in the same physical location. This empowers marketers to produce high-quality content at scale, while still keeping their brand voice intact.
Preserving Unique Brand Voice
Jasper.ai is equipped with advanced features that ensure your content remains consistent with your brand voice, even as it generates text, images, and other assets. The platform amps up cutting-edge models with your brand identity and key company info, so your brand voice is always maintained wherever you create content online.
With Jasper.ai, you can trust that your marketing content will accurately reflect your unique brand voice.
Collaborate Asynchronously
Asynchronous collaboration is the key to efficient remote teamwork. Jasper.ai offers a shared workspace, task management, and communication tools that let teams work together without being in the same location. This flexibility enables marketing teams to be more productive, as they can work on their own schedules and at their own pace, even if they are spread out geographically.
Say goodbye to long meetings and hello to streamlined, remote collaboration. With Jasper.ai, teams can collaborate without the need to be in the same place.
Integrating Jasper.ai into Your Workflow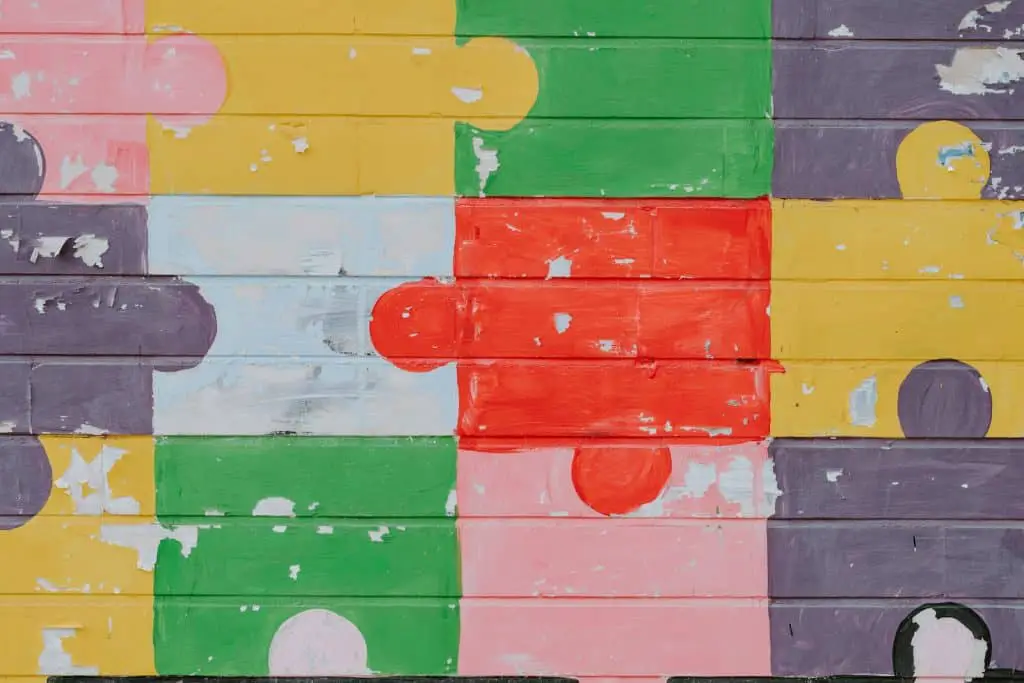 Integrating Jasper.ai into your existing marketing workflow is a breeze thanks to its APIs and extensions. By incorporating Jasper.ai into your current processes, you can unlock greater efficiency, reduce manual labor, and make your marketing efforts more cost-effective.
The Jasper Everywhere extension allows you to access the platform's AI-powered content creation capabilities directly within your workflow, while the Jasper API can be used to bring Jasper.ai into your existing apps and systems. With seamless integration, Jasper.ai enhances your marketing capabilities without disrupting your current workflow.
Jasper Everywhere Extension
The Jasper Everywhere extension is compatible with Google Chrome and Microsoft Edge, and it can be used across any channel. By downloading the extension from the Chrome Web Store or Microsoft Edge Add-ons, you can start creating campaigns and taking advantage of Jasper.AI-powered features with just a few clicks.
The extension brings the power of Jasper.ai directly into your browser, making campaign creation across all channels a breeze.
Jasper API Integration
Integrating the Jasper API with your existing platforms opens up new possibilities for your marketing efforts. By using the API to create custom modules, voice-controlled modules, and chatbots, you can harness the power of Jasper.AI's generative AI capabilities while still working within your existing systems.
Enhance your marketing capabilities and streamline your workflow with the Jasper API.
Overcoming Writer's Block with Jasper.ai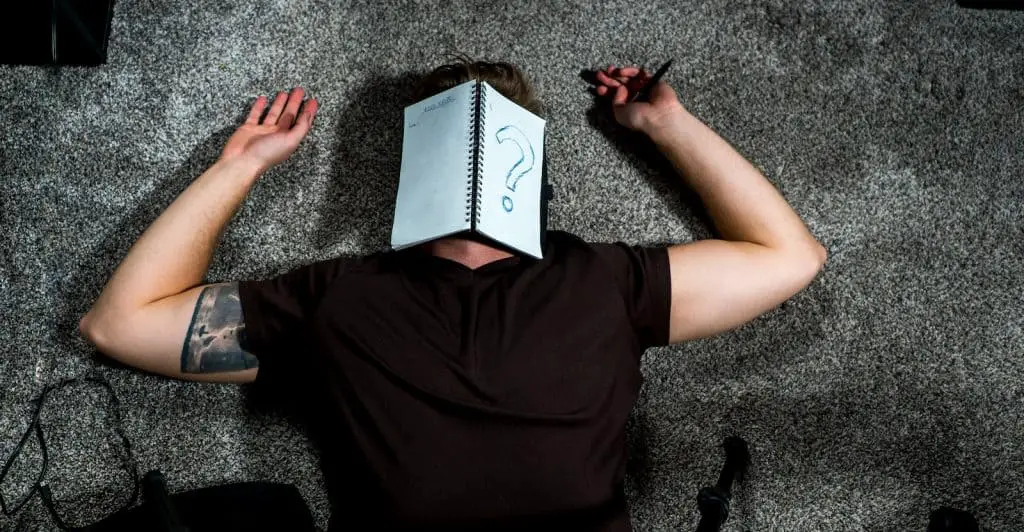 We've all been there – staring at a blank screen, struggling to come up with the perfect words for our marketing content. Jasper.ai is here to help you overcome writer's block and generate high-quality content consistently. By providing ideas and sparking inspiration, Jasper.ai ensures that you'll never be left struggling for the right words again.
Whether you're crafting blog posts, social media posts, or email campaigns, Jasper.ai can help you create engaging and accurate content that resonates with your audience. With Jasper.ai by your side, writer's block will become a thing of the past, and you'll be able to focus on what really matters – creating exceptional marketing campaigns.
Summary
Jasper.ai Campaigns is revolutionizing the marketing landscape with its AI-powered capabilities. By streamlining campaign creation, maintaining a consistent brand voice, empowering remote collaboration, and integrating seamlessly into existing workflows, Jasper.ai is the ultimate marketing companion. Don't miss out on the opportunity to supercharge your marketing strategies with the power of AI – try Jasper.ai today and see the difference for yourself.
Frequently Asked Questions
Is Jasper AI legit?
Jasper AI seems to be a helpful tool for those in marketing or writing-related professions. It also offers a free 10,000 word trial so you can test it out with no risk involved.
Overall, Jasper AI is legit!
Is Jasper AI free?
Yes, Jasper AI offers a 7-day free trial with 10,000 word credits. You can try out any of their plans and follow the free trial link on their pricing page to get started.
Who is the CEO of Jasper AI?
Dave Rogenmoser is the CEO and co-founder of Jasper AI, a generative AI copywriting app for marketers and content creators. He believes that generative AI is a tool to solve businesses' real-world problems, having spent much time writing copy and content with his other companies.
Who is the founder of Jasper AI?
Dave Rogenmoser is the founder of Jasper AI, along with Chris Hull and J.P. Morgan.
What is Jasper.ai Campaigns?
Jasper.ai Campaigns is an AI-powered marketing tool that simplifies the process of creating campaigns, helping businesses create more effective and consistent content.
It automates the process of creating campaigns, allowing businesses to focus on other aspects of their marketing strategy. It also provides insights into customer behavior and preferences, enabling businesses to create more targeted campaigns.
The tool also provides analytics.