June marketing ideas don't have to be centered  around June holidays.  Everyone does that – and it's a little annoying. 
Instead, get creative by executing a few marketing ideas WELL – and not just following the crowd.
In this article, I'm going to show you how to come up with marketing ideas for any month, but especially for June.
Find Your Inspiration Point
June is named after the goddess Juno. She is the goddess of marriage and childbirth.  This is why June has been one of the most popular months for weddings.  
But it's also a time of year when everyone steps away from the world of work and starts heading outside, going on vacation and simply disengaging from your marketing.
This is why it's a great time to leverage this idea of "marriage" into your marketing.
Use This Theme for June 
Bringing people and things together.  
See what I did there?  I took what the month is known for as inspiration and then I decided that I'd riff on that idea for this month's theme.
Now, what YOU want to do is take this idea of bringing things and people together and come up with a specific theme that YOU want to use all month long.
Take a minute and brainstorm these:
In what ways can you craft an offer that incorporates the theme of bringing people together?
What are some opportunities to bring people together – not just customers, think beyond that; partners, vendors, media? 
As you're noodling on some June marketing ideas, think about anything that brings people together. 
Here's a list of top marketing ideas for summer using this idea of bringing people together.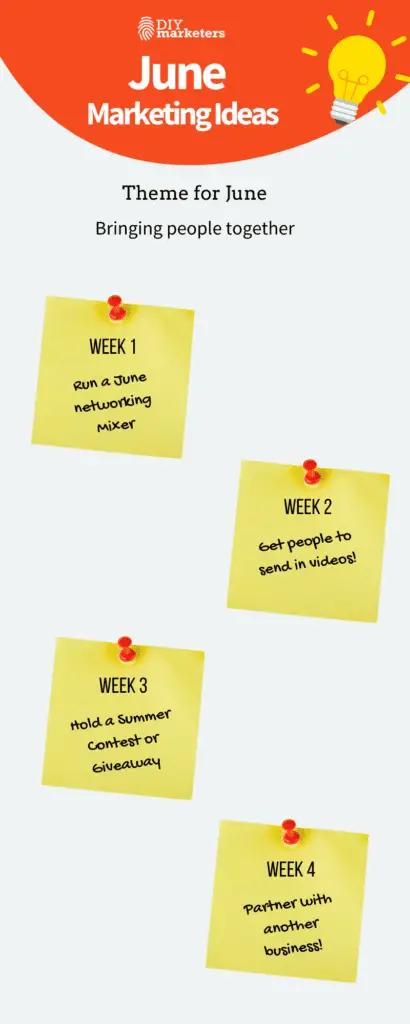 1. Play Matchmaker with a June Networking Mixer
Whether online or offline, June is a great month to plan a mixer where you bring together partners, customers, media people, anyone who you can think will benefit from meeting each other. 
File this under your "referral strategy".  Think about what type of people you want to meet to expand your network and then create a space where you and your network can mutually benefit. 
If you run an online business, plan a mixer on Zoom – but plan it as if you're going to be doing it in person.  
Create a form that collects pertinent information about them, their business and the type of people they want to meet. 
Once you receive the responses, create groups of people who you think will benefit most from meeting each other, 
Come up with a simple networking outline for them to follow such as : 
Name, 
Where you're from
Explain your business, 
What type of connections you're looking for, 
How you can help others
You can run something like this once a month, once a quarter – it's just a great way to bring people together with you as the host,  
Of course, if your business is local, you can do this same thing locally.
Another version of this is to have these introductions take about 15-30 minutes as a group, then you might have a guest speaker (maybe someone from the group) run a quick 15 minute tutorial that the whole group can learn from.
And have a Q&A afterwards.  This allows everyone to learn from each other, and get new referrals from your community,
As the host, you can always do a quick "about me" speech.
2. Ask Your Customers and Community to Send You A Short Summer-Themed Video
People love watching videos, and there's no better time to produce one than during the summer months. 
Ask a fun (but relevant) question and ask your community to send you a short 30-60 second video.
Then compile all the videos together and share it on social media, mentioning everyone who contributed.
The best part is that it's NOT complicated.
Try using VideoAsk.  This is an awesome tool that has a generous free plan that gives you 20 minutes of free video each month!
Here are some ideas
Ask customers or products to showcase how they use your products or where they've taken your products.
Ask your customers to share before and after stories of life before and after your product or service.
Ask a fun questions and let them share their answers and stories.
Throw down a challenge and have people tag others to do the challenge – it can be anything from eating a type of food, or maybe making a type of food or drink, it can also include trying to do something physical like a dance routine.  Use your imagination – here is a long list to get you started.
3. Hold a Summer Contest or Giveaway
Everyone loves a good contest, especially when there are prizes involved. Contests are also a great way to bring people together whether it's a competition or just plain fun.
To sweeten the pot, offer a grand prize that's sure to be popular, such as an all-expenses-paid vacation or a gift basket full of summer goodies. If you're an online business, you can also invite your friends to donate free access to a program or course that they offer.
It will be rewarding to promote your contest or giveaway ahead of time to generate interest and excitement.
You can take anything on this list and turn it into a contest.  All you need is a good contest management tool.
I've used KingSumo in the past and I think it's the easiest and lowest cost way to manage a contest.
4. Partner with Another Business
Partnering with another business is a great way to reach a whole new audience. You can collaborate on a summer-themed promotion or contest or host a joint event.
Seek a complimentary business when choosing a partner. For example, team up with a local surf shop or a sunscreen company if you sell beachwear.
Small Business Expert and Author, Pamela Slim calls this the PB&J Strategy.
Pamela Slim calls this the PB&J Strategy
Final Thoughts
Look, the idea is to HAVE FUN with your marketing and not be a slave to the same old same old.  Every business is going to be following holidays – but you can be different, engaging and really stand out by zigging when others are zagging.