I've been thinking a lot about mobile apps and wondering how a mobile app can help your business. 
We spend between five and six hours on our mobile devices every day.  That means that we spend a good portion of our day using apps. Whether you want to read, learn, buy, or just entertain yourself – "There's an app for that", as Apple used to say.
But should you have an app for your business? And most importantly, can having a mobile app for your business actually help you get customers, keep customers and make money?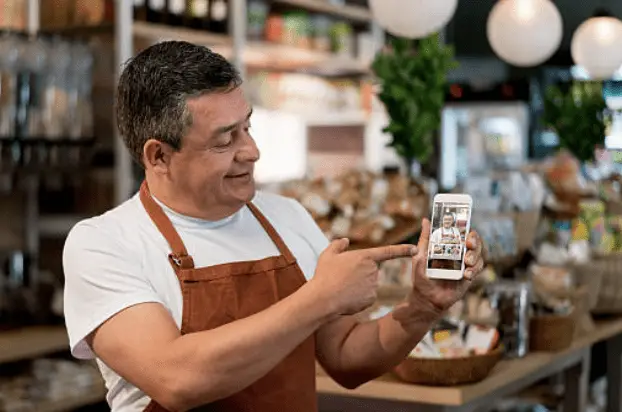 What are the different types of apps?
These days, people throw the word "app" around all over the place.  But if you're thinking about creating apps for your business, it helps to think about the different types of apps out there so that you can start making decisions about what you need and where you should prioritize. 
Internal vs External
There are really two basic categories of apps; internal and external.  
Internal apps are apps that help you and your team run your business. They are apps that you use INSIDE your business.  These apps make it easy for you to serve your customers and they make it easy for you to run and manage your business.
External apps improve customer engagement with your customers. They make it easy for your customer to do everything from consume content, purchase content, check the status of their purchases and get customer service.
As a business owner you can have either or both of these types of apps. The decision is purely up to you and based on your goals and priorities. 
Mobile App vs Web App
In the beginning, we used the word app to apply strictly to mobile apps. But as technology has grown and expanded, the word "app" has expanded to include SaaS (software as a service) platforms as well.  For example, Zoom has both a web app (that you download to your computer) and a mobile app so that you can run a meeting wherever you are. 
With that in mind, how do you know if your business 
Your business should have a mobile app if…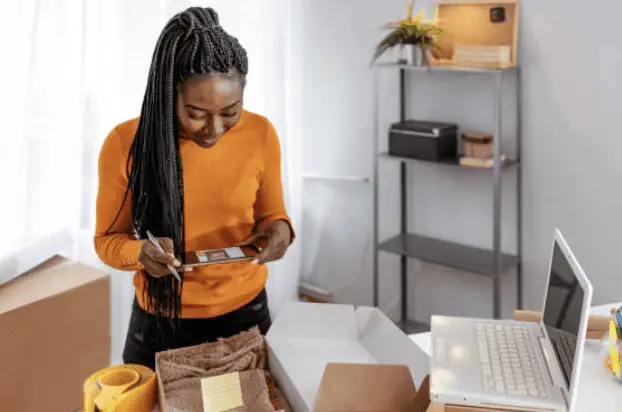 You are constantly toggling between different apps in your business; CRM, Slack, Dropbox, Google Apps, Microsoft Apps, etc.
Any time a customer contacts you, you have to go into multiple apps to place orders, update, invoice, get paid, deliver their product or service.
You want to create a dashboard that collects data and information from a variety of platforms such as CRM, Email Marketing, Production, etc.
You want to give your customer base the ability to serve themselves.
You have a virtual sales team that needs to have access to live updates.
You're looking for a new distribution channel for your products, services, or content. 
How can mobile apps help you maintain loyal customers?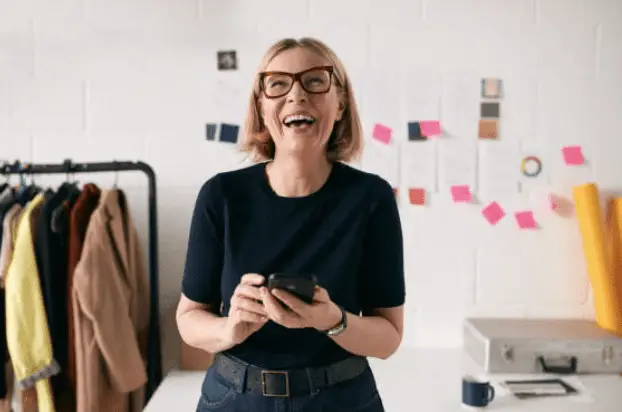 Here's a list of how having mobile applications can give your business a competitive edge withy our target audience: 
Marketing Tools For Competitive Advantage
One of the most ignored elements of a business' marketing strategy is distribution – getting your products and services within arm's reach of your customers, And that's where a mobile app can make all the difference. 
Generate Loyal Customers
The shortest distance between two points is a straight line.  And the easier you make it for your existing customers to get what they want, the more loyal they are going to be.  The easier you make it for more customers to keep all their data and information inside your business, the less likely they are to leave.
What are all the things a mobile app can help your customers do?
Schedule appointments / Make reservations
Get reminders, updates, or push notifications
Store and access purchase and service records
Store and access courses and content
Allow customers to make payments
Customer Service
Sales support
How Mobile Apps Can Help You Get More Customers?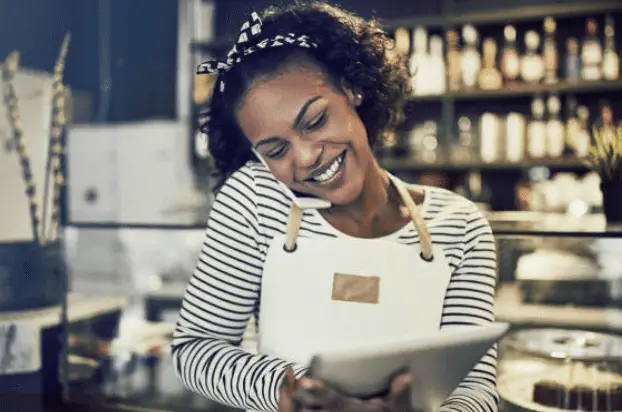 If you want to get more customers, you have to be where your customers are and they have to know who you are and how you're going to make their lives easier.  
Your customers are on their mobile device
It all starts with where customers are spending their time.  And these days, EVERYONE is spending all their time on mobile devices and using mobile apps
According to eMarketer, 90% of mobile app usage is spent in apps. Remember when I said that people are spending between 5-6 hours on their mobile devices, check out this chart! eMarketer's estimates are even larger.
Therefore, if your goal is to be closer to your customers – within arm's reach of your customers, then you're going to want a mobile app.
Your customers are shopping with apps
A  Tapjoy report says that 73% Of Millennials Shop On Mobile 1-4x Per Week! That's a lot of shopping. Granted, this shopping may not include B2B products or services, but the critical information here isn't what apps they are using, rather it's what they are doing – SHOPPING. 
An app can build a stronger brand
Mobile apps offer the opportunity for your company's message and values in ways that were never possible before because they can be accessed on demand whenever someone needs them–beating rival companies at their own game by having access right when you do! 
Makes it easy for customers to find you.
Don't hide your app under a bushel, or bury it inside your website.  Instead, create a landing page for your app with links to the Apple Store or Google Store. Create a section or pop up on your website that features your app.
Be sure to write keyword optimized descriptions so that it shows up on Google and don't be afraid to advertise your app on Google so that customers who search for your company name or any other keyword you want to be optimized for find it. 
Make it easy for customers to buy from you.
One of the main advantages of having a mobile app is that it can make it easier for customers to buy from your business. Your app should have a shopping cart feature, so customers can easily purchase items with just a few taps. You should also offer in-app discounts and other incentives to encourage customers to buy from you. This can help make it easier for customers to buy what they need without having to leave your app.
Help customers connect with you socially.
A mobile app can make it easier for customers to connect with your business on social media. With a mobile app, customers can connect with you anytime and anywhere. This will help them stay up-to-date on your latest products and promotions. Additionally, a mobile app provides an easy way for customers to contact you directly with any questions or comments.
Collect customer data.
Your app can be a valuable tool for collecting customer data. Use customer data to improve your marketing efforts, personalize your customer interactions, and create more effective product offerings.
I can't say enough about this as the internet evolves beyond cookies and increased privacy features that customers are using to STOP sharing their data.
In the future, a successful business will have a business strategy focused on creative ways to provide value in exchange for customers voluntarily sharing their private information.
Mobile Apps Can Help You Make More Money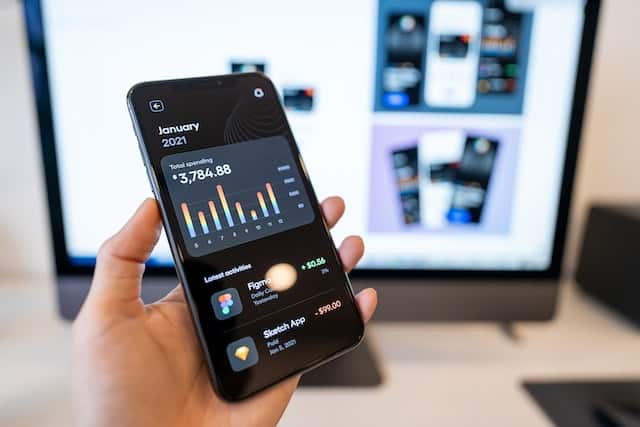 Let's talk about the benefits of mobile apps and how they can make you more money.
Not only will you make more money because they make it easy for your existing customers to stay loyal to you, but you can also make money from the mobile apps!
Here's a short list of how:
One-Time Fee for download
One simple way to make money from your app is to charge a one-time fee for the app.  This is ideal if your entire business is the app, or if your app offers standalone features for your customer.  
In-App Purchases
This is one of the most profitable app monetization models.  This is different from a one-time download fee in that it might provide some free features, if your audience wants access to all the features, they would purchase those features inside the app.
Advertising
If you want to provide some or all features for your app, you can make money by serving ads on your mobile app (rather than paying for downloads).
Sponsorship
If you work in partnership with a brand, you can have that brand sponsor the app in exchange for having that brand be the exclusive advertising partner with your business. 
Membership or Subscription
You can also make money from your mobile app by having customers pay a small monthly or annual fee for a download.  This is common for weight loss, image editing, or online libraries that contain courses, music, video or entertainment.  
Transaction Fees
The best way to make money from your apps is through transaction fees. This is especially true for apps that provide a platform where people can make digital transactions regularly.
If your mobile app allows people to buy products from other companies, you can charge a transaction fee for each purchase. This way, you can make money from your app without investing much money.
Selling Products or Services
Another way that you can make money from your mobile apps is by providing products and services for sale.  This can be merchandise, content, entertainment – whatever you want to sell. 
How much does it cost to make a mobile app?
Creating and developing a mobile app costs between $10,000 – $30,000. This puts mobile apps out of reach for most small businesses, but if you start small, you can use low-code or no-code tools  to develop your app for your business. 
How can I make my own mobile app – without hiring a developer or agency?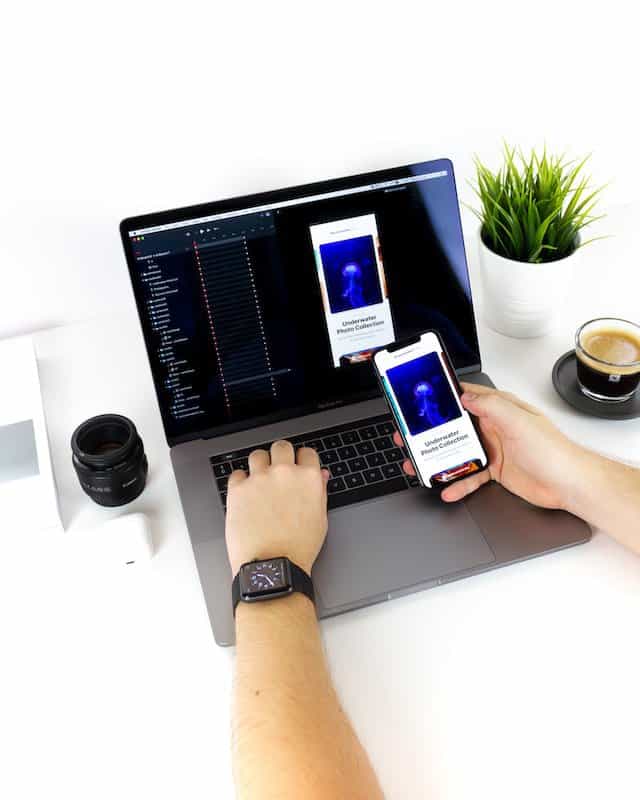 This all sounds great, but what if you don't have $10,000 – $30,000 to invest in a mobile app?  Not a problem, today, there are all kinds of no-code, low-code apps available that will help you create a simple app that you can scale as you grow.
Make a plan
Predictably, making a plan is your first step.  Start with the basics:
What does it do and why
In what ways will it transform your customers' experience with your business?
What features should it have? Think of a minimally viable product – if your app had only ONE feature, what would it be?
With your thoughts down on paper,  reach out to some customers.  If you can, interview your ideal customers and ask them what would improve their experience with your business. 
The point with these customer interviews isn't so much to give them exactly what they ask for, rather it's to "listen for" what would create a great experience for them. 
Once they tell you what they want, you can show them what you've been thinking, and see how they react to that.
Check out similar mobile apps
Do an inventory of your favorite apps – the ones you use daily.  Make a list of everything you like about each of those apps.  Take screenshots of the design and interface, think about whether the app is free or paid. 
If the app is paid and you're paying for it, what is it that you're paying for and why is it important that you have those features. Think about how it makes your life easier.
Here's a list of questions you can ask yourself:
Why is this app successful?
Why do people want this app? (Look at the reviews, blog posts, etc.)
What is it about this app that has customers using it every day (or frequently)
How are they marketing to their customers? (Check out screenshots, icon design & descriptions)
What is the competitive advantage of this app?
What does this app cost? Are there in-app purchases?
What's missing from this app – and why would it be useful?
Draw out basic wireframes
With all this information in hand, you can start drawing out the basic wireframe or UX (layouts, what's on the screen, how customers get from one place to another).
I can't stress enough how important this planning step is. It's SOOO tempting to start designing something.or hiring someone to do this for you.  But if you don't have these basics worked out on paper, you're going to find yourself in the land of "mission creep" and this will cost you valuable time and money.
Start looking at low-code, no-code app development software
Years ago, I had to hire someone to create a basic content app for me.  I wish I knew then what I know now.  I would have definitely started with a DIY app platform. In fact, I would look for a basic platform that doesn't cost a lot of money so that I can play around with my different concepts. 
My #1 recommended platform is Zoho Creator.  First, because it's already part of an entire business management platform that includes CRM, email marketing, databases and everything you need to run, automate, manage and measure your business – all for about $32/mo per user.
Here are some more reasons why this is my recommendation:
You can create internal apps that pull together all elements of your business AND external apps that your customers can use to engage with your business. 
Did I say no code – yeah there's that. You can create forms, workflows, and automations with a simple drag and drop interface. 
Zoho Creator comes with a set of pre-developed apps and templates that you can use to get you started.  This is great for someone like me, who's very visual.  This is great if you aren't sure where to start. 
Every application built on Zoho Creator comes with a native app for iOS and Android, allowing users to access real-time data from anywhere, at any time.
With Jotform's free no-code app builder, you can create a fully customized mobile application that includes forms and other tools tailored to your business needs. This way it will be available on any device of yours!
What I like about JotForm: 
Can we all say FREE – yeah.  For someone like me, who likes to dig in and start creating, this is a great option because I can start playing, trying things and see what  like without having to spend a dime. 
If you can create a form, you can create an app – what's not to like?
LOTS of templates.
You can create internal and external apps. 
Yes, Google has an app creator.  And it's only $5 for the starter.  There's a lot you can do; you can build a mobile app or desktop app.  And, if your data is already in Google, this is a great option. 
I felt like I had to list this one, but I have to say that I didn't find it as friendly as the other tools I've listed.  Honestly, Google isn't even trying to make it easy.  You either know what to do or you don't.  But if you're somewhat techy and you're committed to Google, this option is available. 
Until I started doing research, I hadn't heard about Adalo, but I have to admit that I like what I see.
Adalo has specifically chosen the "side hustling" solopreneur as their target audience.  Right away they are speaking my language – acknowledging that mobile apps and mobile development are not my life and I'm going to need all the help I can get. 
The first thing that got my attention was this headline right here – I can create a mockup right there in the platform.
The second thing I liked was their "training academy" – all on the platform. 
I've not used the app, but those who have,  love how easy it is to use, and most of the negatives have to do with more advanced functions. 
So what do you think? Ready to create an app?
It's never been easier to create a mobile app, and there are a number of platforms that make the process simple and affordable. Whether you're looking for a platform that doesn't require any coding or one that already comes with templates and pre-developed apps, there's an option out there for you. So what are you waiting for? Start building your dream app today!