If you're looking for an alternative to Constant Contact and MailChimp – check out this Moosend review. We'll take a look at how it works, what features are available, and whether or not it's worth switching over from your current service.
We're reviewing Moosend, the email marketing tool to help you send emails easily and effectively. With a variety of different templates to choose from, this service is perfect for start-ups and new small business owners who haven't committed to email marketing software or who are taking their first steps in email marketing automation.
It's popular for software tools to name themselves after an animal, and Moosend has really nailed it. A Moose symbolizes grace, energy, strength, movement and independence. It also represents wisdom and self-confidence. I think that's a perfect name for this email tool targeted to entrepreneurs — especially eCommerce businesses.
Even though Moosend has been around since 2011, the Moosend team has put the pedal to the metal on promoting their email marketing tool to small business owners. They reached out to me with an offer to promote them as an affiliate, so I've decided to share my first impressions and comparisons of Moosend.
In this Moosend review, I'll be going over the pros, cons, and a ton of details to help you decide if Moosend is right for you below. So read on!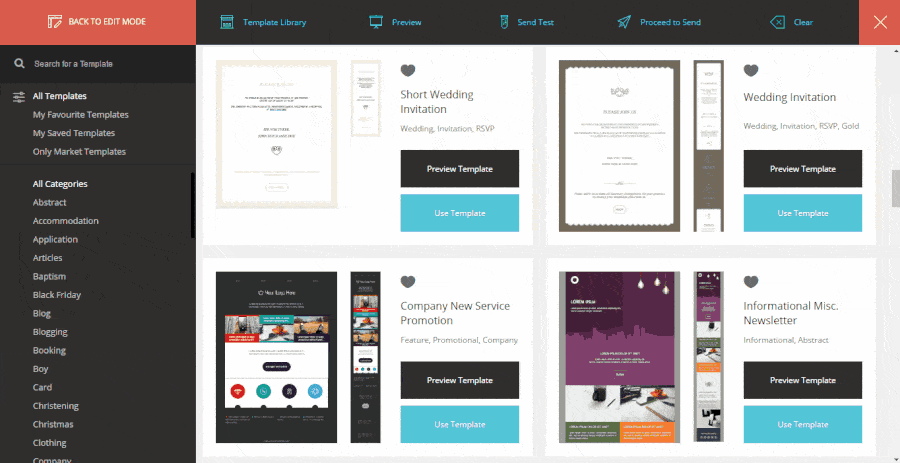 Moosend Review Summary
If you're just starting with email marketing and looking for an email marketing service provider, Moosend should definitely be on your shortlist.
Moosend is an easy-to-use email marketing tool that's ideal for new businesses and startups who want to start email marketing and haven't committed to an email marketing tool.
It's the closest alternative to MailChimp when it comes to look and feel and the introductory offer of using the service for free with up to 1,000 subscribers.
If you run an eCommerce business, you'll love Moosends's personalization and segmentation features.
We'll get into tons of details below, but here's a quick review summary.
What I like about Moosend
Unlimited emails for up to 1,000 subscribers, is a nice feature especially if you want to run a targeted campaign for a selective group of contacts.
Personalization features that go beyond charts and tables and give you details about what your customers buy, how often they buy it and even recommends similar products your customers might like based on their preferences and even their local weather!
While you aren't likely to see Moosend" as a seamless integration with every software you use, you can easily integrate Moosend with the most popular CRM systems such as Salesforce, Zoho, Hubspot, Pipedrive, and more. Not only that, but Moosend integrates with MailChimp, WooCommerce, Elementor, and dozens of other platforms!
Super-easy automated resend to people who didn't open your email the first time.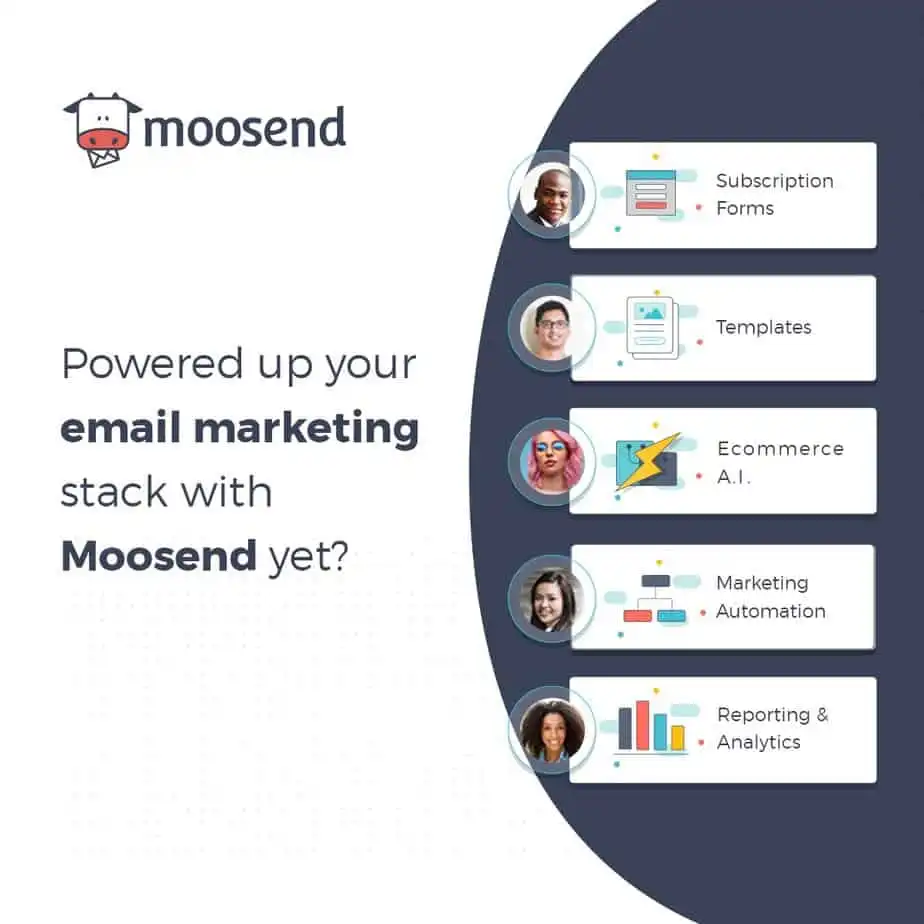 Moosend | Email Marketing for Thriving Businesses
If you're comparing free email marketing tools, Moosend should be on your list. Moosend offers great, responsive emails, it provides you with segmentation tools, powerful personalization features, campaign reports, and advanced A/B testing options to power up your email marketing strategy.
Connect with Customers
We earn a commission if you click this link and make a purchase at no additional cost to you.
Where Moosend falls short
Not as well known as MailChimp and Constant Contact. While Moosend integrates with dozens of software tools, it's just not as fast and intuitive as other legacy email marketing tools.
The free plan has more across-the-board limitations than MailChimp. In other words, to experience some of the advanced features, you will have to pay.
Users of the tool tend to complain about customizations.
There is no posting on social media.
Pros and Cons
Pro's
Free for 1,000 subscribers
Personalization insights
Integrates with popular CRMs and third-party tools
Easy automated resend to unopened
Cons
Not well known as established platforms
Free plan is limited
More advanced users want more customizations
No function to post to social media
Moosend Pricing: What to consider
Right off the bat, you'll see that there's a good, but not great free plan. Moosend will give you the most basic functions for free:
1,000, free email subscribers
Unlimited number of email campaigns
Sign-up and subscription forms
While this is certainly good enough to start, I wish they would give free customers the ability to try out at least one example of some of their more advanced features.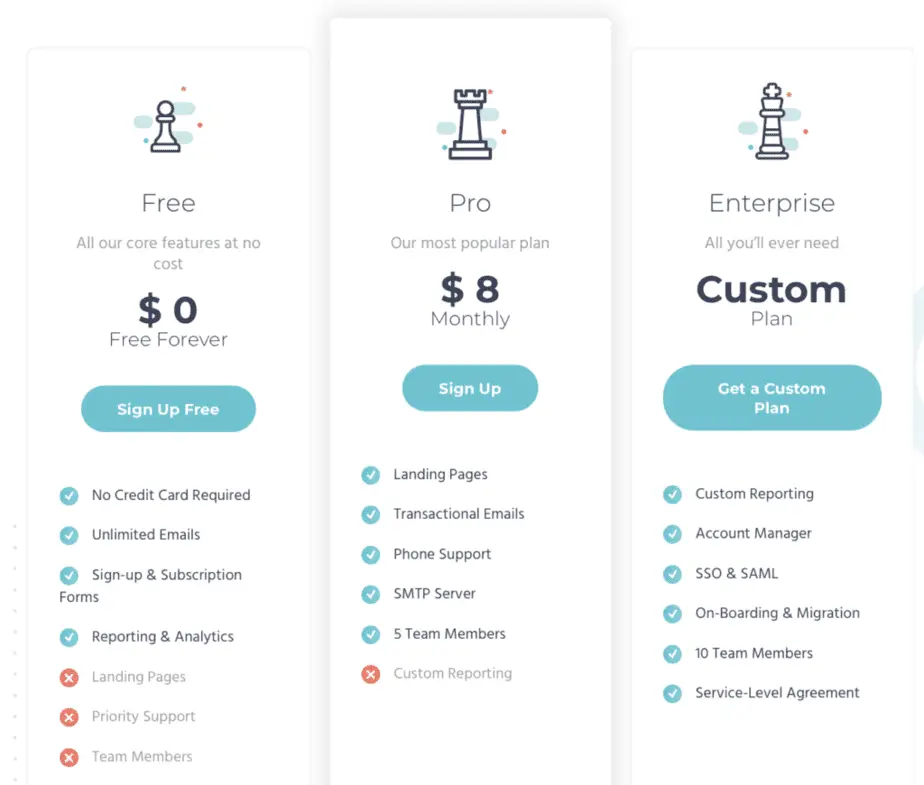 As you're considering an email marketing tool for your email marketing campaigns focus on the features and functions that you will use for your business.
For example, you might find Moosend's interface to be infinitely easier than MailChimp or Constant Contact and you may not need landing pages or some of the premium features.
Most Important Features Every Email Marketing Service Provider Must Have:
One of the things that makes choosing an email marketing automation software is the dozens of features that every platform brags about. The truth is that you only need a select few of these features to be successful.
A good email marketing automation software will have automated tools, lead generation, and high deliverability rates. Moosend has all three with an easy-to-use interface that most users will love.
Here's a short list of features you want to look at:
Deliverability: All email marketing platforms have sophisticated ways to make sure your email reaches the inbox. But the content of your email (subject lines, content, and the health of your email list are also key drivers)
Clean, easy-to-navigate interface: Look for an interface that you can navigate quickly and easily. You should be able to set up an email within a few minutes. If you struggle with the interface, it's not a good tool for you
Mailing lists: Every email marketing tool deals with lists differently. Some use tags and others use lists tied to opt-in forms and still, others use both. Tags are typically used for segmentation and personalization.
Sign-up forms or subscription forms: This is a given with an email marketing tool. It's not enough to have a form, it has to look nice and be easy to place on your website.
Landing Pages: If you don't want to put fancy landing pages on your website, today's email marketing services offer landing pages. This makes it easy to gather new emails or quickly create email multiple email campaigns without having to hire a developer.
Comparing Moosend to Popular Email Marketing Tools
When you compare one email marketing software to another, you can assume that they all have the most important features. What you want to look for is how easy those features are for you to implement in your business.
Don't just look at the price or how many email addresses you get for free, look for whether those features match your personal business process.
Moosend is a decent alternative to established marketing tools, especially if you're looking for a more affordable email service provider.
In this section, I'm going over the similarities, differences and choices you'll make as you consider the best email marketing tools.
As a MailChimp user, I think that Moosend is a great alternative. Sending email marketing campaigns through Moosend is simple and doesn't take much time to learn.
Similarities
Offers a generous free plan with 1,000 free subscribers
Beautifully designed user interface that is easy to navigate.
Professionally designed templates that you can use with little editing.
Both offer campaign automation
Differences:
MailChimp's free plan offers you a broader range of features.
Moosend offers easier-to-use personalization and automation such as re-sending campaigns to un-opened emails
If you're a MailChimp user, choose Moosend if:
You want automatic segmentation based on actions taken. MailChimp does this – but Moosend does it better, especially for eCommerce.
You don't need to integrate with a lot of third-party platforms
You want beautifully designed opt-in and sign-in forms.
You want more responsive customer service.
You want to do EASY RSS newsletters
Moosend vs Mailerlite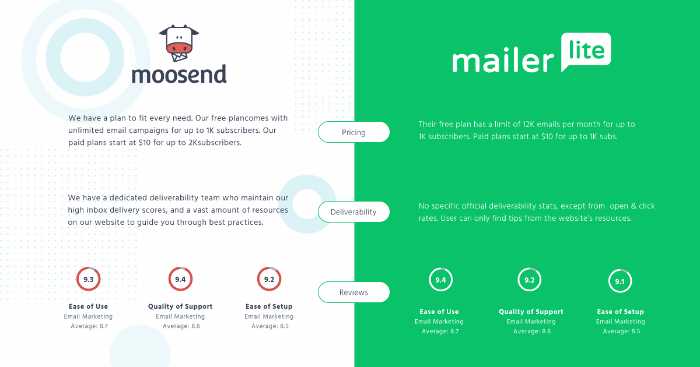 Similarities
Both are easy to use.
Offer automated campaigns.
Include segmentation and tags.
Offer drag and drop editors.
Differences
Mailerlite includes landing pages.
Offers more robust reporting features.
All Moosend customers, regardless of the price level, have access to support via phone, email, and live chat.
If you're a MailerLit user, choose Moosend if:
You want to have access to support.
You want to analyze subscriber activity by location.
You don't want to use your brand on the FREE plan.
Moosend vs Constant Contact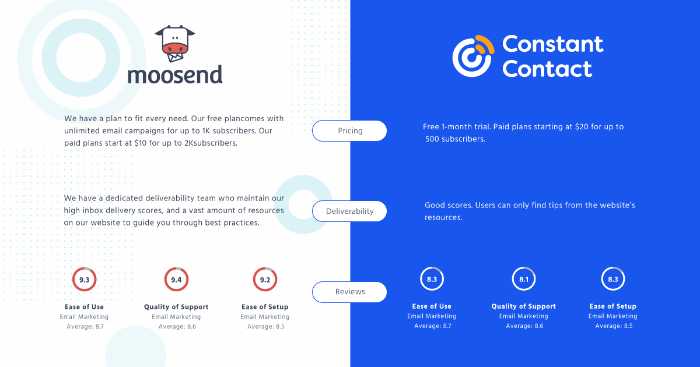 Similarities
Both offer surveys
Numerous templates for newsletters
Differences
Constant Contact rocks email deliverability. They've been around longer and have more of a history.
Constant Contact integrates with Shopify.
Moosend has terrific support.
If you're a Constant Contact user, choose Moosend if:
You are an online retailer or have an eCommerce site. Moosend is ideal for eCommerce.
You want a sleek, simple, and well-designed user interface. Moosend is just plain prettier.
You want beautiful forms
You want to easily automate the survey process. You can automatically send surveys to customers after a purchase.
Moosend vs Sendinblue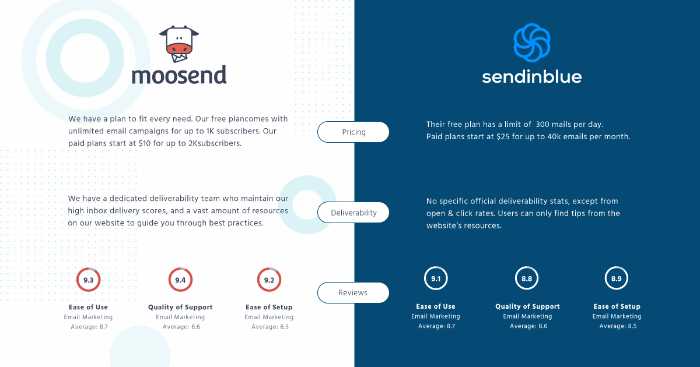 Similarities
Easy drag and drop builders
Extensive template libraries.
Easy import features for adding subscriber lists from other email marketing tools.
Differences
Sendinblue offers "unlimited contacts" up to 10,000 – no other email tool offers that.
Sendinblue gives you more customization options. You can use drag and drop, HTML or rich text.
Moosend offers 1,000 subscribers with unlimited sending.
Sendinblue offers unlimited contacts but only 300 emails sent per day.
Sendinblue offers SMS marketing
If you're a Sendinblue user, choose Moosend if:
Moosend's email editor offers video blocks.
You want robust tracking options; product views, shopping carts and purchases.
Moosend vs ConvertKit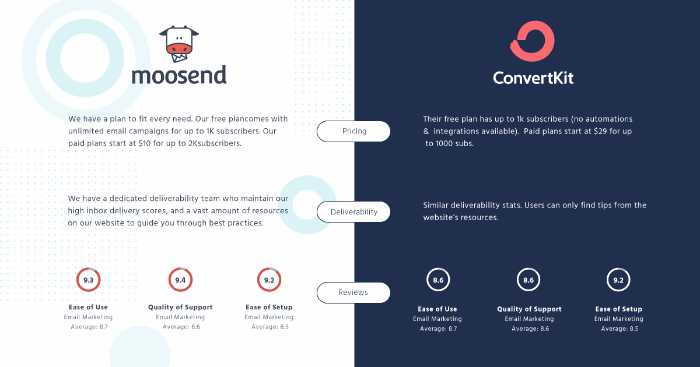 Similarities
Marketing agencies can use with their clients
Easily integrates with WordPress
Both have automation
Differences
Moosend offers automation recipes
If you're a ConvertKit user, choose Moosend if:
You feel like ConvertKit requires too much technical ability. Moosend is easier.
You want automation "recipes" so you don't have to create automation from scratch.
You want real-time tracking
You are running an eCommerce business
Moosend has better reporting for A/B testing
Moosend vs Active Campaign
I'm comparing Moosend with Active Campaign because they both offer email marketing. But they are NOT the same type of service. Active Campaign is a full marketing automation tool that includes a CRM, complex automation, workflows, and reporting.
If all you want is a basic email marketing tool to send newsletters and emails, Moosend should be at the top of your list.
If you are looking for a full marketing platform to manage your entire online marketing process, Moosend won't be enough — you'll want to use a tool like Active Campaign.
Similarities
Both offer A/B testing.
Basic marketing automation
Differences
Active Campaign offers lead scoring.
Active campaign
Moosend has a free forever plan. Active Campaign only offers a free trial.
Active Campaign comes with a mobile app
Active Campaign includes a CRM and sales automation.
If you're an Active Campaign user, choose Moosend if:
You don't need all of the extras that Active Campaign offers such as CRM, advanced marketing automation.
Moosend vs HubSpot
HubSpot is another tool that qualifies as a complete sales and marketing platform. Hubspot offers a free simple CRM and can grow with you. However, HubSpot is NOT an email marketing tool. Think of it as more of a sales tool rather than a marketing tool.
Aweber
Similarities
Offer solid reporting
Free plans
Differences
Aweber free plan limits are 500 subscribers
If you're an Aweber user, choose Moosend if:
You want simple emails such as newsletters.
You are selling physical products or running an eCommerce store. Aweber is more for coaches, consultants and info marketers.
Choose Moosend if:
Overall, Moosend is the best email marketing tool for startup eCommerce or retail businesses that haven't done email marketing before.
The user interface is easy to use, it's well designed and has excellent customer support.
Your biggest challenge will be if your email marketing scales and evolves beyond basic emails and newsletters.