I've had this love-hate relationship with Google.  I am NOT a Google expert and my Google expert friends are always telling me to focus on content and writing for the reader.  Yet, I've always had this feeling that I'm doing this Google thing all wrong.
I mean if there wasn't a method to the madness millions of SEO experts would be out of business.
Luckily, I ran into How to Rank Number One in Google: a Study of 1 Million Pages by Marthew Barby (@matthewbarby) Global Head of Growth & SEO at Hubspot (@Hubspot).  Matthew did an analysis of 1 million URLs ranking on page 1 of Google to determine the factors that contribute to higher rankings in the search engines. Now, I'm only sharing a teeny tiny bit of the article in the hopes that it will inspire you to take a fresh look at your site and make some basic and simple improvement.
Here's something you'll either love or hate to hear — the most critical factors in getting your site to rank; backlinks, anchor text, and keywords are ALL under your control.  In other words, these are all things YOU can (and should) control yourself.
WARNING — Do not outsource these things to low cost people who you do not know and trust.  Do NOT buy links on high authority sites.  Take the time to learn the basics and stay safe on Google.  You do NOT want to put your site and your company reputation at risk and get penalized.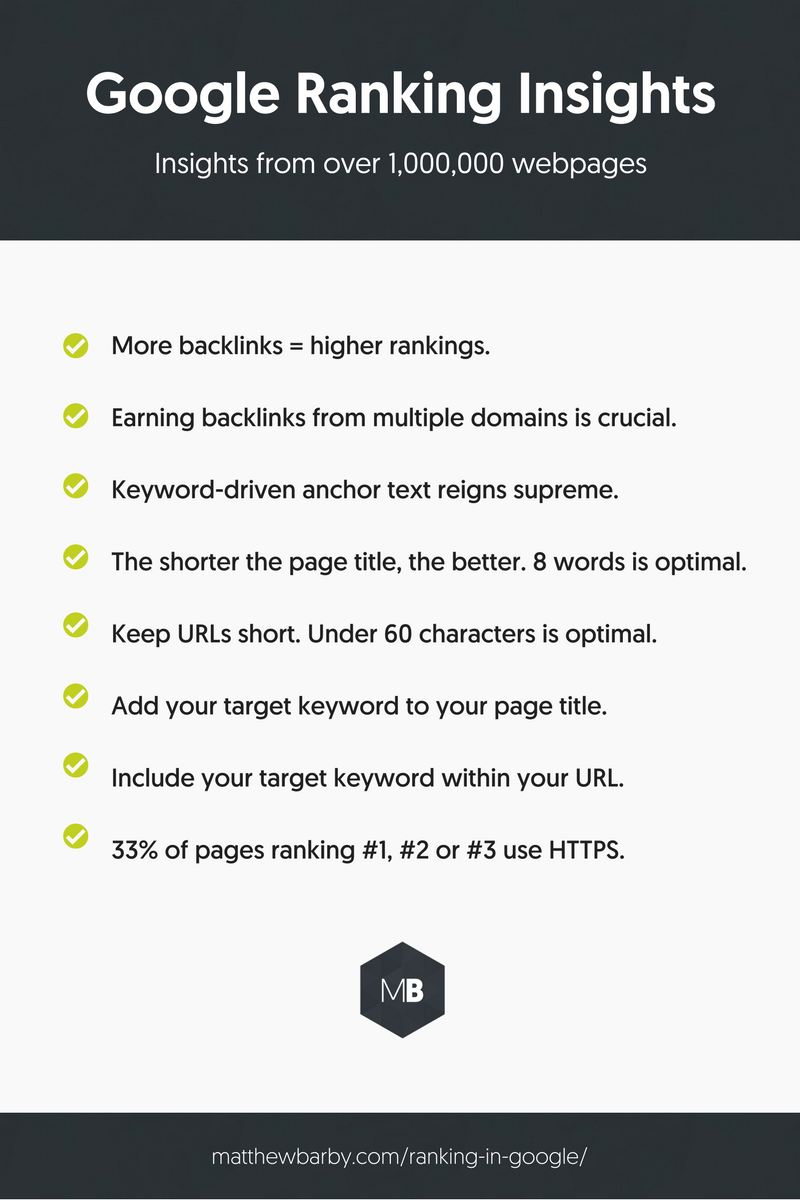 How to do backlinking — the right way
Not to worry.  Matthew has you covered on this one.  He offers an awesome free download on how to get backlinks.   There is also a link to an outstanding article that covers some fantastic SEO tips — all of which you should be able to accomplish on your own.  I have always had issues with getting backlinks.  I don't want to send emails and ask people to link to me — (SLEAZY).  I prefer to work organic links via good content.  But you have to do more than that.  I've just received my first tip from Matthew and it talks about using press releases.  This is a great tip and totally doable.  Try it.
Links are considered to have the most effective long-term benefits to any website, yet it's widely known to be one of the hardest tasks you will face.  Google has tested a version of the search engine where links aren't considered as one of the "200 ranking factors", and go on to explain that even though there is a lot of spam, it's still a huge help to them when trying to filter sites by relevancy and rank them in the SERP's. This ensures that users get the most relevant results based on what they type into the search bar. The Types of SEO Link Building for Your Website – Coast Digital (blog)
6 Insanely Advanced Link Building Techniques Learned From Real Customers – Promotion World (press release)
Creating good content and having relevant and related sites link back to your site can still be beneficial for your search ranking. Some of these links would come from industry partners and organizations like your film manufacturer, the IWFA, Window Film Pros, etc. In addition, they can come from you generating great content that people share on their site. You should be doing what you can to increase these backlinks.  The Real Truth about Backlinks and How They Affect Your Search Ranking – Window Film magazine
With Google's Penguin update, you will no longer be informed if you've been penalized. You have to look out for the indirect signs like drops in either organic traffic or rankings of targeted keywords (even branded ones.) Regular audits (weekly) and quick action to remove bad backlinks before Penguin 4.0 even recognizes them can dodge penalties before they occur.  The Small Business Path to Success in a Penguin 4.0 World – Business.com
Dr. Dave Chaffey (@DaveChaffey) takes a closer look at the value of backlinks and links out from a site, with some compelling evidence that both should be key considerations for SEO practitioners. Using Outbound Links To Boost Organic Rankings .  Over the last few years there has been a practice of reducing the number of links inside blog copy.  The theory was that you wanted to keep people on your page.  The results Chaffey covers here show that including links that enhance the reader's experience are a good thing.
Along those same lines, a study based on the analysis of Google's top 30 search results found the pages that rank higher still use backlinks within their content. Today, most of the blogs on Link Building begin with how marketers should curb their linking practices if they want to rank higher. The popular narrative has made the majority believe that only comprehensive content can help at gaining rankings however, just a few know that content with no links doesn't own the authority signals that search engines seek to rank pages. In short- 'when content lacks links, even the best work struggles to perform on search pages.  In other words, use helpful links on your pages. Content is The Ruler But Links are Ruling- Here's How! – MarTech Advisor
7 Backlinking Strategies That Don't Require Email Outreach or Begging
As you can see from the latest research, backlinks are as important as ever and there are some simple actions you can take to increase the number of backlinks that you get to your site.  But here's the thing, most people will have you beg for guest posts, or beg to have you link to them.  I get tons of these and I ignore them.  Instead, I've pulled together some backlink strategies you can do on your own time and without begging.
Give to Get. Keep creating your awesome content and include links to relevant information for your reader.
Distribute Press Releases.  This is a simple and helpful way to get links back to your site.
Give Testimonials. Companies love to share testimonials.  So this is a great way to get a link to your site in exchange for leaving great feedback to sites and companies that you use and love.
Create some "best of" blog posts. Since you've already made a list of companies whose products and services you like and use, create a list of them and write a short description and review.
Respond to HARO requests. HARO (Help a Reporter Out) is a resource for journalists and bloggers who are looking for sources to write their articles.  Register on the site (it's free) and you'll receive emails request expert inputs and insights.  When they quote you in the story, they will link to you.
Submit your site to blog aggregators.  Blog aggresgator sites collect blogs and group them on various topics.  Here are just a few you should consider: Alltop, BizSugar, BlogEngage.  Also check out this List of Blog Aggregators.
One-Up the best content.  This is called the "Skyscraper Technique".  Here's a great explanation by the folks at Backlinko.
All of this research just goes to show you that core concepts never go out of style.
While many experts recommend pushing your content out to influencers — unless those influencers have a team managing their site or blog — your email will land as self serving.  This is why the tips I've outlined here don't require any begging on your part — just good old fashioned work.