Pinterest for beginners is something businesses should be thinking about, especially if they sell a product. Pinterest also has a huge amount of popularity and it's ever-growing.Here are some stats to prove it:
The average income of users who are on Pinterest is over $100,000
68.5 of the users are female
The age demographics are 25-34 primarily
Pinterest's referral traffic has become more than LinkedIn, Google+ and YouTube combined
Pinterest has 1.36 million visitors a day
Now, these statistics are from
www.Mashable.com,
and they tell a lot about the social media site itself. As shown above, the majority of the users are Female within a younger age demographic AND it sends a lot of
referral
traffic to other's sites.
If you've been thinking about using Pinterest but haven't done much about it. This guide to Pinterest will show you how to use Pinterest in no time.
Create Your Business Account
So, let's get down to the good information, how can you use it to benefit you. First you need a page. Here are the steps:
1. Go to https://business.pinterest.com/enand then click on the red button to join Pinterest as a business
?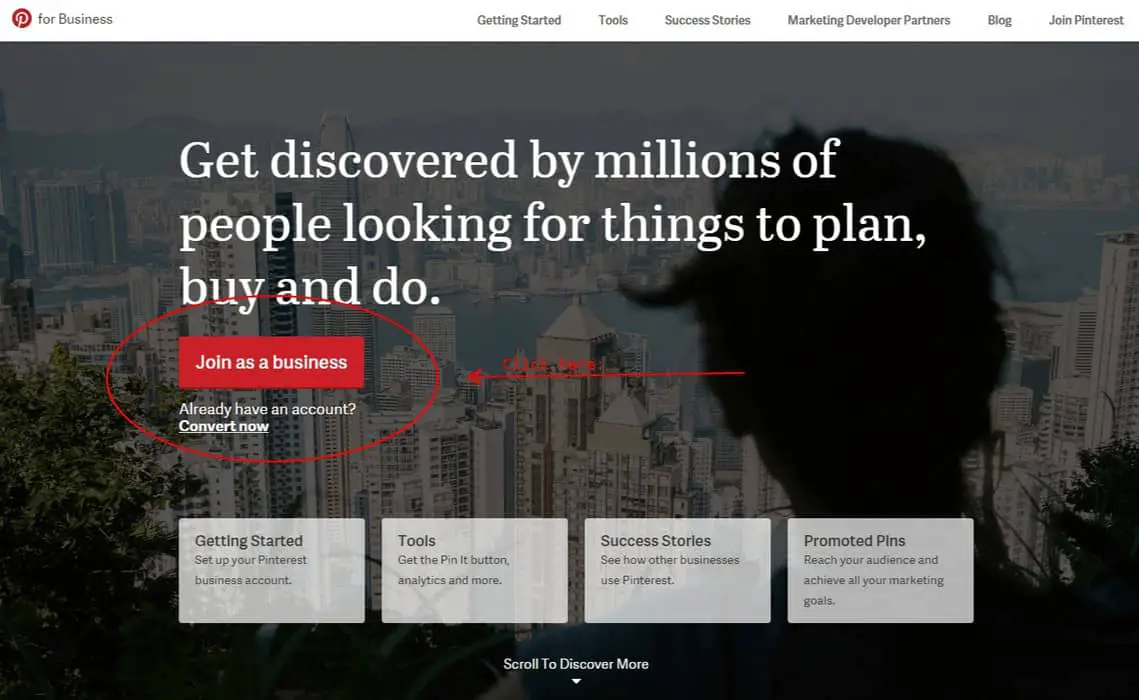 2. Enter in all of your information on the next screen that looks like this: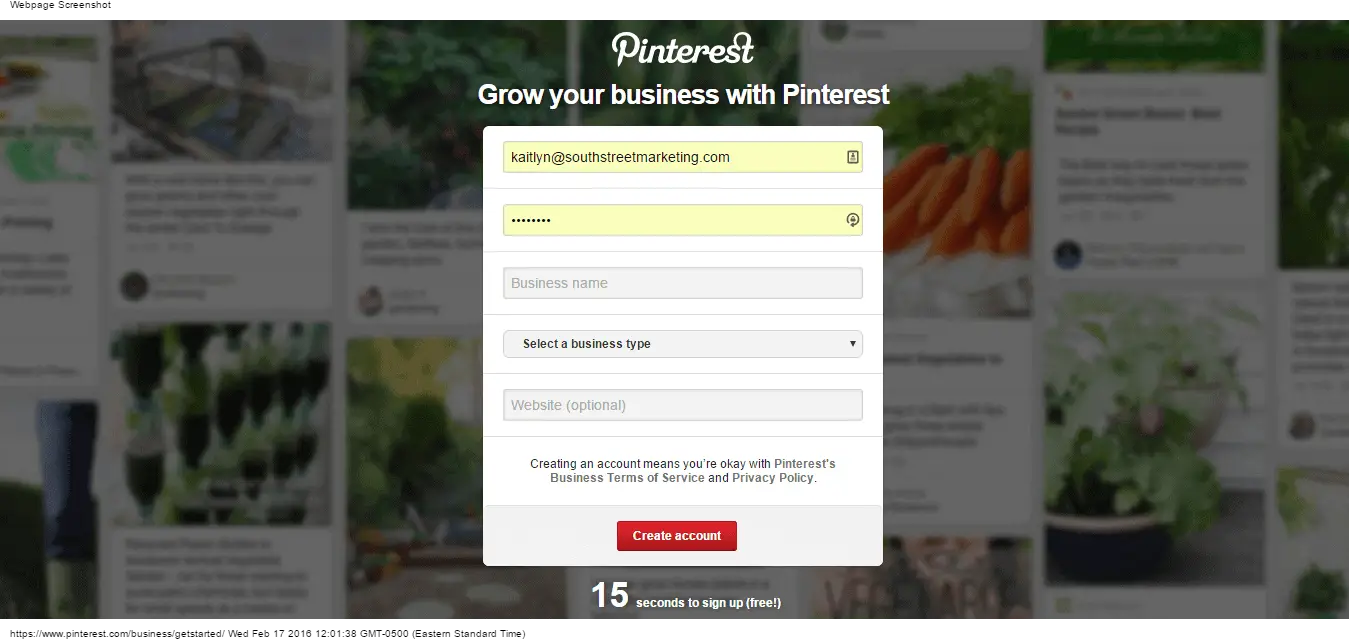 3. Here's the fun part. Add your logo, you company's short bio and you're in business!
Create Your First Board
Now that we have the fundamentals down, let's get to pinning! But, first, what is pinning and why do you need to know about it? Pinning is putting your content (or other's content) into a virtual "board." These boards can be categorized as anything you want and look like this: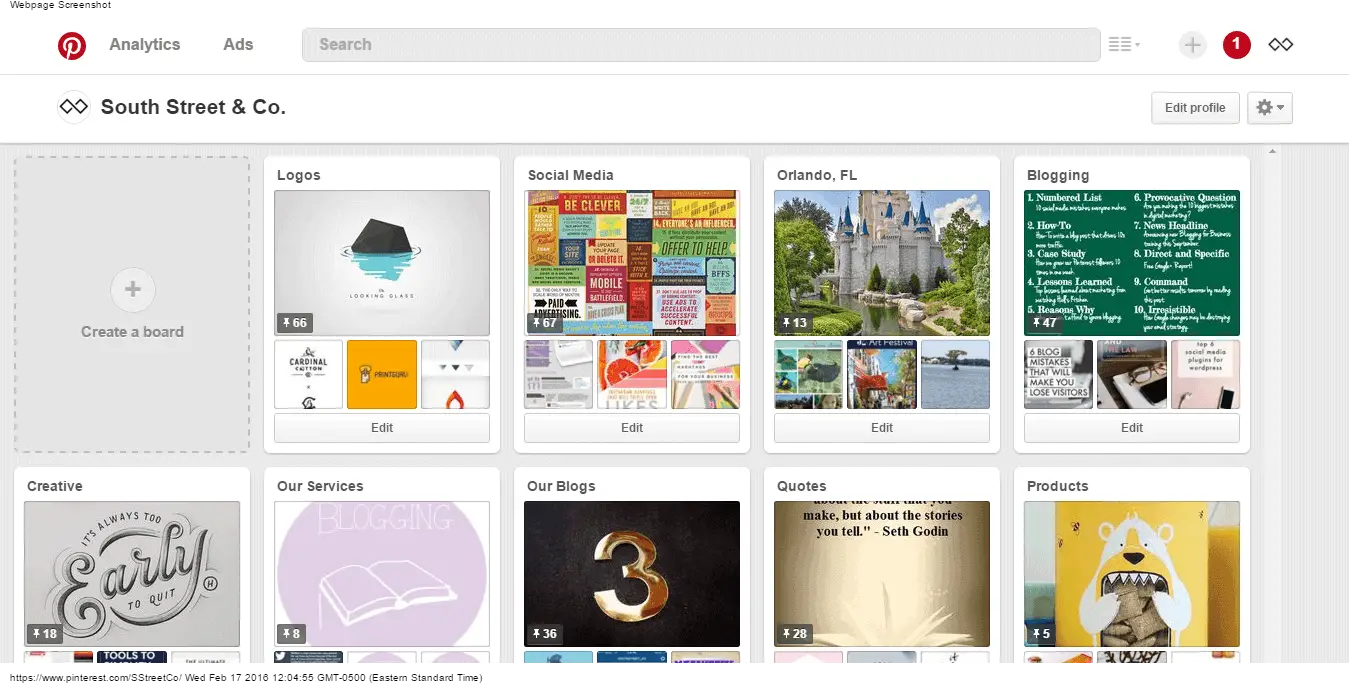 I decided to have boards that inspire creativity and also promote my business. As you can see I chose some boards like?logo, social media, blogging, etc. The key here is to create board that are relatable to your industry. The boards are an area to keep your work separated and organized. As another example, if you're an artist you'd want to create boards like these: quotes, artwork, art quotes, creative, inspiration, artists, etc. Looking at what others are doing can also help you come up with some great ideas.
So, how do we create a board? Easy, with these steps:
1. Click on the "Create A Board option."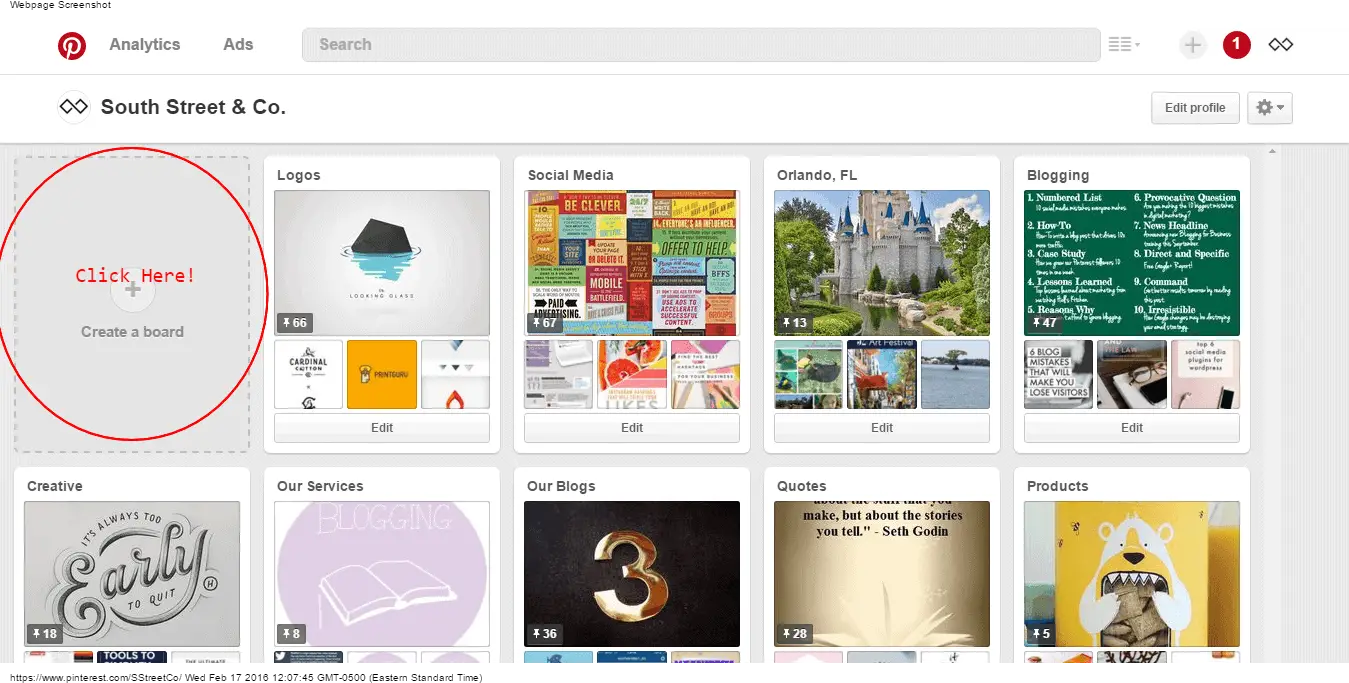 2. Fill out all of the boxes for your new board and?then click "Create" at the bottom.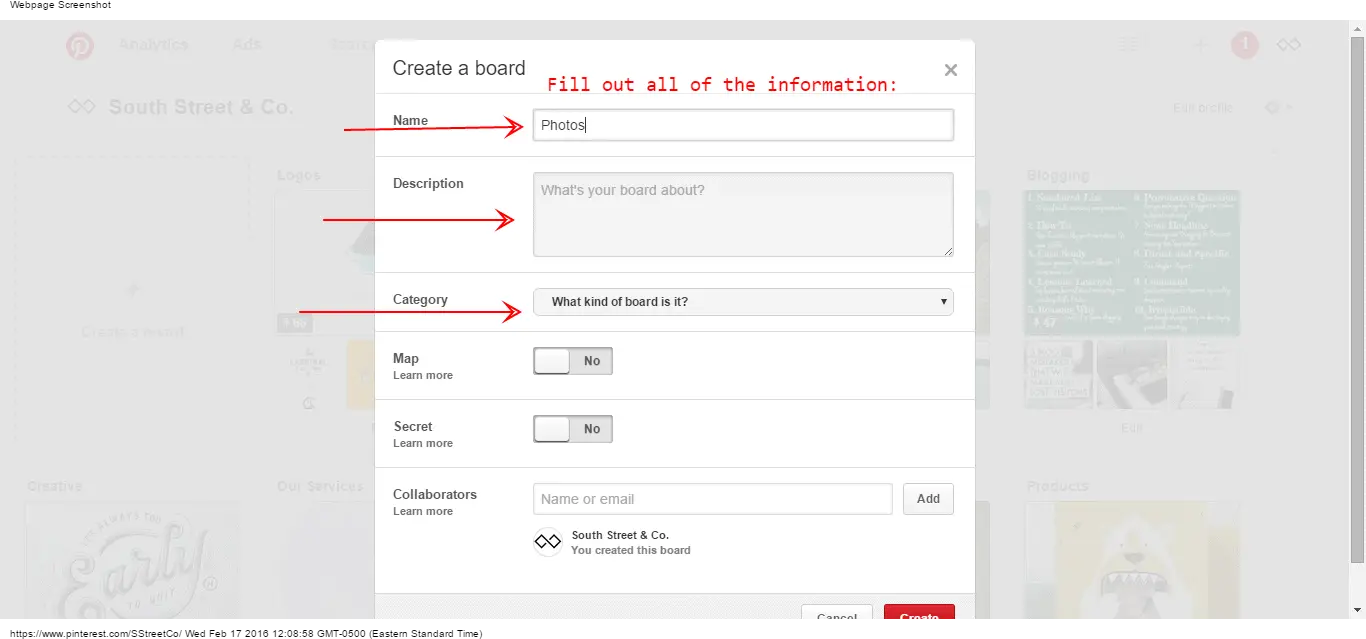 Start Pinning
After you've finished this, you'll see there's a new blank board on your Pinterest page. Now we'll start pinning. In order to do this, we have to search things on Pinterest. Simply go to the top of the page with the search bar and start typing in words, just like Google. Ideas from Pinterest will start populating and you then choose which one you want. Once you have your page, hover over the pin and a heart and red "Pin It" button will appear. Click on the "Pin It" button and then choose which board you'd like it in.
Once you have this down, keep looking up things for your industry and add them to your boards. When you do this you'll be re-pinning other's pins and they'll get a notification letting them know that you repinned their item. The hope from doing this is that they'll like the content you're putting out and ultimately follow you or repin some of your content.
Make Friends
Pinterest is like other sites in that you can follow people and you can follow boards. Following people is the same as a business page on Facebook, you follow all of the person's or companies posts and they appear on your Home screen. If you follow a board, you're only following the person's one, single board.
To follow someone, click on the bottom of the pin where it says who pinned it. That will take you to a different window with the person's page. Follow them by clicking the red Follow button on the top left.
To follow a board, you can visit their profile page and click follow on each individual board. It looks like this: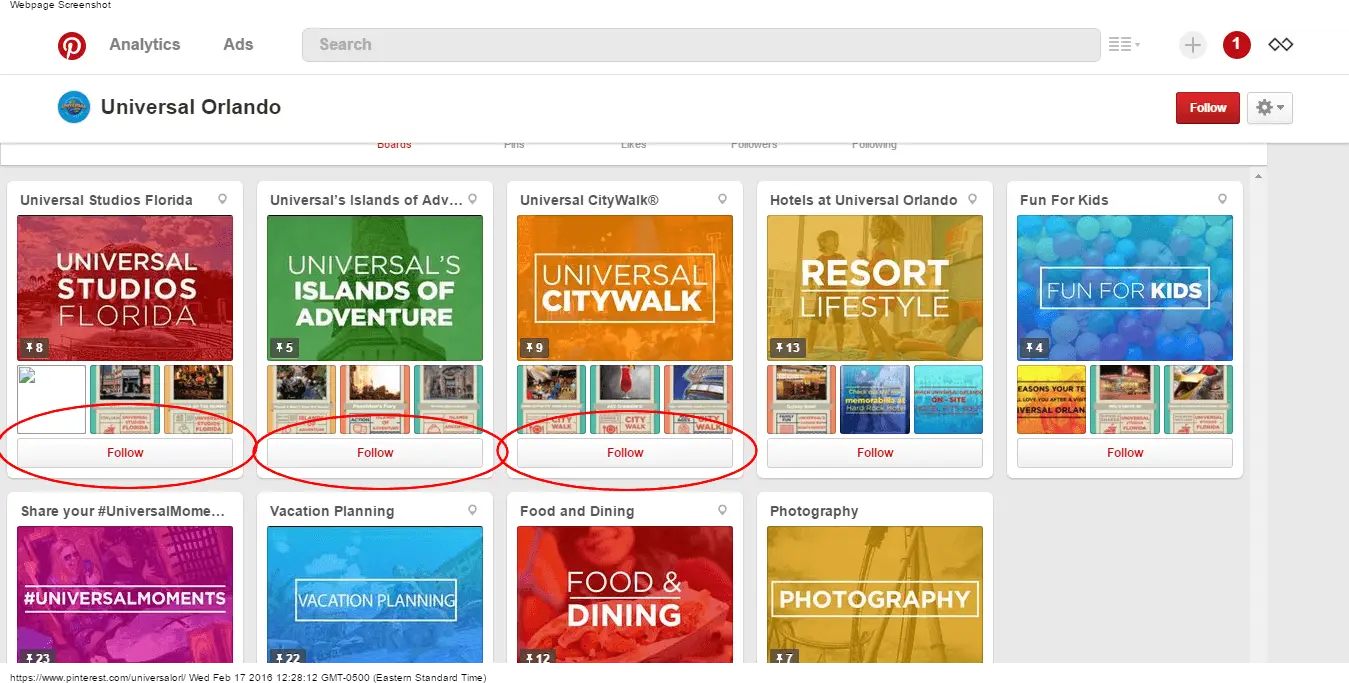 Pinterest Pro Tips
Pinterest is FULL of amazing ideas, and you want to contribute to those ideas. Here are some pro tips in order to get you working and thinking like the business professional you are:
1. Create a board around where you live. I created an Orlando board because I want to pin other things from LOCALS around the area. Some of the pins aren't from locals, but hey, the point here is to get the word out that you're in the city that you are and to get the awareness increased for you.
2. Comment on pins. The WHOLE point of social media is to interact and to be social. Tell someone you like their quote, ask them a question, etc.
3. Pin things from your own blog. This is a HUGE advantage to Pinterest. You can easily share your content and others will share it with you. Here's how you can do that:
? Step 1: Install the Pinterest extension to your browser. I have Chrome and it looks like this:

? Step 2: Go to the blog you want to pin in your browser and click the new Pinterest browser extension.
? Step 3: A pop-up should appear, once it does, choose which board you want it to go to.
? Step 4: Celebrate because you did it!
Those are just a few of my pro tips to help you set up your Pinterest page and how it can help you with your business. Pinning is key, interacting is key and being consistently on there is also key. Happy Pinning!