You keep hearing that the money is in the email list. What does that even mean?
Well, "the list" is your email list. And, your email list should be a list of potential customers.
That means that you don't need thousands, tens of thousands, or hundreds of thousands of emails.
I wanted to know how today's entrepreneurs are selling to a small email list.
So I asked — What is your best tip for selling to a small email list? Share how you built the email list and your strategy for monetizing your list.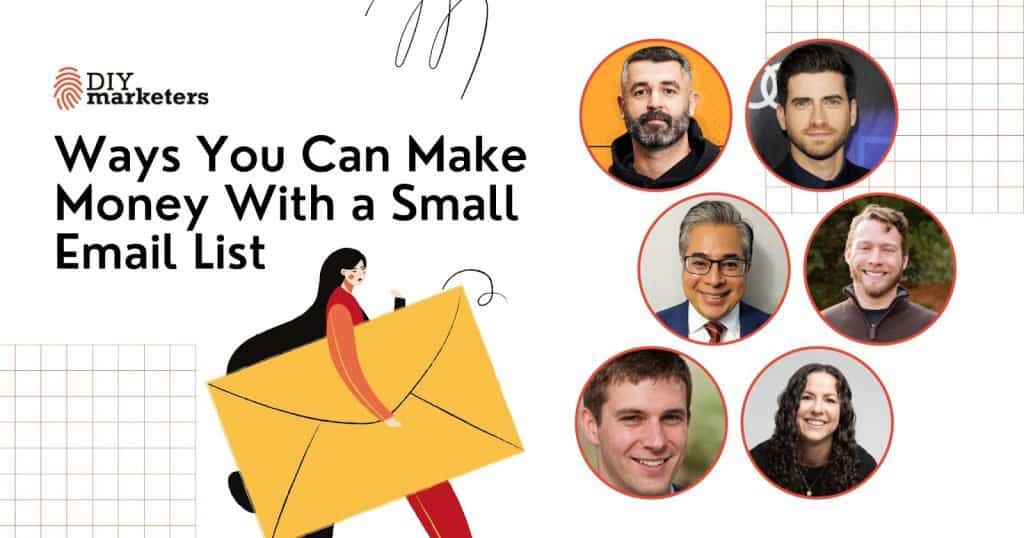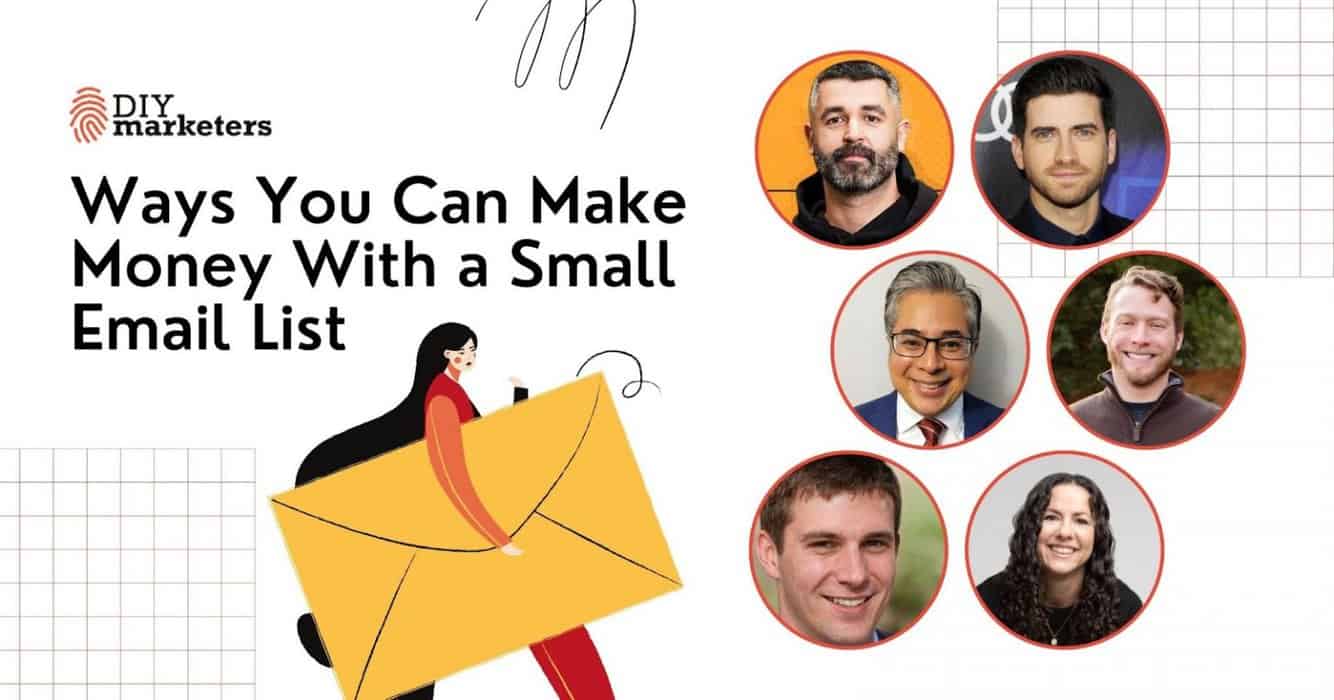 Here's what we learned
Size doesn't matter—that includes email lists! The most important aspect of an email list is engagement, so you could have a reach of several thousand, but if only a handful of those people interact, your marketing efforts aren't as impactful. So maximize your profits with a smaller list by following the advice of these 14 marketing professionals below.
Build Your List With Authentic Networking
Selling to a small email list depends heavily on the relationships you've built with the folks you've included.
Effective and authentic networking is one of the best ways to build a strong email list; ensuring that each person on the list has connected with you and your business goals is a surefire way to be sure that your messaging lands with your audience.
It's also helpful to personalize the emails where you can. Something as simple as including a first name can go a long way in email marketing.
Michael Fischer, Founder, Elite HRT
Tips for building an email list through networking:
Always be in communication with your network. Treat every conversation as a research opportunity.
Create offers that are targeted to your network; that your network wants or will share as a referral to their community.
Speak Your Customers' Language
Speak your potential customers' language. When selling to a small email list, pay attention to your voice and tone.
Consistently doing so will help your brand remain recognizable for leads receiving your email. You could capture their interest through the voice and tone that resonate with them.
If you aim to work with general consumers, it's best to sound more positive, upbeat, and conversational.
That's on top of addressing their needs. If you would like to connect with people from highly-specialized occupations like doctors and lawyers, then it's best to adopt a smart and professional way of speaking.
Ryan Stewart, Managing Partner, Webris
Tips for connecting with customers:
Actively participate in Facebook groups and communities. Ask questions and give advice to integrate your customer's voice into your marketing.
Consider running webinar workshops that give your audience a taste of your offer and give you the opportunity to tweak your language and offer to better connect with the audience.
Create a Sense of Urgency
Create a sense of urgency by limiting supply by setting a deadline to purchase your promotion. It's essential for your customers to feel compelled to jump on board to avoid missing the train to increase your sales margin systematically.
Keep it short, and sweet to your company's beat. By making it fun and easy for your customers to understand your offer, you gamify the experience for everyone involved.
Ryan Rottman, Co-Founder and CEO, OSDB Sports
Tips for communicating a sense of urgency:
Add a countdown clock to your offer and landing pages. Most landing pages include a countdown clock feature — use it.
Create special discounts and offers for people who act now. This can be a discount or a special bonus.
Send Emails as Frequently as Possible
Send emails more frequently than what you feel is right. Consumers love to receive weekly emails from their favorite brands, and it's the same for a small email list. Sharing attention-grabbing, intriguing, and informative email content is valuable to your clients. They are likely to tolerate or even want more of your weekly emails if you maintain their impact, quality, and customer-friendliness.
You can take it a step further for products that only become available in season. Daily emails to remind your small list about your seasonal and limited-time promotions won't hurt. These offers only happen for a few weeks, so doubling or tripling down on them is advantageous in the long run.
Nunzio Ross, Owner and Head Director, Majesty Coffee
Tips for sending frequent emails:
Be sure to segment your emails by interest or topic. Your email marketing system will have a tagging feature or
Use Social Media to Build Your List
Building an email list with leads generated from social media marketing campaigns is taking the digital world by storm for a reason—they are effective, cheap, and produce highly-qualified prospects. Aside from being relatively cheaper than other forms of advertisements, social media marketing builds brand awareness while allowing you to build your email list. It's hitting two birds with one stone.
For automating our campaigns on various social media platforms, we use a social media marketing tool to automate our scheduling of posts so that our followers stay updated with our latest news and promotions. It helps to include a link to our site opt-in page in exchange for discount codes or freebies for every post. With this strategy, we develop engagement with our audience while building our email list simultaneously.
Tristan Buenconsejo, Founder and Managing Director, TriBu LinkBuilding
Tips for using social media to build your email list:
Strong relationships are better than more emails. The key is to engage with people and get add those qualified prospects to your list.
Have something worth trading– a checklist, an ebook, a webinar — something where people you have relationships with will give you their email to receive.
Drum Up Excitement Within Your Niche Community
When you have a small email list, it's more important than ever to speak authentically to your customers. Use your email list to drum up excitement over an extended period, particularly focusing on connecting with customers. You can use testimonials, with images of your customers and your product or service, that relates to them, and shows how committed you are to building a community with your tight customer base.
With a small list, you can also take the time to be more invested in each customer's story, and even work to build community between them, creating a more meaningful interaction between your customers and your company. That relationship-building goes a long way when developing loyal, lifelong clients who want to return to your business again and again.
Kyle Risley, CEO, Lift Vault
How to build excitement and engage a small email list
Create a sense of community by sharing exclusive offers or events only available to email subscribers.
Ask your list what they want to get from you and how often, then do that. Different audiences want different things at different times. There is no one answer to how often to email.
Segment Your Lists and Personalize Messages
If you have a small email list, then it means that everyone on that list matters if you want to turn a profit. The best way to monetize any list is through segmentation, no matter the size. So, take your email list and figure out different customer cohorts.
You may find that a portion of the list has purchased a specific product from your selection. Think about what those people would be interested in purchasing next. They may want another variation of that product. Or, they may want a complementary product. Send them emails about that, not stuff that they haven't indicated an interest in. Try to personalize those emails as much as possible, and you'll get a higher open rate, higher engagement, and higher conversions.
Dennis Consorte, Digital Marketing & Leadership Consultant for Startups, Snackable Solutions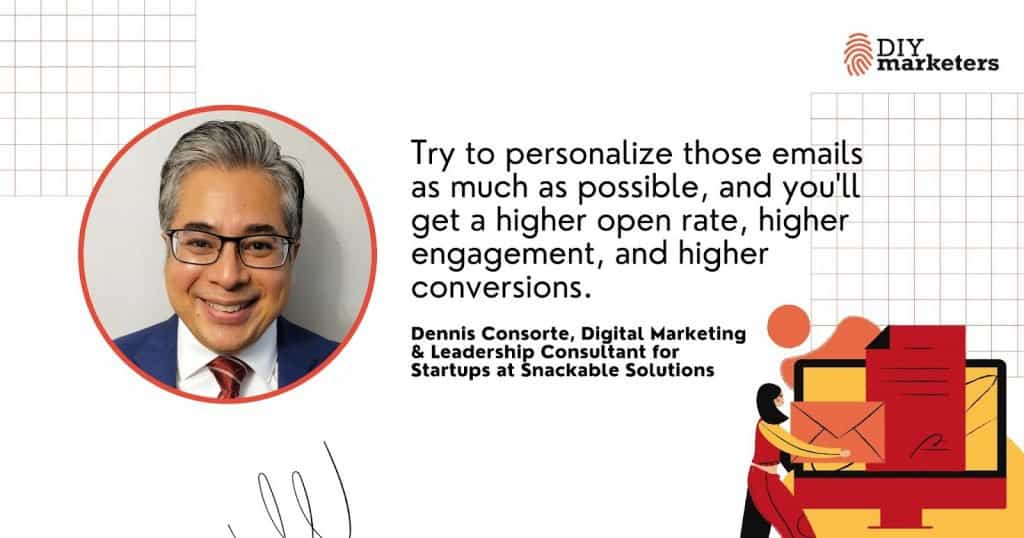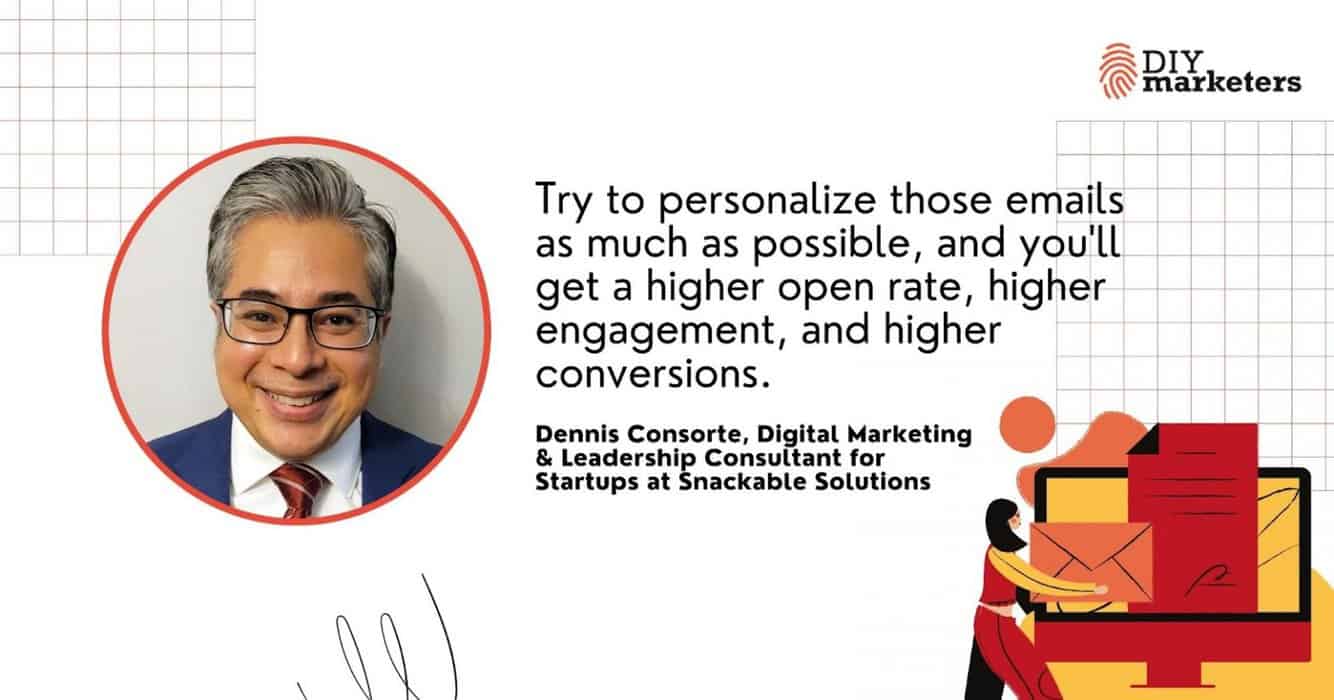 Offer a High-Ticket Item
Selling to a small email list takes a different strategy from selling to a large list. The best strategy is to sell a high-ticket item. If you sell a low-ticket item, you will have to send out more emails just to break even.
For my list, I created a video course that was very targeted at the audience. I sold it for $97, and it was targeted at anyone interested in fitness, which is my niche.
My strategy was to send out one email every week, on a Tuesday, for four weeks. I would send out an email on Tuesday and then send out a reminder email on Thursday.
Since I was selling high-ticket items, I did not use a timed offer. I offered a free gift to my subscribers. I also used the free gift to get them to opt into the list. I made a small email list by joining dozens of free online forums, such as Bodybuilding.com. I would post in the forums and offer my free gift. Then, I would invite people to join my list by clicking a link in the signature line on my posts.
Isaac Robertson, Fitness Trainer & Co-Founder, Total Shape
Lean Into Your Active Engagement
Small email lists aren't always a bad thing, in fact, it can be a really positive thing for businesses if that list is filled with engaged consumers who really want to hear from you. A smaller list gives you a chance to be more personal and helps consumers feel like they are a part of a community, rather than just another email on a giant list.
One of the best ways you can engage your smaller email list is by asking them questions that they can reply to. This can really help the list of people feel truly a part of your company and invite active engagement, rather than just people who are opening your emails. It means consumers naturally spend more time with your business, thinking about it, and answering, which can lead to more sales through just overall thinking about the business more, and having a sense of a 'stake' in the company, even if not a financial one.
Brett Downes, Founder, Haro Helpers
Categorize According to Interests
A small email list always holds great potential and if you can connect with your customers in a meaningful way, you're sure to build a lasting bond with them. A great way to do this is by studying their interests through their purchases and sending them emails based on that. You divide your list into various interests and craft emails that each group of customers will truly be interested in. This way, your emails become something every customer looks forward to, making it easier for you to remain on their radar.
Asma Hafejee, Senior Marketing Executive, CMR Surgical
Offer Incentives
One of the best ways to get the most out of your smaller email lists is by offering an incentive such as getting 10% off, free shipping or a free pdf when signing up to motivate potential customers. This also helps you understand what type of incentives your customers are looking for and to customize your offers and email marketing strategies according to what appeals to them.
Denise Hemke, Chief Product Officer, Checkr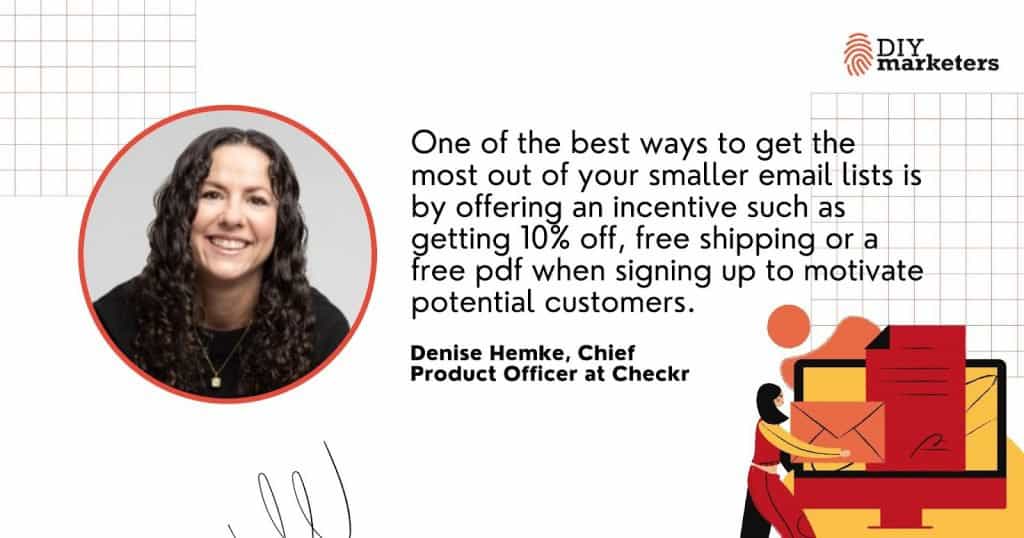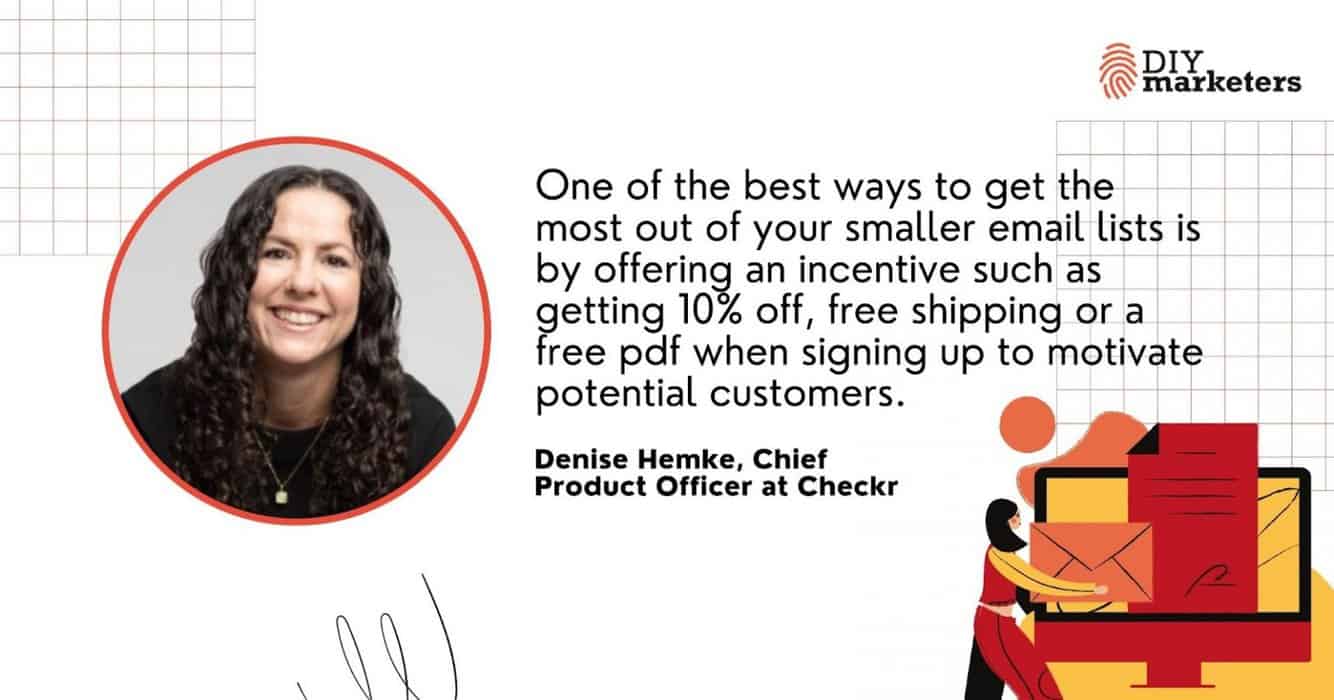 Follow-up and Re-send Campaigns
More crucial than your original email are the follow-ups. A follow-up email may even receive a 40% greater reaction rate than the first email, in my opinion. On the sixth follow-up email, there was an impressive 27% response rate compared to only 18% on the first. If done correctly, follow-ups are a fantastic tool for converting leads into clients. Whether you are selling your product or acting as an affiliate for another business, in my opinion, if you overlook follow-ups, you will never be able to fully monetize your list.
Daniel Carter, Founder, SEO-AUDITS.IO
Develop the Relationship First
Small email lists are incredibly powerful and can be lucrative when managed correctly. The trick that most marketers miss is to nurture the relationship before you try to make the sale. Pushing for the sale immediately and relentlessly will just drive people to the "unsubscribe" button and will not help your bottom line. Always offer value first so that the user is interested in what you have to say.
I've found great success with an automated "quick start" sequence that sends 3-4 daily emails with great relevant value first and then following it the next day with a pitch. After that, my subscribers receive a weekly email sequence where two emails offer value and one email asks for a sale. This keeps engagement up while also driving a healthy amount of conversions.
Nicole Thelin, Founder, Low Income Relief
Offer a Paid Subscription Model for Premium Content
To be successful with email marketing, you need to be able to monetize your list. If you're hesitant to do so, you'll need to come up with a plan. One of the easiest ways to do this is by creating premium content and charging it on a timely basis. This is one of the best ways to monetize your list and is one of the most common methods.
There are many different ways to do this. One way is to charge a monthly fee and compile an archive of all your articles. However, you can also charge a yearly fee and have a waiting list. Another way to do so is to have the first few articles in the list be free to attract readers.
Derek Bruce, Operations Director, SkillsTG
FAQs for small email list
How to get email lists for marketing?
If you want to get an email list for marketing, you can either build your email list or buy your email list. It's common and popular to recommend building your list over buying your email list. But this isn't always true. If you are a local business with an offer for your "neighbors", it's perfectly ok to purchase an email list. I would recommend that you use the Postal Service's "Every door Campaign" feature.
How do you nurture an email list?
The most important thing you can do with a small email list is nurture it. Your goal should be to get the highest open rate and click through rate that you can. You can do this by making sure that you're sending your subscribers exactly what you promised or what they want. The next way to nurture your email list is to send emails as frequently as the audience wants you to.
How often should I send emails?
If you have fewer than 100 subscribers, send only one or two emails per month
If you have between 100 and 1000 subscribers, send one email per week
If you have between 1,000 and 5000 subscribers, send two emails per week
And if you have between 5000 and 10,000 subscribers, send two emails per week.
If your list exceeds 10,000 subscribers, you should send daily emails. (source: Flowium)