Commenting on other folks' blog or social media posts is probably as old as the Internet itself. In its early years, commenting was quite an innocent occupation with people discussing stuff and voicing their real opinions on forums and online diaries.
It didn't take long, however, for blog commenting to turn into a powerful link-building and marketing tool. Digital marketers started posting comments for the sake of posting comments; they didn't care much about the value of their messages; in fact, they rarely knew what the post was about in the first place.
Comments like "Hey there, great post, pal! Check out my website at [link]" swept the Internet, and Google even started penalizing for such a spammy link-building technique.
The situation started to improve recently, as comments are still crucial for the communication between the author of the blog post and his/her audience. However, doing comment marketing is not easy, and there are still rules to follow in order to make it work.
Why is Comment Marketing Effective?
First of all, commenting on other blog posts helps to get your name out there. When you engage in discussions, the author of an article has no other choice but to notice you (willingly or unwillingly). If you comment consistently and know what you're talking about, he/she might get interested in what you do, check out your website, and…and we all know how powerful networking is.
Apart from that, you get to know other fellow bloggers and regular blog readers, and they get to know you. In other words, commenting helps to build relationships and reputation.
Secondly, you get backlinks, and, consequently, more traffic. Even though most comment sections are no-follow, you still can get your views, readers, subscribers. If your comments are relevant and insightful, visitors will be clicking through your links even if they are no-follow, meaning that your business will grow.
Finally, comment marketing may come in handy when it comes to SEO. Unfortunately, it's not so easy with the no-follow policy, but there are blogs that actually allow do-follow links in the comments (more on how to find them here). Moreover, blog owners sometimes make no-follow links do-follow if your comment deserves it.
How to Comment Like a Pro
1. Read Both an Article and Comments Under It
At first glance, this advice may seem obvious, but I still want to mention this because failing to read an article very often leads to being banned from commenting (best case scenario), or even Google penalties (worst case scenario).
In order for your comment to get approved, it has to be on-topic. In order for it to get noticed, it should be on-topic and add value, and not reading a post (or reading only one or two paragraphs) can result into repeating what was already mentioned by an author.
Embarrassing, isn't it?
Apart from that, if you think that blog owners won't notice that you have no clue what they were saying in an article, you're very mistaken: they can tell conscientious commenters from spammers who only comment to get backlinks in a blink of an eye. Harsh Agrawal, the founder of ShoutMeLoud, proves that in this article Huge List of Genuine Looking Spam Comments.
Needless to say, if you are about to leave a meaningful comment, you have to know what opinions on this particular piece of writing already exist. Browse through comments to make sure your idea is truly unique, get to know other commenters, and feel an overall sense of community.
Apart from that, debating with other commenters is not forbidden, and I would even say encouraged. Engaging in discussions is a surefire way to establish yourself as a figure of authority in your niche, provided that your arguments are not weak or insubstantial.
2. Use Your REAL Name.
Blog and website owners expect to engage in discussions with real people. And if you treat their blog simply as a means of promotion, they will treat your comments correspondingly. According to Martin Macdonald:

Apart from that, Matt Cutts suggests that Google also likes it when you use your real name, as it adds credibility to your comment. So be honest, be open, and do not try to trick anybody.
Another common mistake is not using your full name. Approaching people online is very similar to approaching them in real life, and calling yourself "Tom" and "Laura" won't help you make any business connections. Your second name is what distinguishes you from all the other Toms and Lauras in the world, so make use of it!
3. Double Check Your Email Address
Prior to hitting "Post Comment", make sure you did not mistype your email address. It should be a real, active email address, definitely not a fake one. This email address is the only way a blogger can get in touch with you, so do not deprive him/her of this possibility.
If you are scared of receiving unwanted messages (which happens really rarely), create a separate email account and use it only when commenting. But giving a fake email address is disrespectful towards blog owners (and yes, they will know it's fake, it is really easy to check it nowadays).
Another important thing you should do is make sure your email address is connected to Gravatar. This is a service that allows adding a nice real picture to your comment instead of a boring gray icon set by default: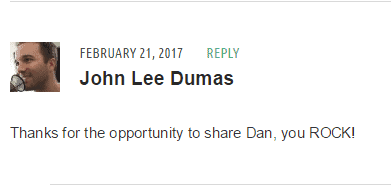 VS

A comment that is customized in such a way looks more trustworthy, impressive, and authoritative. So make sure you appear real when trying to make connections by means of commenting.
4. Make Your Comment Stand Out
Address a person by name.
Behind every article you're commenting on there's a real person who's writing it. Just like you, he/she seeks recognition and acknowledgment, and blog owners like it very much when you address them by name in comments.
First of all, it proves that your comment is not written by a spambot and you at least know whose blog you're commenting on. Secondly, it tells that you are a polite, respectful person. Thirdly, it helps to create stronger connections, since when answering to your comment a blogger would also most possibly call you by name. He/she may not remember it right away, but do it a few times and you're bound to get noticed.
For example, Neil Patel, one of the most successful bloggers and marketing gurus, admits that he recognizes his "frequent commenters by their full names" and often comments on their blogs, giving advice and helping to reach success. Therefore, make your comments more personal by addressing a blogger by his/her name.

VS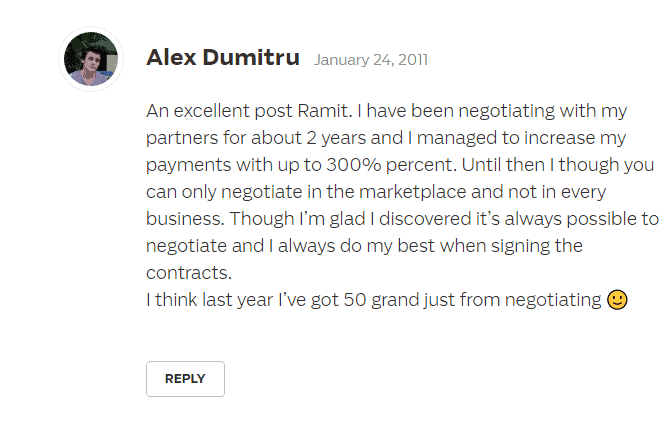 Write a valuable and insightful comment.
Before we go any further, let's take a look at this comment:

Is this a good comment? No. Why? Because it adds no value. In fact, there's no message in this comment even, it's simply…spam! Akismet, a popular anti-spam plugin used by many bloggers, bans such comments, and I am surprised to see that it actually got approved. So, a good comment is definitely much more than a couple of words that bear no meaning.
First of all, it should be on-topic. This one is sort of understandable, so I will only add that if you have millions of fascinating ideas to share but none of them actually touches the topic of an article being discussed, it is better to not comment at all. The audience is there to learn something new about that particular topic, and your irrelevant comment you will only irritate and repel most people.
Secondly, your comment should be unique. Obviously, writing a common knowledge or simply using other words to rephrase already mentioned ideas will do you no good. You'll be treated as an expert only if your contribution will be equal in quality to the contribution of other influencers. Offer a new tool or resource, share your own experience, provide statistics or numbers to back your opinion. Here's a good example of a blogger who shares his personal email marketing experience in a comment: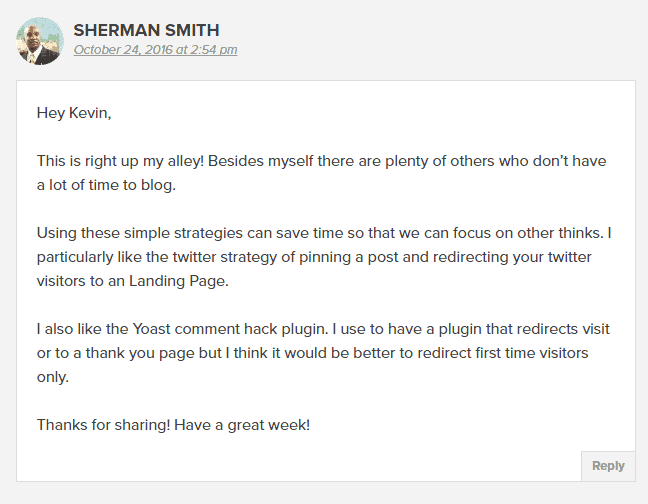 If you are not an expert on a given topic, it is better to ask a question instead of adding your 2 cents. Imagine you're attending a conference and hear the author of the article giving a speech. What would you ask? Which advice would you like to hear? Such comment will not only get approved but also given a special treatment by authors: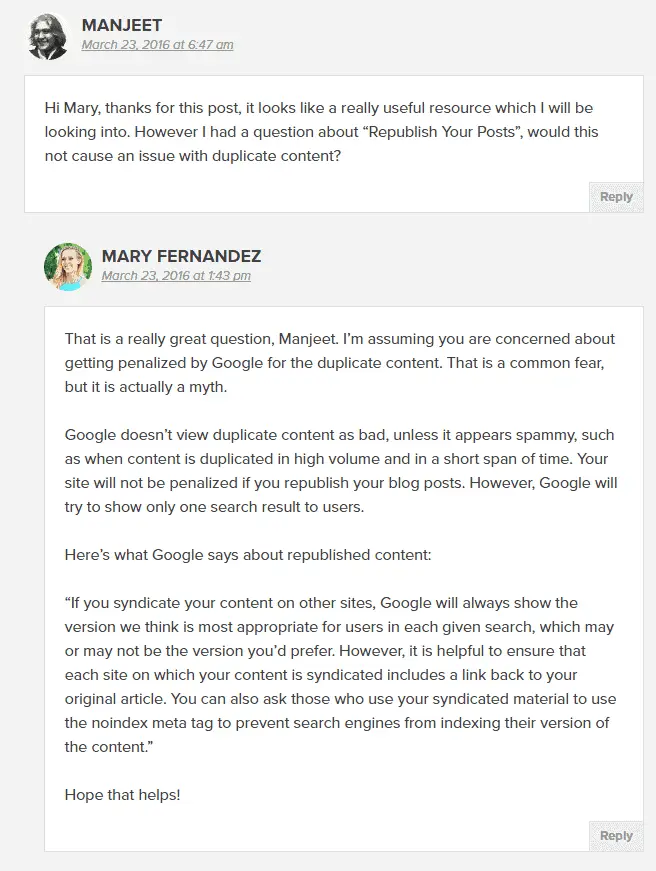 Stick to a deferential, diplomatic tone.
Remember that you're a guest, and behave correspondingly. Say "please" and "thank you", be kind and polite. This, however, doesn't mean that you cannot disagree with the author and should keep your opinions to yourself. Having a different point of view is great, since it adds value to your contribution and makes it stand out among all those "thanks for a great post" comments.
It is important, however, to present your disagreement correctly, without seeming rude or offensive. Check out this example of how NOT to disagree in comments:

This opinion is presented in a disrespectful way (even though it adds value), and definitely won't help its author to build a decent business reputation. And now there's a second example:

This comment is written by a courteous person who is not afraid to voice his/her opinion and knows how to do it in a way that does not offend or degrade others. Denyse will definitely be treated better in a community, simply because she is professional and respectful at the same time.
Final words
That's all, folks! Once your comment is approved, promote it on Twitter; share an article on Facebook, LinkedIn, etc. Remember that website owners get penalized by Google for spam comments on their websites, that's why they are so careful when choosing which ones to approve. And even though commenting is simply marketing for most people nowadays, write what you really think and do not try to pretend to be someone you're not.
Save
Save
Save