Hiring the right web designer is a key part business. The importance of the web designer is not to be discounted or overlooked. Web designers are now creating more of the webpage, business, and overall brand than ever before. The right web designer can create a mood, atmosphere, and tone for the entire brand.
Additionally, customers want more of an experience from brands. Good design is good business, and hiring the right web designer is more important than ever. Here are some industry expert tips on how to get it right and find the best web designer for you.
How to Find the Perfect Web Designer, Look for the Right Perspective
Before beginning your search, however, it is important to know that not all design work is similar, and you need to know what you are looking for. A designer who has worked on creating assets and rules for a new brand will have a different skill set than a designer who has helped build and design mobile apps.
Even in the world of web design things like HTML and CSS skills may vary. Ensure you have properly scoped for the role you are looking for and reach out to companies that can help provide tips to find the right designer.
1. Ask to See Their Portfolio & References
One of the easiest ways to judge the qualities of a web designer is to preview their portfolio. Web designers who are truly professional will have a portfolio of the websites they have done in the past. Seeing their portfolio of websites shows you what they can do.
Website design is quickly evolving. The best designers will want to be constantly learning and will engage with the design community. Look for individuals that have profiles on sites like Dribbble and Behance where other designers flock. Someone who both posts their work and comments on others will have a natural curiosity that will help develop new design.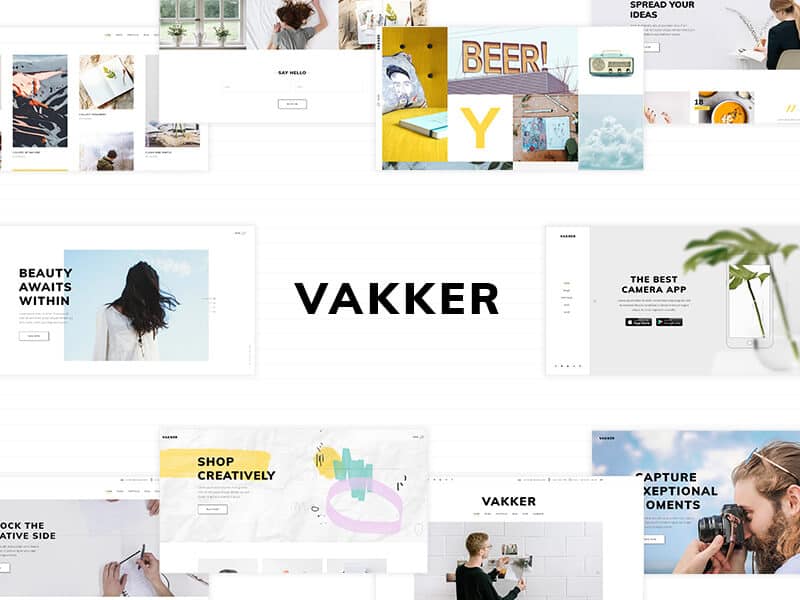 In addition to seeing their portfolio, ask for previous references. A beautiful portfolio only shows the end product and may leave half of the story out. Talk to references to get a sense of if the resource was able to deliver on budget and within the specified time. It can be helpful to understand how he or she interacted with other team members and dealt with changing priorities or goals.
A glowing recommendation can be a very strong asset, if it is from the right person. A former project manager may have more insight into how the prospect mixes with a team while a past client may only have visibility into the end product. Try to talk to at least 1 or 2 references who have a different perspective.
2. Ensure They Are User Driven
Great designers are focused on making their product or webpage easy to understand and use for the target user. Designers should regularly be seeing user input through surveys, interviews or tools like heatmaps and video tracking.
A great designer will annotate his or her work with consumer insights, showing how each decision was made based on user input. As consumer behaviors evolve or new web pages are introduced, a design should approach new design with the user's behaviors and needs in mind.
3. Finding the Skills & Right Rate
Managers should do the research to know what kind of expertise is required to build the website with the desired functions. They should clearly define where the designer's work stops and where the dev team's work begins. Some design asks may require a different set of expertise such as JavaScript and other coding languages.
However, there are some universal skills every design should have. A designer should be able to communicate his or her vision through reports, wireframes, or prototypes. They should understand basic concepts like hierarchy and the rule of threes and be able to apply them to the web design. Finally, a designer needs to be able to understand when to seek more time for research and when to make decisions quickly and not delay production. The right fit will have experience in both situations.
Another factor that firms have to take into account when scouting for a web designer, is the price. Web designers have been known to charge from as little as just over $10 an hour to well over $100. The industry average, however, is between $40 and $75. Steer clear of web designers who overcharge and be weary of ones that seem too low. Understand that asking for additional skills like coding and front-end development will increase the rate.
4. Understand Business Goals
A great designer will balance user needs and business goals and will build a webpage that serves both. While marketing is often responsible for getting the word out about a great website or service, design can also help this effort.
Incorporating design elements like sharing buttons, or email signups can help a business spread quickly. Design can help determine what are the best ways for current customers to share the website with their friends. Are social platforms the best ask or is an email or direct link a better strategy. By building business-focused growth functions into the web design, the business can more easily grow.
5. Look for a Web Designer with a Firm Understanding of SEO
One of the most important qualities to look for in a website designer is a good grip on SEO practices. SEO, or search engine optimization, is an essential component for making websites more marketable and boosting visibility.
The quality and efficiency in the use of the SEO practices in the website's design will have a major impact on the volume of organic visitors you can bring to the site.
6. Test With A Smaller Project
Even after vetting and searching for the right qualities, it is often best to work on a smaller project before diving into a large-scale effort. While you may feel you've identified your ideal candidate, starting with a small, non-critical project can let you observe the resource in action and see how he or she interacts with the team.
It can be hard to uncover things like grit and problem-solving in an interview setting. Working side-by-side can illuminate how the designer solves conflict, conducts research and if they go above and beyond in their final deliverable.
It is important to note that even though the project may be an interview for a full-time job, a designer should still be paid for small, trial projects. Expecting a designer to work pro-bono is not in the best interest of either party.
7. Hire Slow, Fire Fast
While you may feel as though you need to complete a pressing project, it is better for the business as a whole if you spend time hiring the right resources and not just someone who can complete the work. Taking the time to find the right fit of skills and attitude will make a lasting positive impact on the team.
On the other hand, hiring someone who is not a good fit, can be very disruptive to several teams. If you think you may have incorrectly hired, try to take the problems head on with open communication and project improvement plans. If the resource is still not able to meet expectations, it may be time to separate him or her from the organization.
While it can be hard to let anyone go in a small team environment, it may be the right thing to do in the long-run for the overall productivity and moral of the team.
8. Ensure You Own The Design
During the hiring process and when the offer is extended, make it clear to the designer that the business will own the design and intellectual property rights to the site. This is important to clarify to prevent confusion down the road.
Additionally, if an organization wants to raise capital down the road, not owning the design and content of your website can raise red flags or prevent a sale entirely. Most web designers understand that signing over intellectual property rights is a common practice and will easily agree, however, it is always best to have this agreement in writing and not just assumed.
Making the Right Choice on Choosing a Web Designer
In the end, first identify what you are looking for can help you find the best web designer. Find a resource that is research driven, thinks about the business and the user and is looking to grow their skills. Take your time to review if the prospect has the design capabilities and social skills to interact with the team.
Extending a smaller project, before diving into the larger effort can help you fully understand if you are hiring the right combination of skills. If you do find that you do not have the right resource, take the steps needed to get your team back on track. Design is both the function of a website and the emotions connected to the experience. Investing in the right designer can create a wonderful user experience that lead to life-long customers.