In the era of social distancing, it's not surprising that people are flocking to contactless payment systems like Venmo to make purchases. Because digital payments don't require physical contact with a vendor during transactions, the chances of spreading any dangerous germs are diminished.
Small businesses have been tasked with accommodating their customers' new digital payment preferences in order to stay competitive during uncertain times.
As you consider which payment platforms may be best to adopt for your small business, its important to think through how various platforms will aid your company's growth. Venmo, for instance, can be used to solidify and build your brand.
This article will highlight three ways you can leverage Venmo's unique interface to elevate your brand and boost consumer awareness of your services.
Put simply, Venmo is a secret but powerful marketing tool — if you know how to use it.
What is Venmo?
Venmo is a mobile payment platform (a product of PayPal) that makes it easy for people to split the bill. You can pay friends and family with a Venmo account using money you have in Venmo, or link your bank account or debit card quick.
As a business, Venmo not only gives you a cash-free way to pay, it is a social network that allows entire communities to see what their friends are paying.
How Does Venmo Work for Business Owners
Venmo isn't just a payment platform, it's also a social commerce platform.  If your'e a business owner who encourages paying with Venmo, you're actually gaining an additional word-of-mouth channel.
Venmo connects friends who share what they're experiencing and buying. Behind every person who pays with Venmo is a network of friends who can view, like, and comment on a shared purchase, bringing your brand front and center in their conversations.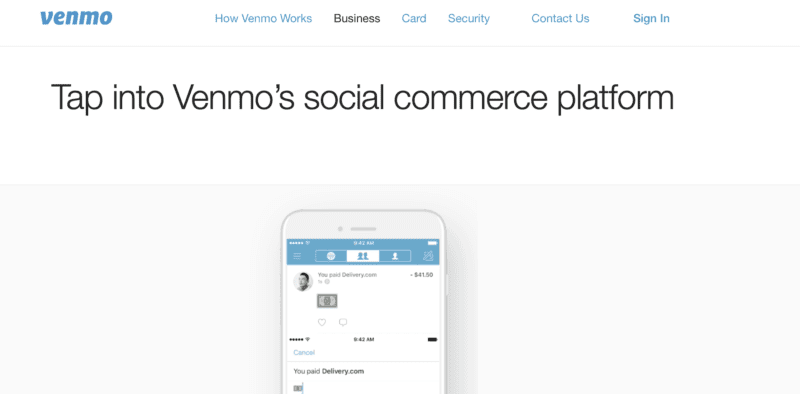 Select an Identifiable Username
One of the most important aspects of a successful brand is having a consistent, identifiable name that your customers can learn and remember. This will allow people to become aware of your brand and grow a sense of loyalty to you over time.
Venmo prompts new users to input their first and last names along with a username into their profiles. While consumers may fill out their fields with their personal name, small businesses should consider using this opportunity to raise brand awareness for their business's name.
Your username should directly align with your brand name. When your customers opt to pay for your services with Venmo, they'll need to either scan a unique QR code from your device or search your account by username. If your username is the same as your company's, they will have no time finding and remembering their interaction with you.
Your first and last name on the app should ideally match your business name as well. While users will find your profile with your username, your "first and last name" will be listed under their past transactions with you.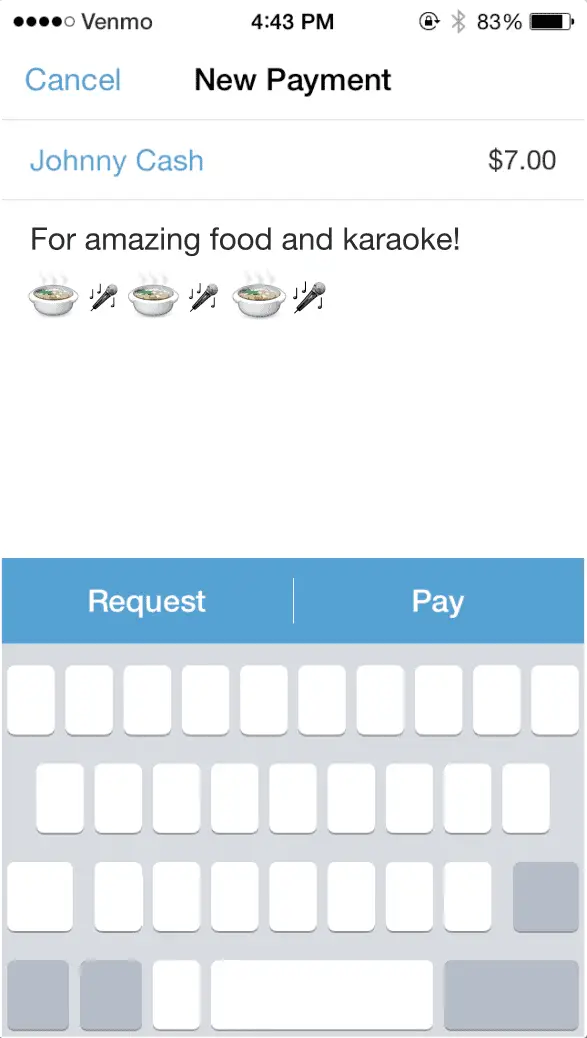 Source: Venmo
For instance, if your name on Venmo is listed as "Johnny Cash," that's what Venmo users will see when they view your various public transactions. In order to optimally benefit from Venmo's social media-influenced interface, your business name should be listed next to all transaction posts related to your company.
Transactions on Venmo can serve as an unofficial public endorsement of your products. When users see their friends engaging with and purchasing goods from your brand, they'll be more likely to look into your services as well.
By changing your first and last name to match that of your small business, you're giving Venmo users the opportunity to learn more about your offerings.
Optimize Your Captions & Charge Descriptions
Plugging your brand name into your profile is a great start, but brand awareness can be boosted even further through the optimization of captions and charge descriptions.
These descriptions can be found on every Venmo user's global, friends, and personal views of past purchases. Now that users can see your brand name on all of these places, it's time to leverage charge descriptions to actively utilize your brand voice while clearly describing the purchased products.
On Venmo, either the consumer or the vendor can initiate the transaction. If you're looking for more control over your brand voice through captions, you should be the one charging your customers' in the app.
When you charge someone, you'll be tasked with writing the charge description that details the transaction. There, you'll have the opportunity to quickly and clearly describe what your customer bought from you.
This is important because other Venmo users will likely view this transaction and interact with it. If the caption is clear and understandable to viewers, it may spark engagement or inquiries from those outside of your existing consumer base.
While writing these descriptions, you also get the chance to formulate an active brand voice. Is your company going for a fun, quirky brand image? Try incorporating emojis into your descriptions to reflect that.
If you don't want to be responsible for writing charge descriptions for each purchase your customer makes, you can also rely on them to do your work for you.
Because consumers are conditioned to use Venmo as a form of social media, they're often capable of writing their own engaging descriptions and starting conversions with those in their network about their purchases.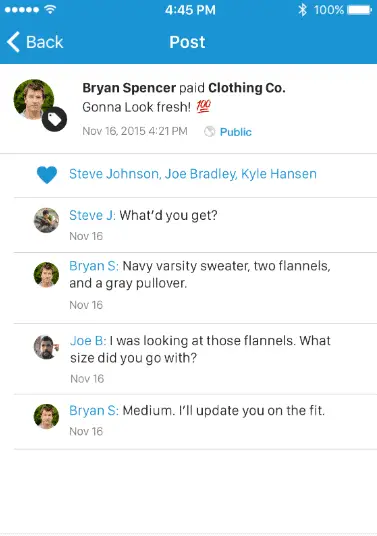 Source: Business News Daily
Even if a caption starts initially vague, friends and Venmo users have the opportunity to comment and converse about transactions for more detailed information.
In this way, your customers can act as unofficial brand ambassadors simply by talking with their friends about their newest purchase.
Whether you're taking charge of captions or letting your customers represent their own purchases, charge descriptions educate consumers on your product offerings and can raise additional brand awareness for your company.
Engage With Your Customers' Payments
Through transactions on the Venmo app, businesses are afforded yet another opportunity to engage with their customers.
Like many social media platforms, users can most easily interact with each other through liking and commenting on payment posts and descriptions.
As the company that sold the product mentioned in the transaction, you use this social media format to follow up on your customers after the purchase is completed.
Many small businesses and freelancers do this simply by liking the completed transaction.

Source: Venmo
This action helps signify your appreciation for your customer's business. This small piece of appreciation will make your customer feel valued and more likely to purchase from your business again.
For businesses wanting to engage past customers further, you're able to attach a personalized comment to the transaction for the individual and their network to see. You can use your comment to accomplish any of the following:
Seek feedback on the quality of the products
Express your thanks
Confirm their satisfaction
Compliment their selection or taste
Alert them of a relevant upcoming sale or new item
Comments are your chance to reengage and retain a past customer, start conversations about your offerings, and pique the interest of others who may view the transaction. Being active on Venmo through comments will communicate your care for customer service and draw in new business.
Strategic Use of Venmo Can Raise Brand Awareness
Venmo's fresh, social media-inspired interface has attracted large volumes of consumers to the platform. Businesses should follow suit by strategically employing the platform's social media functions to engage customers.
By simply incorporating your brand name into your profile, writing clear charge descriptions, and interacting with customers' transaction posts, you'll be in a better position to raise brand awareness as a small business.