It's time to use Venmo for small business branding! You're already generating most of your business by referral, why not build on that?
Do you have a personal Venmo account that you've used to split bills with friends or pitch in for a gift? These days, Venmo is a handy payment method for personal transactions. But you can also use Venmo for business transactions! And get this, when you accept Venmo payments, you're actually marketing your business!
Depending on your privacy settings, Venmo transactions can either be public and shared with the news feed in Venmo, friends only, or private and shared in your stories.
And this is where taking Venmo business payments can really help generate word of mouth for your business.
What is Venmo?
Venmo is a mobile payment platform (a product of PayPal) that makes it easy for people to split the bill. You can pay friends and family with a Venmo account using your money in Venmo or quickly link your bank account or debit card. Users can also pay for products, services, and other business transactions from their personal accounts without the need for credit card transactions or a credit card processing system.
What makes it different from other online business payments platforms is that it also doubles as a social network platform.
Users can share the details of what they just paid for on their social feed. Well, unless a customer chooses to keep their transactions private.
And that is where the juice is for small business owners.
As a business owner, you can accept Venmo payments from your customers and, as a bonus, get tons of referrals.
As a business, Venmo not only gives you a cash-free way to pay, it is a social network that allows entire communities to see what their friends are spending.
Your Business Needs a Venmo Account
With the advent of online payment processors and digital transactions, small businesses have to keep up with the ever-changing customers' digital payment preferences to gain ground in the competitive market.
A lot of small business owners assume that if the conventional payment system works for them, there's no need to try out alternatives.
While that is a valid point, there are so many other reasons why choosing a digital wallet like Venmo for small businesses can help it grow.
With Venmo for small businesses, for example, you no longer have to worry about saving costs while increasing brand reach.  Your business can take Venmo payments and build your brand at the same time.
Put simply, Venmo is a secret but powerful marketing tool — if you know how to use it.
In this article, we will work you through how you can leverage its distinctive "Venmo for business" features for your brand's visibility.
How do customers find my business profile on Venmo?
Once your customers have a personal Venmo account, they can plug into the networking potential of Venmo for business.
Customers can find your small business on Venmo by searching for your business name and choose to share your profile across their social media or other networking platforms.
What this means is that when a person pays for your product or service, you indirectly market to their network because their friends can see, like, comment, and share this purchase.
It makes your small business a topic in their daily conversations.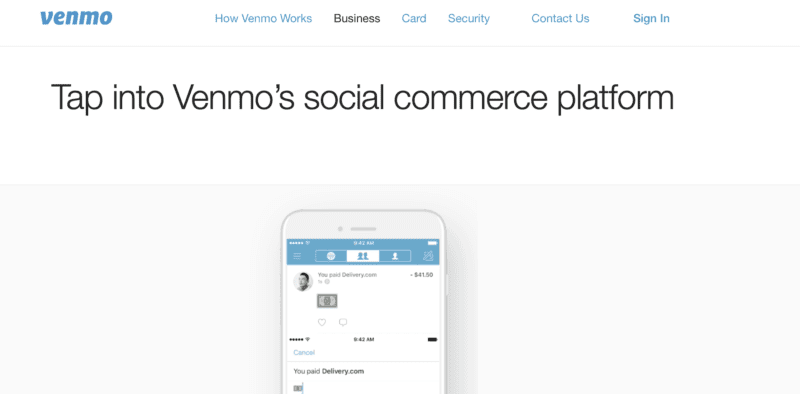 Using Venmo for small businesses is also an opportunity to share the details about your brand like your website or social media apps.
All you need is a Venmo Business profile set up and you're ready to go.
What Are the Benefits of Using a Venmo Business Profile?
Every small business has almost the same goal; increasing brand awareness and getting more customers. Here's how Venmo for small businesses helps you achieve this goal:
Free Brand Visibility and Endorsement Via Social Feed
When you have highly engaged users patronizing your small business and accepting payments with Venmo, they are likely to share their shopping activity and experience with your brand. 
Unlike the typical payment processors who just accept payments and move on to the next transaction, when you pay with Venmo, all transactions on the app are simply diverse channels to acquire more customers.
The great thing is that, no matter how vague a customer's initial post might be, it'll still gain traction when their network interacts with it.
In the long run, your brand is put out via the recommendation engine to other Venmo accounts. 
It's kind of like having an unofficial brand ambassador for your small business which is the most effective brand acquisition strategy. After all, 92% of people prefer to take brand recommendations from their friends or network.
Social Connection With Customers
Similar to social media sites, Venmo allows customers and prospective clients to interact with the brand through likes and comments.
The network of a customer can ask questions about the service or product on a business transactions post and as a small business, you can respond to their inquiry first-hand.
This is a great way to show that your business cares deeply about customer service which will definitely interest other Venmo users into giving your business a shot.
Your current customers will also be happy enough to spread the word by giving great recommendations and encouraging their network to purchase from you.
Although likes are effective, comments help build that extra layer of the connection while giving a lasting impression to those who will come in contact with that post.
For example, you can notify a customer about an upcoming discount or sale through a comment.
When members of their circle see that post, they are hooked to your offering and will want to partake in it. So you're getting leads from a simple personalized comment.
How to Properly Set Up Your Venmo for Small Business Profile to Gain Brand Awareness
Now that you're ready to start using Venmo to raise awareness and improve visibility for your small business, here are some insightful tips on how to set up your Venmo Business Account and start accepting Venmo payments.
1. Download the Venmo app
Venmo is a mobile platform. So get started by downloading the mobile app. You can find this on Google Playstore or the iOS app store.
2. Start the basic signup process
Immediately after downloading, Choose the 'Business' option
Tap on signup and choose 'Get started'
Enter your name, email address and  create a password
Tap on 'Agree', enter your phone number, and tap on 'send code'.
Pro Tip: Ensure that the phone number you enter is valid and available. A four-digit verification code will be sent to this number. You have to enter this code before tapping on 'Submit code'.
If you cannot successfully submit this code, your phone number cannot be verified which means, your Venmo for small business account setup will be incomplete. Do keep in mind that there's an opportunity to retry the phone number verification.
Once you've successfully verified your phone number, you can now proceed to the next step
3. Verify and Set up Your Business Profile
This is where you have to apply creativity and tact to ensure you get the most out of your Venmo business account.
Add Your Branded Username and Display Name
Your business display and username play a significant role in getting brand awareness. With personal accounts, you can play around with unique and uncommon names.
It is different if you want to set up a well-optimized business profile that gets you that free band visibility Venmo offers.
Why?
When Venmo users want to pay for your product or service, they either have to scan a QR code or search for your username.
And a clear, consistent username that is identical to your brand name makes it easy for users to identify and remember your brand.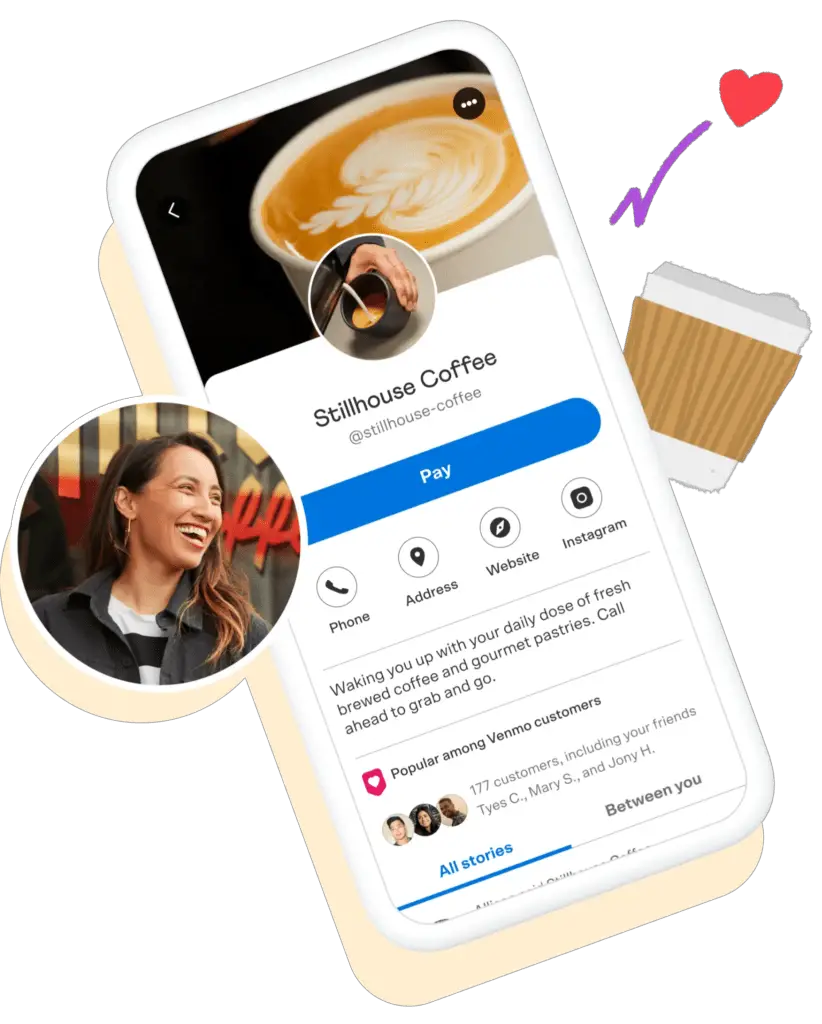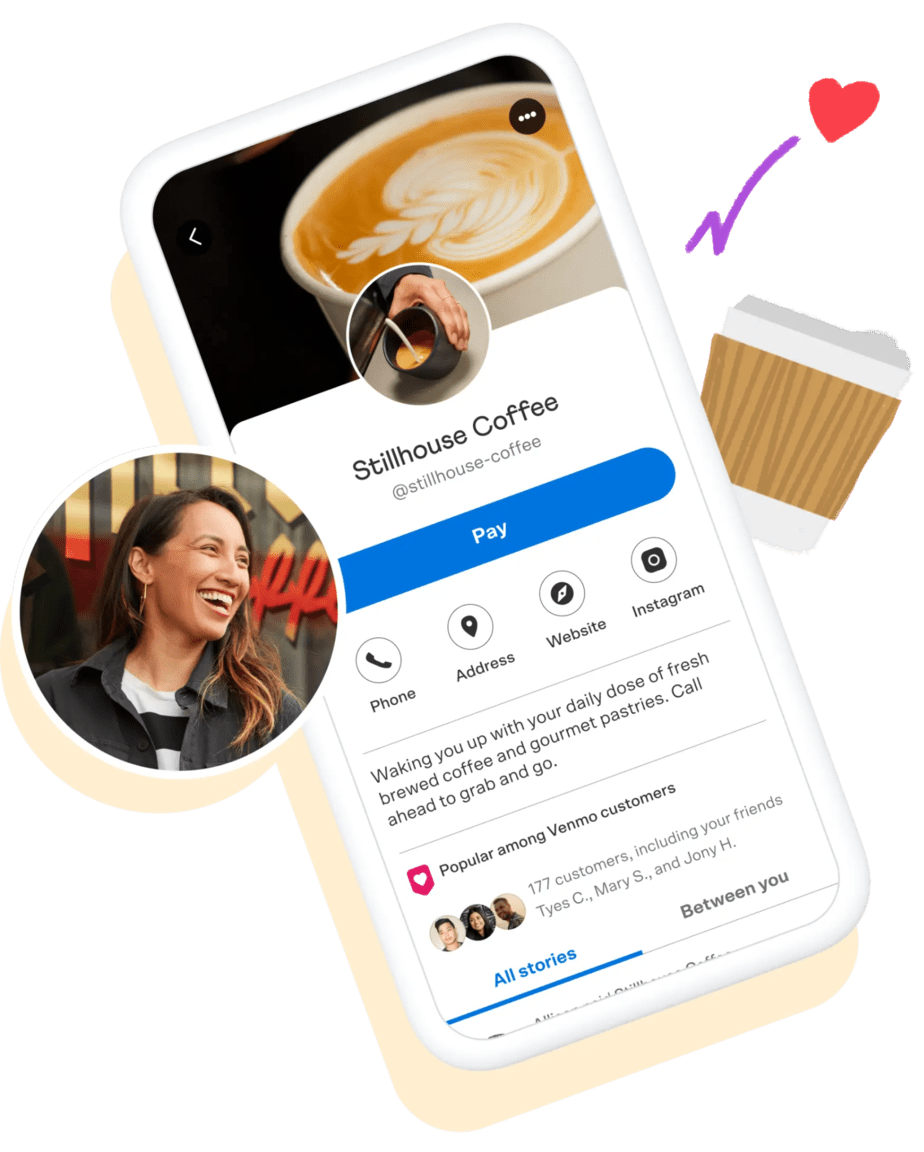 Venmo display names are usually first and last names.
Your display name is what Venmo users will see when they checkout payments made to your store.
For example, if your display name is 'John Doe', the customer transaction history will show only that.
So both your username and business display names should match your brand.
If these names are the same as your business name, customers won't have a hard time finding you.
Optimize Your Charge Description
Your brand name is a start towards being recognized. However, your description is the hook that'll boost the awareness your small business is sure to get.
Your business charge description is an opportunity to carefully describe the nature of your business and the services you provide while showcasing your brand voice.
On Venmo, whoever initiates the transaction is required to write a charge description which is like a summary of what the transaction is about.
When you initiate a transaction, you can leverage this requirement to show off your brand. 
The descriptions or captions as we like to call them will be seen by every Venmo user that comes in contact with your brand.
Depending on how engaging it is, users can spark up conversations and attract more leads to your page. So you can add a little fun, humor, or wit into your captions.
Now you can always leave the charge descriptions to your customers if it'll be overwhelming for you. Thanks to likes and comments, there's still a chance to spark up engagements and conversations about your brand.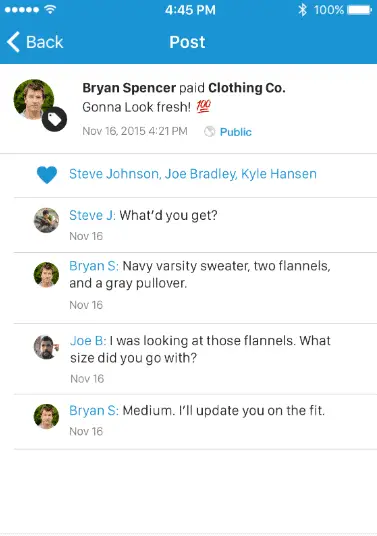 Include Other Business Information
You'll be required to add other optional business information like a business address, website, or social media link.
While this is great as an optional field, it's a chance to show off more areas of your business. 
For example, social media can show customer reviews which is great for reinforcing trust.
Your website allows prospective customers to look through your stock or offerings, see the pricing details and the answers to questions they may have.
And a certain percentage of these visitors will definitely go ahead with making a purchase.
4. Start Interacting with Customer Transactions
Now that you've successfully set up your Venmo business account, it's time to start making the best out of it by interacting with customer payments.
Like and comment on payment posts.

It could be a simple thank you line or something as cheesy as complimenting their taste. 
This type of engagement helps with retaining your existing customer base while making a striking impression on their network.  
When you check in regularly through comments, their network will see your interactions with their posts and become more inclined to actually check out your brand.
Venmo Is A Powerful Marketing Tool For Small Businesses
Venmo's fresh, social media-inspired interface has attracted large volumes of consumers to the platform.
Businesses should follow suit by strategically employing the platform's social media functions to engage customers.
Remember, how you use Venmo for Business determines how much awareness your small business will get.
Stick with your business name, take charge of descriptions, engage customer transactions through comments and increase your business reach.