What do wireless chargers and tech gadgets have to do with marketing?  More than you think.
Marketing isn't just about strategies and tactics. It's about creating an overall package or offer that makes you and your business attractive to your ideal customer. In fact, weak tech can cause glitches that make you appear unprofessional. I talked about it as one of the pitfalls of working from home.
You know you need the right tech to reach the right customers. You need it to present the right image for yourself and your business.
Think about it. Instead of throwing money away on cheesy promotional gifts, why not invest in some cool tech that will make your customers' lives easier? And they'll always remember your thoughtfulness.
Another often neglected component of marketing is…YOU.  You are your best marketing machine! So it makes sense to use technology, like wireless chargers, to help you stay charged up and be your best self.
Here's a list of the latest tech tools that you can use to power up your business. You can use these as part of your marketing too. Add a little extra zig while others are zagging.
1. Say "Ciao" to the mass of messy wires that are collecting on your counter with this elegant wireless valet pack!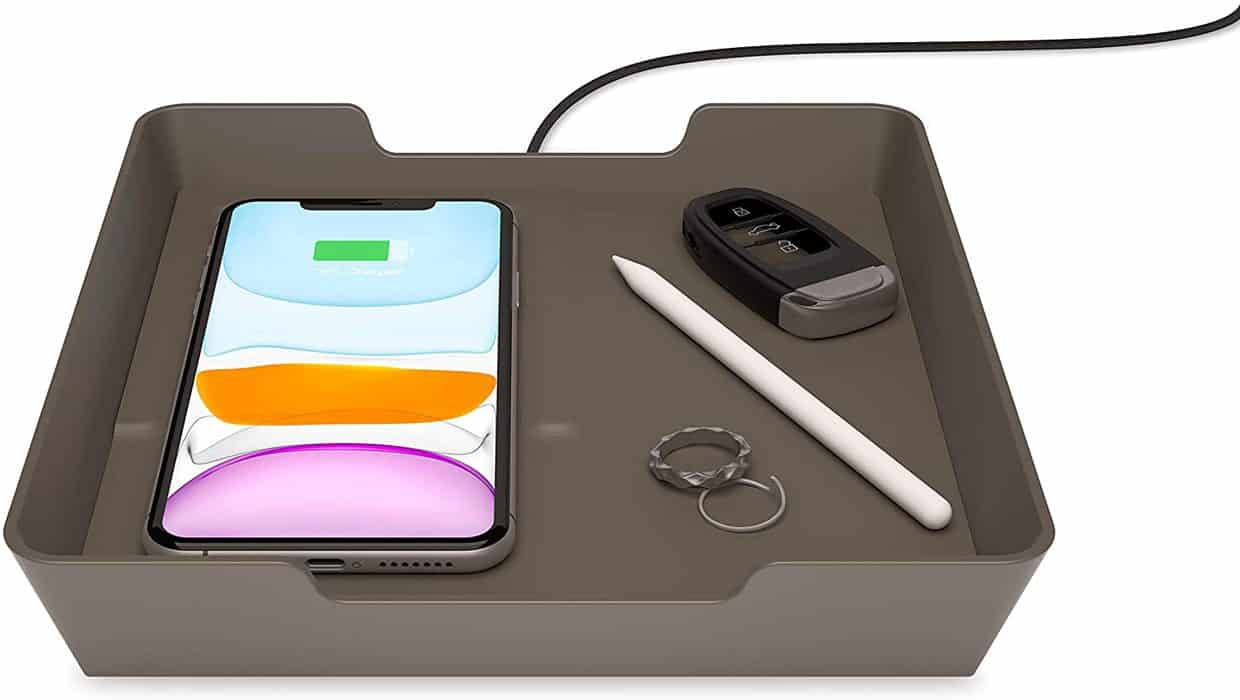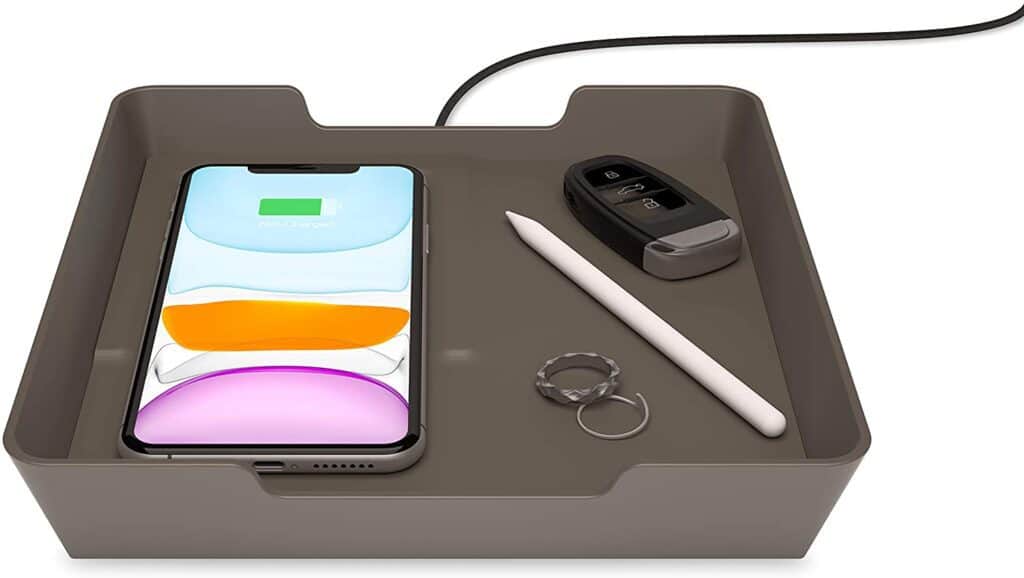 With space for your Apple Watch, AIr Pods, iPhone, and a laptop, this wireless battery pack is just begging for a place on your night stand or kitchen charging station.
Upgrade to the 20,000 mAh to make sure that you never run out of power – especially when you're on the go.
This is a brand new item that you can find on the Eggtronic website in early 2020. Look for it under the "Products" tab.
Price: $89.00
2. Get your daily steps in with these wireless earbuds! Talk about doing meetings on the run. These are even waterproof!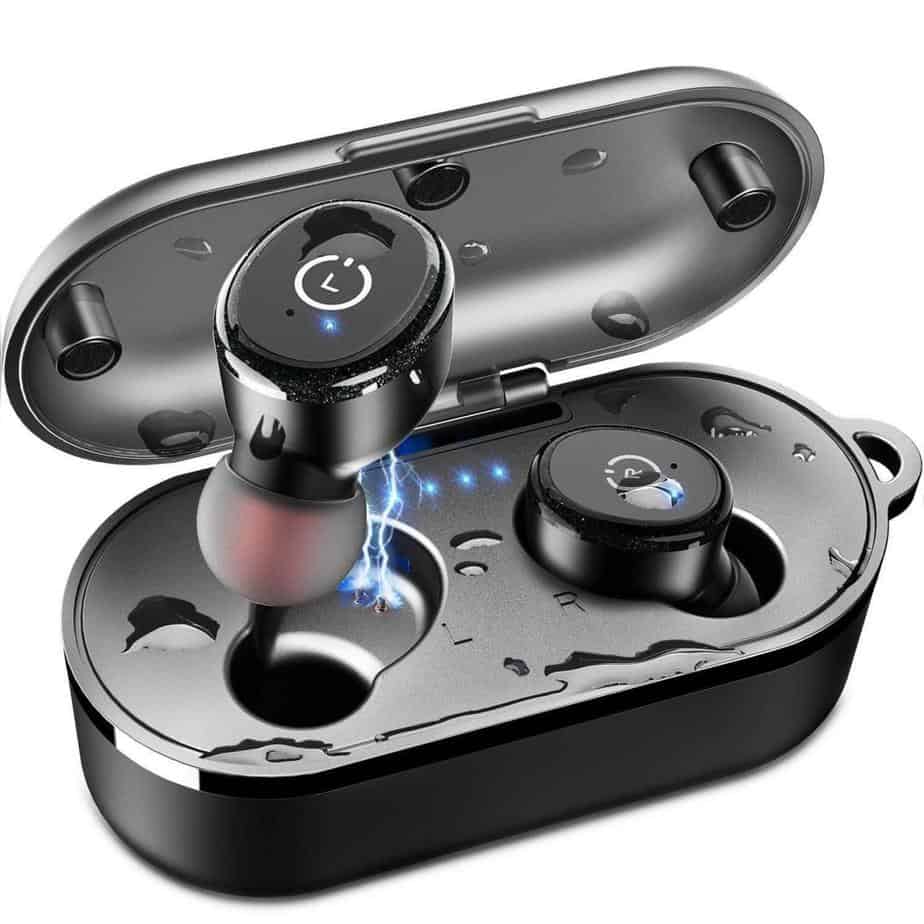 You've heard of management by walking around — this is marketing by walking around! Follow-up with clients and prospects or hone those marketing skills by listening to podcasts. You'll get more than 3 hours of playtime and 9 hours of case time from a single charge! That's enough juice for an average plane ride. You've got the wireless charger, why not take things to the next level with wireless earbuds? Bonus: you can charge these babies with the Eggtronic wireless charger mentioned above.
Price: $49.99
Helpful review:  "Battery time is right around 4 hours at low volume. I wear them at work as background noise. The travel case can charge one while the other is playing, so I don't find it hard to get through a work day with them. I like the charging case, too. It's well built, and can use a Qi wireless charger. There are 4 lights to tell you how charged it is. it closes and fits in a pocket. I can't tell you how many charges it will take, because I usually keep it plugged in." — W.C. Eby
3. No one has to know that you're anxious about running out of battery power! This magnetic power bank with ring will keep you charged and looking stylish.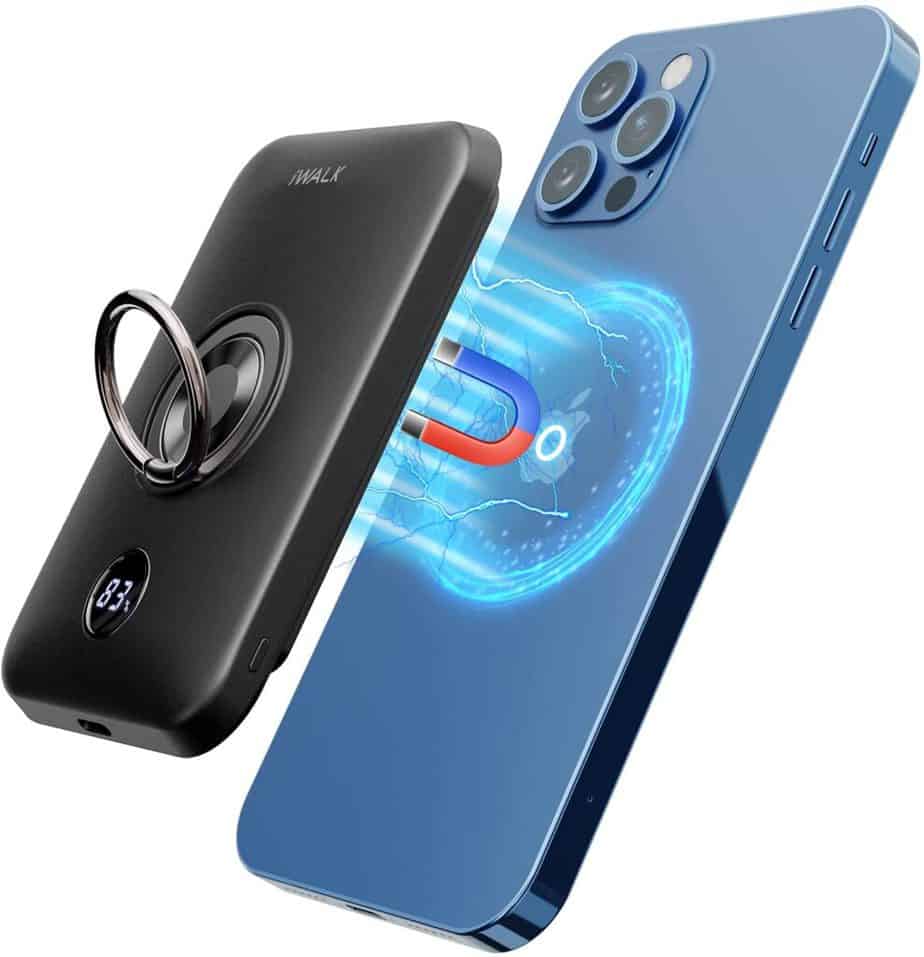 Ever heard of nomophobia?  It's a thing! Nomophobia is the fear and anxiety of running out of battery power.  Well, not this time! Replace your do-nothing ring or popper with this Universal Power Ring or Power Popper from Eggtronic.
You can wirelessly charge your phone, hold it in one hand, take a selfie with your peeps, post it on social, and then prop up your phone and watch the engagements roll in.
4. Protect your eyes. Avoid eye strain from too many hours in front of your computer with these blue light blocking glasses

These computer glasses are a game-changer! Do you sit in front of a computer all day and then feel tired, but can't sleep? Welcome to the fatigue and eye-strain that comes with the job. But did you know that extended exposure to blue light can even cause retinal damage?
Yikes!
These blue-light blocking glasses are the "safety goggles" for anyone who spends more than a few hours a day at the computer. That's probably you!
Price:
Helpful review: "I've been wearing these for 3 days and have already felt a difference. My little headaches are gone. I can feel my eyes blinking—that's something I know I wasn't doing enough of before. And my eyes are already less red. I should have taken before-and-after photos of my eyes only." — KWatson
5. Recover from jet lag, sleep better and beat the winter blues with these ultra cool light therapy glasses.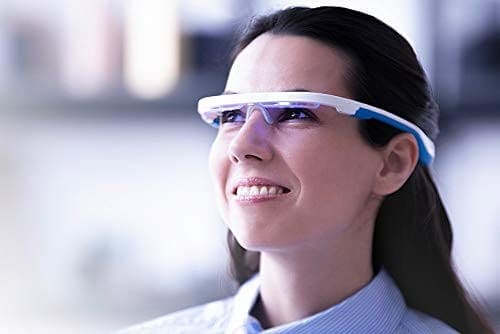 This 21st century product is ideal for the world-traveling gadget geek.  These futuristic light therapy glasses can help increase your energy, overcome jet lag and put that extra spring in your step.
OK, so it's a little odd looking, but you only need to wear it for about 20 minutes to get the benefits.  That's not so bad.
Price: $249.00
Helpful review:  "As far as this doing something tangible, to me it feels immediate and real. It's more akin to taking a low-grade dose of an ADHD drug such as ritalin or vyvanse rather than caffeine – there is a distinct mood change… in addition to a brightening, also a bit of extra aggression, like a good shot of adrenaline. I realize it's just supposed to mimic nature, but I have a feeling that blue light itself separated from the rest of the spectrum may have a different effect hormonally than a similar amount from outside exposure. It does appear to help my sleep schedule but it's not a silver bullet – my diet and lifestyle have to follow suit. But what it does for my energy levels is great, and if I have a bad night of sleep it helps me forget that I did." — Beau J. Randall
6. This super slim power bank will fit in a pocket or a small purse and has enough power to charge all of your devices at once! Use the USB for 2 devices and plop your phone on top to charge wirelessly!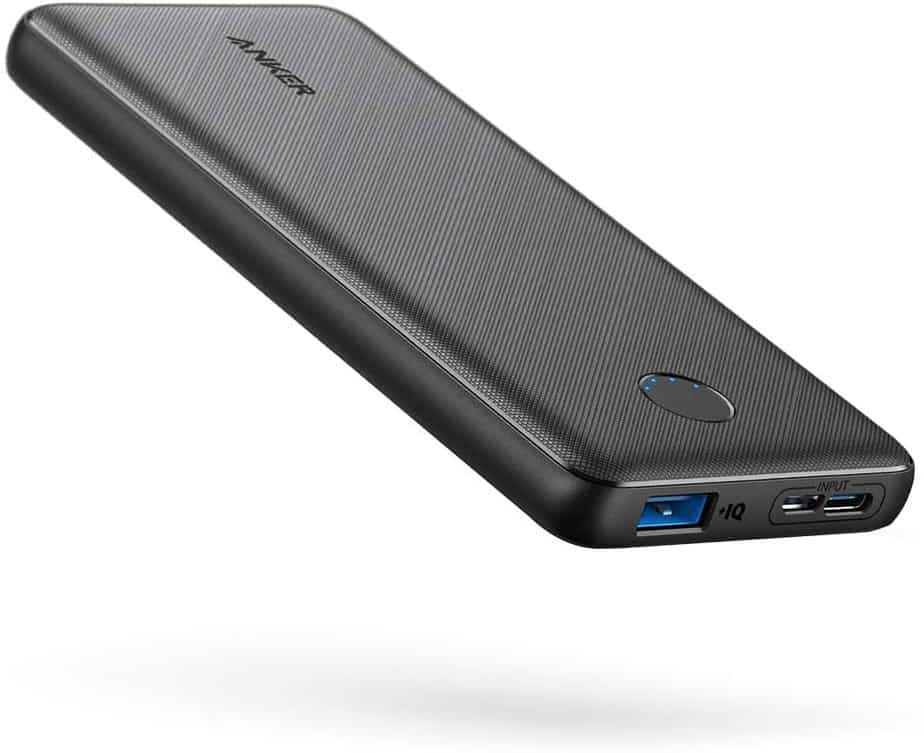 Too shy to make friends at a conference or event? Pull this puppy out, along with a couple charging cords. You'll be networking in no time.
7. Stay safe when you're on the road with this personal safety monitor.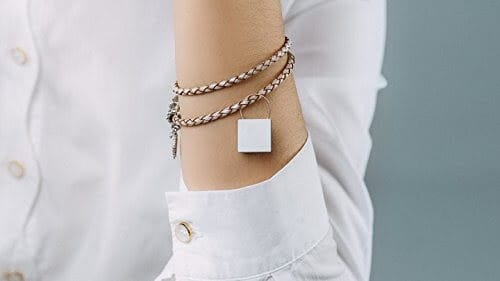 Wait. This little security fob isn't just for women.  It's for anyone who isn't surrounded by people 24/7. This is something I'd give my son while he's at college. And he's 6'4, 240 lbs and a trained martial artist.
This is also a terrific device for seniors. It's bluetooth activated and for no monthly fee can notify your friends or family if you need help.
Just sayin'. You can't be too safe.
Price: $18.12
Helpful review: "I just graduated college and work in sales and I often have to meet first time clients alone at locations I've never been to before.  It's so small I keep it as a charm on my bracelet like the pictures they have and nobody has ever noticed me wearing it. I never go on a meeting without this and I really do feel safe when I wear it. I even bought one for my mom."  — Ashley
8. Want to bring people to your trade show booth and get them to stay? This wireless charging station will power up your prospects and give you the opportunity to build that relationship.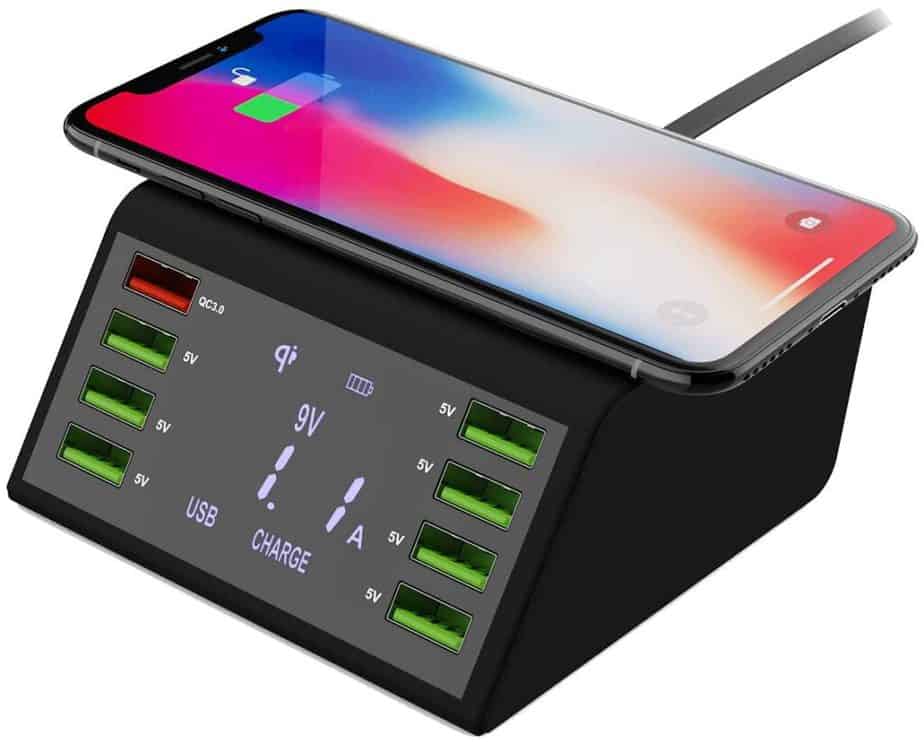 I'm astonished at how few charging stations there are at trade shows and conferences! If you're planning on exhibiting, why not add a "power-up" table to your booth where people can re-energize?! Serve healthy energy drinks and add this wireless charging hub. With 4 charging stations and plugs and a wireless Qi charger on top, there will be enough power for everyone.
9. Wow them with your presentation using this teeny tiny wireless projector!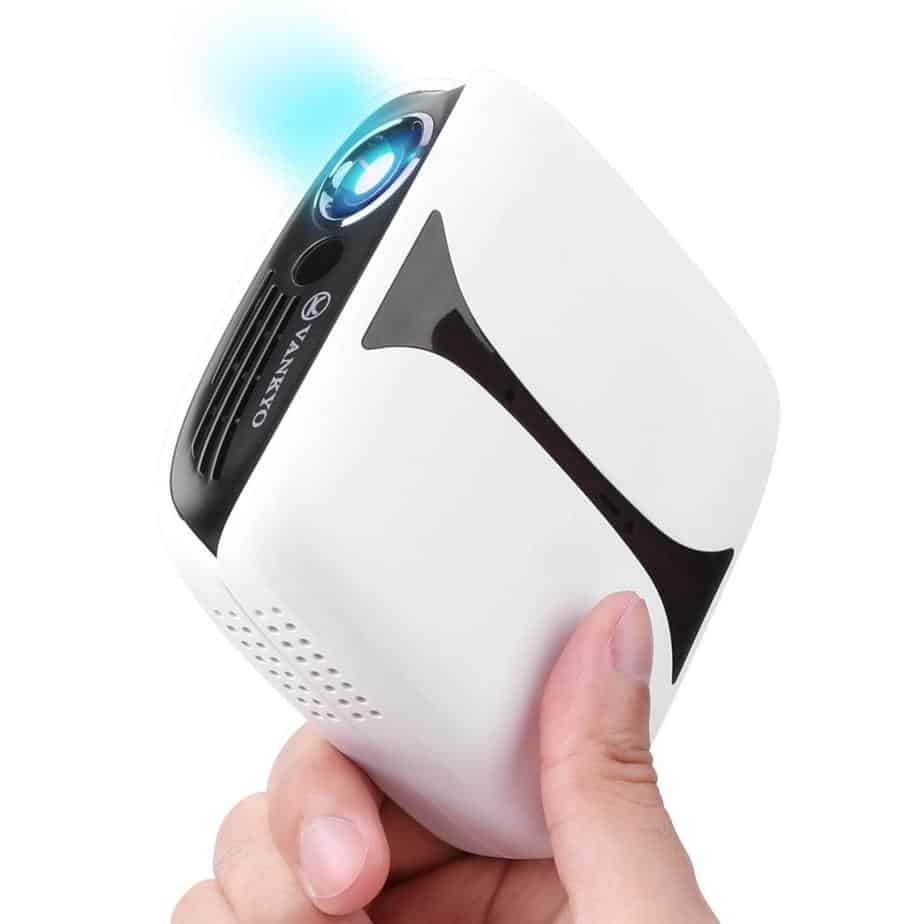 If you want something done right, you have to do it yourself — right?  Well, that applies to presentations and client pitches as well.
Why not take your projector with you?
This miniature wireless projector fits in the palm of your hand so you can break into a spontaneous presentation just about anywhere with a blank wall.
Price: $199.99
Helpful review: " I've been looking for a small, lightweight projector with a long lasting battery to display pictures at various venues. And finally I bought this one and it is really a nice mini 3D projector. It is very easy and straightforward to use. And I love it is super tiny, pocket-size with a special carrying bag and holds charge good enough to watch a movie. " — Compudoc
10. This Wireless Charging Stone will bring some much-needed luxury to your office while it powers up your mobile device.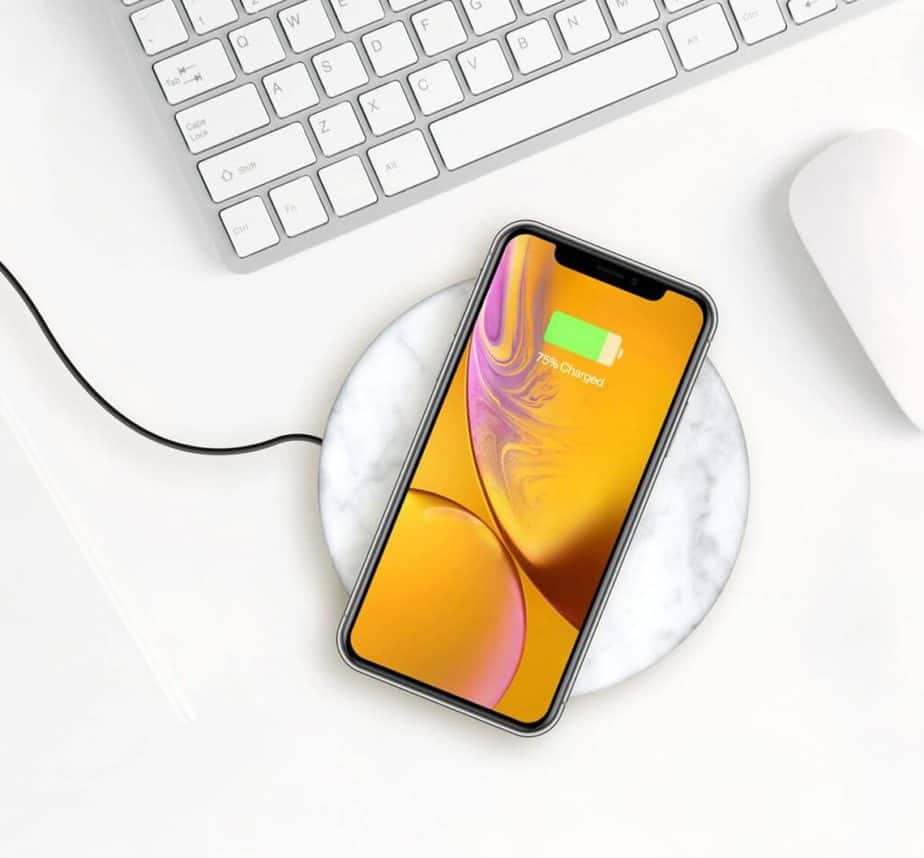 I work from home and yes, I admit that I hog up all the chargers.  So, when someone comes home and wants to charge up — too bad. I received this gorgeous marble wireless charging pad from Eggtronic and I love it!
I placed my marble charger next to the couch.  It's the perfect place to leave the phone to charge while I connect wirelessly to make and receive calls, clean up or just watch TV.
Price: $69.60
My review: I've been using this wireless charging pad for about a month now and I love it. It's fast charging and can go from nothing to a fully charged battery in about an hour.  My biggest concern was that it wouldn't work through my phone case – but that was unfounded.  All I have to do is plop it on the charger and walk away.
11. Put your power cords on a diet with this Universal Charger for Laptops, Phones and Mobile Devices. So slim and light that you can pack an extra pair of shoes! You'll never let an awesome outlet go to waste because your charger won't fit into the outlet.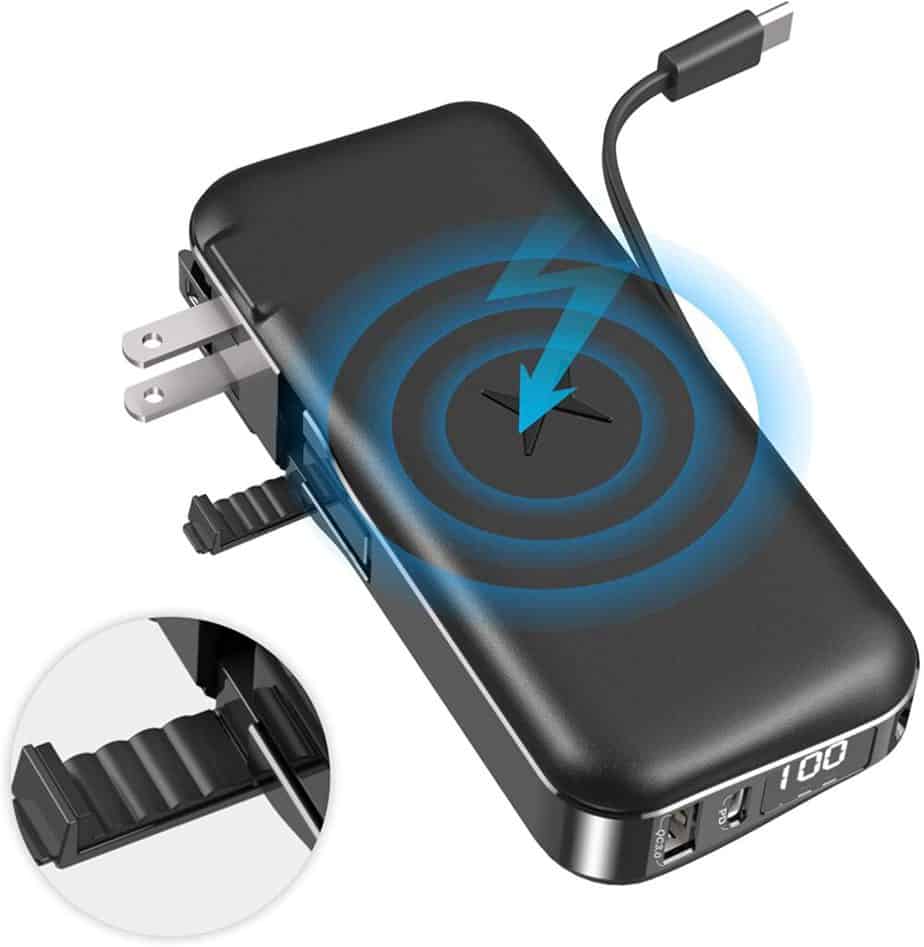 Forget about looking for a 3-pronged outlet or swear at a loose outlet at a coffee shop again. Charge your laptop just about anywhere with this handy laptop charger.
12. Here's a customer retention strategy: install these Embedded Wireless (Qi) Chargers in your waiting room or your coffee shop. They give your customers a reason to hang out and buy more stuff!
How cool is it when you're at the airport and you stop for a cup of coffee and discover that there's embedded wireless chargers inside the coffee table?  Given the choice of sitting in the lounge or buying a cup of coffee and sitting comfortably at a table where I can charge my phone without digging for wires; I'll choose the table with the wireless charging.
Your customers will too.  You don't have to be a restaurant, why not install these chargers in your break room or in a waiting room?  It's a nice touch and will give your customers one more reason to choose you.
Price: $55.90 – $79.90
Technology That Works For You – Instead of the Other Way Around
Let's bring this back to where we started.
Marketing isn't just about what you do to attract new customers.  Good marketing is about leveraging technology.
First impressions matter.  And if you're frustrated or freaking out because you don't have the right technology, your customers will notice.
I hope you enjoyed these cool technology tools I've pulled together. Each one can play a critical role in helping you not only market your business, but feel like a complete package.