I'm helping a friend who has relocated to a new state launch his sales consulting business. His ideal clients aren't really online for business and he gets most of his new clients from face-to-face meetings at networking events.
Here's the deal — PRINTED marketing pieces are going to be the most effective way for him to connect with his clients and to have them take the next action in his sales funnel — CALL HIM.
This doesn't mean that he doesn't have a web site, but it does mean that his marketing materials have to serve as a tangible web site that his prospects can take with him
Are You Making This Mistake With Print Marketing? YES!
I'm going to go out on a limb here and predict that you are probably still treating your printed marketing materials the same way as you did more than twenty years ago. Am I right? I'll bet I am.
That's ok. You're not alone. Most small businesses don't connect their online and offline marketing efforts and that's a mistake.
Take the time to map out how you get your best clients
When I was dating and would come home from a date, my mom would tip-toe into my room, knock gently and ask "How was it?" When I'd say "Fine", she'd look at me sort of sad faced and say "Come on — give me the good stuff! What did he say and what did you say?"
This is what you have to do with your ideal clients – go back into your memory bank and start mapping out the details :
How did you get in touch with them?
Did someone introduce you? Who was it? How do you know this person?
What did they ask you
What did you say
How did they react
What did you do next — and then after that?
Where did the sale close?
You might think this is silly, but it's really important these days because people can find you online, be introduced to you via an event, talk about you and then this person you don't know has researched you online and called you. These are all important details and you need to outline them so that you know exactly what information to put on what marketing channel.[Tweet "Uses printed marketing pieces to guide prospects to your site #MAXIFY"]
DO NOT just default to the same old same old – that is lazy and it takes time and money. If you're going to spend the time – then do it right.
Let's get to the printed marketing kit
Now you're ready to start putting together your marketing kit. This will include both online and offline marketing pieces that you'll want to use very strategically (again — based on your work from above)
The Brochure: ?This is a SELLING piece — it's somewhat like a hard copy web site – but since your web site is more interactive, you'll want your brochure to be extremely customer focused – not so much about you – but about the READER.
SNEAKY TIP: Write it in the second person — directly to the reader.
Brochure copywriting tips & tactics
60-Minute Naked Truth Salesletter Formula
Create the important copy points you need for your sales letter brochure in just one hour.
How to Write More Effective Brochures
6 vital tips from Jonathan Kranz, author of Writing Copy for Dummies.
How to write a brochure: advice from an advertising copywriter
John Kuraoka distills 26 years? of? copywriting experience in this pithy article.
The trifold or panel brochure
This is a terrific little tool because it fits neatly into a pocket or purse. Just because it's folded in three columns doesn't mean you have to write all the copy in three columns. Be daring, use pictures that bleed across the whole thing, make it colorful.
Trifold Brochure Writing Tips
Trifolds are the marketing workhorses of many small businesses. Learn how to make every panel count.
Use DIRECT MAIL
Email isn't dead, but it's becoming increasingly difficult to get your prospect's attention online. I've always been a big fan of direct mail. Here are some tips:
TARGET target target — did I say TARGET? You will definitely want to create an extremely descriptive and targeted customer profile.
Write KILLER copy – even in direct mail, people will throw it away – so you really have to get their attention.
Use powerful – stop them in their tracks images – You are fighting info overload, so you have to get your customer to STOP what they are doing, look and read. That is the first and primaryobjective of this piece. If you achieve that, they will do the rest.
How to Create a Tell-All Direct Mail Brochure
Master DM copywriter Dean Rieck?s best advice on creating a kick-ass brochure to accompany your sales letter.
Get creative with design
Beautiful Brochures and Booklets
Now you've got the copy sorted you'll need a few design ideas. Here's some inspriation courtesy of Smashing Magazine.
Print marketing is NOT dead!
Just because you connect with people online and they go to your web site and they see your videos doesn't mean that they don't want to see print materials.
If you're a
Restaurant
Retailer
Manufacturer
Professional (CPA, Lawyer, Financial Planner)
Your sales happen as a result of a face to face interaction – and when you meet people, it really helps to have more than a cheesy business card to give them.[Tweet "What doy ou think about printed marketing pieces? Share your ideas! #MAXIFY"]
Remember you don't have to spend a lot of time or money going to a print shop to print any of your marketing materials — you can do this YOURSELF! I'm a huge advocate of printing your own materials for several important reasons:
You can print what you need when you need it: ?This means that you print just the ones you're going to use. This will save you money because you won't have to pay top dollar for low volume color printing. It will save you time and gas – because you won't have to drive anywhere to pick up the finished product. It will save TREES, since you won't print large quantities that will ultimately go to waste.
Updating is easy:? Do you know what the biggest obstacle to creating marketing materials is? It's the fear of making a mistake or change! When you print yourself, you can easily update, fix mistakes and print a new one.
Allows you to be creative. ?This might not seem obvious, but when you print with a third party, you have to stick to THEIR templates and formats. When you do it yourself, you can suddenly become extremely creative. Who says that a business card has to look a certain way? You can use business cards as labels, for example. The Canon MAXIFY printer can help you accomplish all of these, be more productive and create great marketing materials
The bottom line is — the bottom line. The key to a successful marketing campaign is sometimes going retro — bring back print and you'll stand out and get chosen.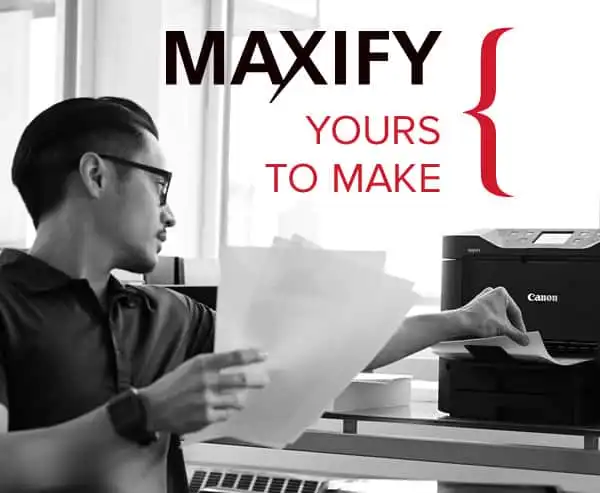 Canon Home Printers & Office Printers | Canon U.S.A, Inc.
Meet the Canon Maxify Printer: the entrepreneur's secret weapon.
Lightning-fast, it churns out professional-grade prints quicker than you can say "business growth." Low ink costs? Check. Eco mode? You bet.
Plus, seamless connectivity lets you print from any device, hassle-free. It's not just a printer; it's your new business partner. Upgrade your office game today with the Canon Maxify.
Buy Now
We earn a commission if you click this link and make a purchase at no additional cost to you.