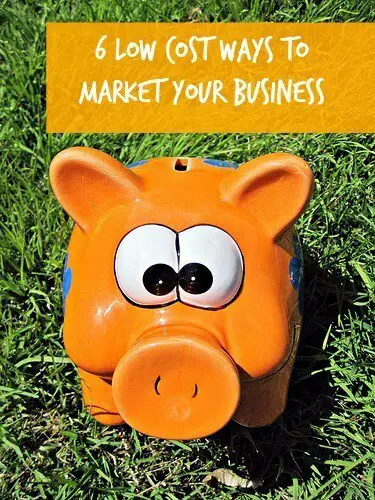 Looking for ways to market and promote your business that are free or affordable? I think most businesses are. The best marketing toolbox has a combination of the tried and true and new best practices such as a clearly defined brand that makes you stand out and tells people what you do and what you stand for. There are some marketing tactics you can stop doing and watch your business grow but things such as an engaging website, blog and branded social media pages that highlight your mission, vision, value, products and services are essential for success.
Here are six ways to market your business that won?t cost you much, but will really pay off:
1. In-person networking.
Nothing beats meeting people face-to-face it's the most effective form of communication. Email and online communication is not a substitute for meeting in person, but instead act as a bridge. A Forbes Insights survey of over 750 business professionals found that eight out of ten respondents preferred face-to-face meetings instead of videoconferencing. Email and online tools are great to make connections but take the initiative to talk on the phone or better yet, get together.
[Tweet "8 out of 10 people prefer face-to-face meetings! Do you?"]
2. Facebook.
If you aren?t serious about a social platform, Facebook is an excellent place to start. It's the monster of our social media world and is an excellent place for small businesses to market. Remember that when using social media for business, make sure you have a plan in place in order to see real results.
[Tweet "Facebook is a great way to get your networking ball rolling. Remember, engage and build relationships – don't sell"]
3. Volunteer.
Human capital is precious and valuable. Schools, non-profit organizations and community organization all need friendly and capable people to help out regularly. Volunteering is a great way to step up your leadership and get you and your business noticed for all the right reasons.
[Tweet "Volunteering is a great way to build biz relationships around a cause"]
4. Guest post on other blogs.
If you don't have your own business blog, you should. A good way to ease yourself into blogging is by submitting yourself as a guest contributor to leading industry blogs you enjoy following. If you do have a blog, you can contact bloggers you admire and ask if you could guest blog on one another's blogs. This is a smart and simple way to build credibility.
[Tweet "Guest posting is a commitment. Use the opportunity to build reader relationships."]
5. Offer free workshop or webinar.
Invite people to a free workshop or webinar to show people who you really are and what you do. It gives your guests a chance to see firsthand how your products or services can benefit them. Create brief informational sessions that focus on two or less topics. Search for a free local or online meeting place and promote the workshop or webinar through your social and email marketing avenues.
[Tweet "Whether you sell after your webinar or not – be sure to make it educational, GIVE people something they can use TODAY."]
6. Send permission-based email marketing.
Email marketing through professional services such as Constant Contact or IConnect are marketing tools that are very low cost in comparison to your potential return on investment. Organize your existing database and use email marketing to communicate with contacts directly and consistently. These services all have tutorials and learning centers to help you yield the best results.
Focus on authenticity and work diligently to build your credibility and spread the awareness of your business. Market your business genuinely and in a way that is purposeful. Doing so can lead to countless relationships and sales.
How do you market your business on a budget?