If you've been thinking that AI (artificial intelligence) is science fiction, you are mistaken.  AI is already a part of our daily lives and it's time to use the many AI lead generation tools in your business now.
AI is Revolutionizing Sales
In a report published by Demandbase, 80% of survey respondents expect AI to revolutionize marketing in 2020. The report also shares the impact of AI on B2B marketing through positive figures that show businesses implementing AI for marketing record:
59% more sales closings

58% more revenue

54% more traffic and engagement

52% higher conversion rate
Not surprisingly, both B2C and B2B organizations are adopting AI-based marketing solutions like intelligent chatbots and lead generation platforms to:
Connect with interested prospects in the shortest possible time

Get access to the latest market intelligence

Execute a high degree of personalization in their communications
How Can AI Help Small Businesses?
Automated lead generation can improve sales productivity by up to 14.5% – Salesfusion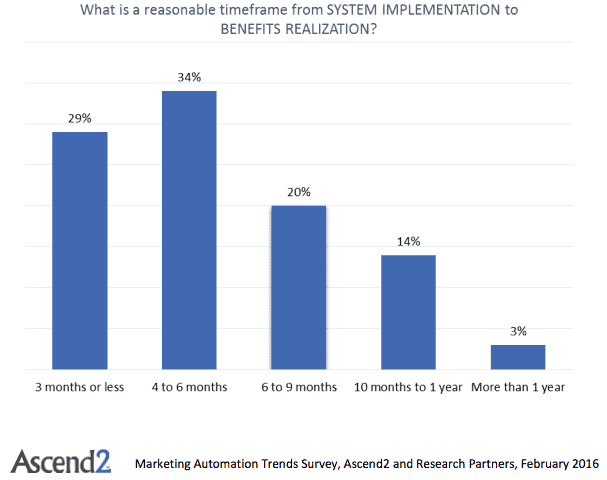 A Vistage report on artificial intelligence for SMBs shares the following applications of AI in sales and marketing: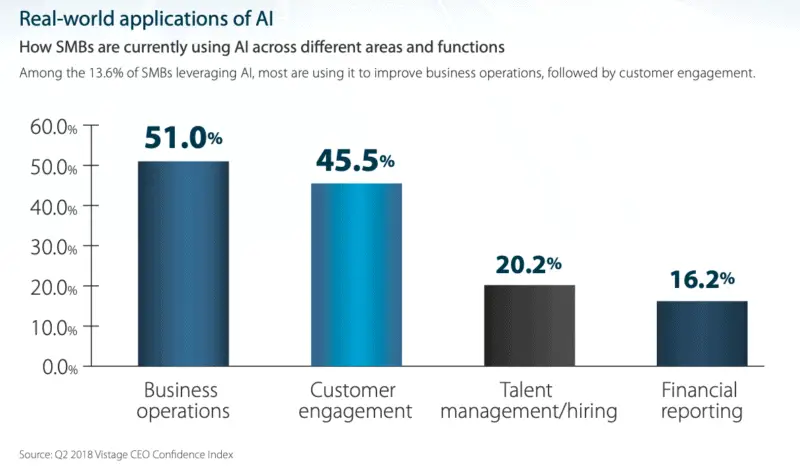 Identify leads and opportunities

Forecast sales

Suggest next-best actions and recommended email responses

Deliver the right content to the right people at the right time through the right channel

Determine the likelihood of opening an email

Manage basic customer inquiries

Classify and route customer service cases

Recommend solutions and knowledge articles

Facilitate self-service communities and automated assistants
In the same report, 29.5% of SMB CEOs have shown confidence in the positive impact of AI on their operations and sales.
[perfectpullquote align="left" bordertop="false" cite="" link="" color="" class="" size=""]SMB CEOs would agree that the role of AI is not to replace people but make them more effective at what they are doing through intelligent automation and data-driven actions.[/perfectpullquote]
Indisputably, the age of AI is here. However, forward-looking SMB CEOs would agree that the role of AI is not to replace people but make them more effective at what they are doing through intelligent automation and data-driven actions.
Below, we have listed five proven ways in which SMBs can leverage AI to drive their growth and deliver outstanding customer experience.
1. Reduce Repetitive Tasks
Research suggests that bots will save businesses up to $8 billion per year by 2022. In sales and marketing, chatbots can be used to reduce the burden on customer-facing teams through automated query resolution, at all hours of the day.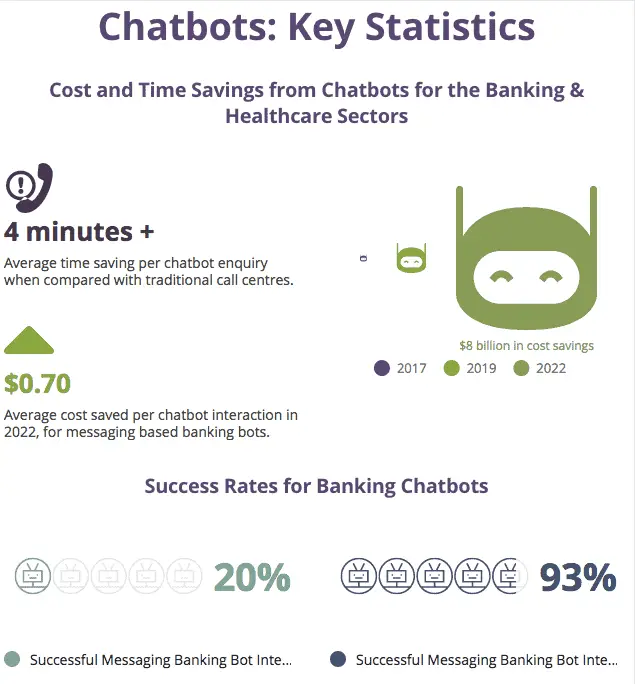 In fact, IBM suggests that bots can reduce customer support costs by 30% and handle up to 80% of customer queries on their own. Conversational chatbots also learn from every new interaction to improve their performance continually.
In case you are not aware of the breadth of the functions that can be carried out by chatbots, here's a list that may amaze you:
Chatbots can answer multiple user queries at a time without getting fatigued. Intelligent chatbots employ NLP to answer questions contextually by leading prospects to FAQs or connecting them to human agents if required.
Many companies use chatbots for lead prospecting. By asking a set of pre-programmed questions, a chatbot can determine whether a prospect is interested in your product or not before passing them on to a sales agent.
Chatbots can start pro-active conversations with customers to guide them around your site or suggest items for upselling based on their browsing history.
Chatbots can prevent users from abandoning your website by requesting feedback and sharing discount coupons on the occurrence of trigger events – such as a prospect leaving your site.
Chatbots can also enrich your CRM and streamline query resolution through proper record keeping and regular updates.
Chatbots may be used to analyze customer data to come up with actionable insights, which can be used to personalize the customer experience and improve both customer engagement and satisfaction.
2. Introduce a Higher Degree of Personalization
In a CMO Council/SAP survey, 47% of respondents indicated they would switch brands in case they received poor, impersonal, or frustrating experiences. Fortunately, with AI, you can significantly improve your customer experience by tracking your users' journey as they navigate your website and get valuable insights into their behavior.
Both live chat and chatbots can be used to gather such data and engage site visitors better. This means that in addition to greeting returning visitors and customers with their names and wishing them on their birthdays and anniversaries, you can also use their browsing and order history to refer content, services or products they might be interested in – just like Amazon shares suggestions based on your shopping history.
3. Accurate Lead Segmentation
Accurate segmentation of leads is essential for the success of any marketing campaign. Segmenting refers to dividing your audience into groups – based on their behavior, interactions, demographics, etc. – to target messages to a group with similar needs or interests.
With artificial intelligence, you can segment your buyers based on recurring behavior or patterns to execute highly personalized marketing campaigns.
For example, you can use AI to create a marketing campaign for an audience as specific as single women in the age group of 40 to 45 with a pet dog and working in a particular industry. You can also segment your leads according to the content they browsed on your website or the links they clicked upon to send them more content of similar type to keep them engaged.
4. Repeat Past Success
AI-powered lead generation platforms use machine learning algorithms to generate market intelligence by scouring data from hundreds of organizations to find best-fit leads for your company based on pre-fed criteria. Such platforms also identify prospects that match your existing customer profiles to create a continuous pipeline of high-quality leads.
5. Automated Email Campaigns
AI-powered systems can be used to set up automated email campaigns driven by customer data and behavior. Such technology makes use of order history, user interest, and browsing behaviors to create and send automated emails on the occurrence of pre-determined trigger events – such as a user signing up for a membership, cart abandonment, or unsubscribing from your newsletter.
Automated email campaigns are also known to have a higher open rate due to optimized subject lines and content, and precise mailing times when users are more likely to check their mail.
Low-Cost AI Lead Generation Tools and Resources
There are several free or low-cost AI-based tools and resources in the market to optimize your lead generation process.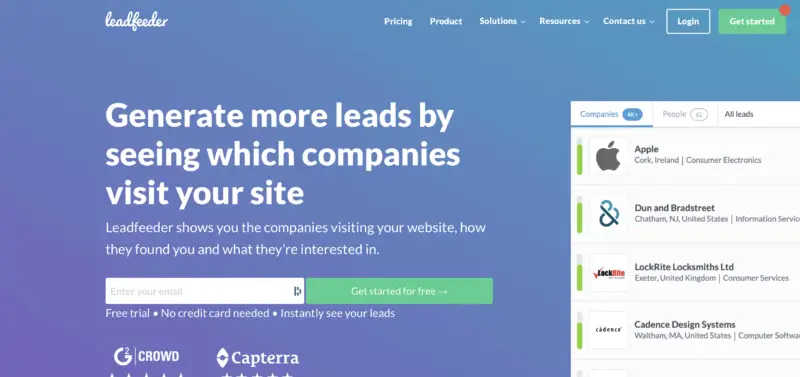 LeadFeeder is one such app that helps you generate more leads by showing you the companies visiting your website, how they found it, and what they're interested in.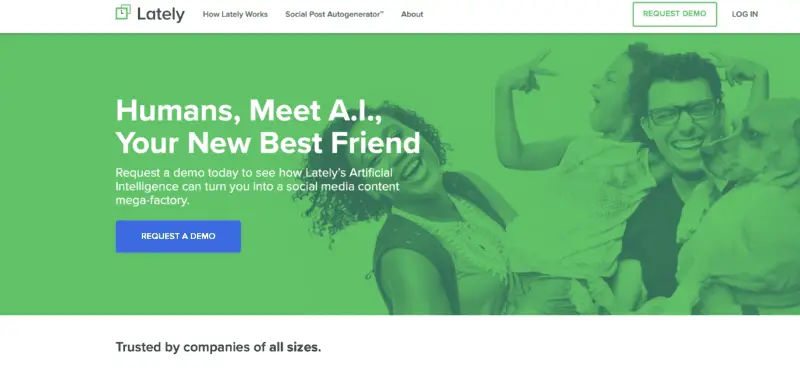 TryLately is another proven app that uses AI to automate your social media and can boost your site traffic by up to 5 times while reducing the time and costs involved in social media creation and posting.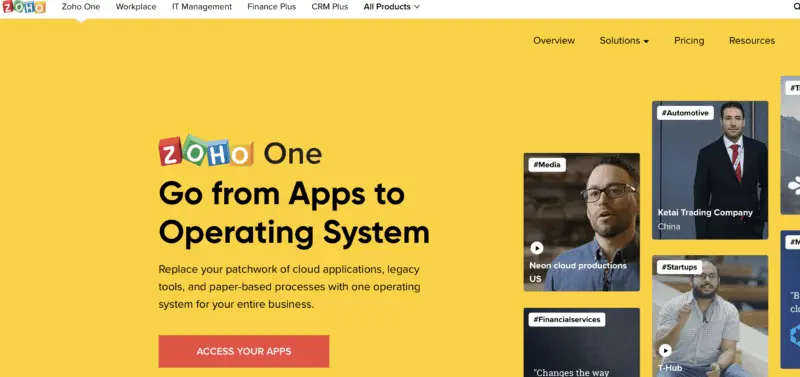 Zoho One offers a fully integrated all-in-one small business operations suite with the Zia virtual assistant.  The more of your business data that you have inside the Zoho One platform, the more Zia can provide powerful predictive analytics and help you make decisions.
Conclusion
AI is already an integral part of our daily lives, and customers are increasingly expecting AI-driven experiences from brands, which are beneficial for both ends of the spectrum. While customers enjoy convenient and swift shopping, businesses can save time, money, and resources by boosting the efficiency of their sales and marketing teams through automated lead generation and nurturing with AI-based tools and technology.
Are you using AI to automate your sales and marketing or other business processes?
If not, don't be left behind and consider integrating AI into your business to reap its multiple benefits.