If you're like most small business owners, the thought of writing a blog post makes you want to stick a fork in your eye. But, what if there were tools that practically wrote your content for you? AI Writing software is just about ready for prime time! So, if you have a personal blog, and struggle with creating landing pages, writing articles or getting over writer's block, read this!
Contrary to what you think, AI content generators aren't new. In fact, AI writing software has been around for years. To be honest, the quality of average content creation tools was pretty poor so you can't really blame writers for not adopting them.
Recently, however, they've evolved to the point where they really offer small business owners the benefit they crave — to write high quality content faster.
Rejoice oh ye sufferers from writer's block! 
AI content software is now available for us value-shopping content marketers and DIY marketers.
In fact, I've been trying out a few of them myself.
Today, I'm going to share my experience with some of the best and most affordable artificial intelligence platforms out there; Copy.ai, ContentBot.ai, Frase.ai, and Jarvis.ai
But first, let me explain a little about AI writing technology so that you can get a clearer picture of what to look out for when choosing your soon-to-be pal.
What is AI Writing Software?
AI writing software is a computer program that writes content. They are typically tools that use artificial intelligence to create content designed for humans. 
How does it do that?
An AI content generator does this by taking in some basic information from you and then writing sentences based on these inputs. It'll be easier if I just show you.  
Here's a product description template from Copy.ai.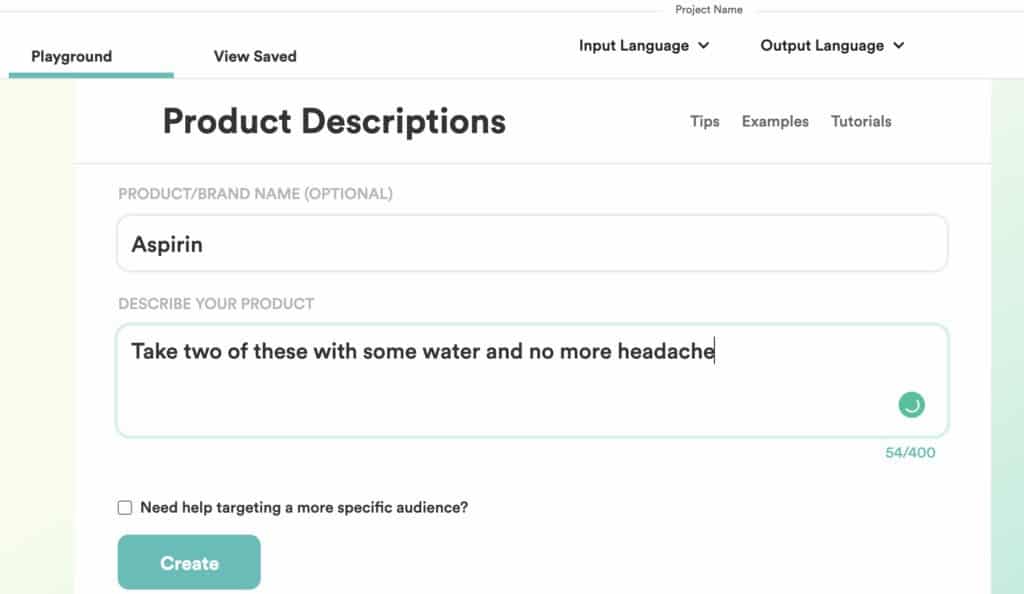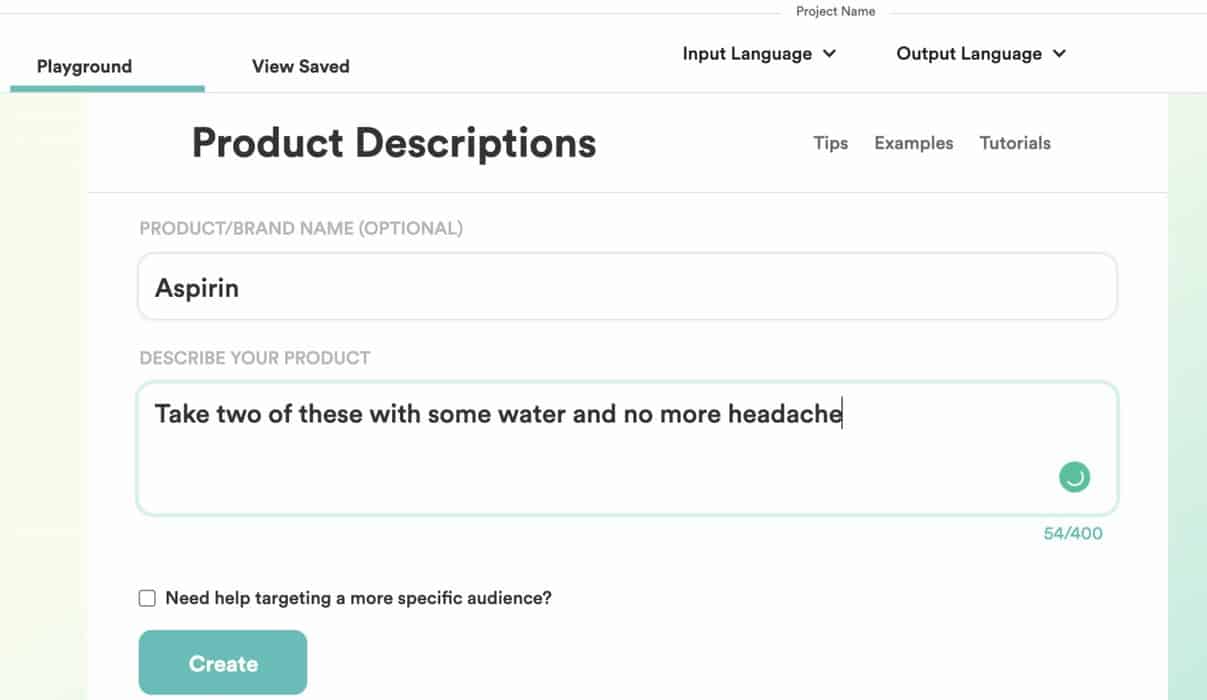 What I did was enter the name of the product and a short description. Viola! Copy.ai gives me several text options to choose from.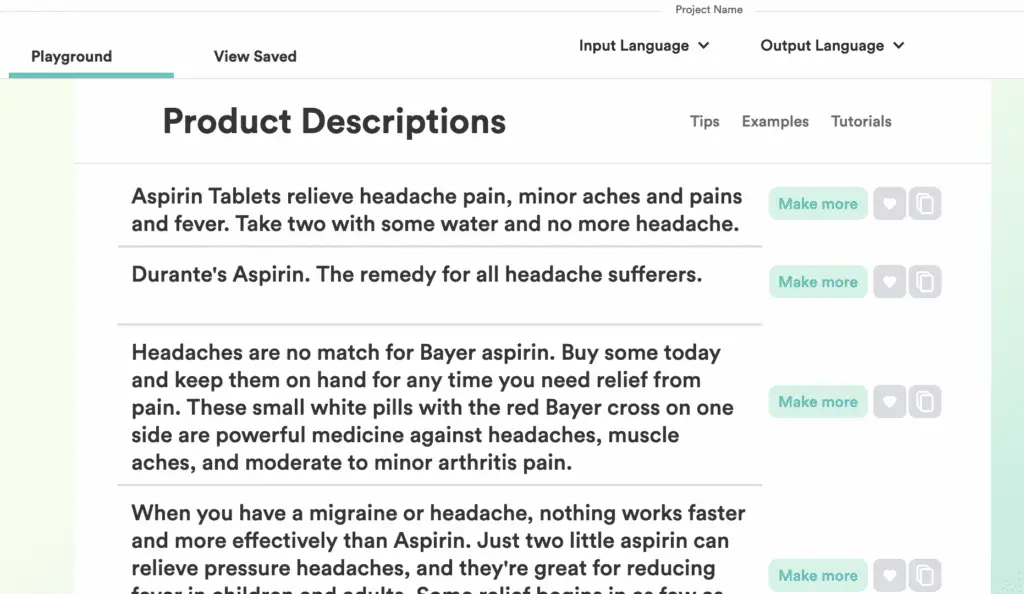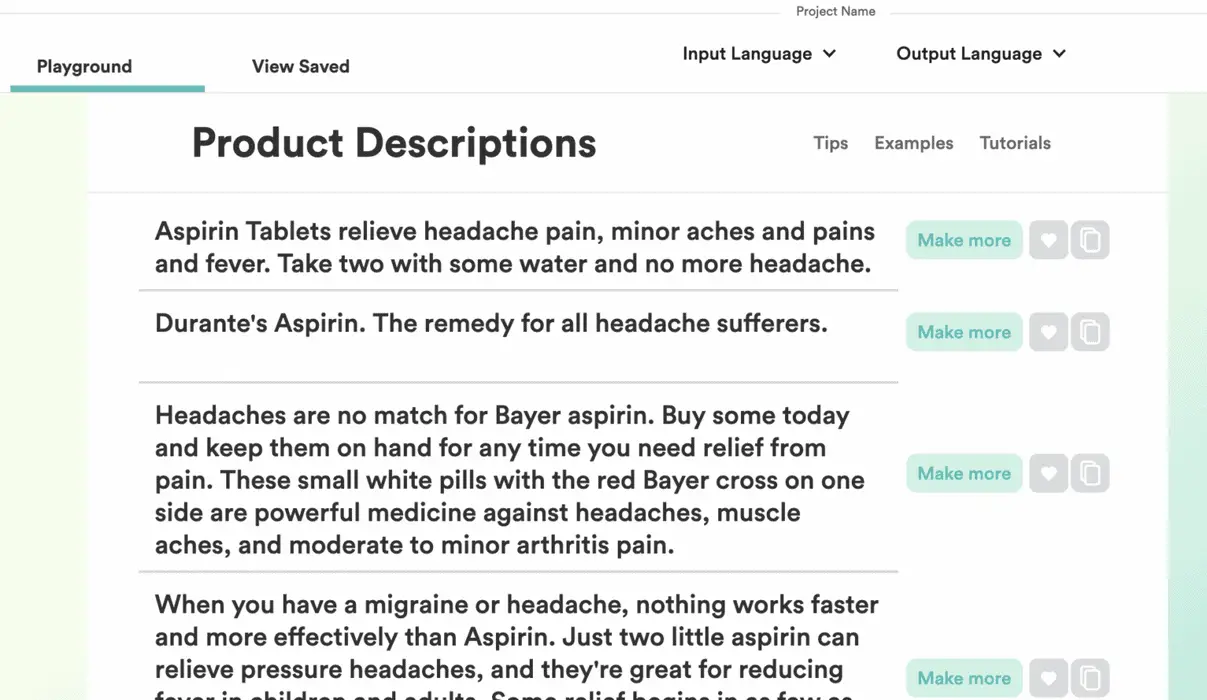 Here's a similar example from Conversion.ai


And, while we're at it, here's the same product description from ContentBot.ai
You have to admit that it's truly amazing! Granted, it's not exactly an award-winning copy, but it's a start. I mean, you're actually getting full sentences that you can edit! 
And if you're like me and dread looking at an empty page, this is worthy of a second look. I do get quite the inspiration from these texts.
I know — you've got questions.  And I'm here to answer them.
How Does an AI Text Generator Work?
AI writing tools use natural language processing (NLP) to analyze words and provide related content called GPT-3.  I'm telling you about GPT-3 because it's the important ingredient in the best AI writing software tools.
If you're interested in saving time and money with AI writing tools, you're going to run into this and I think you need to know what it is.
What is GPT-3?
GPT-3 produces text using algorithms that are pre-trained.
What this means is that they have been fed all the data they need to carry out their task, which includes 570GB of information gathered from CommonCrawl and other texts.
In other words, an AI text generator uses complex algorithms to analyze the words you give them as a starting point. Then, they search bits and pieces of words for context and create sentences from there.
What's the Difference Between AI Article Writing and Article Spinning?
The difference between AI writing and article spinning is that the former aims to produce original work, while the latter usually involves generating a large number of articles from a single piece of content.
Article spinning is lower on the evolutionary scale of AI writing software. If you've searched for writing software before, you might have run into this.
Here's the difference:
Automated article writing software doesn't scrape entire phrases. And this is why you can be fairly certain that you won't be creating plagiarized content.
Although, every AI writer recommends that you run your content through a plagiarism tool like Grammarly or Copyscape.
Don't worry, while an AI writer does a decent job of speeding up the writing process, it definitely lacks the writing skills of an actual human being.
I like to think of it more as a writing assistant that creates content while I get to do the tweaking and editing.
Basic Features to Look for in Automated Article Writing Software
Most AI article writing software has a basic set of features to help you write high-quality content.
Here are a few features I absolutely think you should look out for when choosing your content creation tools;
How it identifies and includes your keywords: After a long day of keyword research, I might go bonkers if an AI content creator spins out suggestions that don't contain any of my target keywords.
So, a little keyword inclusion to make my content SEO-friendly is one of the features I personally look out for.
Creativity: I mean, why else do we go to automated assistants? An article writing software should be able to creatively come up with text options and copy.
Again, they might not be the best copy, but I think you should get one that comes close.
Does it Support Multiple languages?: Sometimes, you might need to write a copy for a foreign client.
Now, while Google translate is the go-to-guy for shorter texts, an AI content generator that can support multiple languages will definitely come in handy during such scenarios.
Error and Plagiarism-free: While it's recommended to cross-check your generated content, a good AI software will not plagiarise other content across the web.
Grammatical errors are also a red flag you want to avoid. Ensure that whatever AI tool you use, can produce error-free content (or at least almost error-free content).
These are just a few features that make up a good content creation software. I hope you do look out for some of these features when looking through these reviews. 
Let's get into it!
1. Meet Jasper
It's not uncommon to give AI tools names.  There's Siri, Alexa, and now, Jasper.
Jasper is the content bot behind the new Conversion.ai.  And thanks to the team at Conversion.ai, he's been infused with enough personality that he's gained quite the cult following.  
Jasper is brought to you by an engaging team out of Austin, TX who came out of the Y Combinator with a social proof tool called UseProof.com.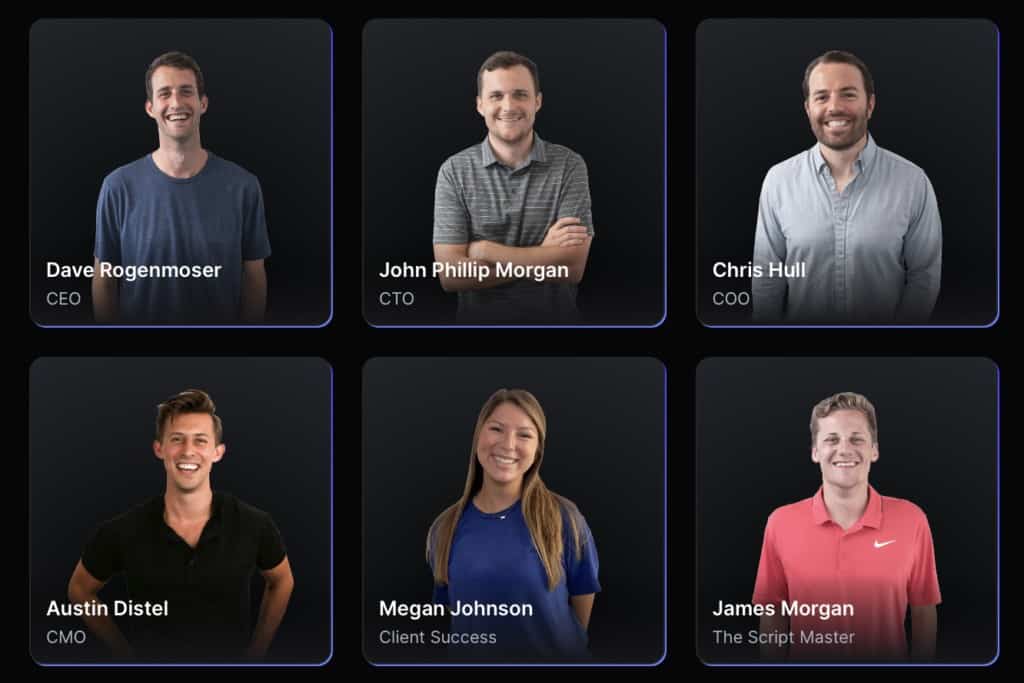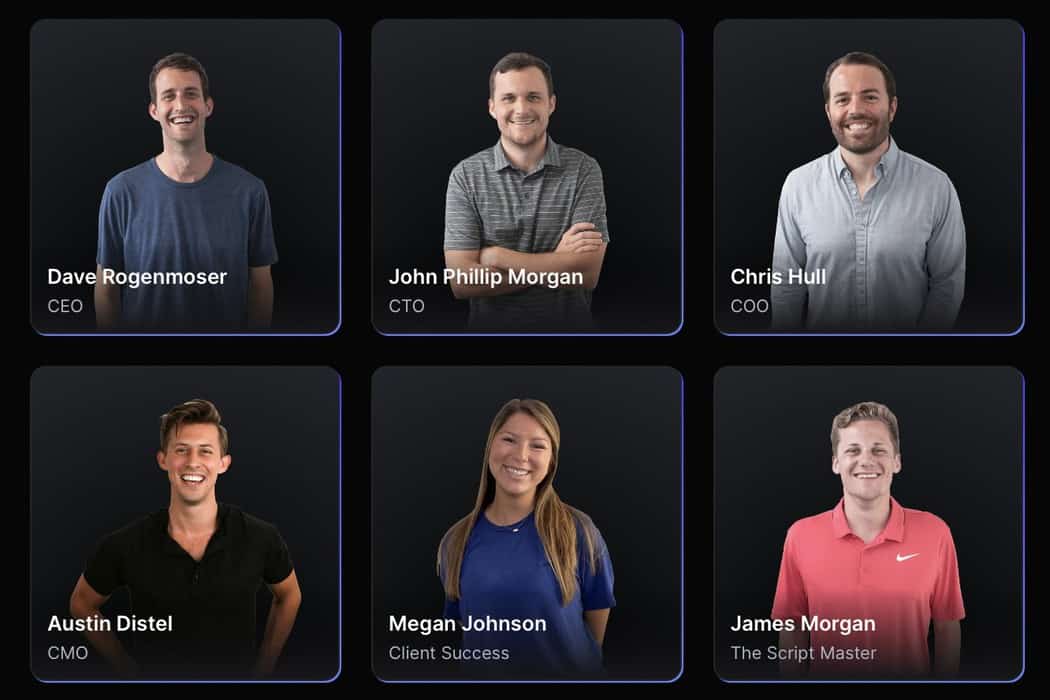 I wouldn't normally bring up the team behind a tool. After all, if the tool works, who cares? It seems that I do and I think you might as well.
Let me explain.
This group of friends not only developed one of the best AI writing software tools, they created a loyal following of professional users inside of a Facebook group that is just as entertaining as it is educational. 
Conversion.ai is a new AI content creator and social marketer that uses artificial intelligence to create blog posts, articles, and other forms of written content for promotional use online.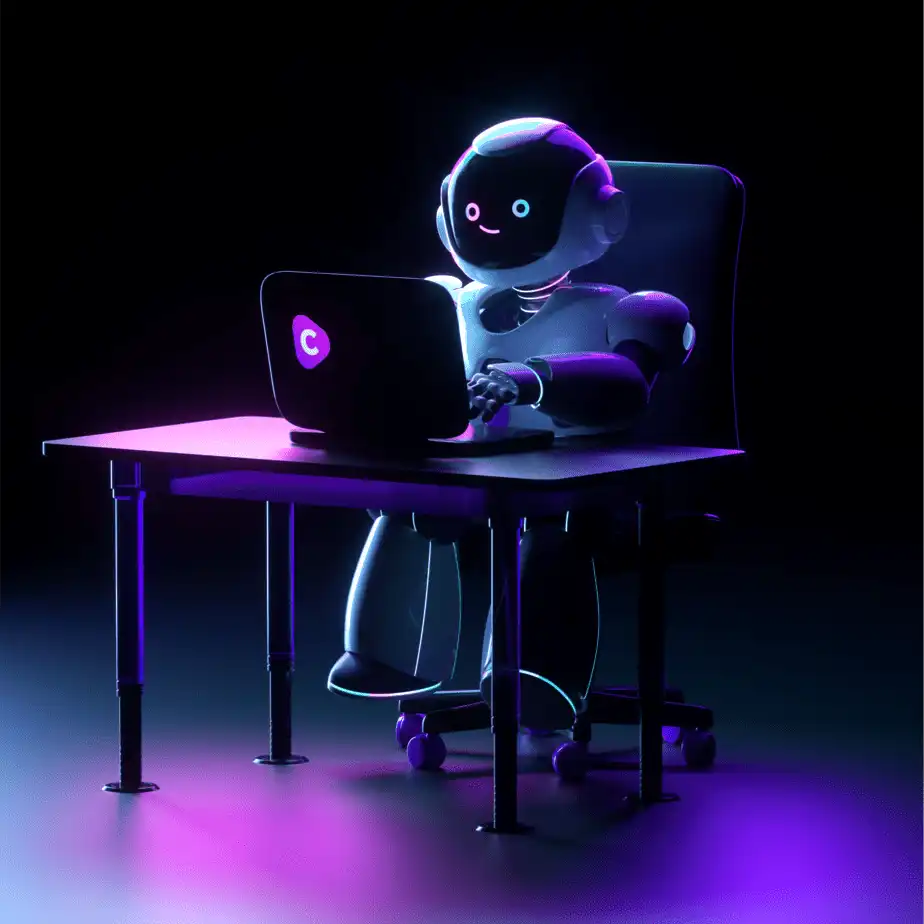 Jasper – Your AI Writer
Jasper.ai is a powerful tool that can help entrepreneurs create high-quality content quickly and efficiently. Its advanced AI technology, customizable interface, high-quality content, affordability, and templates make it the best AI writing tool for entrepreneurs.
Meet Jasper
We earn a commission if you click this link and make a purchase at no additional cost to you.
Let's check out some cool features in Jasper;
I honestly can't remember exactly how I found Conversion.ai.  Maybe it was a Facebook ad, or seeing other content marketers talk about it, but whatever the reason, I'm really glad I found them.
I purchased the $99/mo unlimited annual plan and have been playing with the tool for about a month.  Here are a few things I love about it;
Extensive Templates: There's an extensive list of templates suitable for every need. For example, I can use Jarvis to get the perfect Amazon product description or even when responding to reviews.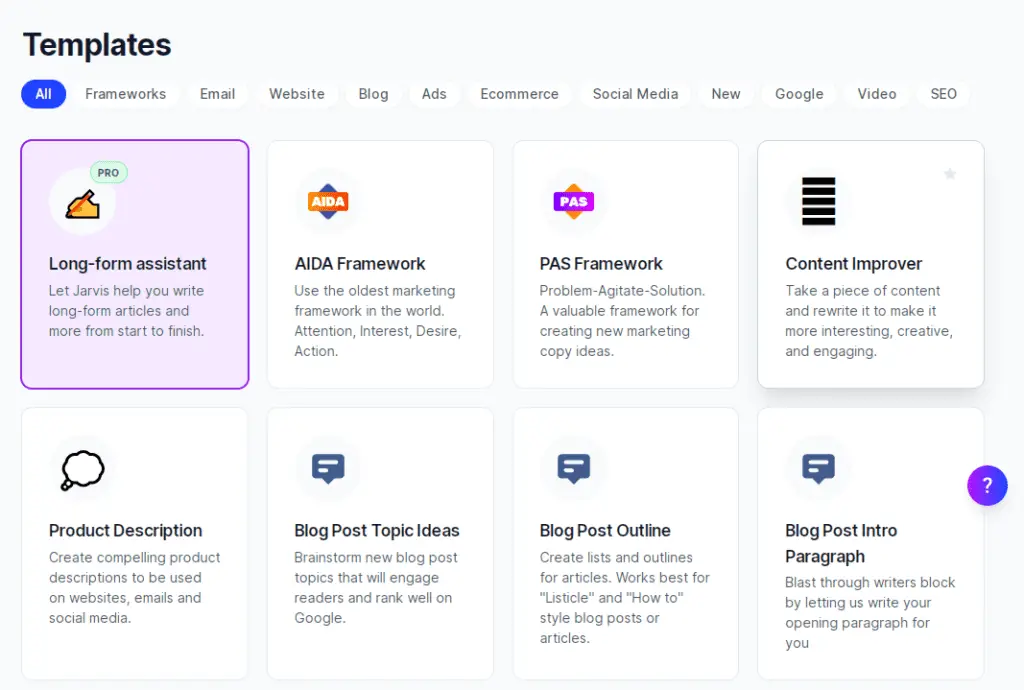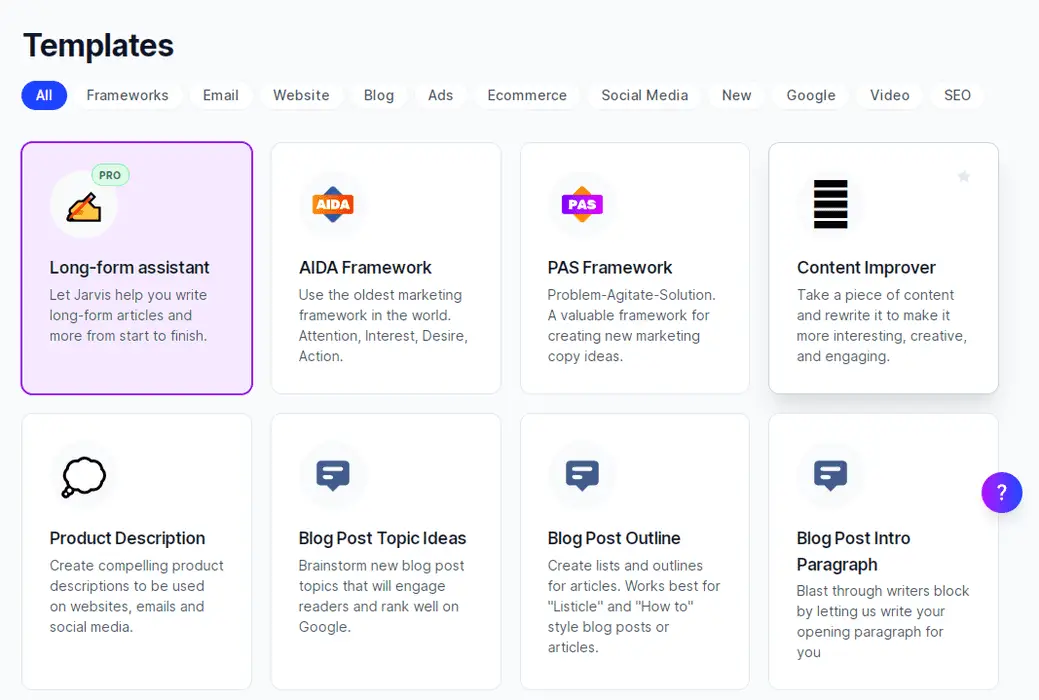 Tone of Voice: This is a powerful feature that only Jasper has. You can actually tailor the AI content to closely match your own brand voice by specifying the Tone of Voice in your templates. This will deliver copy that sounds like something "Gary Veynerchuk" or "Oprah" might say.
25+ Supported Languages: Another thing I love about Jasper is the 25+ available languages.
I had a campaign recently where I had to write an ad copy in several languages and let's just say, my client thinks I'm multilingual now.
So whether it's French, Spanish, Russian, Polish, Dutch, Italian, etc, Jasper got you covered.
Outline Creator: In picking out an outline, Conversion.ai provides a good one. Blog outlines are great for SEO.
But here's what's tricky, they focus primarily on the H2 headers. So I had to work on creating subheadings for these H2 tags on my own.
That aside, it's great for long-form content especially when I miss out on the tiny punctuation details like adding a space after a full -stop. 


Based on its intentional features aimed at providing comfort every step of the way, the Boss Mode Jasper is ideal for professional content marketers.
Jasper Pricing
There's something for everyone.
If you'd like to compare other pricing, Jasper offers three plans; Starter, Pro, and the Boss Mode. What's even cooler? Each plan has a 7-day free trial you can work it.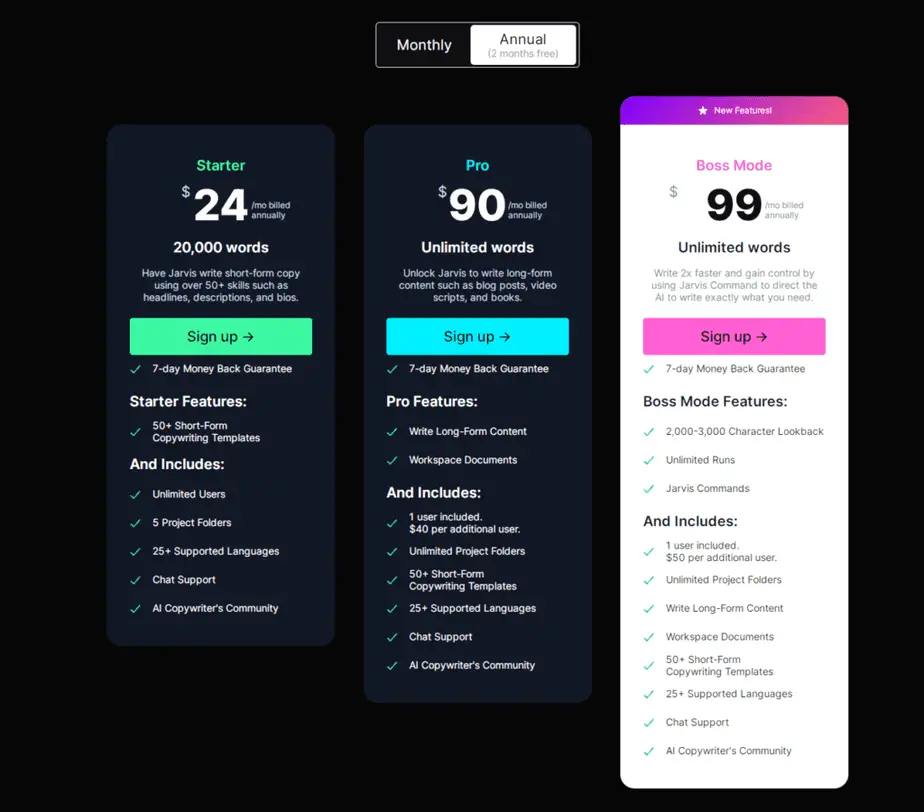 In summary, Jasper is an automated AI writing assistant that identifies key elements in your writing, infuses its personality to create well-written optimized content suited for your needs.
My recommendation is to sign up for the premium version with Boss mode because you'll find that you'll go through your word quota pretty quickly.
2. Meet ContentBot
ContentBot is an autonomous robot-like software program created by the Bloomberg Media company that crawls through blogs in order to find relevant keywords.
Initially, ContentBot was available only for creating shorter captions, expanding listicles, and social media templates. However, while I was checking it out, I realized it now offers long-form writing.
This content creation software requests for data or keywords which it uses to provide unique content for your needs. Like Jasper, you can set your preferred time to get the exact sentences suited for your copy.
Let's check out some of its cool features;
Auto-complete: Sometimes, mid-way writing, one gets stalked trying to put a sentence right to convey one's thoughts. I usually just leave it mid-way and continue some other time.
Cavalry is here now, I guess.
ContentBot's autocomplete feature helps finish off sentences I may have left mid-way.
Advanced Outline Suggestions: When it comes to outlines, ContentBot takes the lead.
I love the outline format and without any input from me, the ContentBot has selected decent H2 headers for SEO.
It also takes the extra step of adding a likely H3 tag I should include. 


Additional Content Generator: You know how I said AI tools use GPT-3 to train the AI in generating unique keywords? ContentBot has an additional AI tool called TinySeedAI which makes its content unique from other blogging tools in the market. 
Templates: Although ContentBot AI has a number of templates available to help set the tone, compared to Jasper, the categories are a lot narrower. So I find it ideal for bloggers. Still, these templates are handy for creating marketing copy. 
ContentBot AI Pricing
When it comes to value for money, ContentBot pricing is quite fair.
I purchased ContentBot.ai from AppSumo for $49 as a lifetime license.  This gives me $50 credits with 5 full blog posts.


AppSumo also offers upgrades to more credits.
Remember, this is a lifetime license.  So, compared to Conversion.ai's $99 monthly, this tool will pay for itself in less than a month. Not a bad deal, if you ask me.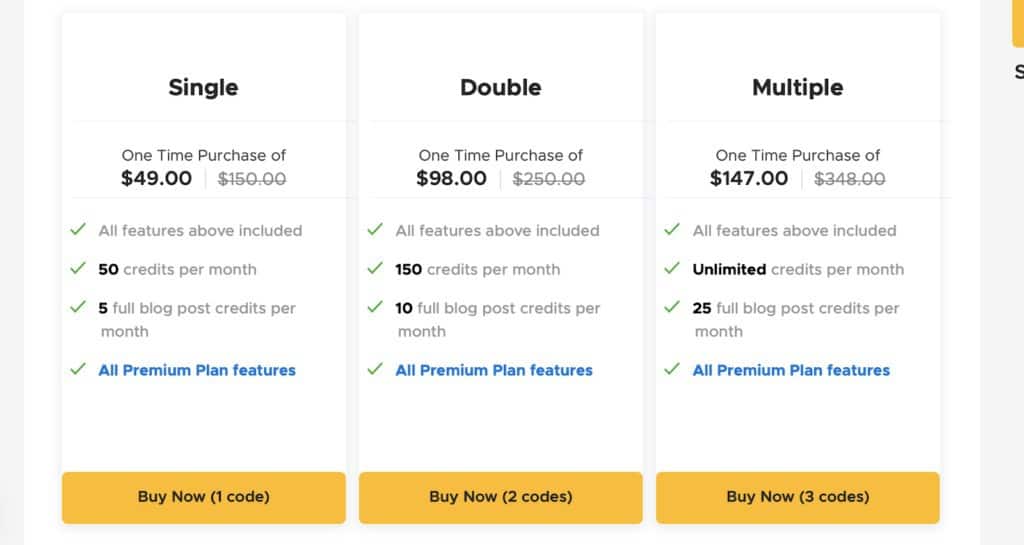 However, if you'd want to purchase directly from ContentBot, you'd have to subscribe to a monthly plan.
They offer three pricing plans; the free plan, premium, and premium plus plan. Unfortunately, there's no free trial.


3. Meet Frase.io
Frase is an AI content generator that uses top google results to provide an outline for content.
Based on what I've seen using this tool, it's perfect for creating an SEO outline based on competitor analysis.
Frase collects the details of top-ranking articles like word count, headings, and topics to help you create better content to outrank your competitors.
Here are some great Frase features;
Scoring system: If you're bent on getting the perfect content, Frase taps into this by providing a scoring system.
While writing, I noticed a percentage icon showing how good my content was.
The idea is to get as high a score as possible. I did feel giddy about it because I felt I had a teacher who was scoring my work.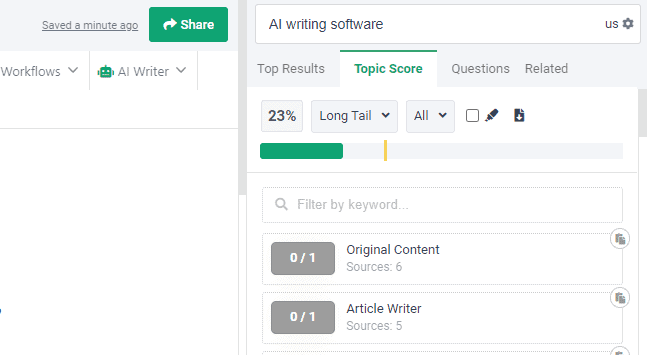 Keyword-Generator: With the outline builder, I was able to generate keywords and related questions from search engines like Google and communities like Quora.
I found this really cool because it does the content research for long-form articles I need. And without leaving any stone unturned. 


Multi-Language Support: Frase offers 8 languages for content generation.
I could also search by specific countries which is great for when my content requires targeting locations.
Optimize Content: I discovered I could optimize content already live on websites.
What it requires is a URL of this article.
It also extends to importing articles from Microsoft word or google docs. Although this would require copying and pasting the contents of the said documents. Not bad!
Frase.io Pricing
Compared to other AI writing assistants, I found Frase on the high side.
Frase offers three pricing plans; Basic, Team, and Enterprise. Although you get a 15% discount when you choose an annual plan.
See for yourself; 


4. Meet Copy.ai
Am I the only one who struggles with finding the right draft when copywriting? I hope not.
I found Copy.ai while finding alternative writing assistants.
And from what I gathered while using the platform, it is better when you're writing a copy not more than two paragraphs long.
Copy AI is a content generation tool that takes your product description and company name to spin out different copy variations for your business needs.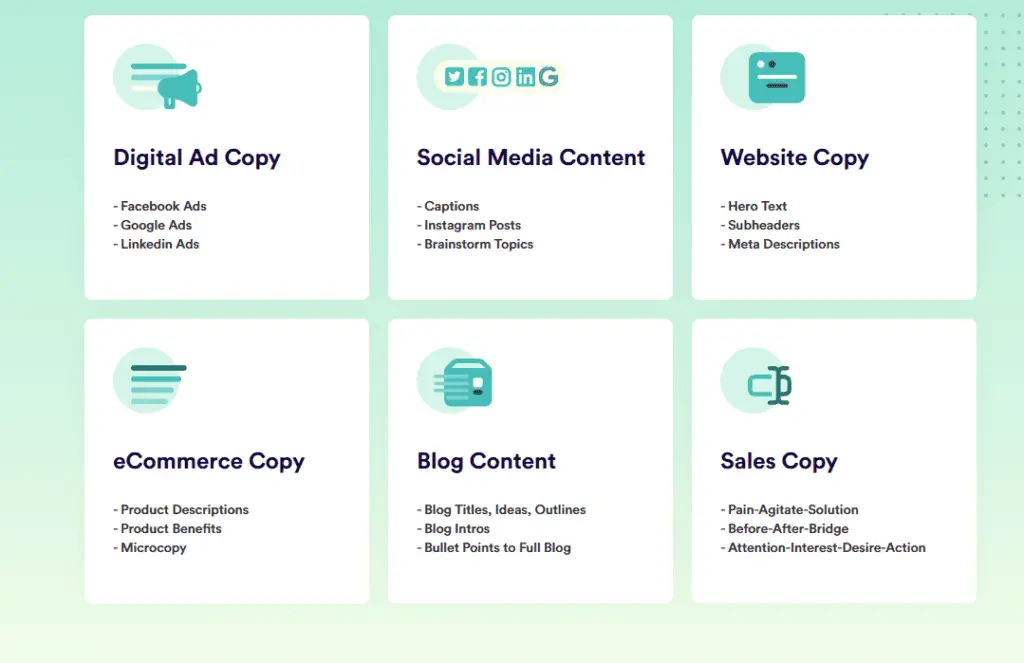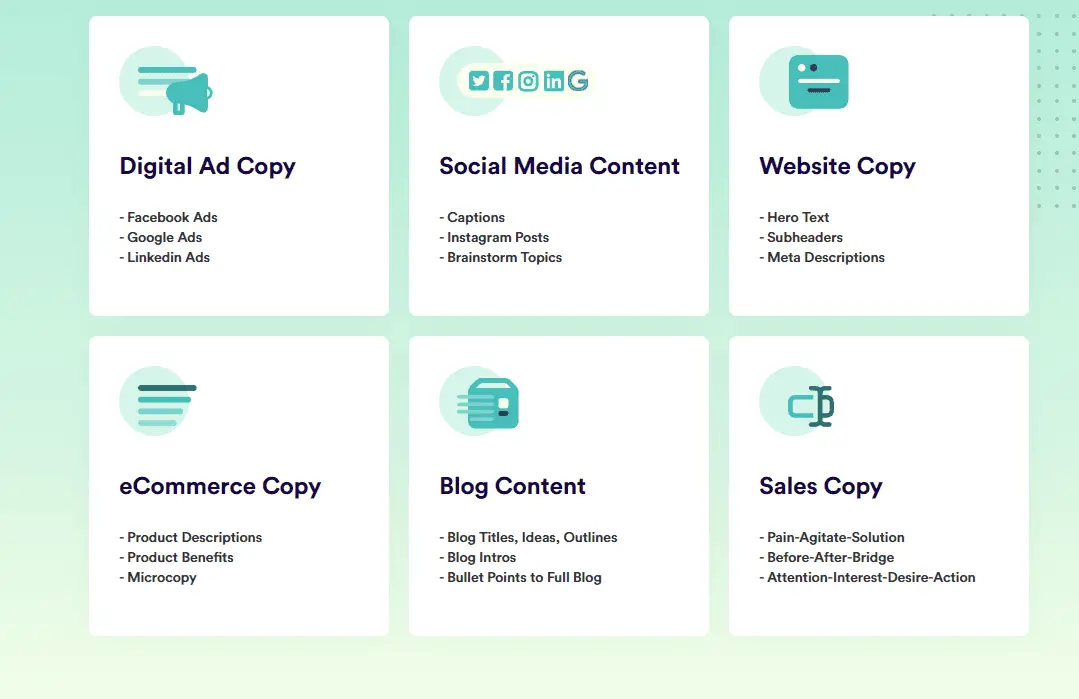 Copy.ai has some really cool features;
Idea generator: While copy ai was great for spinning out a copy, I was also able to generate content ideas for my blog posts.
What I did was describe my product in short titles and it generated a long list of probable articles which I'm going to say were actually better than expected.
I could also train the AI to bring out more related content by tapping on the 'make more' button beside the topic I liked best. 
Fun personal tools: I did find this fun. And I think it's innovative because sometimes, I do struggle with writing the cutest messages during special events like birthdays, etc.
This feature helped me create a short love note that I really liked. You can check out this section when you're stuck writing something not-so-professional or when trying to connect with your audience on a personal level. 
Tone & Language: There's a tone feature that allows you to work with several tones depending on your current need.
Some of the ones I found were persuasive, informative, friendly and more.
It also supports about 25+ languages which is perfect when writing for a multi-language campaign. 
Chrome extension: Since it dwells on creating short-form content, I'm really going to find this handy.
It's perfect for when you quickly need to generate an idea or work on a short description real-quick. 
Copy.ai Pricing
Unlike other AI content generators, Copy AI has a single pricing plan.
Although you have a 7-day free trial and you can request custom collaborative features when you want to work with your team in the custom plan.
5. Meet Writesonic
WriteSonic is a new AI tool that helps small business owners write content.
Writesonic is a service that can create landing pages, product descriptions, detailed advertisements, and even entire articles or blog posts for you.
Let's check out some of its cool features;
Article Writer: This is an awesome feature that I lightly tested and I have to say — it's very good. Writesonic will help you build H2 heading and then, with the click of a button, Writesonic will write out an article. But be warned, you will have to do some serious editing. But still — I love this feature.
Great keyword integration for SEO: Lots of SEO AI writing tools will ask for keywords to integrate, but Writesonic really does a great job with this.
Emojis in social posts: Another fun and unique feature is that Writesonic will add relevant emoji's to the social posts that it creates.
Writesonic Pricing:
Writesonic has a terrific FREE option. I love this because you can take your time testing out the tool to see how it will work for you.

As you move up the pricing table, you'll notice that you're primarily paying for words and AI content creation. And I'd say that this is very affordable and a great tool for starting your journey in learning how to write with AI.
Frequently AI Writer Questions Answered
What type of content can I write with an AI tool?
These AI content tools don't just write articles, they can help you create everything from landing pages to social media posts, YouTube video scripts, and you can even create effective job listings! All of the tools I've outlined have dozens of templates that you can apply toward just any type of content.
Can an AI Content Writer Generate Bulk Content?
Think of AI technology is a writing assistant that helps you become a faster writer. The AI software that I'm featuring here will help you create articles faster. But don't expect mistake free writing. Instead, you'll be able to write multiple articles in the time it took you to write a single one.
How good is the content that an AI writing assistant creates?
While these tools create decent content, don't expect the same kind of high quality content that you will create as a professional writer. I've found that the quality of the content is often driven by the topic and how much information there is on that topic. Here's a great example. If you are using a writing assistant to write a book review for a brand new book, that content will be thin. But if you want the writing assistant to write a review on a classic like "The Tipping Point", then the content will be much better.
What's the most popular AI writing Software?
As I was doing research on this topic, I thought it might be fun to see what the most popular AI writing software is around the web. I research the top 50+ or so articles and I tabulated the software they mentioned.
As id today, there are 149 AI writing tools folks are writing about – here's a list.
| | |
| --- | --- |
| Tool | COUNTA of Tool |
| Jasper | 11 |
| Rytr | 10 |
| Writesonic | 8 |
| AI Writer | 7 |
| INK Editor | 6 |
| CopyAI | 6 |
| Article Forge | 6 |
| Wordtune | 5 |
| Peppertype | 5 |
| Copysmith | 5 |
| ProWritingAid | 4 |
| Grammarly | 4 |
| Frase | 4 |
| Articoolo | 4 |
| Text Blaze | 3 |
| Scalenut | 3 |
| Sapling | 3 |
| LongShot AI | 3 |
| Closerscopy | 3 |
| Anyword | 3 |
| Writer | 2 |
| WordAI | 2 |
| Typli.ai | 2 |
| SmartCopy | 2 |
| Simplified AI | 2 |
| Sassbook | 2 |
| Outranking | 2 |
| NeuralText | 2 |
| GrowthBarSEO | 2 |
| Grammerly | 2 |
| ContentBox | 2 |
| Wordtune | 1 |
| Wordmetrics | 1 |
| TextSpar | 1 |
| SurferSEO | 1 |
| Surfer SEO | 1 |
| Storylab.ai | 1 |
| Smodin AI Writer | 1 |
| QuillBot | 1 |
| PowerText.ai | 1 |
| Perfect Tense | 1 |
| Nyle AI | 1 |
| nichesss | 1 |
| Lyne AI | 1 |
| Linguix | 1 |
| Lightkey | 1 |
| Lavender | 1 |
| Hyperwrite | 1 |
| GrowthBar | 1 |
| Frase AI Writer | 1 |
| Essaybot | 1 |
| Copysmith (Best AI Writer for E-commerce) | 1 |
| Copymatic AI | 1 |
| ContentForge | 1 |
| Contentbox AI Writer | 1 |
| Grand Total | 149 |
Let's be clear here — these are the most MENTIONED AI writing software tools. That doesn't mean anything other than — they are mentioned most often. They can be popular because — Google SEO algorithms tell you to mention them, and so people do.
They can be popular because they were first to the game and had amazing word of mouth (like Jasper). They can also be popular because people just plain like them. Whatever the reason, with more and more AI writing software being launched everyday, I thought it would be fun to keep a running tally.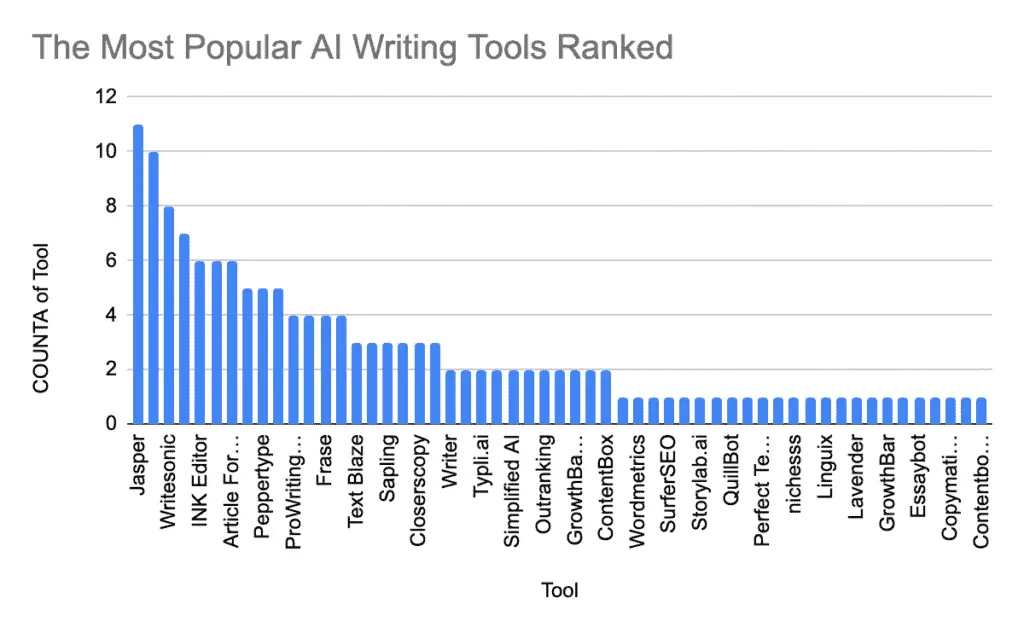 The Bottom-Line
Depending on your current need, all AI writing assistants listed above are the best in the market.
If you're looking to write a great copy, Copy AI might be the best option for you.And  if you're more inclined towards long-form professional content, Jarvis has the best tool for proofreading.
For SEO-inclined writing, you might consider Frase or ContentBot. And for something to just generally spin out ideas at no cost, Zyro is your guy.
Ultimately, I do think you should give each one a spin and decide on which AI writer works best for you. Just like I did.