The True Cost of Boring Meetings
There are three guarantees in the world of work: taxes, office politics, and boring meetings.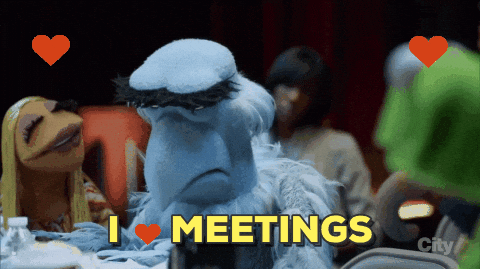 Of those three options, meetings are the one thing workers will face on a regular basis. Because meetings happen so often, you would assume that businesses know how to conduct a meeting.
Let's check the statistics:
73% of people in a meeting are giving their attention to something else than your meeting
and if you need one final statistic. Take this one from Fuze
So, all that "brainpower" you're hoping to gain by corralling everyone into that cramped office? That's costing you money and productivity. A better option would be to keep fewer than five people, email everyone else, and let everyone get back to work.
Unfortunately, you're probably not going to do that.
That's why people hate meetings so much. We know they are inefficient, but we don't know of any other way to be efficient.
What Makes Meetings So Bad?
Here are three of the top meeting gripes from a recent Twitter chat recently held on DIY Marketers:
1. Lack of Preparation
OMG yes — I hate when I spend hours preparing and no one is ready and chit chatting #BizapaloozaChat

— Ivana Taylor (@DIYMarketers) February 20, 2017
2. Confusing or complicated technology
A2) The one major meeting problem: Technology. An estimated 95% of meeting rooms are a technology wasteland. #BizapaloozaChat

— Webex (@Webex) February 20, 2017
3. Power Dynamics
A2: there's always that 1/2/3 people who monopolize the meeting but don't actually add value = time wasters #BizapaloozaChat

— Ashley Murray (@MurrayAshley) February 20, 2017
How Do I Prevent Boring Meetings? Change Form, Not Purpose
You could get rid of meetings altogether. I'm betting that you don't want to do that.
I'm betting that you don't want to do that.
Meetings, no matter how you feel about them, are important. They happen for a reason. The problem is how we conduct those meetings. MEETINGS CAN'T BE AVOIDED.
People meet to brainstorm, get updates, and make decisions.
Bringing in the Meeting Experts: John Quesada, WebEx & DIY Marketers
John Quesada (@jqsmooth), from WebEx, shared some of his top tips for an effective and productive meeting. As the Senior Social Media Manager for WebEx, a global video conferencing and web conferencing services company, he has been around a lot of meetings. He offered his insight on a recent Twitter chat with DIY Marketers. (For the entire replay of the Twitter chat with John Quesada, click here.)
This article captures 7 "wisdom gems" from that Twitter chat. Feel free to use them to help you improve your meeting performance.
Answer the four basic questions. Why are we having the meeting?, Who needs to be there? What needs to get accomplished? How long will it take?
Know your meeting "demons". Meetings aren't derailed by the same issues. For some meetings, it might be a person who dominates a conversation. For another meeting, it could be technology meltdown. Observe your own meetings to identify how your meeting process can be improved. (You might even record them.
Check your tech before. Do a test-drive and systems check before you launch.
Keep it to the essentials. Keep the meeting focused on the topics at hand. Note other topics and ideas that pop up for future meetings. Keep the meeting limited to people who actually need to be there.
Choose the best format. Not every meeting needs to be an hour. Not every meeting needs to be in person. Figure out the meeting format that fits your objective.
Keep people engaged. Another rule destroying meetings is the idea that all your meeting participants have to be sitting down in a closed room. As psychology has shown, engagement is not a fixed thing. It rises and falls throughout a meeting, especially long ones. Having a hour-long (or longer) meeting can deplete a person's energy, especially if they are sitting. Try incorporating movement, breaks, or a switch in presentation style to keep participants engaged.
Get serious about follow-up. Meetings are notorious for lots of conversation and little action. Don't continue this trend! Create follow-up items that tie into your overall business objective. Hold people to those follow-up items so meetings can become an important tool for your business, not a crutch.
To have good meetings, you need to prepare for a good meeting . Otherwise, you'll end up with the status quo, a boring meeting with a large dose of distraction and lowered productivity.
The goal of preparing for a meeting is to create a new standard in meetings. Instead of dragging workers to meetings, you want to hold meetings that leave people inspired, ready to contribute, and dedicated to following through with the meeting's decisions. If you can improve the standards of meetings, you will have a work culture where meeting participants respond like this:
@Bizapalooza🌟 ❤ 😃 Thank you! This has been a GREAT chat – makes me what to jump into a meeting!🌟 ❤ 😃 #BizapaloozaChat

— Debi Norton (@BRAVOMedia1) February 20, 2017
Now, isn't that a great feeling to see in your employees?
Want To Connect With Jason Quesada or His Company?
Twiter: @jqsmooth
LinkedIn: Jason Quesada's profile
Company Website: WebEx
Company Blog: WebEx blog 
Online Tools You Might Want to Play With
Save
Save
Save
Save
Save