I love CoSchedule! And in this CoSchedule review, I'm going to show you why you should love it too.
CoSchedule is a work management software tool that is designed for marketers. While its name may be a bit misleading, it is far more than a simple content scheduler and calendar. It provides a suite of tools that can help solve various marketing problems, and it can also be applied to multiple other situations and website types as needed.
Of course, this means it may be better for some types of websites than others. Today, we will be looking at the different features of CoSchedule and seeing what this service can be best used for.
CoSchedule Review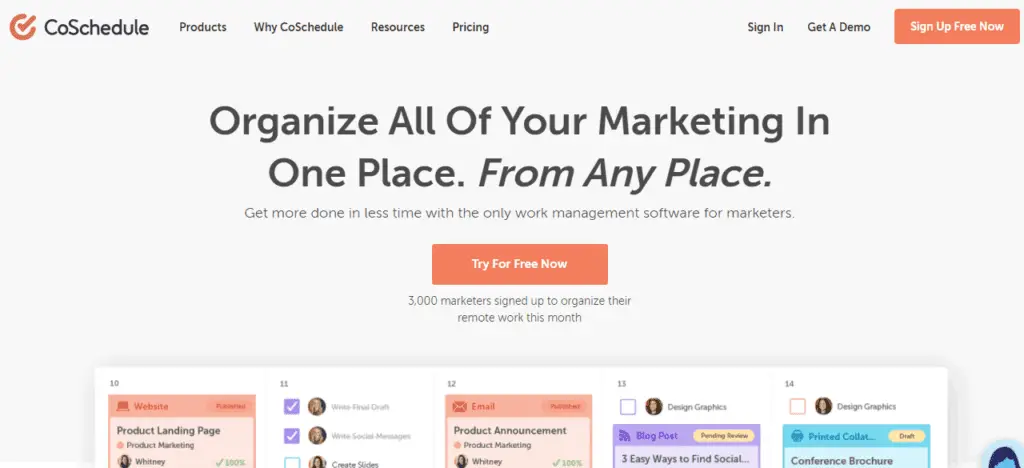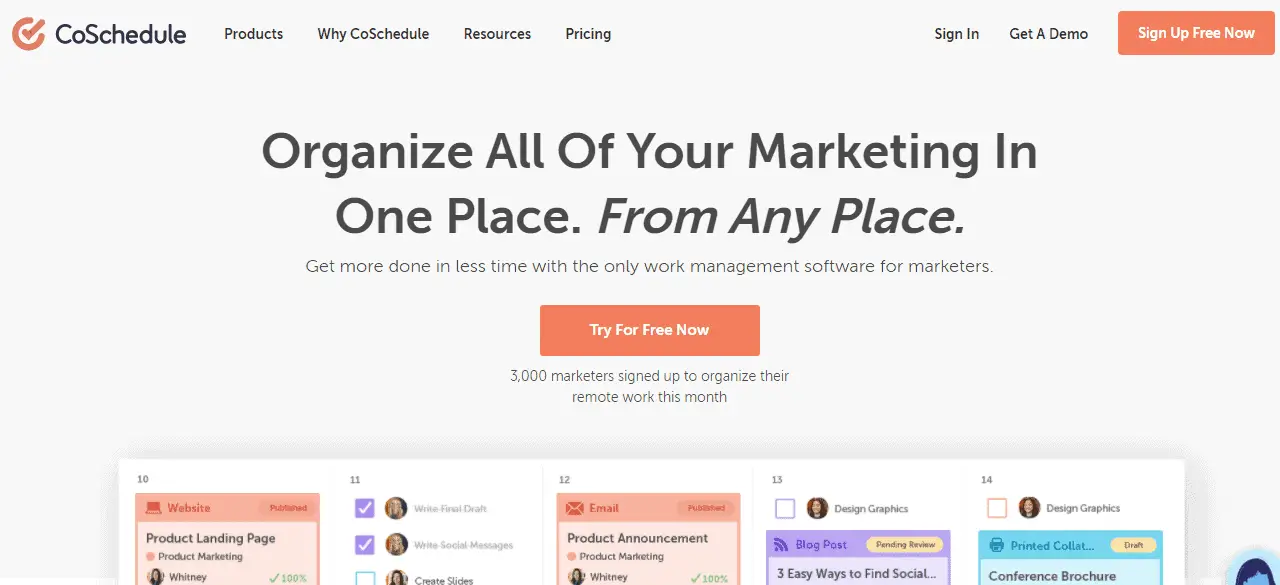 First conceptualized in March 2013, CoSchedule was a small blog intended to serve as a calendar of sorts to help manage events. After launching in September of that same year, CoSchedule would grow exponentially over the next few years, branching out into new states and countries as the company grew.
Since its conception long ago, it has evolved to become more than a simple scheduling blog. It now provides you with a product and tools to help manage any marketing or blog space.
Who is This App for?
This tool is great for anyone looking for software to help them manage and schedule various marketing projects as quickly and efficiently as possible. Geared towards those who work in marketing, they would be the most obvious ideal customer. However, CoSchedule has seen some use outside of marketing on various blogging or similar sites to promote online content and campaigns.
What's Included?
CoSchedule offers three different packages, each with its own designated set of tools and purposes. The first is Blog Calendar, a tool that can help manage online blogs and social media accounts, such as automated social schedules, real-time blogs, social calendars, and integrated WordPress compatibility.
Marketing Calendar includes everything in Blog Calendar and includes full social media management, shareable calendars for teams, project management, and custom calendar views.
Finally, there is Marketing Suite. This is the most extensive package and includes everything we have already mentioned. However, it also offers additional features that include but are not limited to progress trackers, file and asset storage, automated workflows, and calendar sorting.
7 Critical Content Marketing Functions ONLY CoSchedule Can Do
There are several unsung features that make CoSchedule so good, that they've become the obvious (and only choice) for anyone who is a solopreneur and doesn't have the time or the resources to devote to promoting their content 24/7.
1.Schedule and article and social media promotion campaign in 10 minutes. 
In 2013, CoSchedule launched its calendar with one simple function — the ability to schedule social media promotions for an article BEFORE it is published.
I bet you probably thought there were lots of social media platforms that  could do this — but NO.  
No other platform allows you to streamline this blog posting and promotion process. NONE.
CoSchedule's Secret Weapon is its magical permalink technology that allows you to write a blog post, schedule it and create an entire social media promotional campaign in one sitting.  Once the post goes live – your social campaign will run without your having to do anything else.
You'll want to check this article and download the social media posting bundle — this will save you weeks of headaches.  Just use their templates to create your social media promotion template.
2. Upload an article from Evernote or Google Docs with loads of images directly to WordPress
Google documents are awesome, except for one flaw — it's extremely difficult to download images directly from a document.  You will need to use an add-on to download those images or you will need to take a screenshot of each image.  Both options are time consuming.
Luckily, CoSchedule allows you to upload an article from either Evernote or Google Docs and get this — it uploads the images as well!!!  This, my friends is worth the price of admission.  This one feature alone has saved me at least an hour at the keyboard every time I have to post an article.
3. Create a "bank" of campaigns to promote specific events
Here's what makes marketing so difficult these days — the most successful campaigns are a mix of content with email with social with an event.  If you've tried to manage all of those things manually, you know how difficult it can be.
Using CoSchedule's social campaigns and social templates features, you can map out a successful campaign; everything from social shares, to emails to blog articles and save them.  Whenever it's time to launch the campaign, you open up the templates, update the content and press "apply".
This is yet another feature that has saved me — not hours, but days!  Granted, we had to come up with a campaign and flow we were happy with, but having the entire thing saved as a campaign and on the shelf is priceless.
4. Recycle older content for an extra boost.
If you haven't had the chance to write a new article today – no problem, go into CoSchedule analytics and pick an "older" article, use your social template and in 10 minutes, you're promoting a rerun of a great piece of content.
5. Post directly to Instagram
I'm not sure if CoSchedul is the only tool that can do this. Let's just say it's the only tool I've run into that does this easily.  Other platforms say they post to Instagram, but what they do is push a reminder to your mobile device and then you have to do it yourself.  CoSchedule has this function as well, if that's how you want to do it.
AND — since CoSchedule integrates and plays so nicely with Buffer, you can set CoSchedule to post directly to Instagram, without any additional action from you.
6. Create clickable, traffic driving clickable headlines and engaging social shares
One of CoSchedule's growth strategies was to create insanely-useful tools to improve your content marketing
CoSchedule Headline Analyzer, email tester and social media optimizer are three tools that will help make you a content sharing pro.   Simply brainstorm a series of headlines (you really should do about 25) and then paste them into any of the analyzers.  You'll get a "grade" from 1-100 as to the overall quality of the headline, subject line or social share  and a little assessment that will tell you how you can improve.
7. Run your MailChimp email campaigns directly from CoSchedule
When you're promoting your content, don't forget about email.  Your audience isn't sitting on your web site waiting for you to publish something.  The best way to get your content in front of your customers and prospects is to do it via email.
CoSchedule integrates with several popular email platforms; Active Campaign, Constant Contact, Campaign Monitor and Hubspot (but those are "read only") meaning that once you've connected these platforms, you will SEE the campaigns, but you won't be able to edit them.
MailChimp, on the other hand, is fully integrated with CoSchedule. This means that you can create and schedule emails in MailChimp the same way that you can create, edit and promote content on WordPress.  (This feature is only available with the Marketing Suite Plan)
What You Need to Know (the unspoken subtleties)
Content marketing = CoSchedule.  It took me a while to figure out how CoSchedule thinks. The mistake I was making was focusing on individual spokes and tasks — when I should have been focused on content and promoting the content.
Think of your content (article, infographic, blog post, webinar, feature launch or other project) as the hub of all your promotional activities.  That's where CoSchedule starts – the content.
Then, think about all the different ways that you want to get your content out there.  This is what CoSchedule DOES — it gets that content out there.  They call it a "project" – but it's CONTENT.
Everything starts with content:
Write the blog post or article
Promote it with social
Send out an email
Once you understand that, the entire system suddenly makes sense. Not only that, but your content marketing strategy gets much more focused around what really matters.
Solopreneurs and DIY'ers: As CoSchedule has gotten more popular, they've been shifting their focus toward marketing teams.  Don't let this scare you or dissuade you from using this powerful platform. There are "individual" plans and you can even customize your plan to a degree.  
My recommendation is to start small – focus on promoting your blog content and be sure to get the plan that includes the "social templates".  The individual plan starts at $20 per user and that is a great way to get your feet wet.
Run through the tutorials: I've been using CoSchedule for years and I'm still learning new things.  The CoSchedule team has put together fantastic resources that include tutorials and infographics. USE them because they've done the research and created best practices templates for you.
CoSchedule is a Marketing Team on Your Computer
Whenever people ask me how I'm able to publish and promote so much content, I secretly smile and wait — then I tell them that it's all CoSchedule.
While CoSchedule is a great content marketing tool for marketing teams — it's a vital marketing tool for solopreneurs and DIY marketers.  Using the social templates to pre-schedule posts and promotions will save you at least two hours for every piece of content.  And that is worth the price of admission.
Overview of Features
We briefly mentioned what is included in each of the packages, but now we will go a bit more in-depth and talk specifically about the different features included in each.
Starting with Blog Calendar, this is the cheapest package, starting at around $14 per month. It attempts to bring all your social media management and blogging tools together into one place, providing the functionality of having multiple extensions and tabs in one tool. By dragging and dropping blog posts, your social media messages will adjust automatically without you needing to adjust the calendar manually.
You can even use WordPress to create and publish your blog and social media posts. Additional features include the ability to schedule posts and content to be posted together at a later date using an automated scheduling planner.
Marketing Calendar fulfills a similar role but instead allows you to manage your marketing scheme better. You can view all your projects together, easily prioritize them as needed, and share these projects and updates with your team and higher-ups. Similarly, any updates you make to this centralized page will automatically reflect your flexible planning calendar by simply dragging and dropping your projects right into the calendar.
Marketing Suite does all of the above and more. By centralizing all of these tools and features, you can complete more work in a shorter amount of time thanks to efficient planning. You can place every project in a central location for easier management and schedule social media campaigns and posts using your creation templates.
Another one of my favorite features (that you can get in CoSchedule FREE plan, is the CoSchedule headline analyzer. Using their powerful data set, start with your first headline, run the analyzer and then start editing and improving until you get a score that's over 70. Don't worry, the headline analyzer gives you a list of words you can use in your headline to increase your score.
You can design and implement efficient workflows and catalog and control files and assets, sharing them with your team and stakeholders. Marketing Suite is your one-stop-shop for all marketing management needs.
Pros and Cons
Here are the advantages and disadvantages of using CoSchedule.
Pros
Centralization: One of the more important aspects of streamlining the various scheduling processes is the centralization that CoSchedule performs. You can easily keep track of all your projects in one place.
Automated Updates: By keeping everything centralized, you can easily link your projects to your calendar. CoSchedule will then intelligently update all project dates to keep you and your team up to date.
Scheduled Posts: Another fantastic feature is the ability to schedule content and projects across multiple platforms. This means you can have automated social media updates at designated times.
Efficiency Saves Time: The entire purpose of CoSchedule is to streamline the management of marketing endeavors to finish projects on time so that you can complete more work in less time.
Specific Packages: By breaking up their service into separate packages, you can get the particular package that would pertain to your needs. For example, you wouldn't want a full marketing suite when you are only running a single blog.
Ease Of Use: There is a bit of a learning curve, but once you figure out where things are, you can easily navigate the systems and use drag-and-drop to configure and plan your projects effortlessly.
Cons
Price: While they offer free trials and demos, they are a bit on the pricier side than other tools that provide similar functions.
Complicated Layout: For those who want to use CoSchedule for more straightforward tasks such as running blogs, you might find that the layout and tools are tediously complicated.
No Bulk Uploads: A feature that is sorely missed is the ability to upload files and schedule items in bulk.
Conclusion
CoSchedule is like having a virtual marketing assistant to help keep all your projects, calendars, and marketing needs in check and on time. If you need help better managing your marketing schemes, then CoSchedule is well worth it.