Your business cards are the statement piece of your marketing materials that people can physically hold onto. As the only tangible offering of your services, you want a business card that promotes who you are and adds value to your branding in an effective way. However, for your business card design to be most effective, it needs to be one that people actually keep!
[et_pb_section fb_built="1″ _builder_version="4.1″ hover_transition_delay="100ms" hover_transition_speed_curve="ease-in-out"][et_pb_row column_structure="1_2,1_2″ _builder_version="4.1″][et_pb_column type="1_2″ _builder_version="4.1″][et_pb_image src="https://diymarketers.com/wp-content/uploads/2020/03/business-cards.jpg" _builder_version="4.1″ hover_transition_duration="700ms" hover_transition_delay="50ms" hover_transition_speed_curve="ease-in-out"][/et_pb_image][/et_pb_column][et_pb_column type="1_2″ _builder_version="4.1″][et_pb_text _builder_version="4.1″]
Some ways that you can create a business card that people don't throw away are:
Make it more than just a business card.
Use shapes to bring attention to your business.
Experiment with color and design.
Understand contrast – and use it to your advantage!
[/et_pb_text][/et_pb_column][/et_pb_row][/et_pb_section]
This article will explain how to make a business card that people will keep, how to design a free card in platforms like Canva, and how to make your business card uniquely related to your product or service.
Creating Business Cards that People Won't Throw Away!
Think of the business cards you've been handed. Honestly reflect with yourself on the ones you've held onto and the ones you've tossed. An excellent place to start is to consider what factor impacts you the most regarding business cards. If you are looking from some tips for creating a business card that people will want to hold onto instead of throw into the garbage, keep reading.
Offer Them Value by Making it
MORE

 than a Business Card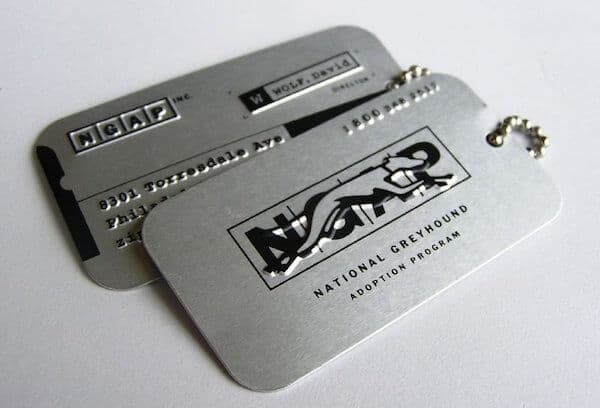 This is the number one tip because it will make the most significant impact. If the recipient has no incentive or value to gain from the card, it will end up in the trash. Point blank. Even if they want to call you, they could save the information on their phone and then shortly after, throw it away.
If you want people to keep it, save it, see it often, and run into your name frequently, make it something they won't want to throw away.
Some ideas for how to make your business card more than a business card are:
Make it artwork

– If one side is personal contact information, make the backside a beautiful piece of art that is too gorgeous to throw out.

Make it a flash

–

drive

 – With services such as USB Business Cards, this is a brilliant way to make sure people see your information often, such as every time they work on their computer! People will be blown away by this, grateful to the value you've selflessly offered, and they'll be reminded of you every time they save a file.

Make it a bottle opener or a magnet

– This is something attached to a common aspect of their routine such as eating or drinking.

Add a spot for a list on the back

– If they have room to take notes on the card, they're more likely to hold onto it. You should make this a reflective question or something less temporary than a grocery list, like emergency contacts.

Relate it to your service

– Some examples to consider are:

Dermatologists can create a business card that's a reusable skin-care product (that won't be thrown away)

Toy stores can make it fall apart like a puzzle or make it a game.

If you're a chef, make it smell like bread or your signature dish. If you want something vintage, add a scratch and sniff to invite people to connect with the nostalgia.
Help your contacts relate your card with something valuable to them will always work best. If you can make them think of their childhood, their passions, their dreams, and help them enjoy more of these things, your card will be valued above the masses.
Get creative! This is what people will be charmed by and lead to them keeping your card for a smile.
Experiment with Shapes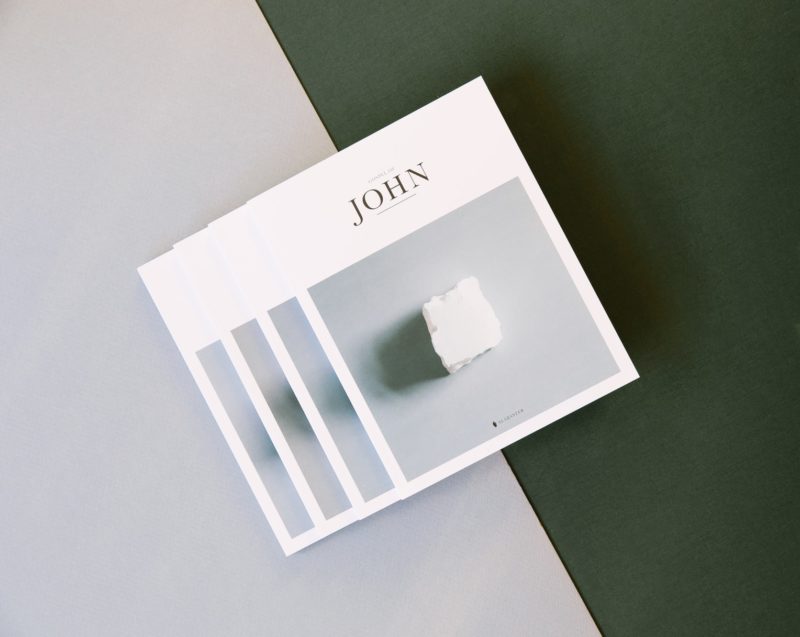 By having a business card that doesn't look like everyone else's, yours will stand out. Get creative with this! Some ideas are:
Musician

 – Make a business card with a guitar pick that can pop out of the card.

Sommelier

– Create a wine-bottle shaped business card.

Baker

 – Create a business card that is shaped like a cupcake. For a simpler-outline shape (for cutting purposes), you can choose a circular business card and put a cookie or cake design on the backside (with your contact information on the front side.

Consider making it see

–

through

 – If you are an investigator or photographer, you could make this look like a camera lens and peak people's interest through illusion.

Any unique shape will do

 – As long as it's

not

 the traditional 2-inch by 3.5-inch form, it will catch people's eyes. Experiment with shapes such as:

Circles
Hexagons
Diamonds
Rounded-edge rectangle
Experiment with Color and Design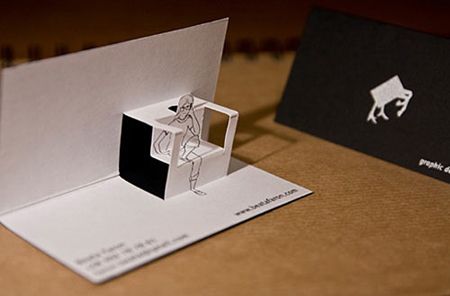 Almost all cards, documents, letters, etc. come on white paper. Unless your design directly requires white, people's eyes will be caught by a color-pop. By choosing a design that is not too busy but not too dull, you will inspire intrigue in peoples' minds. Additionally, black is a very sleek and professional aesthetic that can look especially high-end with velvet or matte paper.
You have two sides of a business card to work with, so make the most of them. Some fun uses for the opposite side of your contact information could be to experiment with designs in visual ways that will connect the card-recipient to your specialty. Examples of this are:
If you work in Tech-Repair

– Make it look like a phone or show your contact information as the Google results for a question. An example of an excellent problem to write in the google search bar is, 'How do I fix my Computer?' Then put your contact information below. Be witty and intelligently creative about how you are offering them value.

If you're a builder

– Make a card that can fold into something. Many fun templates can be folded, such as this Toy Chair Business Card.
Understand Contrast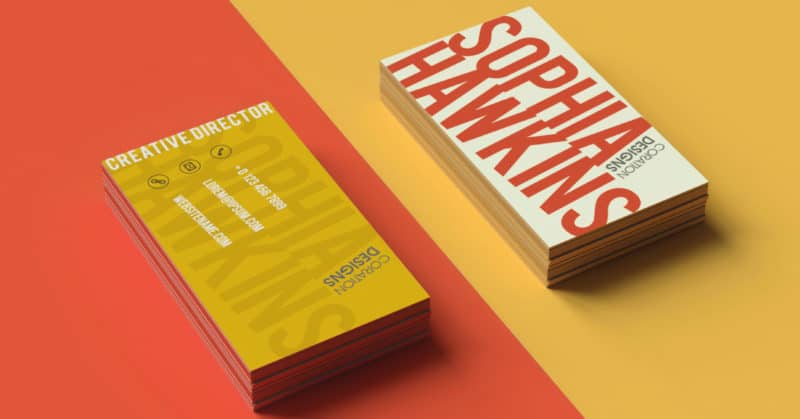 Without contrast, no one will be able to read your business card. Be careful not to place a background that you like while ignoring the fact that the letters blend into it. If your background is overpowering, put a black rectangle behind your text like a page over the background (leaving part of background exposed but not directly behind text).
Some key points to understand about contrast are:
For a white business card, use dark text.
If you want a black business card, white text will show up the most effectively.
If using a red or warm shade, light shades will be nearly invisible.
Regardless of shades, colored backgrounds can make the text more difficult to read and may require an increase in size, bolding, stroke, width, or spacing.
When in Doubt – Keep it Simple!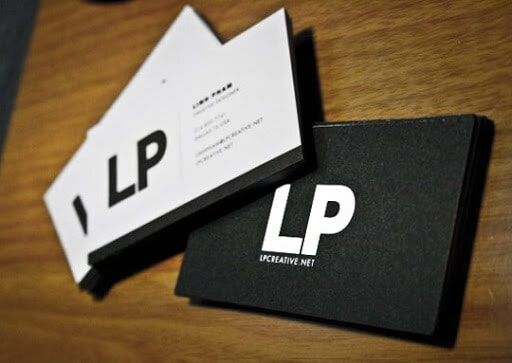 When you're unsure, stick with the classic statement of elegance – less is more. You don't want to make it too busy or cluttered because this can distract people's eyes and quickly cheapen an image. Busier cards are also more challenging to read.
Another way to keep your business card design simple and yet "keepable" consider using premium paper or card stock paired with a minimalistic design. You can even using embossing or metallic foil to create a simple, high quality and eye catching business card.
Don't throw all of your tricks at the recipient at once. The card is intended to be an introduction.
Think of simple logos, such as Chanel or Apple. They are impactful because you can see them at any size and recognize them. The more detail you add, the larger things will need to be for clarity. The less detail, the easier your pertinent information will be to read.
How to Use Canva to DIY Your Business Card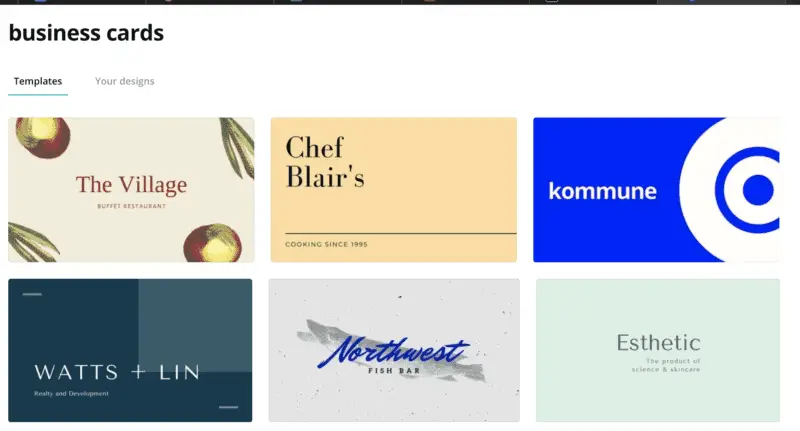 It is incredibly simple to design your business card on platforms such as Canva. With thousands of templates to choose from, you can start with one of their pre-created designs or make your own from scratch.
The steps to take are:
Sign in/Log in
Go to 'Create a New Business Card.'
Choose the design that connects with your business, purpose, service, and aesthetic.
Use the 'Upload Your Own Images' to personalize the content.
Edit using text and background layers, using 'send to back' or 'send to the front' to layer.
Save and share your design!
Final Tips for Your Future Business Cards
You will likely update your business card many times. You may forget to add something or create a new sample that deserves a spot on your cards. Regardless, you probably shouldn't order thousands at once.
Some final tips for your business cards are:
Start Small

– Order 500 first to confirm that you

like

 the design, and everything turned out correctly. If you love them, you can always order more, but things may get cut off along the dye line that even the 'preview' didn't indicate. Better safe than sorry with thousands of unusable cards.

When Passing Them Out

 – There are things you can say to help your case, such as:

"Here's one for you, and some extras to pass out to your friends and family!"
"Can I have one of yours?"
"Give me a call if I can ever help in any way; hold onto my business card for a rainy day!"
Print Them on Any Surface that is Not Paper – Be inventive with surfaces such as:

Wood
Concrete
Cork
Reusable bags for groceries
Stickers
Magnets for the fridge
3D-textured surfaces
Ask yourself if it is clear, legible, easy to read, and related to what you offer.
In Conclusion
Business cards are not obsolete, and they are a form of connection that can be much more personalized and effective than a thousand emails. Be prepared when the next opportunity finds you. Lastly, ask yourself, "Would I keep this business card, or would I throw this away?"