At a Glance
Local vs national SEO, what's the difference?  Find out how to get your startup SEO strategy started with these simple tips.
What is SEO?
SEO stands for "Search Engine Optimization" it means that your website is set up in a way that makes it easy for potential customers to find you when they search on terms for which your business should come up as an answer to their question.
Think of SEO as a digital referral or a robot referral.  Imagine that you asked a friend "Who is the best garage door repair person in Boston?" and your friend rattled off a list.  Well, in the world of SEO, Google, Bing and Yahoo are your "friend" and when you ask them a question, they search to find the businesses that best fit your description.  Your question is the "search term" or "keyword" and their answer is the result.
SEO is a terrific way to attract customers to your business without spending a lot of money on advertising.  But you need to know how to do it right.
Where Does SEO Strategy Fit in the Marketing Mix?
SEO is part of the "promotion" element of the marketing mix.  This means that you're answering the question "How will I get the word out about my company?" or "How will my customer find me?"  There are tons of choices such as advertising, email marketing and cold calling — and SEO is one of those choices.
SEO also falls into the category of "inbound marketing strategy" or "digital marketing strategy".  SEO is an inbound, digital marketing strategy.  It's a form of "advertising" in that you are using your content (the copy or text that's on your website) to attract your ideal customer.
When written a certain way, such as using long-tail keywords (such as "red sequin tennis shoes"), your website is more likely to show up when someone performs a search online. Knowing specific SEO techniques can boost exposure, increase website traffic and create a buzz around your business. The key is knowing the difference between local and national SEO and which one you should be implementing.
SEO Marketing Mix: This article is a bit advanced, but will help you understand how to use SEO in a way that answers your customers' questions about your product or service.
Top 3 Differences Between Local SEO and National SEO
Depending on the type of small business you have the answer can really make a difference in whether or not your ideal customers find you.
Local SEO targets geographic keywords while national SEO targets more general keyword terms
Local SEO can be more affordable because you're only competing against other local businesses and not national ones.
Local SEO is ideal for local businesses such as plumbers, restaurants, lawyers, accountants, beauty salons.
When it comes digital marketing online, knowing which channels and the right techniques can make or break your business. Startups with tight budgets know that SEO is the best way to target the target audience for free. But which type of SEO is best? Local and national SEO are organic methods of bringing customers to your business.
While both types can effectively increase website traffic and boosting your ROI, there is a distinct difference between them. Believe it or not, it does make a difference when marketing online. Growing your business organically takes time, patience and knowing which type of SEO will yield the best results.
What is Local SEO and When to Use It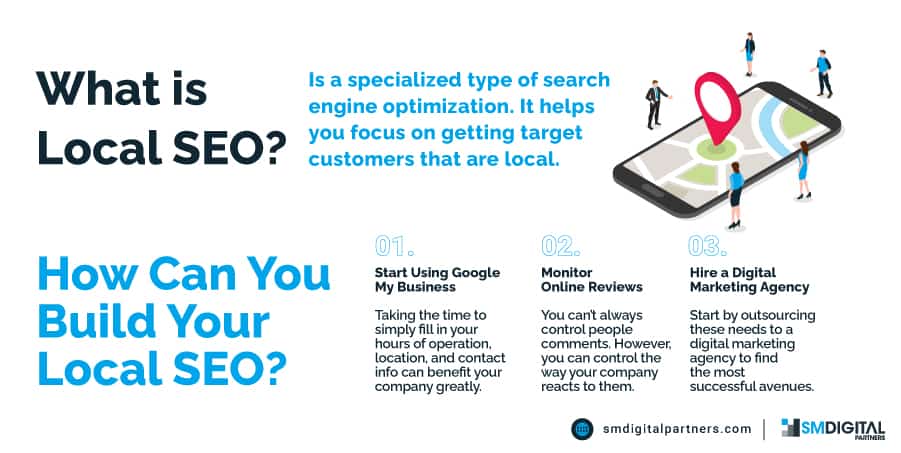 Local SEO is used to boost a company's online presence within a certain geographic area. A lot of small companies and businesses use this function in order to advertise locally and build brand awareness. By positioning themselves as an authority, business owners can effectively corner the market in their neighborhood.
For example, let's say you were to search "best Chinese restaurant", using either the GPS system on your phone or at home online. Google will optimize the number of results to the specific area. This makes it easier to find a restaurant in your local area. Furthermore, you can use geo-specific qualifiers like a city, state and zip code to hone in a very specific locale. There are different local SEO techniques to try out, so experiment as you type in the search bar.
Benefits of Local SEO
It's a lot cheaper
There is less competition
It doesn't require a large team to implement and manage
What is National SEO and When to Use It
As the name implies, national SEO gives people search results in multiple areas. Search engines, like Google and Bing, have an algorithm that is able to identify the location of the user and provide the most accurate results based on their intent. Unlike its local SEO techniques, national SEO isn't restricted to only one area. In addition, it's worth mentioning that if you opt to use national SEO strategies for business, it is more expensive than local SEO. In fact, people actually use SEO to find and learn more national SEO strategies and figures out ways to incorporate them into their business.
Benefits of National SEO
Builds your brand
Attracts more traffic both nationally and internationally
Ideal for online businesses and industry experts
Conclusion
In the digital landscape, SEO does far more than just market businesses. It has the potential to connect consumers and businesses across the globe. Knowing how to implement both local and national SEO techniques is the first step of succeeding organically online.