TL;DR
Sick and tired of trying a ton of different ideas on how to increase your website traffic and getting nothing in return? You're not stupid or incapable, you just need to know how to think about SEO, what to prioritize and how to stay focused. This guide will show you how to do just that. 
Why Increase Your Website Traffic By Only 20%
Ready for some good news? There are some simple changes you can make on your site that will increase traffic to your site traffic by 20%. And you don't have to pay for Google ads, be a Google Analytics or SEO expert to drive traffic to your website.
Why I'm NOT promising to increase website traffic by 200%
Look, there are SEO experts who can increase website traffic by 200% and more. And, they make it seem like anyone can do it. And you can, but you won't if you haven't even been able to drive website traffic by even 20%. The jump is just too big.
What you need is a process to increase website traffic in a manageable way. You need to see forward movement and more traffic to your website first, before you move on to more advanced SEO tactics.
What I Learned About Driving Traffic — The Hard Way 
In the early days of my site, SEO experts had only one piece of advice — write for the reader. This is great advice and I did that.
Unfortunately, that's all I did. I was simply writing content for YOU, the reader. I didn't pay attention to any technical or on-page aspects of SEO. After all, I didn't think that it mattered. I only wrote and published articles.
I didn't craft headlines that grabbed attention.
I didn't write with any specific keyword phrase in mind.
I didn't add any meta descriptions.
I wasn't thinking about keywords or keyword phrases that I wanted to own.
I didn't add descriptions to my images.
I didn't update any old content.
I just kept writing more content, longer content, and a wide variety of content. This was a big mistake.
This worked for a few years, but as Google got smarter and started focusing on their customer's experience, I started losing traffic. 
In short, I was confusing Google and therefore, confusing the customer. And, my traffic started dropping…and dropping…and dropping.
In less than two years, I had lost more than 70% of my traffic.
Solving the Mystery Behind Website Traffic
Let's be clear, I didn't realize that these little mistakes would have such a huge and cumulative impact on my search traffic. 
Like you, I searched Google and I read hundreds of articles. I followed dozens of SEO experts, I selected specific tactics and ideas and I tried ALL. OFF. THEM.
Nothing worked.
I started finding, asking and hiring a variety of SEO experts who could help me solve this website traffic problem. 
UUUGH!
I never found anyone who could give me a complete analysis and ultimately an answer and a way forward to fix this traffic loss.
They all followed the same process:
Run a site audit on Ahrefs and SEMRush. These SEO tools uncover all kinds of SEO and content issues on your site. But this is where it gets murky.
Give you recommendations.
Not surprisingly, their recommendations match their unique set of skills and expertise. So, if the person you're talking to is a content SEO person, they will give you content-focused recommendations. If the person is a technical SEO expert, you'll get recommendations on how to make technical changes to your site so that you'll get more traffic to your site.
It took me two years to pull all of this information together and now, I'm going to share it with you.
Here's what You Need to Know About Your Website and SEO
Your website is like a house
When you buy a brand new house it's clean, it's empty and it's lacking in personality.  So you start decorating, you start adding furniture, you start customizing.  And, over time, it gets – well, dirty. You get leaks, you fix one room and then another room. You patch things.  And after many years, it gets cluttered.  
In your home, there are cosmetic changes and there are construction changes that you can make.  If you only make cosmetic improvements, your literally putting lipstick on a pig.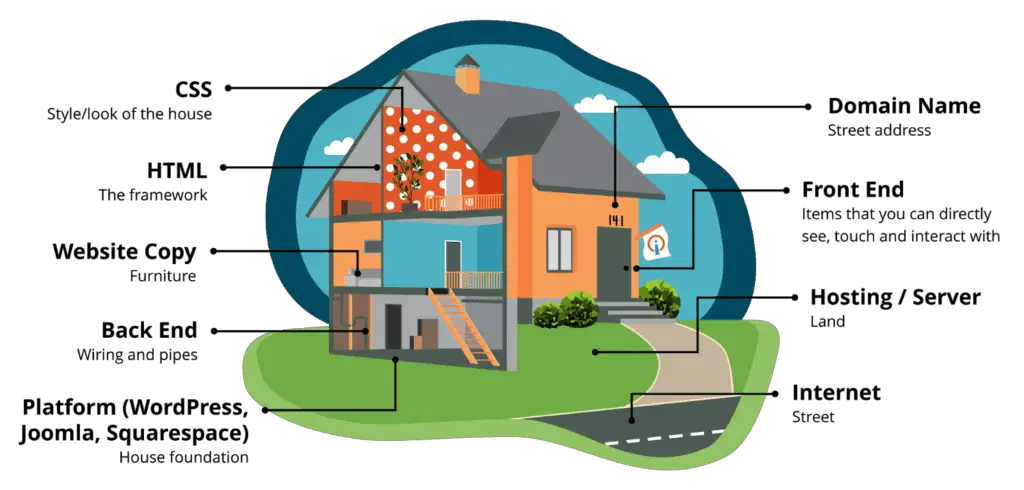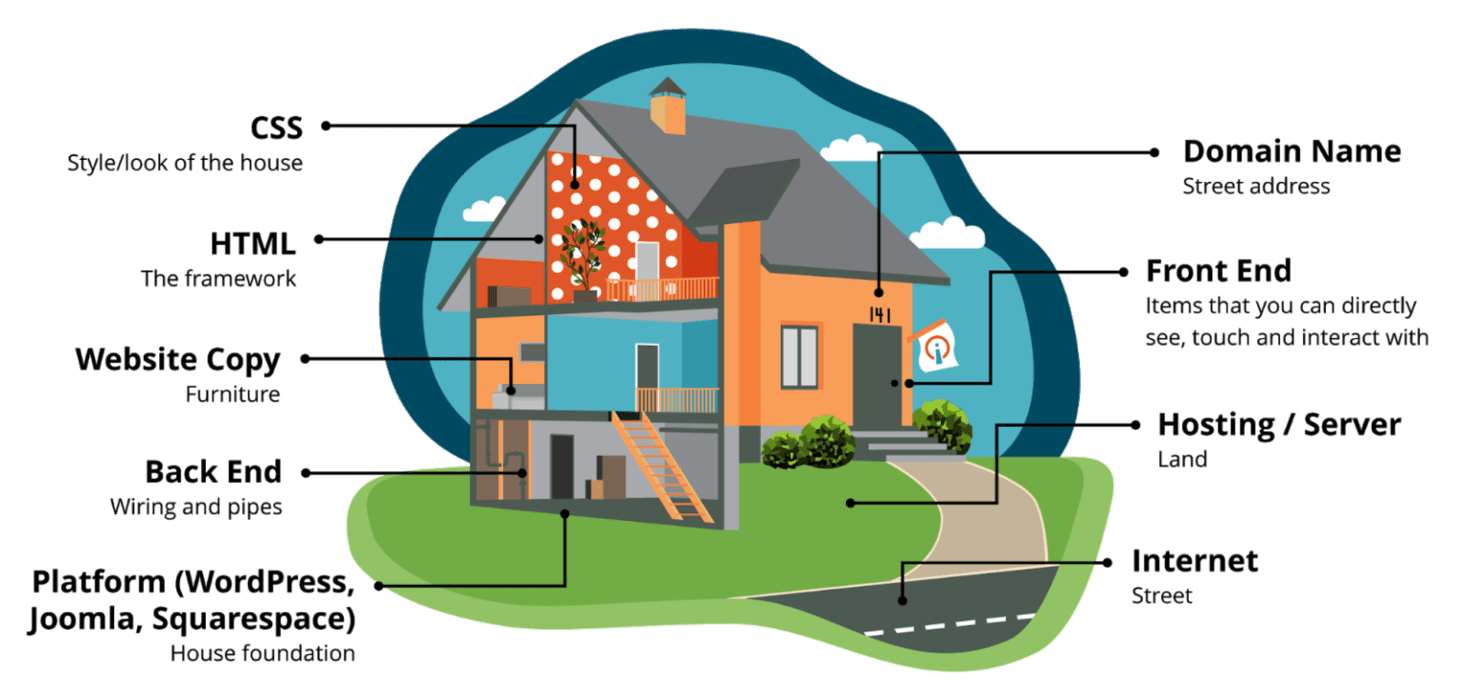 Your website is exactly the same way. 
There are technical and architectural aspects to your site such as the database, speed to load, categories, tags, permalinks, how pages are related to each other and how easy it is for Google and its crawlers to get around your site.  Changing the architecture of your site is like taking down and putting up walls in your home. It's a BIG deal – and if you don't do it properly, people will be confused and lost.
There are cosmetic aspects to your website such as the WordPress Theme, what you write about, how you update pages, and how those articles are linked together.  These are relatively easy changes to make. And that's the problem.  You make these changes, and you 
SEO is the key to driving website traffic 
If you want to drive traffic to your website, you need to jump into the pool called SEO.  DO NOT be distracted by anything else.  SEO is your solution.  But there's a lot of confusion about the actual process and where to start.
Technical SEO is where you want to start.  Technical SEO is focused on the architecture of the site. The speed, mobile-friendliness and the overall foundation for your content. In other words, technical SEO assures that your website has good bones and a solid structure upon which to place your content.
Content SEO is the muscle of your website. Your content is like the furniture that you place in each room that defines what that room is about.
Your website is built and designed so that visitors and Google can easily find their way around. You will be penalized if either of those two are confused.
Don't just listen to ONE person's SEO advice 
If you're currently not getting enough traffic to your site, you might have a technical problem, a content problem or, most likely a little bit of both. 
Writing More Quality Content Will Not Drive Website Traffic 
In the world of content marketing, the most common recommendation to increase website traffic is to create content; write more quality content, more relevant content
There are lots of articles that will do that. But they make a huge assumption. That all you have to do is write more better content, focus on long-tail keywords, promote your content on social media or build and use an email list. 
Those are great ideas. But what if your website has been losing traffic? What if your traffic has been at a standstill and the phone isn't ringing? If that's your problem, then a 20% increase in traffic would be a step in the right direction. And in this article, I'm going to tell you what I wish someone had told me.
Losing traffic is a symptom of both a technical SEO and content SEO problem. (more on that below)
Keep up with Google. Since 2009, Google has made 10x improvements or changes in its algorithm. from 400 "changes" to more than 3,000! Google is the bear and yeah — we're dancing with it. You can like it or not like it. But you have to accept that your customers are using Google to answer questions and search for solutions and if they don't see you, they won't choose you.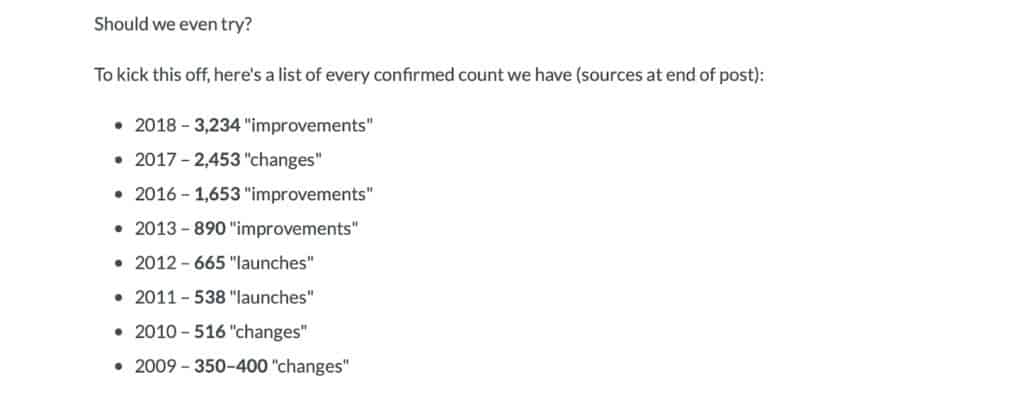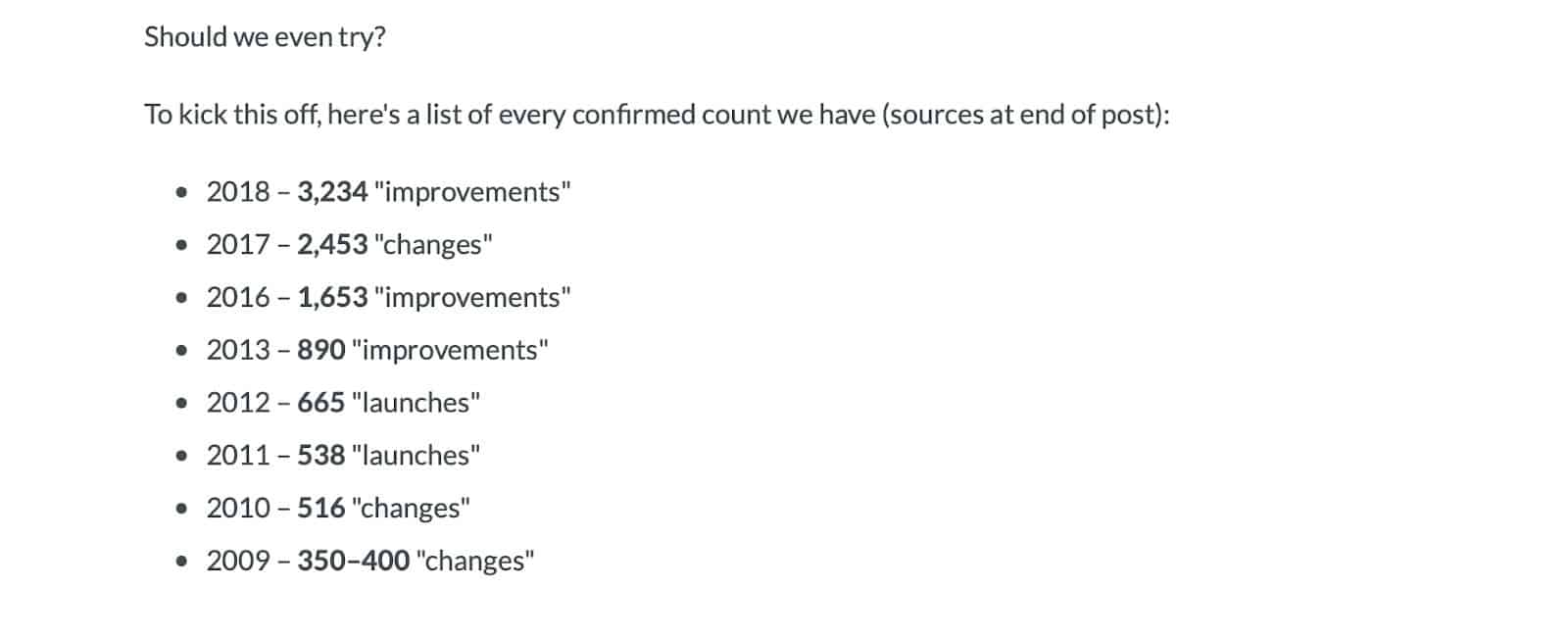 You might have to rebuild your entire website to meet Google requirements for ranking. 
3 Big Reasons Your Website is Losing Traffic
There are dozens of small reasons you're losing website traffic. But there are really three big ones that are causing 80% of your website traffic woes. 
1. Google keeps people on the search page.
Google is the primary search engine for most of your customers. And Google's job is to give their users exactly what they are looking for as fast as possible. A lot of times, that means that they never leave Google to find their answer. Google calls those "featured snippets".
For example, if your customer is searching for the answer to a simple question, Google will give them that answer right inside the search results. 
Here's an example of my search for "How to drive traffic to your website". Google has searched the web and found this article by Shopify. In other words, Shopify owns the "Featured Snippet" for the long tail keyword "how to drive traffic to your website".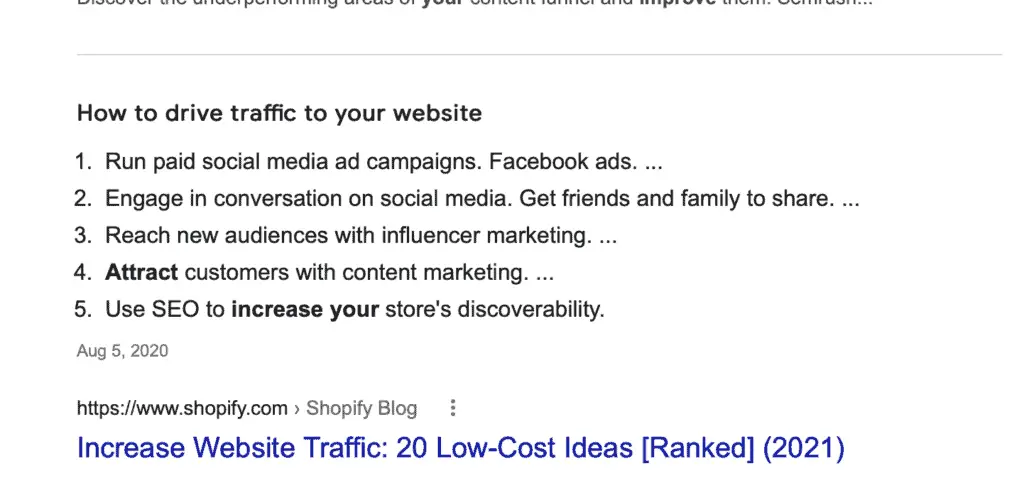 If all I wanted was a simple answer, I would never go to Shopify, and they would lose that traffic. However, if I wanted to read the details, the fact that they were featured here will increase traffic to this article and drive a highly qualified lead to their site.
Google TIP: How to earn featured snippets
There isn't much you can do about what Google chooses to feature, but you can focus on creating blog content that gives audiences what they are searching for so that your organic content drives relevant traffic to your website. 
Here are a few tips from a SEMRush study
Choose Your Keywords
Leverage the Power of Questions
Format for a Featured Snippet
Date Your Content
2. Your website isn't mobile-friendly according to Google's Mobile-First Index
You might think your site is mobile-friendly because you can see it on your mobile phone. But this means nothing. The best way to check if your site is mobile-friendly is to have it confirmed by Google. 
Google's Mobile-First Index is a recent update where Google looks at how your website looks on mobile FIRST. This also means that Google largely ignores what your site looks like on a desktop. 
So how do you know if your site is mobile optimized?
Log into your Google Search Console and click on "mobile usability". You'll see a chart that looks like this: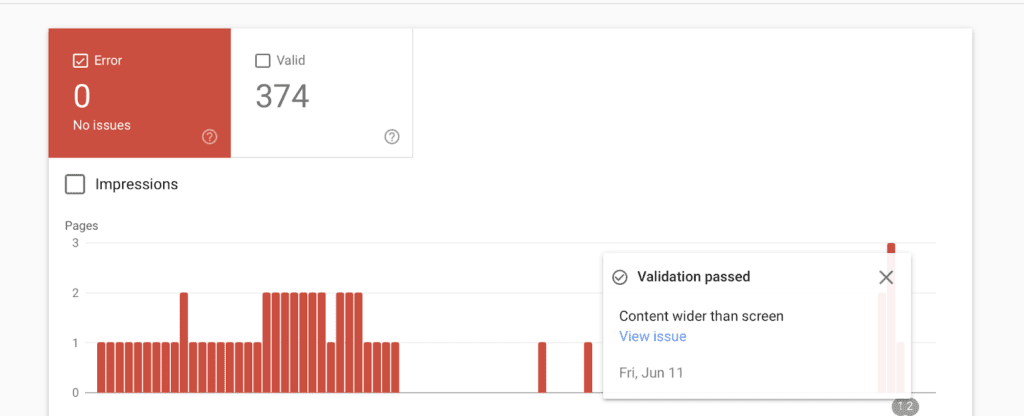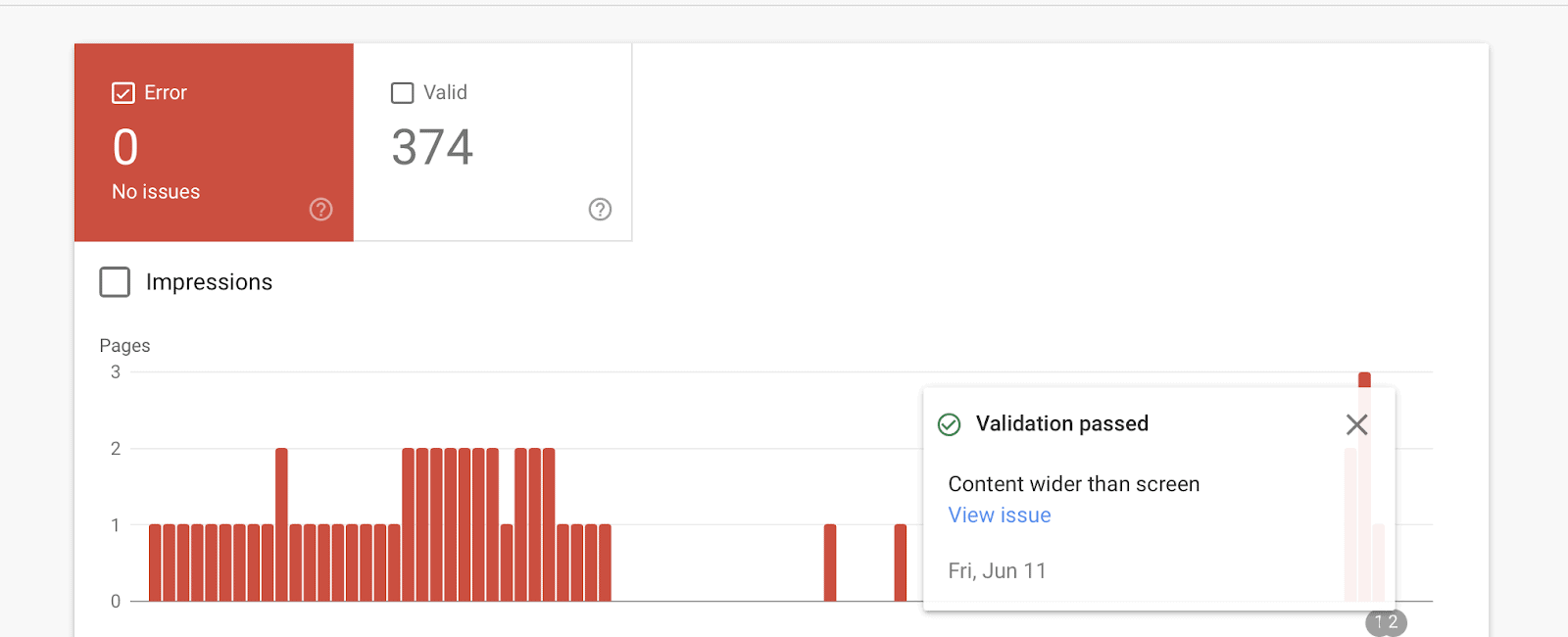 You'll notice that this example has no errors right now. This is what you want to see. 
But you'll also notice that there was an issue "content wider than screen" when you click on the gray circle, the system will take you to examples of URLs that have that issue. If you check the URL on your mobile device and it looks ok, you can send it for manual validation. As you can see here, the validation has passed and there are no more mobile usability issues.
The best way to avoid this issue is to update your website design using a "mobile-first" design strategy. That means that you start your website design using a mobile screen as your starting point.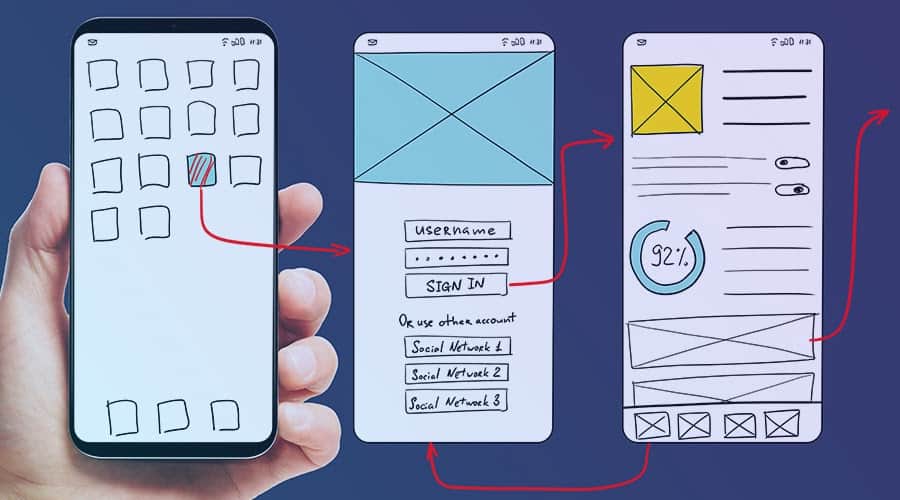 3. Your Blog Content Isn't Frequently Updated
If your website has been around for a while, you probably have a piece of content that hasn't been updated in more than six months. This includes all types of content; evergreen content, long-form content, even outdated user-generated content.
To fix this, you need to use a content creation strategy that includes content repurposing some of your popular content, and creating new original content.
Content TIP: How to keep your content fresh
Create a set of cornerstone content pages that you update regularly. These might be "Ultimate Guides" or "Best" articles such as "Best tools for small business" or "Best Books for Marketers". 
Brian Dean is a master of this updated content strategy. He doesn't write blog posts as much as he writes "Ultimate Guides". He gives those guides a short URL title such as "The Ultimate Guide to SEO" and then he updates this guide year over year. 
It can take Brian Dean six weeks to write the original guide, but then he can update that guide in just a few hours and he rotates these updates regularly.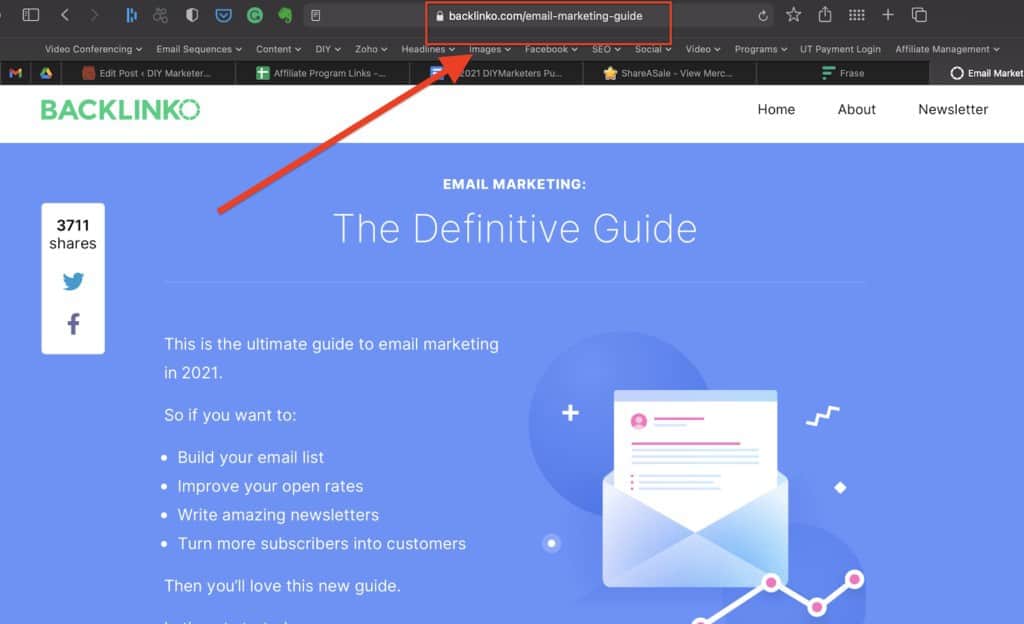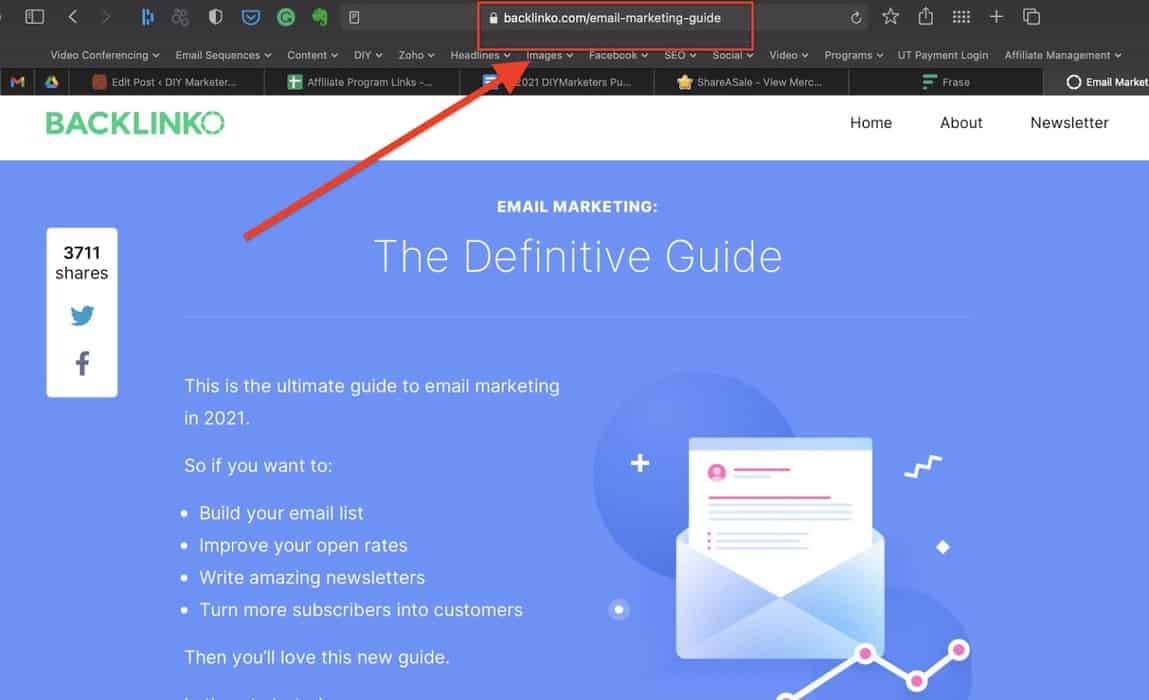 Content TIP: Use Google's People Also Ask to Provide the Best Answer
Another way to keep your blog post fresh is to write a piece of content based on questions that people ask on Google. 
Google has an autocomplete feature that tells you what people also ask. You can see that when you start your search on google: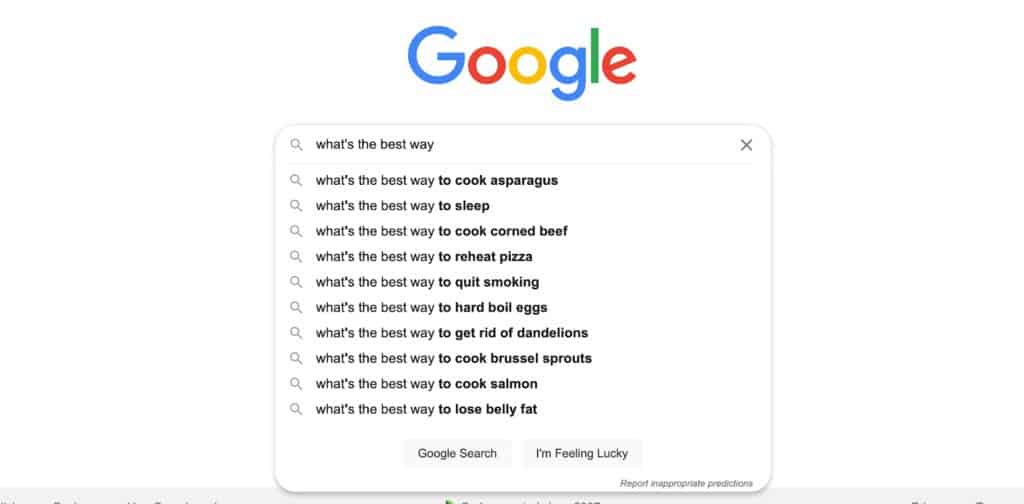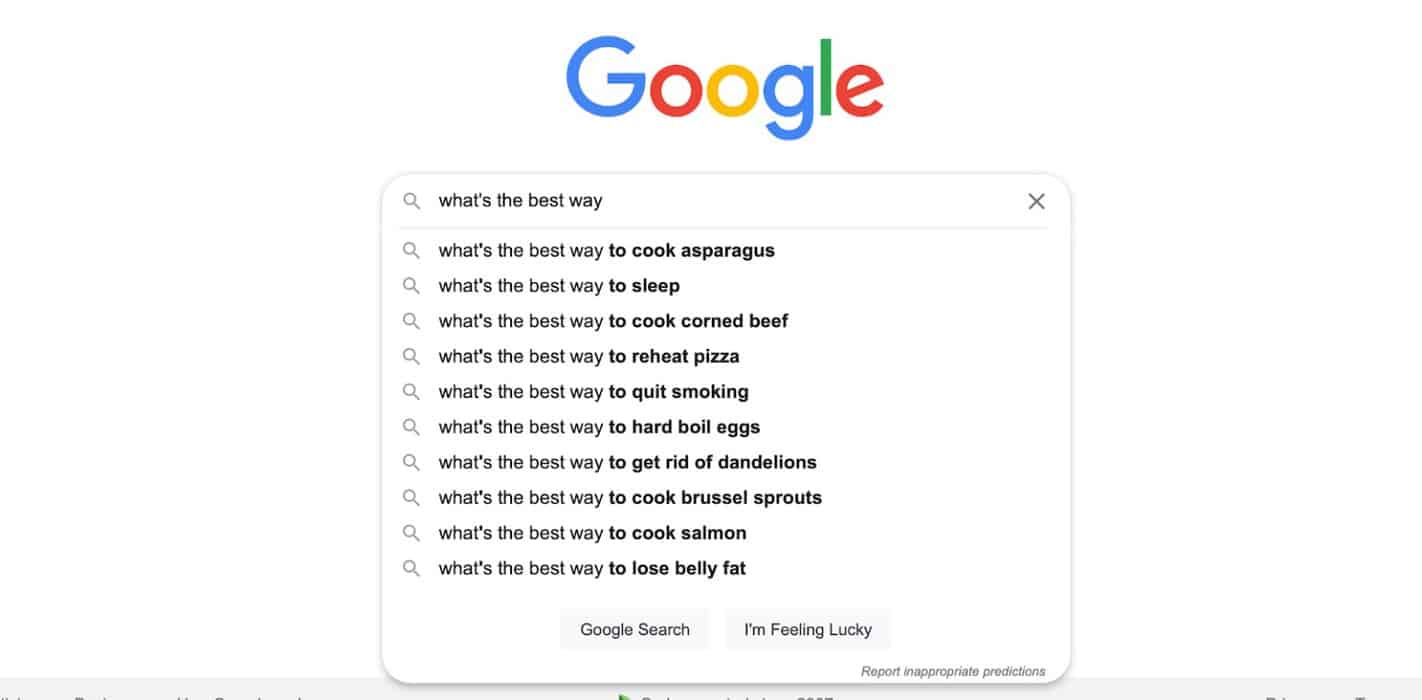 In this example I started my search with "What's the best way…" and Google completed the rest. These results can change DAILY. Based on today's results, you can see that most people are interested in cooking asparagus.
When I selected that search "What's the best way to cook asparagus" I see the "people also ask" section.


Here you can get timely ideas on what to include in your content.
If you want to get a deeper understanding about what questions people have around a particular topic, you can use AnswerThePublic.com. This software pulls all of the "people also ask" and Google autocomplete searches on a particular topic.


In this example, I entered the word "asparagus" and I can get a full report on the most popular questions asked around asparagus.
You don't need fancy SEO Tools to collect this information. All you need is Google and your knowledge.
Follow These Steps to Increase Website Traffic
Before you jump into any specific set of tasks to drive traffic to your site, follow these steps.  It will save you a ton of time, money and effort.
Make sure your site is technically healthy.  
You'll need a technical SEO person for this. You want to make sure that your WordPress database is clean and functioning. If your site is more than 10 years old, you may even want to do a fresh WordPress install. This is like doing a factory reset.  And it's not as scary as it seems. Done right, you won't lose any content.
Install a fast and mobile-friendly wordpress theme
Google is rewarding Google Mobile-First websites.  In other words, Google will crawl your site and see if it's mobile-friendly.  If it doesn't pass, they will penalize you by not ranking you as high — regardless of how good your content is. 
Identify the 20% of the content that generates 80% of your traffic
You can do this yourself using a tool like SEMRush or, you can find a content SEO person to help you find the articles or pages that generate 80% or more of your traffic. 
Next, you want to find the pages that have the most backlinks (or sites that link back to your website).
Redirect the articles that don't meet this criteria
This is the hardest part of the process! The articles or pages that don't meet this criteria of driving traffic to your site or linking back to your site, need to be redirected to relevant content or page that is generating traffic and links back to your site.
Luckily there are tools and plugins for that such as Rank Math or Yoast.
Simple Daily Tasks That Guarantee More Traffic to Your Website
The tips below are designed for the layperson. Think of these tips as best practices that you can start implementing on an on-going basis. 
Use Basic Search Engine Optimization 
You don't need to be a Google Analytics, SEO expert for this site of tips. Do them right and you can expect an increase in organic traffic. Try these on-page SEO tips.
Optimize your site for SPEED. Don't use big, slow-loading images. You can minimize and compress images using a tool like TinyPng. 
Craft a clickable headline. It's not enough to rank on the first page of Google, your goal is to drive traffic. And, crafting a clickable headline is your first step.  To optimize your headline, consider CoSchedule's Headline Analyzer.
Create short and descriptive URLs. Articles with SEO-friendly URLs help drive traffic to your website because they often have keywords that would be searched by potential visitors.
Write an optimized and engaging meta description. Think of meta descriptions as short ads that connect with the reader and, in turn drive traffic to your site.
Write descriptive alt tags for your images. Don't forget about image searches! A good alt description for an image can increase website traffic, especially with physical products.
Add links to graphics and make them shareable.
 Use Email Marketing to Drive Traffic
Create a quiz related to your content or website to build your email list then send them personalized articles related to their interest.
Participate in social media, online communities and forums, like Reddit, by commenting on posts and engaging with others. After establishing your credibility, feel free to share links to any content that answers questions.
Create a regular email newsletter to share the content you produce each day or week.
Research and answer questions. Focus your content on common questions your potential customer might ask about your industry, product, or service. These long-tail keywords don't need thousands of monthly searches.
Use your website as a content hub for other sites. For example, if you're running an e-commerce business and have suggestions on how to style outfits or what products are trending, make sure those articles are posted across different social media networks.
Create blog posts with multimedia components like videos or infographics–anything that might be worth sharing on your social media.
Engage on Social Media and Share Links
Let's get one thing straight, you do NOT own your social media contacts.  Facebook, Twitter, Instagram and LinkedIn own those contacts.  And, let's face it. Their primary goal is to keep their audience on THEIR website.
So, how do you use social media to drive traffic to your website? 
Referral Traffic Tips for social media: 
Feature a specific URL in your social media profiles.  Typically people will use their home page, but you can feature a sales page or a landing page where people can sign up to receive a free download. 
Repurpose existing content and post a summary or partial article on a syndicated platform like Medium or LinkedIn with a link to the complementary blog post.
Create visual content like charts and infographics and share those with a link to the page on your website. 
Use affordable paid advertising to increase website traffic. If you have a truly helpful piece of content, boost it on Facebook! It's a great low-cost way to drive traffic.  
Post keyword rich content. Did you know that your social media posts are indexed by search engines?  You bet they are.  And if your social media posts use your target keywords such as the name of your product or service, those posts will pop up in search engines!
Answer questions on Reddit and Quora. Instead of guest blogging, visit Quora, Reddit and subscribe to HARO so that you can answer member questions and provide helpful results. These social media platforms are also indexed by search engines and when people search on those keywords, they will find those posts and they will also visit your site for more information.
Use your social media platforms as a stage where you can present your content, feature your experience and build relationships. Then include calls to action in your social media posts that drive those warm leads to your site to learn more and ultimately buy from you. 
Use Content Marketing to Generate Traffic
The tips in this section will give you strategic ways to generate organic traffic from your target audience. Don't expect to rise in the search engines in days or weeks, the tips I'm including here will take months to generate referral traffic. 
Content marketing such as social media and guest blogging are long-term ways to increase traffic. More importantly, they build your credibility and thought leadership. 
Write a Guest Post For a High Quality Site
Guest posting is a terrific way to drive referral traffic to your website. But there's a right way and a wrong way to write guest posts.  Here are a few do's and don'ts on how to successfully use guest blogging as a content marketing strategy.
Guest Blogging Tips
DO research blogs that match your area of expertise and have a domain authority of over 40.
DO build relationships with the bloggers to whom you want to submit your guest posts. 
DON'T just send emails with a message about how you love their blog and how they should link to your site or publish your guest post. It can take as many as two hours to prepare a guest post for publication and you aren't paying that person to post your article. No blog publisher is going to publish your crappy post for free just because you asked.
DO make your guest post the best content you can create. Invest more time in your guest post than you would for your own site. Read the bloggers articles and do your best to make your blog post mimic the style, tone and information quality.
Guest blogging isn't just about getting links back to your site. Because most bloggers will make any links no-follow and that means you won't get any juice from Google. What you will get from your blog post is the opportunity to build your thought leadership and your audience.
Ask for Guest Posts
Guest posting looks like an easy way to create content without doing a lot of work. It's not. Depending on your business or your niche, it won't take long before you start receiving emails asking if you would accept a blog post from someone you don't know.
The choice is yours. When I've accepted a guest post from a pitch, I've generally been disappointed. The quality is usually bad and most people want to post on your site for the link and organic traffic they will get, 
BUT, you can flip this model upside down and ASK for guest posts from experts in your industry or niche. 
Tips for Requesting a Guest Post
Make a list of people and experts you'd like to feature.
Come up with at least 3-5 topic ideas based on content you've already seen them create.
Come up with a reader-centered blog post idea where you can feature their content, product or service.
Make it easy for them to give you content. For example, find a long-form guide from their site and ask them to expand on a specific section. OR send them a list of questions to answer.
Create Share-worthy Infographics and Images
Images and infographics can drive a ton of organic traffic to your site. Most businesses, especially those that sell via images such as product pictures, arts and crafts, restaurants, retail, etc. forget that their picture is a traffic magnet for high-volume keywords. 
Here are some simple ways to grab some sweet organic search traffic from your images and infographics.
Find images of any specific products and make sure you add "alt" descriptions that match what a potential customer might be searching for. For example "Cable-knit cashmere sweater."
If you sell a service, think about what specific research questions a potential customer might be interested in and then search. For example; "Email statistics 2021" or "Marketing motivational quote money".
Give the image a volume keyword URL
Use keyword rich captions
Use Ads as a Passive Way to Generate Traffic
Paid advertising is one of the more advanced ways to drive traffic. But, if you use solid digital marketing strategies, you can reach a much wider and more targeted audience.
First, you have to think about your audience, and how you're going to introduce yourself and your content in a way that's going to grab their attention and take them to your site.
Use Facebook Ads to Get Traffic and Grow Your Audience
The key to success with Facebook ads is to meet your audience where they are when they are using Facebook.  Think of Facebook as a "fun" space. When your audience is there, they are looking for word of mouth recommendations or they are looking for fun and entertainment. 
If you're not sure what your target audience is doing on Facebook, just ask!
Creating quizzes is a good idea that will not only be entertaining, but will encourage "word of mouth" sharing.
If you have access to free tools your audience will appreciate, promote an article with an easy opt-in for the free tool.
Facebook has a feature called "lookalike audiences" that will let you reach out to similar audiences as the one you already have. That's a cheaper way to get traffic.
Google Ads are Ideal for Niche Products
If you have a highly niched product, service or audience, you might consider Google ads. The more specific your keyword, the cheaper it will be, and you can "buy" a slot on the first page.  
This, however, is an advanced digital marketing strategy and I wouldn't recommend you do this on your own. It simply has to be mentioned as a way to generate traffic. 
Use Email Marketing to Drive Direct Traffic to Your Website
If you want to use email marketing to drive traffic to your website, you'll need a large email list of more than 10,000 people. The previous content marketing and advertising ideas will help you build that list. 
But if you've got a large list, they are an ideal source of additional, relevant traffic. Search engines will notice the uptick in referral traffic and reward you for it.
Send them quizzes to find out what offers will be most relevant to them.
Include links to a blog post you want to promote.
What Type of Websites Get the Most Traffic?
You already know the answer to this question — it depends. However, some general tips that can help increase traffic to your website include:
Niche websites that answer questions
The more you can niche down your business to a specific and relevant topic that includes free resources and pages that provide valuable links and resources to your audience, the more likely your target audience will find you.
Websites that use videos as a source of traffic.
Video is a great way to increase traffic to your website. If you're doing a content marketing strategy, YouTube videos and Facebook videos are a great way to grow website traffic. Here's how that works.
You create a video that creates valuable content; a tutorial, a tip, a tool you like, anything that will help your audience. Because YouTube is really a search engine, taking the time to do some keyword research for YouTube can drive website traffic from customers who are looking to solve a specific problem.
Websites that offer FREE tools and resources
If you use a variety checklists or questionnaires in your business, create free resource pages on your website and be sure to include links to those pages throughout your website. You can put them in a sidebar, you can post them on Facebook, you can even use them as a lead magnet.
How to Decide Which of These Ways to Increase Traffic Will Work for You
This is a long post with a lot of ideas and I'm sure your head is swimming with the possibilities. 
As I said above, I didn't name this article how to increase traffic by 200% — I wanted to focus on small wins and how to exponentially improve your search results in a way that is comfortable and doake for you.
Make sure that the technical aspects of your site are clean, fast and solid. Visitor experience on your site is critical to getting the search traffic you're looking for. That means your WordPress install is clean and optimized.  Your content and categories are well organized and that visitors and Google know how to find what they are looking for.
Clean and optimize your existing content. It's not enough to generate search traffic. Visitors need to find your blog post and stay there.  When I say optimize your content, I mean update and improve any existing post or page. SEO results want to see frequent updates. 
Map out your marketing process. If your visitors are coming from social media, what type of content do they need to see to click and be directed to your post? Are there free tools such as quizzes or calculators you can create to attract and build an audience?
Choose a marketing strategy [Advertising, Content or Direct] to help you focus your social media marketing, email marketing and ads.  You will know exactly how to use email, what to write in your content and what you want people to do at every stage of the process. 
Implement ONE thing at a time. Your website is the home where your business lives. Think of this as a building (or remodeling) process. Pick one room and stay there until it's complete. 
Final Thoughts
The purpose of this guide is to give you context around the insanely overwhelming world of search as it relates to driving more traffic to your website.
I put this together after going through this confusing process myself and I've synthesized the relevant information and a-ha moments that I've learned as a business owner and I wanted to share it with you. 
Use this guide to wrap your head around constant and steady improvement and you'll see your traffic grow.