One of my clients has a killer digital outdoor sign that generates about 20% of all of their new business! To be honest, I'd been ignoring the sign as a sales and marketing tool. But when I saw the report that listed "outdoor sign" as a trigger that pulled in new customers to an attorney's office, I got to wondering; what are the best outdoor signage strategies that your small business can use to get more customers?
The best outdoor signage strategies generate new and returning customers to your local business. This means you must focus on the customer that your sign is speaking to and the content your ideal customer most wants to see. The top outdoor signage strategies communicate specific offers such as specials on products or a list of products and services your customers can find inside.
Which Outdoor Signs Generate the Most Customers?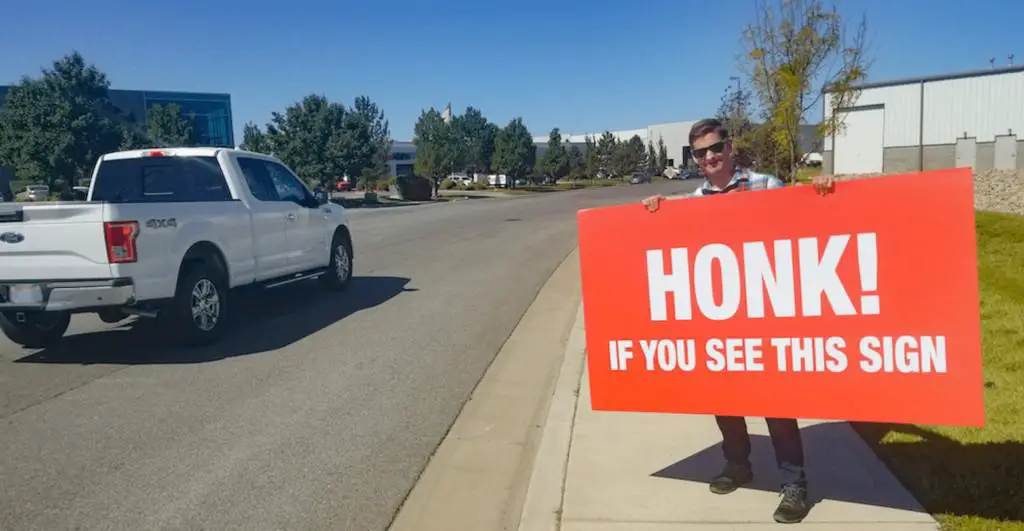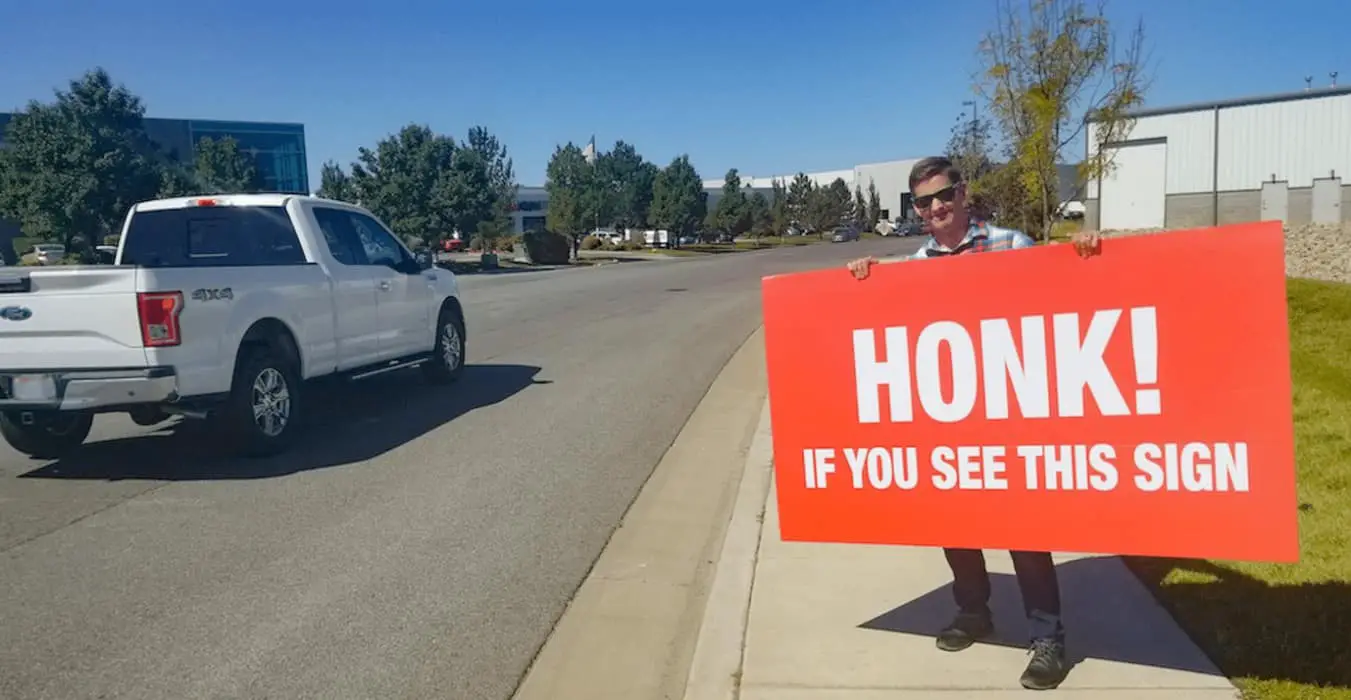 As I was researching this article, I was only interested in one thing; how do you use outdoor signage to get more customers. And that made me wonder WHICH TYPE of outdoor signs actually get attention. Luckily, the folks at Signs.com decided to have a little fun and created their own research study.
They created a simple sign "HONK if you see this sign" and displayed it three different ways; just displaying the sign along the side of the road, having someone hold the sign, and then having someone hold the sign and also move it around — like a sign spinner.
They found that having a person holding the sign and moving the sign around got the best engagement.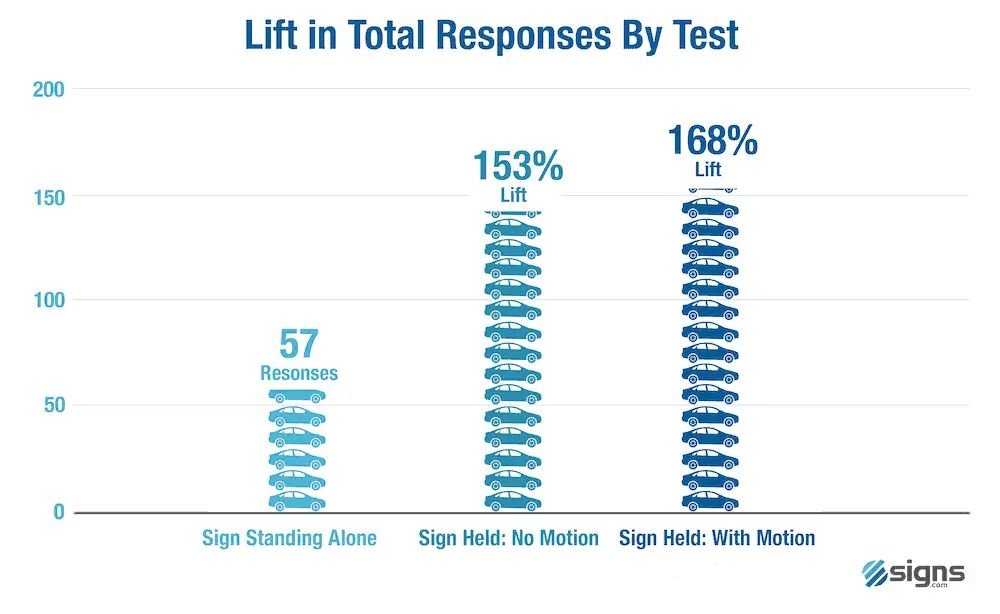 That's not really surprising. But what small business owner has the time and energy to put a person on the side of the road to spin a sign. I'm thinking that's not what you're after.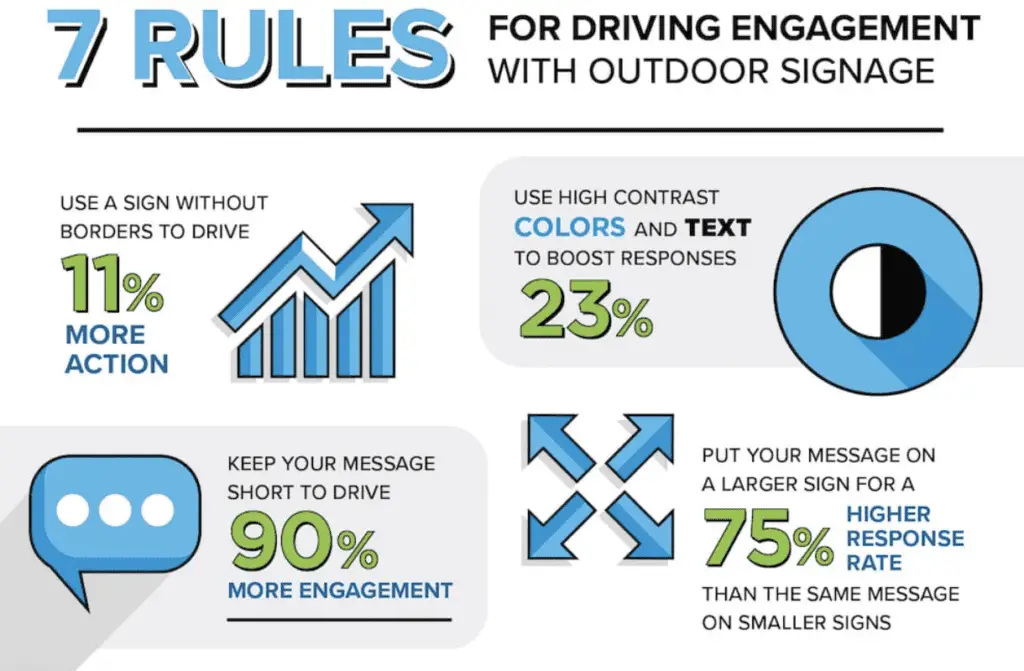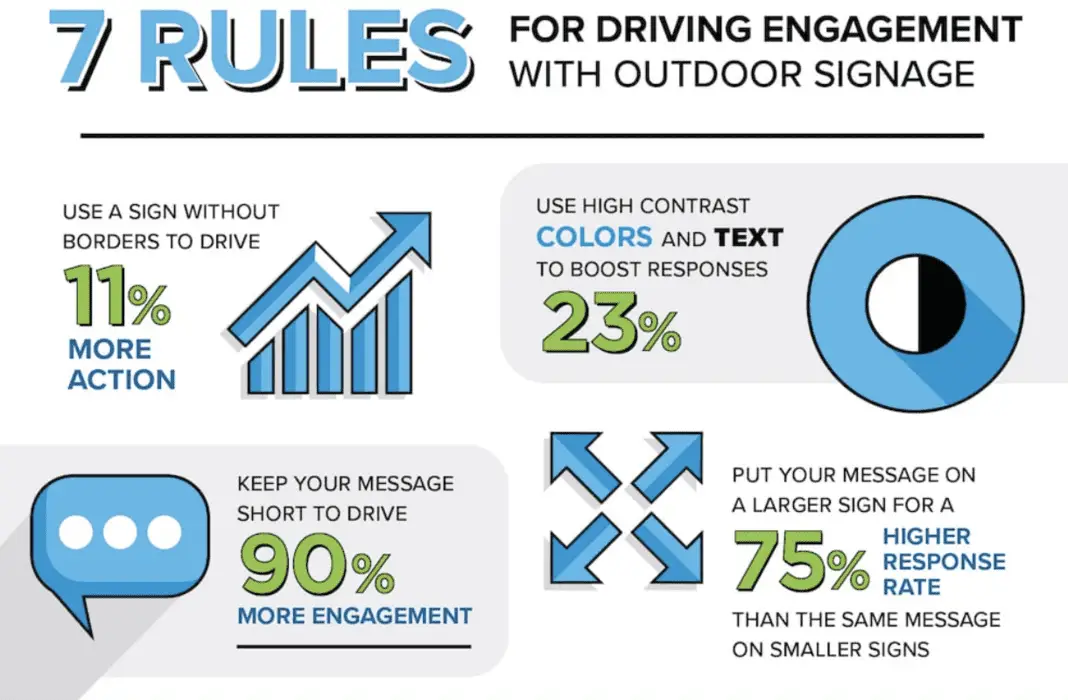 Instead, I thought these tips Signs.com created from their experiment of outdoor sign engagement are much more useful:
Use a LARGE sign. The bigger the sign and the tex, the more likely people are to see it.
Create a short message. It takes time for people who are driving by to process all the words and information, so keep it short.
Craft a message that triggers FOMO (Fear of Missing Out)
Use contrasting colors to grab more attention.
Do You Have an Outdoor Signage Strategy? Here's Why You Should
Your business can benefit from a variety of different outdoor signage strategies. Signage is one of the first types of marketing people will interact with before becoming customers. And, if you're a local business, outdoor signage strategies are an important part of content marketing.
Outdoor signs offer an opportunity to differentiate your business from local competitors.
Customers are looking for your business, use your outdoor sign to give them a reason to stop in.
Show your customers exactly what problems you solve and what you offer.
Increase sales of featured products or services.
Build your brand with graphics and messaging that resonates with customers.
Check out these outdoor-focused signage strategies for your business.
Using outdoor signs to attract walk-in customers
Outdoor signs can be used to target customers who are simply walking or driving down the street. Large signs, such as monument signs, are the best for this strategy.
The trick is to use a sign that is large enough to be seen from a relatively far distance and appealing enough to attract foot traffic. Outdoor signs that entice walk-in customers are often most successful when displaying only the business name or logo. This leaves a bit to the consumer's imagination while tempting them to find out more by investigating inside your store.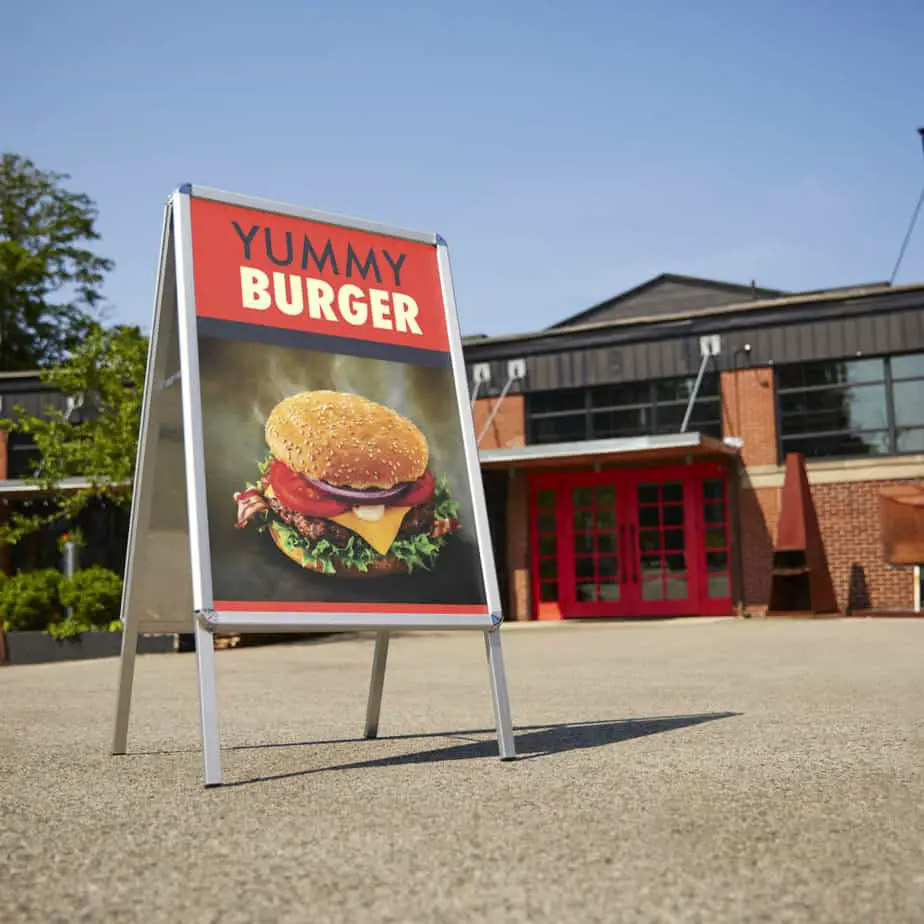 Instead of focusing on the outdoor sign, focus on your customers — the ones you want to walk into your business. Before you slap a sign outside your business, take the time to do a little customer research.
Step outside your business and just look. What do you see? How many people walk past your business, how many people drive past your business? What other businesses are around you and what types of customers are pulling in to visit those businesses? Notice the general demographics of the people who are walking or driving by your business. Are they predominantly women, men? Who is with them?
All of these mundane bits of customer information will help you craft the perfect message on your sign.
Also — don't be afraid to experiment and test your signs.
Create a spreadsheet to track your signage experiments. Write down what type of sign you've place outside, and what the message was displayed on the sign. Then track the number of customers who walked in and asked for what was offered.
If you're bold enough, you can ask them if they noticed the sign, what they remembered from the sign.
Using outdoor signs to build brand loyalty
Outdoor signs substantially display and communicate your brand personality to the outside world, including already established customers.
The more often people who shop your business regularly see your business name or logo, the more they think of the company. This lends itself to building trust and loyalty with customers because it's a friendly reminder of your business's existence. Try using logo signs and building signs for this purpose.
Using outdoor signs to help guide people to your store
Outdoor signs are great for helping to guide people into your store. Many businesses' entrances are challenging to find, especially in a strip mall setting or location where your front door isn't particularly visible. Outdoor signage, such as directional signs, can be of great use to your customers and potential customers.
The easier it is to find your business, the more chance they will stop in to browse your offerings. Different signage strategies for your business are essential to help people find your store, discover where to park, and understand where to enter. This sets a positive tone for their shopping experience.
Using Outdoor Signs to Sell More Stuff
One of the great things about exterior signage is that you can use it to feature, market, and sell more stuff. Custom signs aren't as expensive as you might think. Consider using banners with colorful graphics that invite people to stop in.


How Much to Invest in Your Outdoor Signage
So, how much should you invest in your outdoor signage? The answer depends on what the lifetime value of your ideal customer is.
Outdoor signs can cost as little as $150 to as much as $50,000 depending on what type of sign you're looking for. Home Advisor collects all of this information and offers a nifty Signage Cost Calculator to help you get a general idea of what you should budget.
After looking into this question, I found that a good rule of thumb is to budget 1 ½ to 2 years of your advertising budget for a new sign.
Some sign companies have surveyed their customers and found an 18-50% increase in business for our customers who purchase a new outdoor sign.

One way to compute the value of new signage is to do a "back of the envelope" calculation. For example, if your business grosses $500,000 per year in sales, and you increase it to $550,000 (a conservative 10% increase), at a 10% profit margin you've made an additional $5,000 per year. That is $416 per month, more than the cost of a lease for a typical outdoor sign. Note that your sign will continue to make you money even after the lease is paid.

How Much Does an Outdoor Business Sign Cost?
With this number in hand, you will have a general budget of what to invest in a sign that will attract those customers.
Where to Place Outdoor Signage
The best place to place your outdoor signage is where customers are most likely to see them and be able to pull into your business.
Close to the entrance of your business; above the door, in front of the door.
Find a location that directs your customers to your business; right before where they can turn into your parking lot in both directions. There's nothing more frustrating than not seeing the sign, passing the business and having to turn around and go back.
Prominently featured on your building or on an outdoor sign at the entrance of a strip mall.
One final note — make sure that your signs MATCH. If you have a sign above your door and then place a sign outside — make sure that those signs feature your business name and/or logo prominently. In fact, make sure that the brand you use online is the same as your outdoor sign.