Gmail has been my default CRM for as long as I can remember. After consulting with dozens of small business owners, I noticed that they were using their G Suite email as a de facto CRM as well. While using email as a CRM tool isn't the right choice for a lot of folks, it's a great way to ease into using a CRM.  So, today, I'm going to show you how to use Gmail as a CRM.
To use Gmail as a CRM right out of the box, you will need to also use Google Contacts, Google Tasks, and Google Events as the foundation.  If you use the Google Chrome Browser, you can also add on a variety of extensions that will turn your Gmail into a functioning CRM.
What is a CRM
CRM stands for Customer Relationship Management.  Basically, a CRM will contain all the information you need about a person that will help you get and keep them as a customer.  For example, a CRM will contain a prospect's contact information, products they are interested in and a history of your communication with them. 
If you've looked at CRM's you've probably noticed that they can get pretty complicated.  In fact, the biggest complaint about CRM tools is that no one has time to enter all that information or track all that information in a separate software.
This is where Gmail can come in really handy.
Why Use Gmail as a CRM Tool
You're probably already using your G Suite Gmail to manage your sales.  What you're probably NOT doing is using the full power of the Google Workspace platform to track those sales.  In this section, I'm going to show you how to use Gmail, Contacts, Tasks, and Calendar to run your sales. 
It makes sense to use Gmail as a CRM because every business owner "lives" in Gmail and won't have to click over to another tool, app, or software and double enter data and information that will move the sale forward.
If you're a solopreneur, consultant, or freelancer, I recommend that you start with using Gmail as your CRM because it will help you ease into customer relationship management without spending a lot of time or money on new tools.  
How to Use Gmail as a CRM
You can use your G Suite Gmail as a CRM right out of the box. Use the "Labels" feature to create folders and nested folders.  Use Google Contacts for contact information and notes and to see your history of conversations. You can also use low-cost extensions and apps that will overlay basic CRM functions inside of your Gmail, so you never have to leave Gmail. 
When you use Gmail as a CRM, you'll  get a clear idea of the features that are most important for your business.  This way, when it's time to scale into a more powerful CRM tool, you won't overspend on features you won't use or need.
Add your prospects as a Contact and fill out all the fields.  
Your contacts are the heart and soul of your CRM.  The more contact details that you include, the better. Your G Suite Contacts and Gmail contacts are seamlessly integrated.  But you will have to make sure that you've added all the critical information to your sales prospects.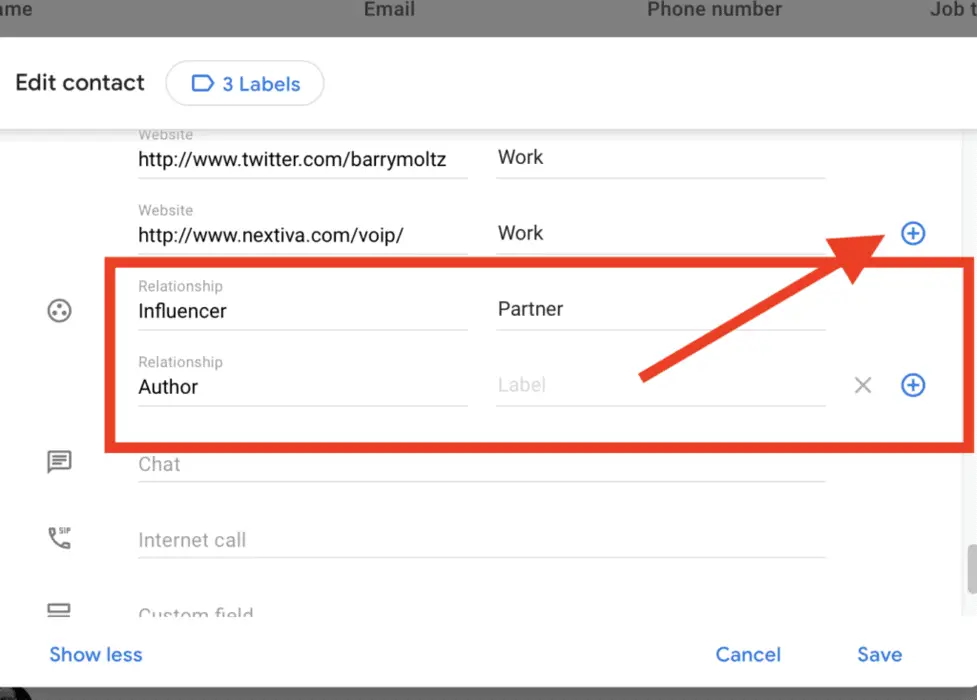 Use the "Relationship" field to create groups. 
Google Contacts also has a series of what I call "advanced" fields such as "relationship".  This is a text field so you can make it whatever you like.  You can add all kinds of contact details like other people from that company who are related to that contact — BUT — this will NOT link those contacts to that one. It's just for reference. You can also use the relationship field to designate team members from customers.
Track your history with that contact. 
You can also track your email history with that contact!  This is a wonderful contact feature that few people know about. With every contact, you can track your email history.  That's a real time saver.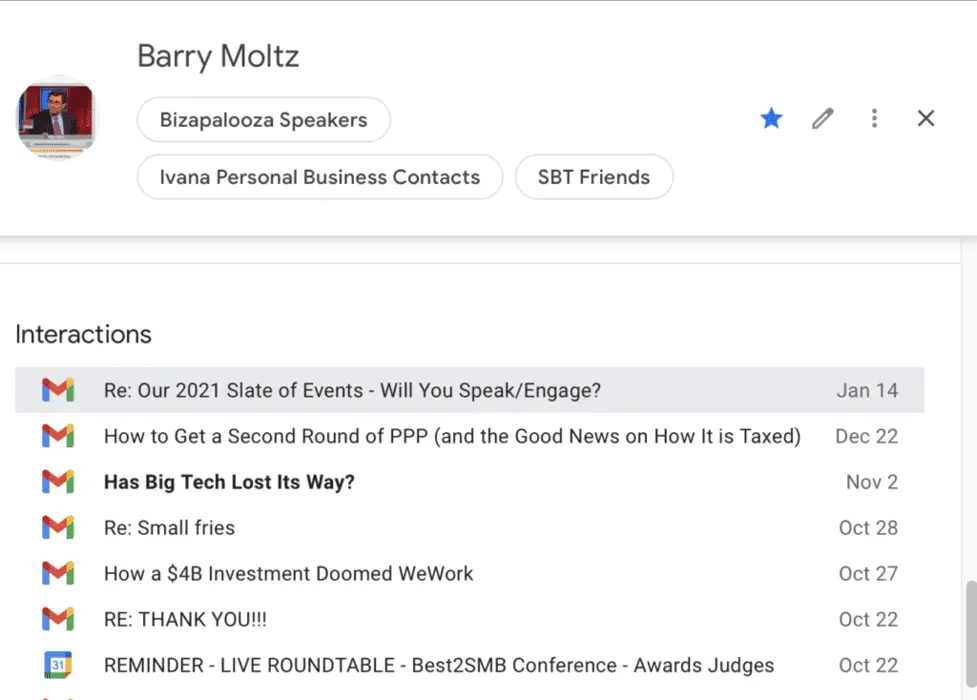 Use the Notes field to keep track of your relationships.  
Each Google contact is loaded with the necessary fields; Name, Company, multiple emails, phone numbers, and addresses.  There is also a NOTE field that you can use to add your updates.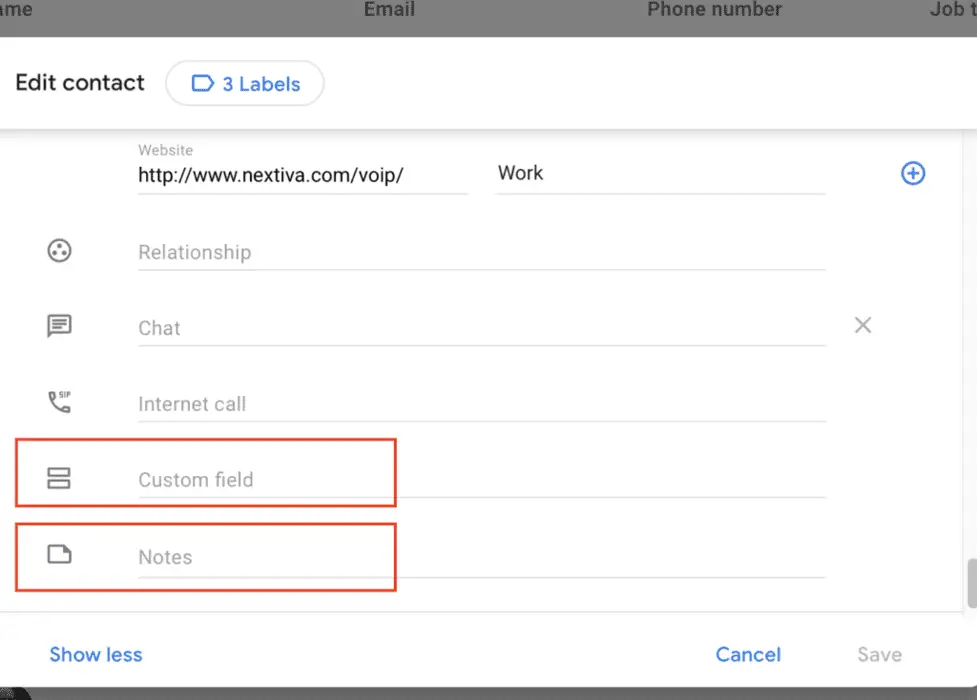 Take advantage of the "custom fields" feature.  
Google contacts gives you the ability to create custom fields.  You can use those to track what products or services any of your contacts purchased or any other element you'd like to track. 
Use Email templates to send follow-up emails. 
One of the oldest features Gmail has is called "Templates".  Use Templates to create email templates that you send over and over again to contacts that email you with inquiries you answer all the time.  You can create templates to schedule a meeting, to share basic explanations of the products or services that you offer.  Again, if you send the same type of email more than once a day to any of your contacts — create a template.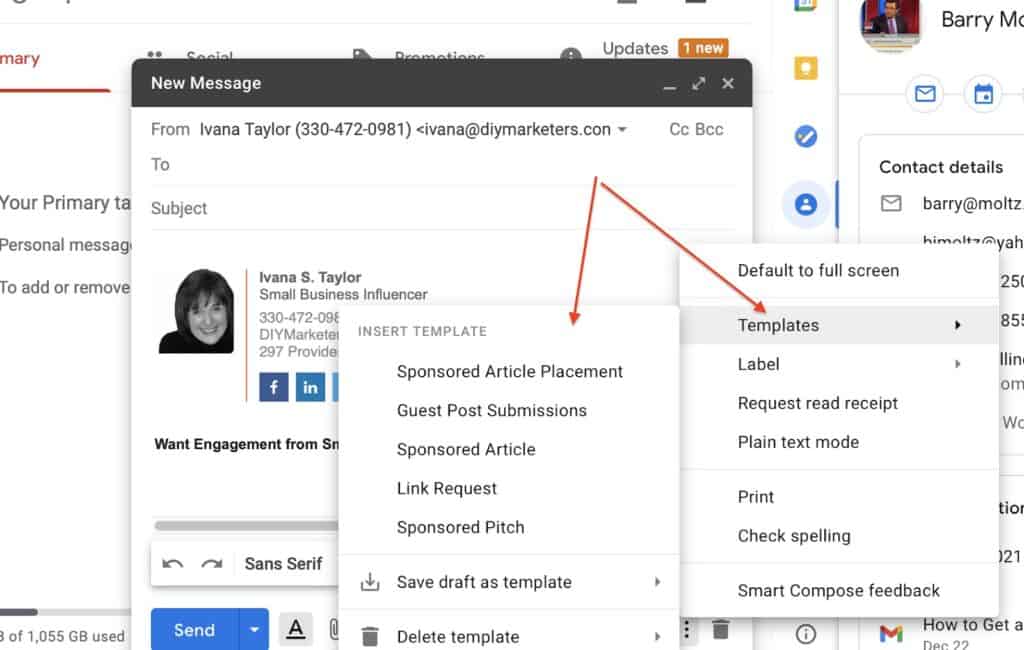 Use the "Label" tool to create segments. 
Gmail calls them labels, Outlook calls them folders.  But the functions are the same. Use labels to group email conversations.  I use labels to group emails by clients.  But you can use them to create whatever folders you like.  Your labels can be color coded so that you can easily find what you're looking for.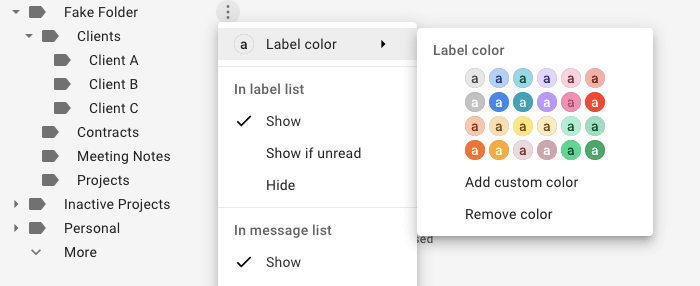 Use "Tasks" to create lists and a basic pipeline 
A sales pipeline is an easy way to track your leads as they go through your sales process.  The basic sales process is LEADS, PROSPECTS, PRESENTATION, CONTRACT, CLOSE.  Usually, the simplest sales pipelines is tracked using a spreadsheet. But I like to use my "Projects" or "Tasks" in Gmail to track my pipeline.  I create a "list" for each of the phases of the sale and then I drop email into each list.  Since the basic purpose of any pipeline is to move the lead forward, a task or project list is the perfect place to put those emails.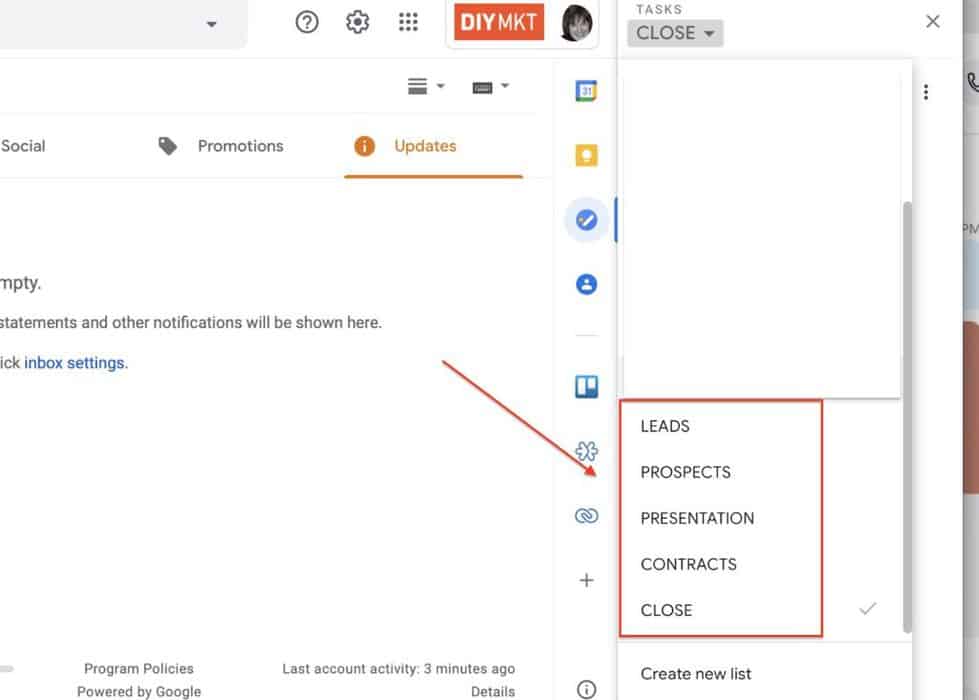 So there you have it – the FREE, down and dirty way to use Gmail as a CRM tool.  This is an easy way to warm up and start.  
Granted, this can get a little clunky, but even though I use several different CRM tools inside of the Gmail, I find myself always going to the native Gmail platform to track my deals.
Must-Have Features for a Gmail CRM Tool
Even though Gmail CRM tools are simplified CRMs, they come with a variety of features; some you'll use and many that you won't.  In fact, if you just searched on the various Gmail CRM tools, you would get so overwhelmed, that your head would explode.  
Today's Gmail CRM tools can do just about anything a full-blown CRM can do, and that's what makes it so hard to choose the best one for your business. 
So, to make things easier, here's my list of must-have features that will cover more than 80% of your needs.
Full Gmail Integration 
Look, you're already running your business out of Gmail.  So you want to make sure that if you're going to run a simple CRM system from your email, then you want to have full Gmail integration.  That means that when you open your Gmail, your CRM opens right along with it. 
Sales Pipeline
If you want to increase your sales, the best way to do that is to TRACK the progress of your prospects through the sales cycle with a sales pipeline.  You can create a simple sales pipeline in a spreadsheet.  Just create columns for Lead, Contact, Proposal, Close.  
Email tracking and statistics 
One benefit you get from using Gmail as CRM is the ability to see and track your email statistics.  That includes open rates, and click-through rates. Tracking these statistics will help you improve your communication with customers.
Email Templates 
Any CRM system you choose is going to have some element of email templates.  This is a must-have feature.  If you've already developed templates for customer correspondence, then you want to make sure that there is an integration inside that CRM for those templates. 
Pre-filled contact fields 
I've saved the best for last.  One of the biggest obstacles that CRM users point out is how difficult and cumbersome it is finding and filling in the contact information.  This is where a lot of simple CRMs for Gmail fall short.  Depending on which CRM for Gmail you like best, you can always make up for this deficiency with another extension. 
Mobile access and integration  
I'm not sure that these needs to be said, but yeah, you have to be able to work on your CRM on a mobile device. This is especially important if you're in a business that involves your going to client locations.
Features for teams 
Just because you don't have employees, doesn't mean you don't have a team. If you have an outsourced team, you want a Gmail integrated CRM that can accommodate your flexible organization.  Typically, any team features will be a mid-range subscription.
It's always a good idea to start with your native Gmail and manage your leads and prospects the way you normally would.  My only recommendation here is to take the time to be as detailed as possible with your data entry.  This will make future integration to a Gmail CRM infinitely easier. 
Gmail CRM tools are a great way to power-up your sales process. In this article, I review the best Gmail CRM tools.
If you have a Gmail account, then here is some good news for you. You already have access to one of the best CRM tools out there, Gmail!
You can't run a business without a CRM tool. While you can certainly use Gmail as a CRM, there are a few Gmail extensions that transform Gmail into an even more powerful CRM.
All of these tools have full integration with Gmail and will help you manage your leads, prospects and customer data. 
Streak, launched in 2011, is an extension that lives directly inside your Gmail.  Like other Gmail CRM tools, you can install it as a Chrome extension.  But what sets it apart from other Gmail CRM tools is that it also works with Safari.  
Streak is considered to be "fully integrated" inside of Gmail because it is installed inside of Gmail and overlays its user interface on top of Gmail and replaces it with the CRM.
In this example you can see what your Gmail would look like with Streak installed. The biggest change is that you can see a pipeline view of your contacts. 
Pros
Has a 100% free option
Works with Safari
Track email opens and stats
Pipelines feature
Simple, easy interface
Create templates
Cons
Desktop is better than mobile
Might be a little slow to sync
Can take time to learn the system
If you're not always selling, can be cumbersome.
Free for 500 contacts, $15/mo for annual plan
Yesware was the very first simple CRM with Gmail integration that I tried when they launched in 2010.  I loved that it worked straight out of my inbox and that I was able to track customers and any data related to the sale and project I was working on. 
Over the years, Yesware has made countless improvements.  The Pro plan (at $35/mo) gives you the ability to run decent email campaigns.  This is a great way to ease into email marketing.  Another wonderful feature — especially if you do a lot of your prospecting from customers over LinkedIn is the integration with LinkedIn Sales Navigator. This makes it a breeze to follow-up with those connections.
Pros
Plays nice with Microsoft Outlook.
Has a meeting scheduler.
Email templates.
Campaign management and sales automation.
Team members can share templates.
Cons
Can skew data because it tracks statistics for emails opened by co-workers.
You have to attach files one at a time.
Syncing can be difficult.
Back in 2009, Jon Ferrara, the founder of Goldmine, one of the first CRMs in the space, noticed two big problems with existing CRM technology; sales people weren't using them because they hated entering contact information and existing CRM tools were more focused on the tool rather than the purpose of building and developing relationships with customers. 
Nimble started out as a "Social CRM" because of its unique ability to automatically capture contact information from LinkedIn, Twitter and Google searches. Nimble was the first company to make this feature available as a CRM at a price point small business owners can easily afford. 
Pros
Automatically grabs contact information and fills it in
Gives you the ability to start conversations with people you are loosely connected with.
Ability to work inside of Gmail or inside the Nimble platform.
One-to-One bulk marketing campaigns.
Ability to created branded templates
Simple but relevant email statistics
Fully integrated with Microsoft 360, G Suite
Cons
Doesn't run complex automated email campaigns
There are limits on group messages
Not very customizable
If you build most of your relationships online and via social media, Nimble is the ideal choice for you.  By far, the best feature is having the ability to automatically capture important information from contacts. 
OnePageCRM is a combination of a CRM system and a dynamic to-do list. It encourages you to set tasks and reminders next to every contact in the database. This helps salespeople keep in touch with every existing and potential client.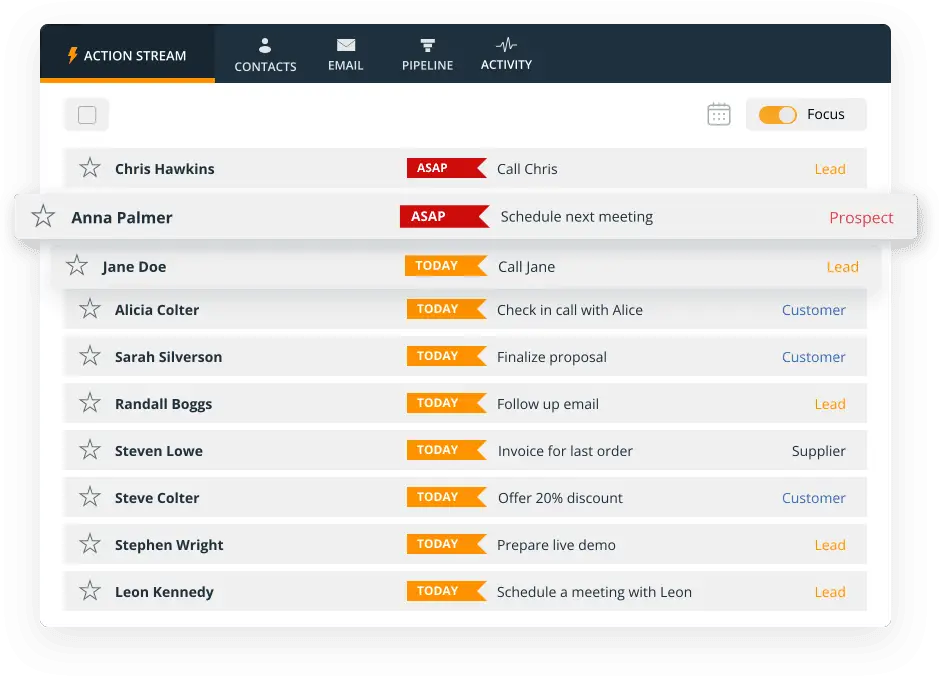 OnePageCRM has integrations with several Google apps, such as Google Contacts, Google Drive, and a two-way sync with Gmail. With its free Lead Clipper, you can also capture contact information from any webpage (including your Gmail inbox) and automatically create new contacts in OnePageCRM.
Pros
Perfect for solo users and small teams
Track email opens Personalized mass emails
Free email templates with attachments
Action Stream and simple interface
Pricing starts from $9.95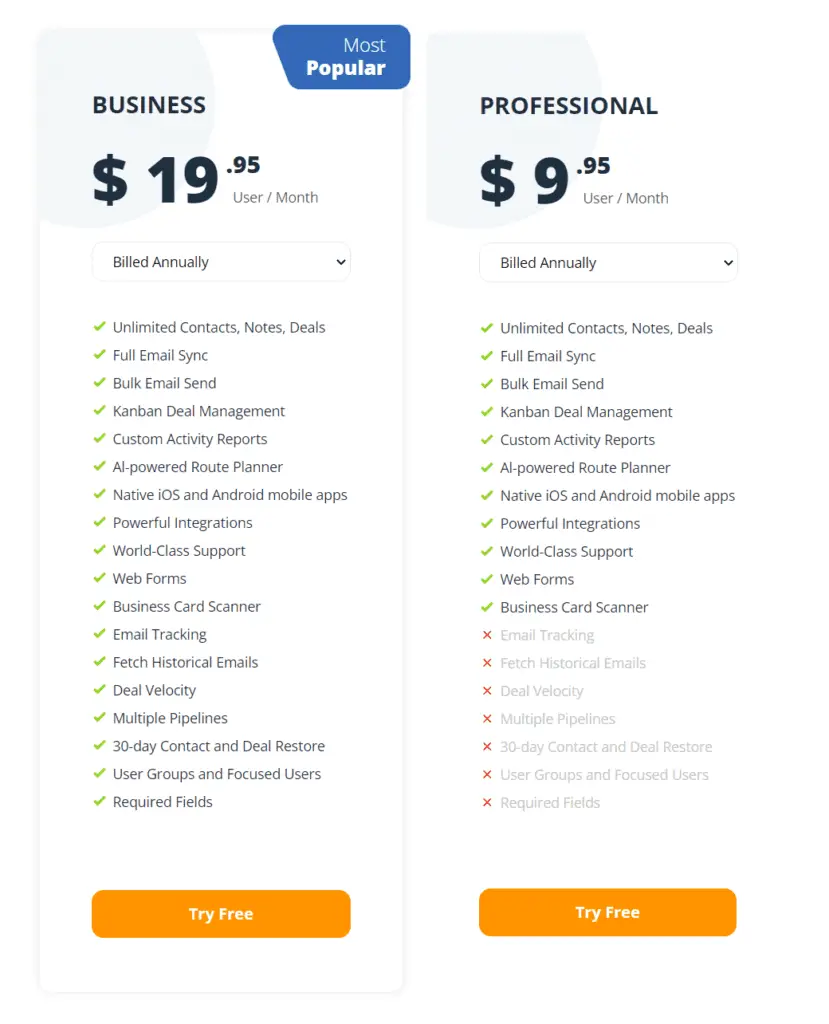 Cons
No scheduled email functionality
No integration with a meeting scheduler
Email tracking not included in the cheapest plan
Related Questions
What are some other Gmail CRM tools?
Hubspot: A top-of-the-line full service customer management tool.  It includes everything from a basic CRM and email marketing tool to an entire blogging platform. If you aren't using anything and want a fully integrated system, Hubspot is amazing.  Just one problem, it goes from Free to $50/mo and then there's a steep increase for advanced features.
Copper: Launched in 2011, Copper sells itself as an easy to use gmail integrated CRM. This tool is focused on basic CRM and email. 
Nethunt: While other tools are sales or opportunity focused, NetHunt is more agnostic and offers more flexibility for professionals who simply want to stay connected and manage client projects.
Zoho CRM: First check out the features and if you like it, grab it via the Zoho One suite, Zoho CRM is one of the original online CRM platforms that is extremely popular and low cost. The main CRM platform is overkill, but the Gmail integration is a way to ease into a powerful CRM.  Only comes with a Chrome extension.
Ease Into CRM with Gmail
You've been living in Gmail for years, but now it's time to up your game and start building and managing your customer relationships.  Instead of learning a completely new CRM tool, you can ease into the whole customer relationship management process by simply adding on to your existing Gmail.  I've shared the top three CRM add-ons for Gail that you and your team can use.