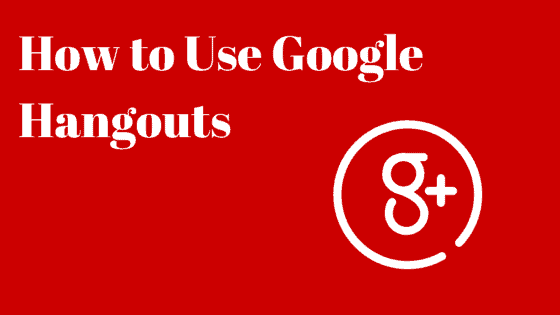 It seems like more and more individuals and businesses are turning to Google Hangouts as a way to reach out to their customers and prospects, to share important information and to generally keep a warm relationship with their network. And why not? Not only is this a free marketing method, it's also a time investment which pays big dividends in the form of exposure.
Here are some common questions regarding this method of reaching out to your adoring public, and tips on just why and how to make the most of this resource.
Why use Google Hangouts?
Like I'mentioned above, first and foremost: This is FREE. A free tool you can use as frequently as you like?to hold court with your customers. Aside from this, there are many other reasons why hanging out with friends – or in your case, customers – on Google+ is more than worth the time it takes to figure the whole system out.
[Tweet "Hey #SMBs – Use Google Hangouts as a virtual open house for your customers"]
Your hangouts will be shared with all of your Google+ connections. This is a good reason to add all the connections you can, and to check regularly to see if you can make any more.
Holding a hangout is a fantastic way to hostasort of "virtual open house" with your customers. They'll be free to ask any questions they have, and you can answer them during the course of the event. Best part: You can do this from the comfort of your home. Wearing pajama pants. Or not pants, if you prefer – who's to know?
Google hangouts are great for creating content that can be shared across the web. Did you know that hangouts are posted to YouTube automatically? This gives you the prospect of heightened visibility – after all, YouTube is where people go for answers to questions on just about every topic imaginable. In addition to that, Google gives preferential treatment to YouTube content (as the two are interconnected), so having a video on YouTube with a thoughtfully conceived title (in other words, with the correct keywords in it – more on that later) will rank higher than a simple blog post. You can also embed the code from the video on your own blog, in order to share with your readers. This post can then be shared across the rest of your social media channels. All of these results from a single hangout – makes it seem rather common sense to hold one, right?
Hangouts position you as an expert in your field. Let's face it – anyone with the skills and the chutzpah to get on camera and talk about their business, who sounds like they know what they're talking about, immediately gains credibility and positions themselves as experts. And regardless of your area of business, it's the experts who make the most money.
What should I talk about in Google Hangouts?
This is a question which pops up again and again – after all, who wants to watch 20 or 30 minutes of you going "Hmmm" and "Ummm"? Not to worry, though – there are plenty of ways to make your hangout informative and interesting.
Ask questions. If you send out a newsletter (and if you don't, you should), make it a point to ask your subscribers what they'd like to hear you talk about. Do the same on social media. Answering the questions your customers and followers already have is a surefire way to add value to their lives – which is what being in business is all about.
Ask friends to join you. If you have a friend in your field, or in one which you know your clients would have interest, invite them to take part in the hangout with you. They can either physically be present with you or you can do a split screen. For instance, if you're a massage therapist, ask a friend who's an expert in another type of holistic healing to spend a few minutes talking about what they do.This could help your friend's business, as well as reminding your clients that you really care about them, which builds trust and goodwill.
Explain what you do. Let's say you're a web designer. Why not hold a hangout in which you?explain to your clients how they can easily update their site or troubleshoot common issues? Not only will this help them, it will look good on YouTube as well – plus you could encourage them to share the link to your hangout with their friends, or to have their friends join the hangout. See what just happened? You just potentially gained some new clients.
How do I set up Google Hangouts?
Setting up a Google hangout couldn't be easier – really. Google made it pretty straightforward and user-friendly.
How to set up and schedule Google Hangouts:
Sign in to your Google+ account.
Go to Google Hangouts.
Select "Hangouts on Air" from the choices along the top of the page
At the right you'll see a button labeled "Start a hangout on air". Click this.
A pop-up box will ask you to name your hangout. Think with keywords in mind – if someone were to search Google or YouTube for your content, what words would they use? The massage therapist we talked about before might say something like "How to use meditation for healing" or "How to cleanse your chakras with (name of expert)" – this way, your video will come up on YouTube should someone search on your friend's name. The web designer might name theirs "How to troubleshoot WordPress sites" or "How to install and use web analytics". So keep this in mind when naming your hangout.
Describe succinctly what your hangout is dedicated to – and of course, try to keep it interesting! Wouldn't want to turn anyone off with a dry, boring description.
You can then choose whether your hangout should start now or some time in the future. Generally you won't be hosting hangouts off-the-cuff, so choose "Later" and enter the date and time that works for you.
You can then choose your audience. You can make it public, which means anyone on Google+ will be able to see it. Or you can include only people from your circles.
Click "Share" and you've done it! You've scheduled your hangout! Now don't forget to promote it!
How to host Google Hangouts:
Around 10 minutes prior to the scheduled start of the hangout, go to your Google+ Events page.
Select your event.
Click "Start".
You'll be asked to invite participants, so select who it is you wish to give a final heads up on your hangout (in other words, which circles or individuals).
Don't worry – you're not live yet! Now's the time to make sure your camera is set up correctly, that you have enough light in the room, that no one can see the unsightly pile of paperwork behind you, etc. Test your microphone, too.
When you're ready, click "Start Broadcast". Time to shine!
Remember – practice makes perfect. No one should expect to be the next internet star on their first go. But once you get started, it becomes easier and feels more natural – before long you'll be asking yourself why you didn't make Google Hangouts a regular part of your marketing much sooner!